Reducing Poverty by Promoting Industrialized Development of Highland Barley
The increase in highland barley yield makes it possible to further promote the industrialized development of highland barley processing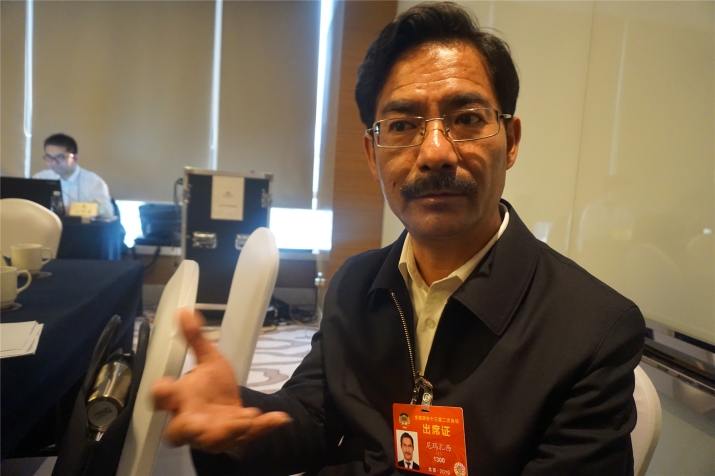 Nyima Tashi at the Two Sessions in Beijing (XIA YUANYUAN)
Of the over 1 million tons of total grain yield in southwest China's Tibet Autonomous Region last year, more than 800,000 tons was highland barley. Not surprisingly, highland barley was the crop in 80 percent of Tibet's grain planting fields. "These two figures mean that highland barley is our staple food," Nyima Tashi, Member of the National Committee of the Chinese People's Political Consultative Conference (CPPCC) and President of the Tibet Academy of Agricultural and Animal Husbandry Sciences, told ChinAfrica at the ongoing session of the CPPCC National Committee.  
He said that highland barley is not only an important crop to ensure Tibet's food security, but also an important source of income for farmers and herdsmen. "To eliminate absolute poverty in Tibet, we must first make sure there is enough to eat. Also, the prosperity of highland barley as an industry is of great significance to Tibet's rural revitalization," said Tashi. 
Over the past few years, Tibet's highland barley yield has greatly improved. In the 2.11 million mu(140,000 hectares) of land that grows highland barley, the yield increased from 650,000 tons in 2012 to 800,000 tons in 2018. For higher yield, efforts have been made to introduce improved varieties, to which Tashi and his team have made important contributions with their research and innovations. 
The increase in highland barley yield makes it possible to further promote the industrialized development of highland barley processing, which has become an important way to alleviate poverty and increase incomes. "Bigger highland barley yield can boost the development of the entire industry and improve the benefits we get from processing the crop," said Tashi, adding that there are more than 40 processing enterprises in Tibet that produce products such as wine, cookies and porridge flakes from highland barley. In addition, the highland barley industry has created many jobs for the local population. 
Looking ahead at the future development of agriculture and animal husbandry in Tibet, Tashi said that there is an urgent need to build a modern industrial system for animal husbandry and adopt an intensive and efficient industrialized approach for farming. He also called for more support to bring Tibet's highland barley products to a wider market.