Beijing 2022 Games: Leaving a New Legacy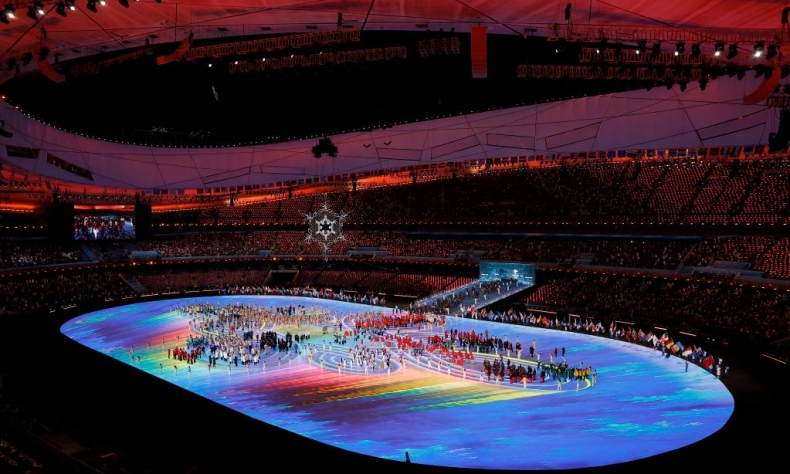 The Games will forge more bridges of friendship and inject confidence and strength into a troubled world.
With the Olympic flame dancing to the drums of the Chinese Year of the Tiger, the Beijing 2022 Games—the first-ever Winter Olympics held in China and its second Olympics after hosting the 2008 Summer Games—concluded on February 20, to be followed by the Paralympic Winter Games from March 4 to 13.
This edition featured many firsts: the first time all facilities were powered by green and renewable energy; the first time carbon dioxide transcritical direct cooling ice-making technology was employed so people could enjoy winter sports while protecting the ecosystem; the first time the concept of tech-driven sustainability was followed in its truest sense, an all-inclusive 5G network was set up and smart technologies such as service delivery robots were deployed; and the first time since the onset of the COVID-19 pandemic that a comprehensive global sporting event unfolded as scheduled.
The 388-strong Chinese delegation is the biggest China has ever sent to the Winter Olympics. Its 177 athletes competed in all events, marking yet another historical breakthrough. Among them, 19 hail from nine ethnic minorities, including the Tibetan and the Uygur.
Some 3,000 athletes from 91 countries and regions participated in the Games, competing in 109 medal events across seven sports. Additionally, for the first time, Beijing 2022 featured seven new events—women's monobob, men's and women's snowboard big air, mixed team snowboard cross, freestyle skiing mixed team aerials, mixed team short track relay, and mixed team ski jumping.
At a time of unprecedented global change, the world needs to form consensus in the spirit of sportsmanship and mutual understanding under the Olympic banner of Faster, Higher, Stronger—Together.
Through meticulous preparation and sophisticated organization supported by the International Olympic Committee (IOC) and the international community, Beijing, the first dual host in modern Olympic history, delivered an athletic and cultural extravaganza.
A grand gathering of ice and snow sports athletes and aficionados aside, the Winter Olympics created a platform for participating countries and regions to stand side by side in a testimony to humanity's perseverance.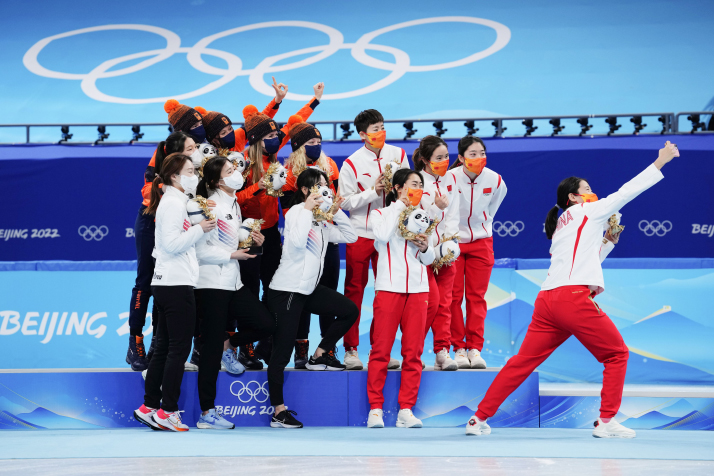 Green and hi-tech
Beijing 2022 features a combination of state-of-the-art technology and low energy consumption. The three competition zones—downtown Beijing, Yanqing District in the capital's northern suburbs and Zhangjiakou, China's wind power capital in Hebei Province neighboring Beijing—are in line with green building codes, pushing the standard of facility design and construction to new levels of sustainability and performance. All 26 venues across the zones are fully powered by green energy.
A renewable energy grid transmits electricity generated from wind power to the three competition zones. On top of the Olympic venues, it also lights up numerous Beijing households. The grid will help save 4.9 million tons of standard coal equivalent and reduce 12.8 million tons of carbon dioxide emissions every year.
In snow production, water will be stored via multiple channels, recycled and then conserved with technological support. This will meet the Olympic need without affecting local water security or the ecological environment.
The latest scientific and technological achievements, ranging from 5G to smart robots and digitalization, have been integrated into venue construction, logistical services and weather forecasting. Other hi-tech systems that deserve attention include wind tunnel laboratories that can simulate the conditions encountered while skiing, the BeiDou Navigation Satellite System, 360-degree immersive viewing, smart training and smart parks.
All passenger cars and 85 percent of all vehicles in the specially designed low-carbon transportation system are energy-saving and clean energy-powered.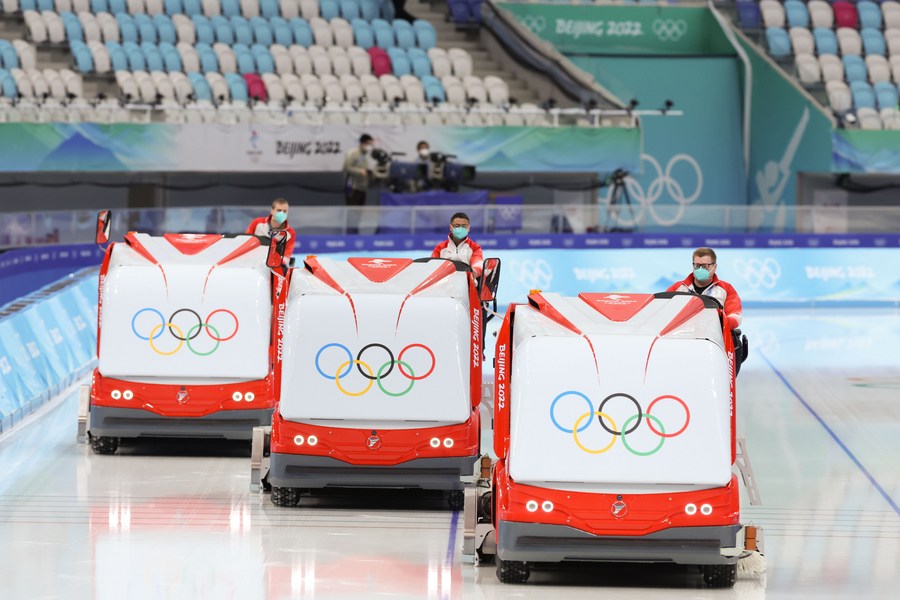 Safe and sustainable
Drawing on China's successful experience in the fight against COVID-19 and that of major international competitions—past and present, the Beijing Organizing Committee for the 2022 Olympic and Paralympic Winter Games (BOCOG) published the Beijing 2022 Playbooks, a comprehensive guide to safe and secure Games for participants and locals alike.
In line with the playbooks' requirements, organizers designed a raft of measures to keep the virus out. China put in place a closed-loop management system tailored to different participant categories and separating Olympic activities from everyday life, strictly implementing epidemic control protocols. The nation exerted every effort to prevent COVID-19 infection and ensure the health and safety of all those attending the Games.
According to Brian McCloskey, Chair of the Beijing 2022 Medical Expert Panel, the target has never been zero cases but zero spread. He praised the efficacy of the Games' closed-loop management system at a media conference on January 29, adding that the safety of the Games would be well-ensured.
Beijing's vision of hosting a wholly sustainable Olympic event materializes with a rising hope that venues and projects can continue to promote social and economic development long after the flame has left town.
The "borrowing" of urban infrastructure to assist Beijing 2022, and its lasting service to the city well into the future, have become another innovation in the capital's sleek hosting turn. Following simple renovations, six 2008 sites acted as main competition venues during the Games. The highlight is not the refurbishing of older venues and turning them into something entirely different; it's about diversifying their functions. This is all part of the Chinese effort to deliver on the promise of carbon peaking before 2030 and carbon neutrality before 2060.
On January 13, the BOCOG released its pre-Games sustainability report, which showed that except for the newly built National Speed Skating Oval, nicknamed the Ice Ribbon, and Big Air Shougang, all Beijing venues are 2008 Olympic legacies.
IOC President Thomas Bach said, "This report shows that the Olympic Winter Games Beijing 2022 recognize the responsibility to integrate sustainability principles throughout all stages of preparation."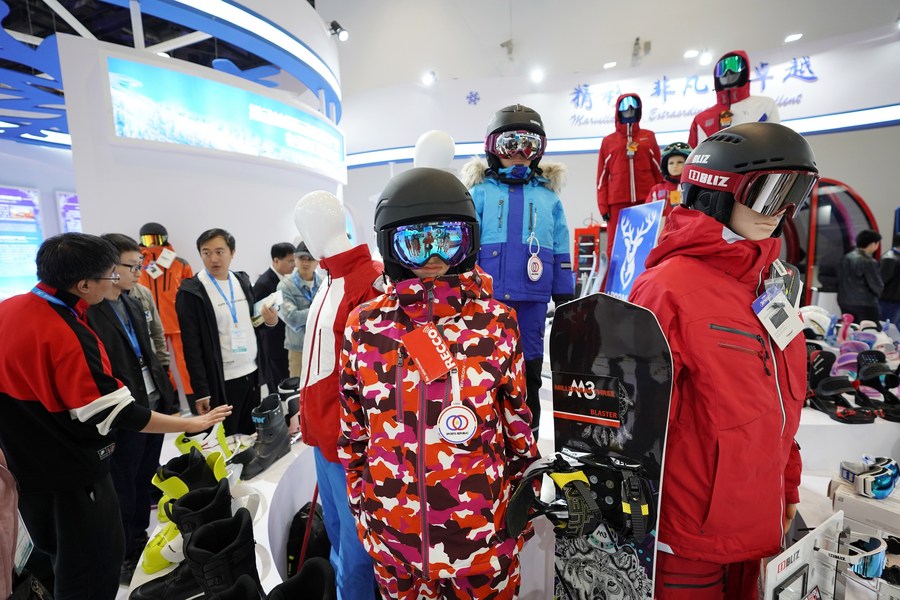 Transforming tradition
China has a surprisingly long history in winter sports. During the Qianlong reign of the Qing Dynasty (1644-1911) in the 18th century, ice-playing sport was officially designated a "national custom." For centuries, winter sports have been well received by Chinese people of all ages, especially those up north.
During Beijing's bid to host the 2022 Winter Olympics, the Chinese Government promised to involve 300 million people in winter sports. This goal has been achieved ahead of schedule. China has focused on popularizing winter sports across its vast southern, western and eastern regions. As a result, 346 million Chinese have stepped into the ice rink or ascended the slopes, translating into a 24.56-percent rate of residential participation.
The number of skiers has risen from about 7 million in 2011 to more than 20 million in 2020, with a market worth nearly 90 billion yuan ($14.1 billion). In 2000, there were 50 ski resorts in China, by 2019 there were 770 and the goal is to reach 1,000 by 2030. According to the latest Research Report on China's Winter Sports Industry Development, China's skiing equipment market grew from 3.22 billion yuan ($600 million) to 11.75 billion yuan ($1.84 billion) between 2014 and 2019. The proof is in the data: The public's passion for ice and snow sports is only heating up.
Under the motto of Together for a Shared Future, the Beijing 2022 Games call on people worldwide to transcend their differences. The slogan matches the essence of building a community with a shared future for humanity as proposed by President Xi Jinping.
Nelson Mandela once said, "Sport can create hope, where once there was only despair. It is more powerful than governments in breaking down racial barriers. It laughs in the face of all types of discrimination."
Beijing 2022 is a unified Winter Olympics, its unity further evidenced by the more than 30 heads of state and government, members of royal families and leaders of international organizations attending the opening ceremony.
Just like Beijing 2008, the universal spirit of sportsmanship has once again rallied peace, hope and courage to light the way forward. It will also serve as a window for the world to understand the many facets of China, the achievements of its modernization drive, its new development philosophies and the Communist Party of China's strong leadership and governance capabilities.
The Games will forge more bridges of friendship and inject confidence and strength into a troubled world.