Facts Or Not: Debunking the Myths of the Coronavirus (Part I)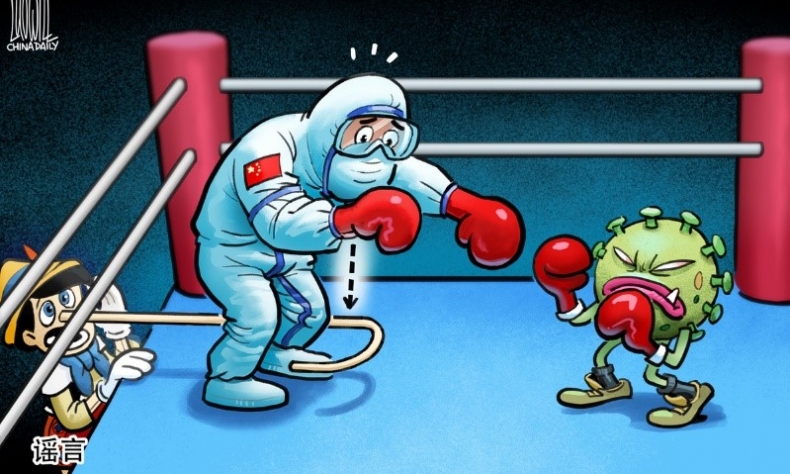 In the interest of "facts not fear", China Focus has scoured social media accounts and reports to find some of the most dubious claims currently parading as facts, in an effort to debunk untruths surrounding the coronavirus.
The novel coronavirus outbreak currently sweeping across China and the rest of the world has brought with it a number of challenges, not least the challenge of relaying accurate information to the general public.
Chinese officials and the World Health Organisation (WHO) have released a steady stream of information to help citizens all over the world stay informed regarding the virus, yet their efforts are being undermined by what the WHO referred to on Tuesday as an "infodemic"— an over-abundance of information, some accurate and some not — that makes it hard for people to find trustworthy sources and reliable guidance when they need it.
The rise in social media reporting, while a valuable source of up-to-the-minute news, has been highlighted by the WHO as a hotbed for this disinformation. Last night, the organisation announced it had set up "technical risk communication and social media teams .. to track and respond to myths and rumours". Through its headquarters in Geneva, it is working 24 hours a day to identify the most "prevalent rumours" and in conjunction with platforms including Weibo, Twitter, Facebook, Instagram, LinkedIn, Pinterest and other websites, it is hoping to halt the spread of misinformation.
In the interest of "facts not fear", China Focus has scoured social media accounts and reports to find some of the most dubious claims currently parading as facts, in an effort to debunk untruths surrounding the coronavirus.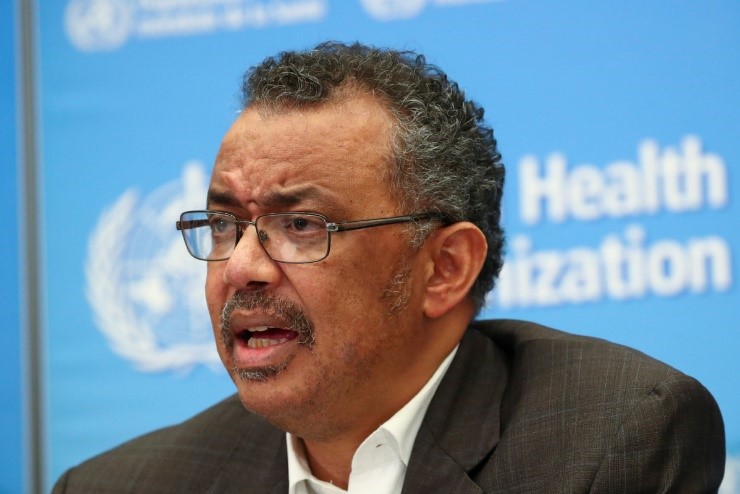 Claims #1: The Coronavirus has moved from an Epidemic to a Pandemic 
The New York Times published an article on February 3 implying that the coronavirus is now "likely to become a pandemic". It quotes experts including Dr Anthony Fauci, who said "It's very, very transmissible, and it almost certainly is going to be a pandemic."
Fact or Fear: FEAR
So far, the WHO have given no indication that they are contemplating changing their status regarding the coronavirus. Sylvie Briand, director of global Infectious Hazard Preparedness at the WHO, said on Tuesday that "Currently we are not in a pandemic, we are at a phase where we have an epidemic of coronavirus with multiple foci and we try to extinguish the transmission in each of these foci".
Briand added that the agency believes this "can be done with containment measures currently in place," including early case detection, early isolation and treatment of cases, contact tracing and social detention measures in places where there is risk of transmission.
Claim #2: Travel bans are necessary to fight the Coronavirus
The spread of the virus beyond China's shores has led some countries to begin the implementation of travel restrictions of varying degrees. The United States, Israel and Singapore have been the most restrictive, initiating measures to deny entry to all foreign visitors who've recently been to China, while New Zealand, Japan and South Korea have also restricted entry to foreigners who've visited China.
Fact or Fear: FEAR
So far, no evidence has suggested that travel bans will help fight against the virus. The WHO has categorically rebutted the need for travel restrictions, despite labelling the coronavirus as a worldwide public health emergency. Deaths associated with the virus from China's mainland continue to drop, with the current rate at 2.1 percent, down 0.2 percent, according to the National Health Commission's Medical Administration and Supervision Department.
Speaking on January 31, Dr Tedros Adhanom Ghebreyesus, head of the WHO, said "travel restrictions can cause more harm than good by hindering info-sharing, medical supply chains and harming economies." On February 3, Dr Tedros again reiterated his point, stating there was still no need to "unnecessarily interfere with international travel and trade", adding that China's efforts were adequate in "protecting the Chinese people and protecting the rest of the world."
Claim #3: Number of deaths could reach 65 million
Rumours have been rife about the disease's potential consequences, with some quoting a study by Johns Hopkins research centre that suggested a global epidemic similar to the coronavirus could cause up to 65 million deaths.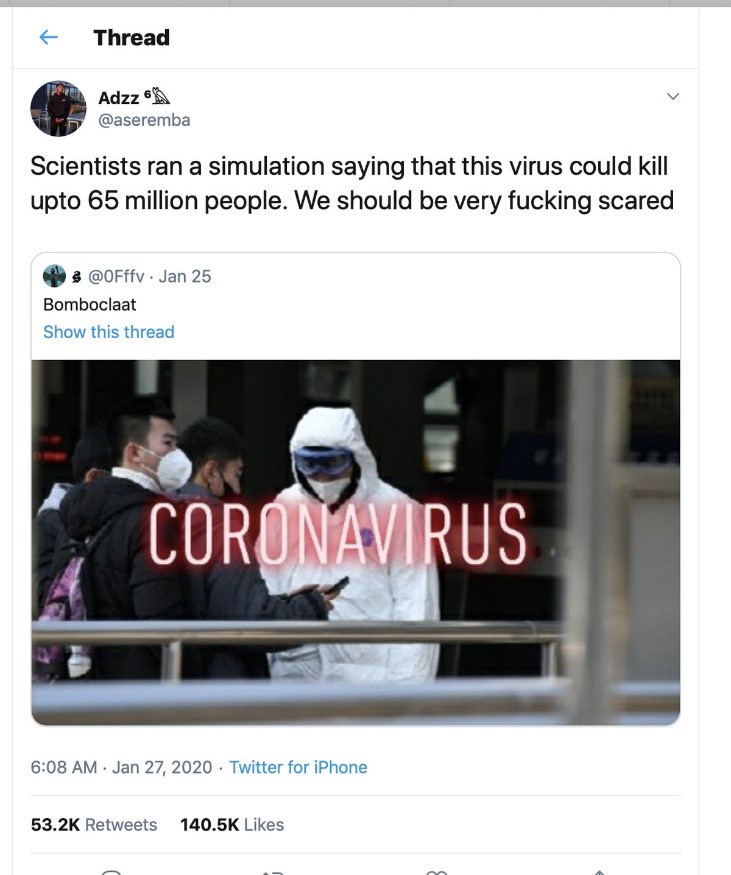 Fact or Fear: FEAR
So far, the numbers being quoted have been widely discredited by Chinese officials, the WHO and Johns Hopkins centre itself.
With regards to its test model, the Johns Hopkins centre released a statement stating that the model was for a "fictional coronavirus pandemic" and that it was not a prediction. "We are not now predicting that the nCoV-2019 outbreak will kill 65 million people," the statement said.
Reports on February 4 showed the number of outpatients at fever clinics across the country was dropping, leading some to suggest the spread may be reducing. Jiao Yahui, deputy chief of the National Health Commission's Medical Administration and Supervision Department, reported on Tuesday that 220,865 people were accepted, a reduction of 16,710 from the previous day.  "Based on this trend, although the absolute number of outpatient visits for fever clinics in Wuhan was increasing, the growth rate has slowed down recently," Jiao said.
The head of the WHO also said on February 3 that there is still "no reason to really panic," and that the chances of getting the virus or it being transferred further outside of China is "very low", limiting the ability of deaths to rise so high.
Claim #4: China built a hospital in 10 days
Reports from Chinese media reported that the government had erected a 1,000-bed hospital in Wuhan, the epicentre of the virus, which was built in only 10 days.
Fact or Fear: FACT
Unbelievably, Huoshenshan Hospital, built in suburban Wuhan, started its incredible build on January 25th and was finished late on Sunday, with the first patients arriving on Monday morning, a mere 10 days later.
The 25,000 square meters hospital will provide relief to hospitals and clinics currently dealing with cases in Wuhan, and will offer similar assistance as those built in Beijing during the SARS outbreak in 2003. The majority of the 1,400 strong medical team has been recruited from the China's People's Liberation Army, at the request of Chinese President Xi Jinping, and will be joined by another hospital in the city—Leishenshan Hospital—which is expected to be completed on February 5.
The local government in Wuhan is leaving no place unturned as it looks to add more beds for patients, having recently announced the conversion of a sports stadium and two convention centres into three mobile hospitals that will offer a total of 3,400 beds to treat novel coronavirus infected patients with mild symptoms in the city.
Claim #5: The Virus was manufactured by Chinese scientists
The source of the virus has also caused much speculation online. One of the most prominent theories offered was by a fringe Indian laboratory, who published a non-peer review suggesting Chinese scientists looking for a cure to HIV accidently created the coronavirus and that it had subsequently escaped from a level-IV laboratory in Wuhan.
Fact or Fear: RUMOUR
The cause of the virus has been widely reported to have come from a seafood market in Wuhan which sold live wild-animals, with the virus believed to have originated inside bats. Shi Zhengli, a researcher from the institute in Wuhan and one of the lead scientists who discovered that the virus can be transferred from animals to humans, called the accusation "a classic case of searching for lost keys only under a lamppost," and bet "her life" that it was nothing to do with the lab.
Shi has received support from leading scientists and health experts across the world, including David Liu, a chemistry professor at Harvard University, who debunked the Indian paper's accusations, stating "the mere claim that such short inserts support nCoV origins 'unlikely to be fortuitous in nature' is already highly suspect." The Indian lab's paper, which was published on bioRxiv, a biology journal repository, was subsequently taken down on Sunday after being widely discredited.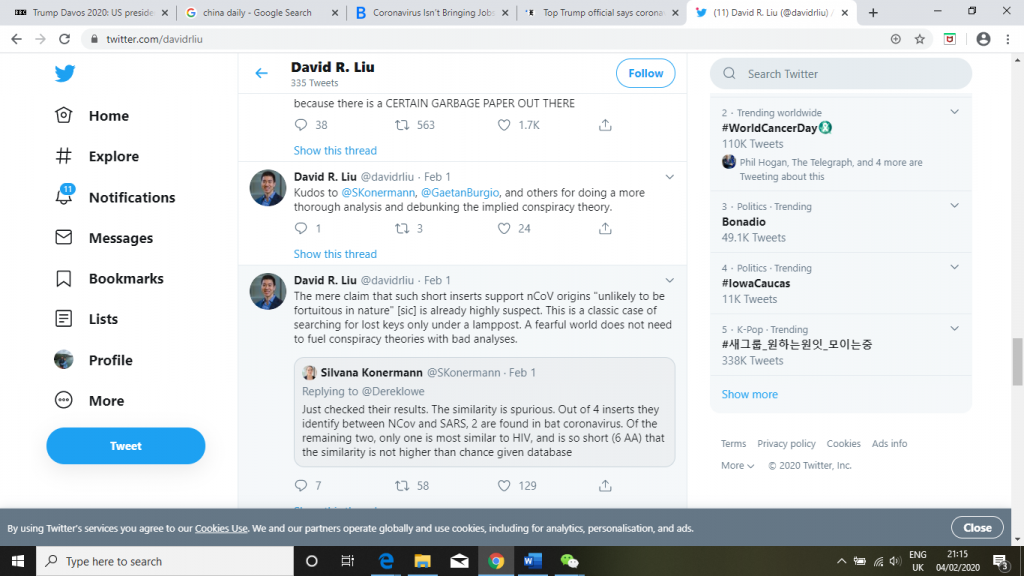 Claim #6: There is a vaccine for the virus
As cases of the virus rise to over 23,000 worldwide, people have become more anxious for a virus to be discovered. It has led some to claim various treatments are already in exsistence, such as eating garlic or sesame, as well as drinking a mixture of hot water, honey and whisky. One of the most recent "cures" touted has been shuanghuanglian, a traditional Chinese medicine usually used to fight colds. Its case rose to prominence after two Chinese research institutions released statements claiming studies showed it had an effect on the virus, leading to log queues outside pharmacies for the medicine.
Fact or Fear: FEAR(SUBJECT TO FURTHER TESTS)
Despite these claims, at the time of writing the government has not yet announced a vaccine for the coronavirus. Scientists from China, the US, the United Kingdom and others have been working flat out in an effort to find a cure, including some of the world's greatest minds such as Nobel laureates in chemistry Roger Kornberg and Michael Levitt, antibody expert Richard Lerner and biologist Raymond Dewk.
With regards to the use of shuanghuanglian, the traditional Chinese herbal medicine as a vaccine, The Shanghai Institute of Materia Medica and the Wuhan Institute of Virology released a statement to assure people that despite positive preliminary results, the medicine still needs further tests to be sure of its effectiveness, and that people should not stockpile the medicine or take it unnecessarily.
Claim #7: The virus will bring jobs back to America
Speaking to Fox Business on January 30, US Commerce Secretary Wilbur Ross said the coronavirus will help bring jobs back to North America. The coronavirus "will help to accelerate the return of jobs to North America, some to U.S., probably some to Mexico as well .. the fact is, it does give businesses yet another thing to consider when they go through their review of their supply chain," Ross said on the show.
Fact or Fear: FEAR(FLAWED UNDERSTANDING)
Not only is this entirely tasteless given the 1000's of medical staff currently fighting the virus and the millions of others waiting patiently at home for the epidemic to pass, but it is also widely inaccurate. Writing for Bloomberg, Noah Smith, a former assistant professor of finance at Stony Brook University, wrote that his "callous" comments will not create a "boon for US-employment", rather that they showed a "flawed understanding of the global economy".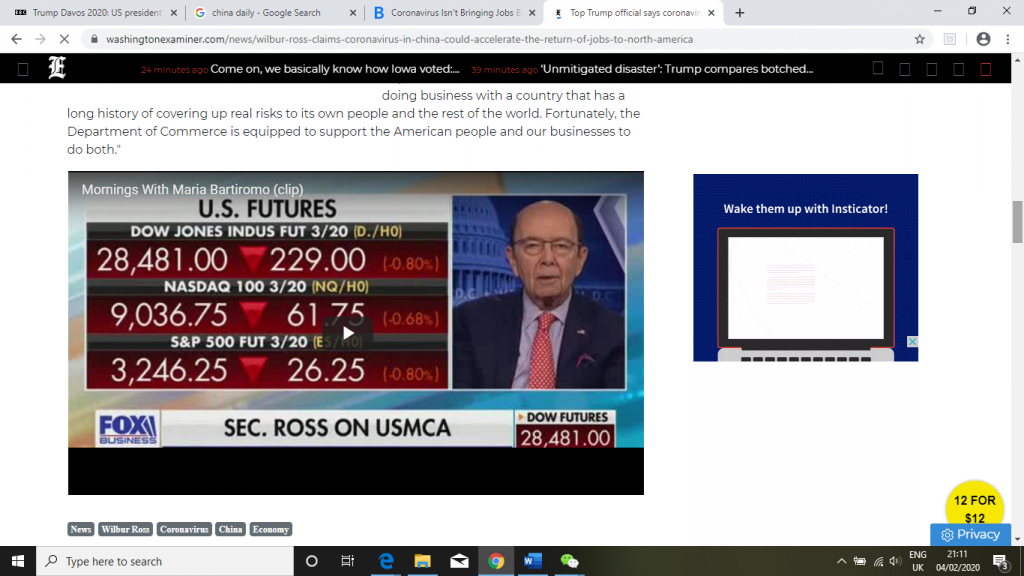 China's huge domestic market means companies "cannot help but turn to it as a source for components and manufactured goods," and that if some did choose to leave, it will not be back to the US, instead perhaps Vietnam or Bangladesh, according to Smith. So far, no American companies have issued statements confirming the coronavirus as a reason for moving jobs back to the US, with companies such as Apple, IKEA and Starbucks only closing stores at the request of local governments as they fight the virus.
Ross's comments come on the back of mounting criticism of the US and its response to the coronavirus. Having initially been keen to help, the decision to raise its China travel advisory to the highest level and temporarily bar foreign nationals from entering the country has, according to Foreign Ministry Spokesperson Hua Chunying, set "a very bad example" that runs counter to the WHO's advice.
She also criticised the US for their lack of "substantive assistance", unlike other countries such as the ROK, Japan, the UK, France, Turkey, Pakistan, Kazakhstan, Hungary, Iran, Belarus and Indonesia, who have all offered epidemic prevention and control supplies.
Claim #8: An 11-month old baby who contacted the virus has been cured
Reports from Zhongshan, a city in South China's Guangdong province, on Tuesday showed an 11-month old baby had been cured of the nova coronavirus, making the child the youngest patient to receive successful treatment for the illness.
Fact or Fear: FACT
Not only is it true that the baby was successfully treated, but so too were the child's parents, father surname Wen, 36, and his wife surnamed Feng, 42. All three contracted the virus after visiting Wuhan and after experiencing cold-like symptoms including a cough, they were emitted to Zhongshan No. 2 People's Hospital where they received their live-saving treatment.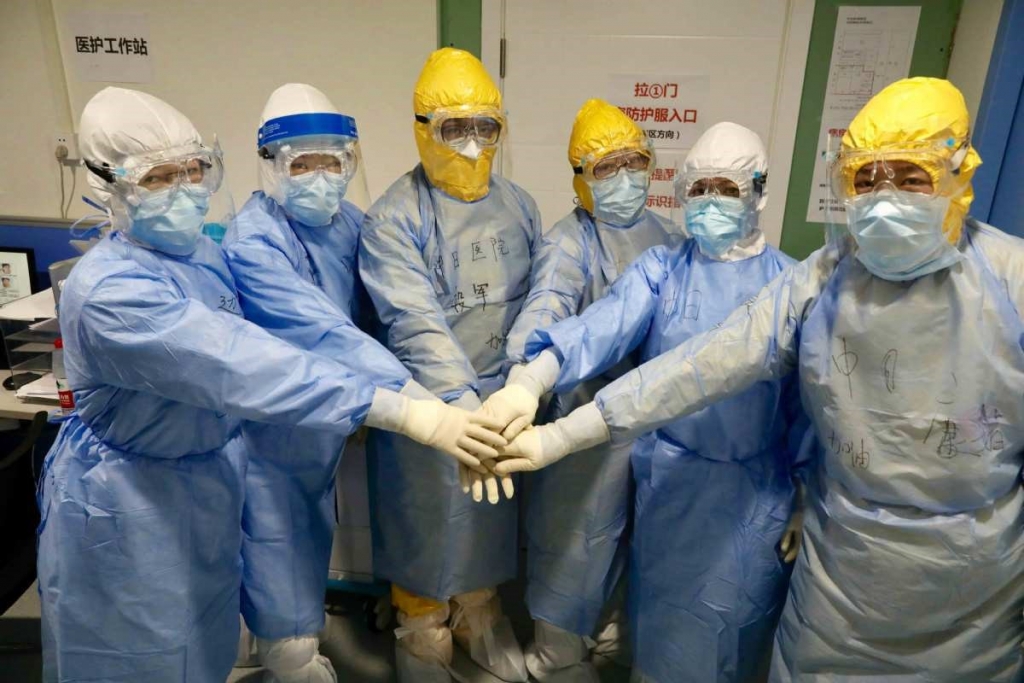 The virus so far has not discriminated in age, with patients ranging from 11 months to 97 years old being infected, but despite the lack of a vaccine, hospital staff from all over the country have worked tirelessly to cure 892 people so far, a number that continues to rise steadily as every day passes.
For more expert analysis and the latest news regarding the coronavirus, follow China Focus on Facebook, Twitter and Instagram.