When the West Cooks Up Stories of Xinjiang in Bad Faith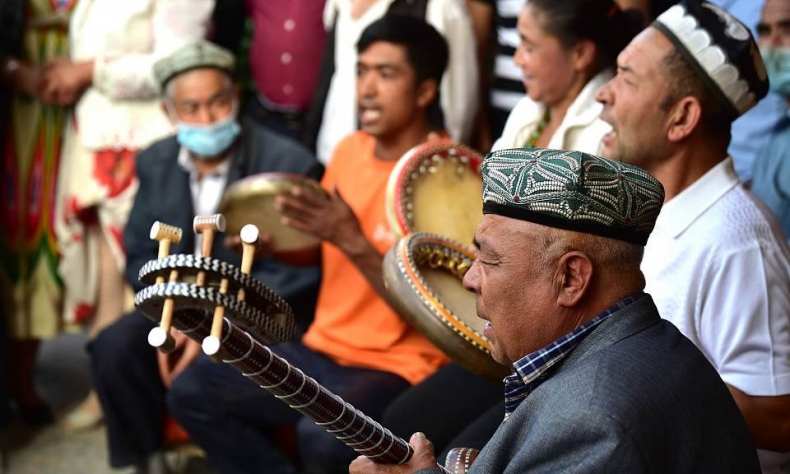 The pathetic thing is that some western politicians still choose to believe baseless reports and utilize them in their plans to discredit China.
History tells how a handful of western powers successfully divided and carved up interest from China when the country was at its weakest. Reality also tells that history repeats itself. The desire of the West to stymie the growth of China in recent years has been reflected in the occasional playing of the "Taiwan Card", "Hong Kong Card", "Tibet Card" and/or "Xinjiang Card", "IPR Card" and so on. The underlying goal is simple: provoking internal turmoil within China.
Discrediting China becomes a work
This strategy begins with concoction of stories which put the Chinese government in a bad light – a sprinkling of elements which portray a country that "lacks democracy and freedom" and a spoonful of testimonies from persons who left the country, regardless of their reason for leaving, complete the recipe. Take the recent report on Xinjiang published by the International Consortium of Investigative Journalists for example. The report cites the eye-witness testimonies of Mihrigul Tursun and a few other detainees of the "Concentration Camp" which are in fact mere vocational skills education and training centers ("VSETC") in which they were mistreated and punished cruelly (such as being hanged on a wall).
In fact, Mihrigul Tursun's story was a fabrication. She was a kindergarten principal of Chahanwusong Township, Zhaosu County, Yili Prefecture before being relieved of her post for reasons of incompetence in March 2018. There were no records of her working in any VSETC or being detained before she illegally escaped from Xinjiang.  Mihrigul Tursun's story also included the detail that her younger brother, Eckbair Tursun was illy treated at one VSETC and died. In fact, Eckbair Tursun is still alive. In his words, "my elder sister, Mihrigul Tursun is a liar. She not only tells that I am dead but also spread a rumour to that someone else died."
Such unscrupulous reporting fallacies also occurred in the New York Times report on the Urumqi '7·5' riot. The coverage described the riots as a 'national resistance against suppression by the government'. In fact, the riot and violent crimes were organized and conducted by 'East Turkistan' forces which had been designated as a terrorist organization by the United Nations as early as in 2002.
Under the Belt and Road Initiative, Xinjiang plays an important role as the logistic hub linking China and the Central and Western Asia as well as European markets. This ambitious plan does not however sit well with the government of the United States, which has embarked on various attempts to produce naval threat in the South China Sea, as well as supporting separatist forces in Tibet, Xinjiang, Hong Kong and Taiwan.
It is true that since the 1990s, local and foreign ethnic separatist forces, religious extremists and other terrorist forces have wreaked havoc in Xinjiang, making tears in social harmony and stability, hindering progress, and seriously infringing citizens' right to health, property and development.
To help improve employment in towns and villages in Xinjiang, local government provided Uyghurs and other ethnic minorities with employment-oriented education and training in recent years. These centers generally teach mandarin, the official and commonly used language in China, laws and professional skills including cooking, farming and electric techniques, which has largely eradicating the earth of terrorism and violence in the region.
It is not surprising however that western politicians quickly picked up on these establishments and called them so-called "concentration camps" to smear China's counter terrorism efforts and poverty reduction.
In a different report by the CNN, it stated that the Xinjiang government demolished 100 Uighur burial grounds and intended to strip the Uyghurs of their cultural identity. The only testimonial support hinged upon the claims of the Uighur poet, Aziz·Isa, who could not find his father's burial ground. When journalists of China Global Television Network (CGTN) contacted Epizamu·Nizamudine, mother of Aziz·Isa and Wulanmu·Isa, younger sister of Aziz·Isa to verify this report, they showed the journalists the burial ground of Aziz's father and explained that they had voluntarily moved the burial ground to a new location that it would no longer be affected by the bad weather. "There are flowers and trees around and Summer is beautiful," said both Epizamu·Nizamudine and Wulanmu·Isa.
The ASPI Report: A distortion of facts
Another notable case is that of the report entitled "Uyghurs for Sale – 'Re-education', forced labor and surveillance beyond Xinjiang" which was published by the Australian Strategic Policy Institute (ASPI). Its author, Xu Xiuzhong, had received an attractive sum of 10,000 Euro from the ASPI to produce this report, and although it was given an appealing title, the report contains many questionable flaws.
A background search on the ASPI reveals that it was established in July 2001 and receives annual funding of 4 million Australian Dollars from the Australian Defence Department until the 2022/2023 financial year. The ASPI has been widely criticized for its incitement of anti-Chinese sentiment by notable public figures. Mr. Geoff Raby, the former ambassador to China, described the ASPI as the "General Designer of China's Threats". The former governor of New South Wales, Robert John Carr accused the ASPI of promoting biased and pro-US world views. John Menadue, former Qantas Chief Executive Officer said that the ASPI has brought shame to Australia because of its behaviour which lacks honesty.
In terms of the Report, one of its weaknesses is its lack of first-hand evidence to support claims. In a part of the Report, it is stated that as of January 2020, around 600 ethnic minority workers from Xinjiang were employed at Qingdao Taekwang Shoes Co. Ltd. The Uyghur labourers amongst them made Nike shoes during the day and attended school during the evening where they studied mandarin, sang national anthem and received vocational training and patriotic education which closely mirrored that of Xinjiang's 're-education camps'. To support the argument, the Report includes references from a Chinese state website (mzb.com.cn) which states: "strengthening patriotism education and building a bridge of national unity. This reference only shows that patriotic education is important to secure national unity and should be encouraged.  The Report also references an article from Reuters: "Xinjiang Muslim minorities are facing political indoctrination: Human Rights Watch".  But how did Reuters know that the 'the curriculum closely mirrors that of Xinjiang's 're-education camps'"? Furthermore, what is a problem of patriotism education? If we follow the logic of Reuters, the patriotism education that has been done in western countries would all be condemned as "political indoctrination".
An interesting fact is that the report also references various Chinese media articles and interpretates them wrongfully to support its conclusions. For example, when the reports state that "the 're-education' campaign appears to be entering a new phase, as government officials now claim that all 'trainees' have 'graduated', it took reference from an article published by Xinhua News Agency on December 9, 2019 entitled "All Students of Xinjiang Education and Training Class Graduated". The conclusion which the report derives from this extract from the Xinhua News Agency article is that, "many Uyghurs are now being forced to work in factories within Xinjiang", hinting that China has been stepping up on its "the 're-education' campaign efforts.
The cases of labor dispatch which were mentioned in the Report is actually a common practice in the US, France, Germany and Japan. Such practices were adopted by China in the 1990s following the labor system reform of state-owned enterprises to resolve unemployment issues and should be continued given its largely positive impact.
Based on the analysis above, it is clear that the Report scores low on credibility. The pathetic thing is that some western politicians still choose to believe baseless reports and utilize them in their plans to discredit China.
The author is Council Member, Chinese Association of Hong Kong & Macao Studies.