Will Coronavirus "Turbo-Charge" Companies to Abandon China?
A perfect storm of current underlining China-US tensions, supply-chain issues during the coronavirus and the promise of support from national governments has led experts to suggest a "large-scale exodus" of international companies abandoning China is imminent. Or is it?
The global spread of coronavirus has highlighted more than ever the world's reliance on China as key global manufacturer and the issues that can bring.
Nothing emphasised this more than the lockdown of Hubei province and the important manufacturing hub of Wuhan in February this year as the government looked to stem the spread of COVID-19 inside the country. The decision was made to save lives but for the 51,000 companies who currently buy from suppliers in Wuhan or the five million companies who have one or more tier-two suppliers in Hubei Province, the inability to source products from the region created immeasurable problems for the global supply chain.
The city and region are now back up and running again—joining the rest of the country which returned to a new sense of normalcy in March—but the six-week delay in reopening factories and plants, along with the uncertainty brought on by rising tensions between China and the US, has seen companies justifiably contemplate their relationship with China post-coronavirus.
Relocating started before COVID-19
Discussions regarding companies relocating outside of China is not new. Over the past 18-months businesses have been contemplating moving operations to a different country as a result of the China-US trade war, which severely increased costs for companies doing business in China. Hasbro, Samsung, Sonos, Sharp, GoPro, Sony and Nintendo were just some of the companies who moved parts of their operations out of China as part of a "China+1" strategy but others did move their set-ups altogether, especially American-owned.
Data from The Reshoring Index, which compares US manufacturing gross output to import data from 14 Asian countries including China, showed a decrease in imports to the US from China in 2019 as well as rising imports from Vietnam and within in the US, confirming that American manufacturing companies had been leaving the country.
The impact of the coronavirus has seen those discussions increase further, initially because factories closures restricted companies' abilities to source supplies, but also because of the number of national governments now offering support to aid in their relocation.
Keith Krach, undersecretary for Economic Growth, Energy and the Environment at the State Department told Reuters that the US State Department was "turbo-charging" efforts to bring American companies back to the country in light of the pandemic, while the Japanese government last month set up a US$2.2 billion stimulus package to help Japanese companies return as well. European Union Trade Commissioner Phil Hogan also expressed a desire for the bloc to "reduce the reliance on individual countries of supply" and needed to discuss "what it means to be strategically autonomous".
Some of China's competitors have also drawn up plans to entice companies looking to relocate, with India reportedly contacting 1,000 US companies to offer them incentives on land and changes to labour laws in return for moving their business there.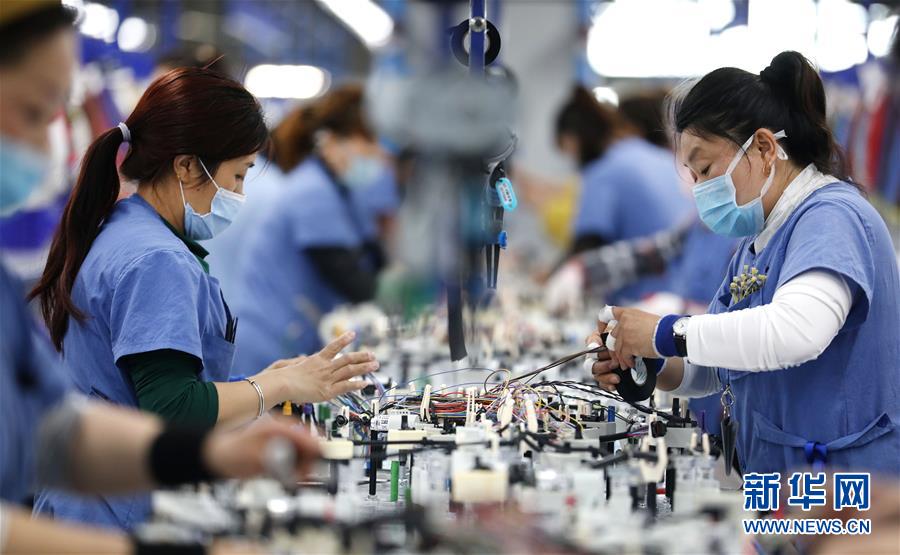 "Mass exodus" not on the cards for most companies
This perfect storm of current underlining China-US tensions, supply-chain issues during the coronavirus and the promise of support from national governments has led experts to suggest a "large-scale exodus" of international companies abandoning China is imminent.
And yet when looking at the companies themselves, few have taken the plunge and announced plans to move.
Toyota became the latest firm on May 13 to pledge its intention to continue operating within China in a statement published by the South China Morning Post, who also posted testimonies from four other Japanese firms who would not be moving their operations either.
American companies have been similarly bullish in their response to leaving the country. Two surveys conducted in March and April by the American Chamber of Commerce in China (AM-CHAM) and in conjunction with PwC, showed 70 percent of them would not be relocating production, supply chain operations or sourcing outside of China due to COVID-19.
German ministers were also keen to stress that they had no interest in rethinking supply chains in China, with the country an important "economic motor" and an "essential location" for production and research according to a meeting held by the German Asia-Pacific Business Association in April.
Reasons for staying in China "still hold true"
It appears that while the coronavirus has made talk of moving a rightly important discussion, discussion is all it has come to.
The costs of moving supply-chains and relocating factories would cost trillions of dollars—money that few companies could realistically afford given revenue has already plummeted dramatically as most countries still observe some form of lockdown with shops and factories closed.
Ironically given its lockdown in February kickstarted this dilemma, China is now one of the few countries in the world whose economy has almost completely opened. Alan Beebe, President of AmCham in China believes this is one of the reasons why US-based companies are not leaving.
"In contrast to some global narratives, our China-based data suggests that the majority of our members will not be packing up and leaving China anytime soon," Beebe said "It is worth emphasizing that China appears ahead of the global curve when it comes to restarting the economy following months of lockdown".
Katy Huberty, head of equity research for North America Technology Hardware at Morgan Stanley, agrees the speed in which China has opened its economy following its cases of COVID-19 makes any company moving—especially those in the technology sector–unlikely.
"Technology vendors are encouraged by the pace at which China's production has ramped up post the COVID-19 shock, and this has reinforced their belief in locating the production of their high-volume products in China. This provides reassurance that China will remain a large base for manufacturing in these products," she said in April.
Even without the effects of coming out of lockdown quicker and the cost of relocating, the principles that made China an attractive place to relocate to in the 1980s ring just as true now as they did then.
China is still the largest market in the world, with a bigger car market and more mobile phone users than anywhere else. Staying closer to Chinese consumers is therefore a very good reason to keep production within China.
Logistically, China's infrastructure is one of the key reason's companies continue to enjoy low inventory costs and affordable just-in-time deliveries, especially when compared to some other countries that businesses are considering relocating to.
China's logistic performance according to the last World Bank's Logistics Performance Index in 2018 puts China at 26th, ranked just between South Korea and Taiwan but much higher than Vietnam (39th), Indonesia (46th), Sri Lanka (94th) and Bangladesh (100th).
And while manufacturing costs and increasingly wages may have risen making these other destinations more attractive options, the country is now at the forefront of designing and adopting emerging technology to cut costs, improve supply chains and offer customers a new way to see supplies through the use of augmented reality, 3-D product designs and AI.
The coronavirus has certainly given companies food for thought on how they operate inside China and some companies will certainly choose to move on. But how many and to what extent the virus is a reason for this appears to have been overexaggerated.