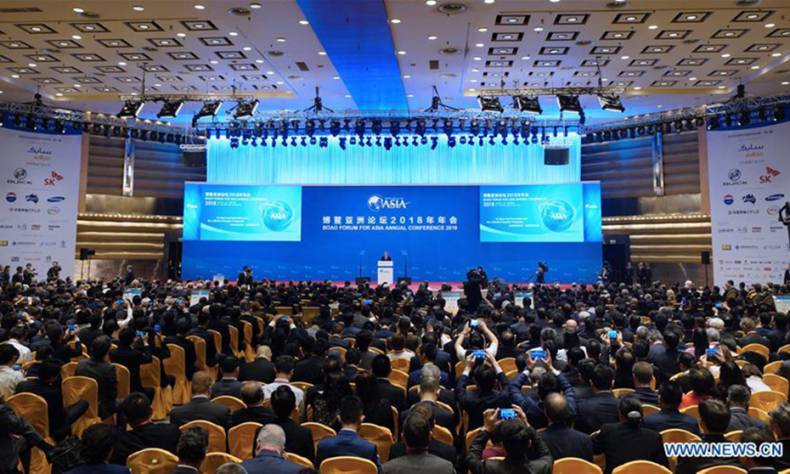 2018 BFA to Further Promote a World of Greater Prosperity
Over the past 17 years, the BFA has become a major platform for Asian countries to express views and debate the economic development of the region.
By Rabi Sankar Bosu
The Boao Forum for Asia (BFA), which is scheduled to take place from April 8 to 11, 2018, in Boao, a small township in South China's island province of Hainan, has been functioning as a pan-Asia dialogic platform on the part of the Chinese government together with the Asian countries and interested parties to deepen mutually beneficial economic cooperation since 2002. Over the past 17 years, the BFA has become a major platform for Asian countries to express views and debate the economic development of the region.
It is to be hoped that this year's BFA will champion itself as the leader of globalization and free trade. All eyes with optimism are now on Chinese President Xi Jinping who will deliver the inaugural address in which he is likely to present new vistas for Asian economic integration and trade partnership amid US trade protectionism.
As 2018 marks the 40th anniversary of China's landmark economic reforms and opening up, the theme of this year's meeting is "An Open and Innovative Asia for a World of Greater Prosperity." It is anticipated that leaders of international organizations and business leaders attending the annual conference will put globalization into perspective in line with its theme and work together for bringing Asian countries closer to uphold the authority and efficacy of their economic development goals.
Since the focus of this year's BFA is largely reform, opening up and innovation, it will obviously highlight China's economic upbeat, its "non-threatening and non-confrontational" diplomacy in the region, particularly its two initiatives – namely the Belt and Road Initiative and the Asian Infrastructure Investment Bank (AIIB).
As an active player and advocate of regional cooperation in Asia, China has made important contribution to regional cooperation. The Jakarta-Bandung high-speed railway, the China-Laos railway, the China-Thailand high-speed railway and the upgrade of the Gwadar port are worthy examples of China's efforts in building an Asian community of shared future.
But at the same time, it needs to be pointed out that although China has long been an advocate of free trade, there is a long road ahead to be a global leader as evidenced by the fact that it has to date signed 16 free trade agreements with 24 countries and regions which is comparatively low compared with the world's four other leading economies U.S., Japan, Germany, and U.K. Therefore, this factor should also be discussed at the time of the panel discussion sessions related to globalization and free trade.
Source: China.org.cn
Rabi Sankar Bosu, Secretary of New Horizon Radio Listeners' Club, West Bengal, India
Opinion articles reflect the views of their authors only, not necessarily those of China Focus.