A Heightened Commitment in the Face of Change and Crisis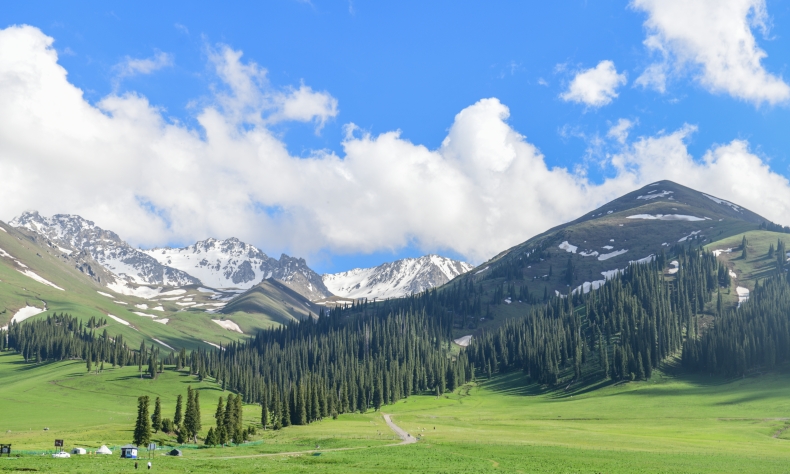 China is serious about reducing its carbon emissions and pursuing green development and has matched its words with deeds.
Our fragile planet is on the brink of a climate catastrophe. It's time to go into emergency mode and mobilize concrete action with solidarity to safeguard our collective future.
Fiction to fact
The evidence for humanity's influence on the climate system, once a scientific hypothesis, has become the established truth.
The past six years since the Paris Agreement on climate change was adopted have been the hottest years on record. To pinpoint a time when the level of carbon dioxide in the atmosphere changed this much this fast, one would have to turn back the clock 66 million years, the end of the dinosaur age.
Unprecedented high temperatures occurred in Russia and India this year. A heat wave, with temperatures hitting a record 48.8 degrees Celsius in Italy, sparked wildfires that devastated swaths of land and killed dozens of people across South Europe and North Africa, from Turkey, Greece and Italy to Morocco and Algeria. On June 29, the town of Lytton in southern British Columbia recorded Canada's highest-ever temperature at 49.6 degrees Celsius. In New York, for the first time, residents were asked to stop using high-power appliances to safeguard the electrical grid. Iraq announced a mandatory official holiday after temperatures exceeded 50 degrees Celsius. Kuwait logged the highest temperature in the world: 54 degrees Celsius in the shade and up to 70 degrees Celsius in the sun.
Climate change also manifested its fury in other ways. The World Weather Attribution group used historical records and computer simulations to examine how temperatures affected rainfall from the late 19th century to the present. It is found that for every 1 degree Celsius the planet warms, the air can absorb 7 percent more water. When that water is released, it causes more extreme rainfall. The sea-level rise doubles the rate of that 30 years ago. Catastrophic flooding caused by record-setting rains struck Belgium, Switzerland, France, the Netherlands, Luxembourg, and severely impacted Germany, leaving 173 people dead. Landslides washed away bridges and piled up debris, with tons of waste appearing out of nowhere.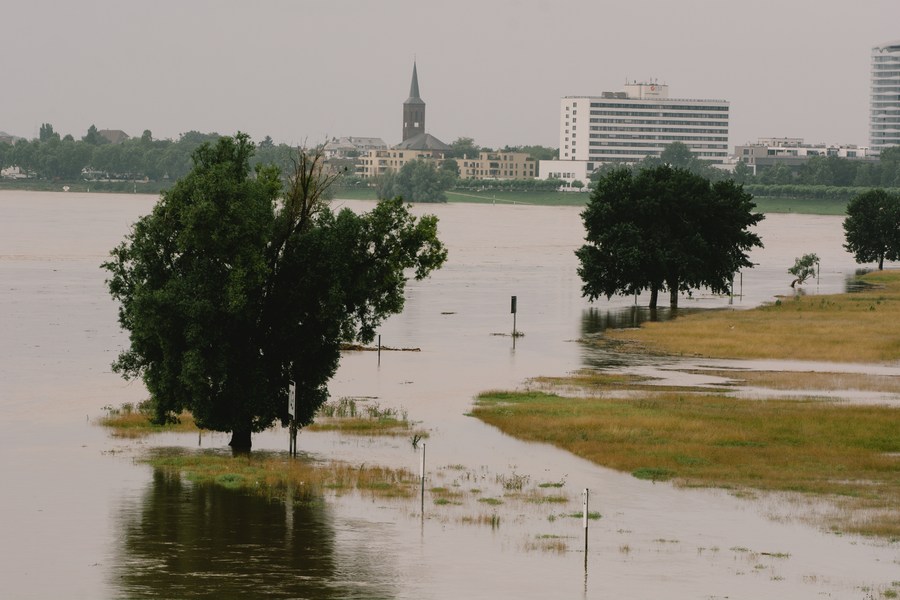 What the world endured this year was a wakeup call for humanity. The growing effects of climate change indicate that countries are not taking adequate action to mitigate greenhouse gas emissions from human activity to curb rising temperatures. Yet the climatic disturbances were fierce and persistent. Climate change is no longer a future phenomenon; it is upon us, here and now.
A pivotal year
The year 2021 can prove pivotal for global action on the climate crisis as the recently concluded 26th Session of the Conference of the Parties (COP26) to the UN Framework Convention on Climate Change (UNFCCC) in Glasgow, from October 31 to November 13, marked the first summit to review the extent of the progress the world has made, or the extent of its failure, in achieving the required goals since the signing of the Paris Agreement in 2015. The agreement saw 192 parties commit to make changes to keep global warming well below 2 degrees Celsius and to aim for 1.5 degrees Celsius in order to prevent a climate catastrophe.
To limit the upsurge in temperatures, COP26 President Alok Sharma stressed the need to reduce emissions by 45 percent by 2030, and stated that the $100 billion industrialized countries pledged to contribute to achieve this goal "is no longer enough because the world needs trillions annually."
In 2009, the developed countries agreed to mobilize $100 billion annually from public and private sources for mitigation and adaptation action in the developing countries by 2020. However, according to the Overseas Development Institute, of the 23 developed countries responsible for providing international climate finance, only three (Germany, Norway and Sweden) have contributed their fair share. In 2018, three quarters of those pledges were disbursed in the form of loans that will need to be repaid, putting a strain on less developed countries.
COP26 success therefore means meeting this challenge by taking an integrated, holistic approach to sustainability, rooted in the 2030 Agenda for Sustainable Development, and ensuring that finance is invested adequately and sufficiently where it is needed most.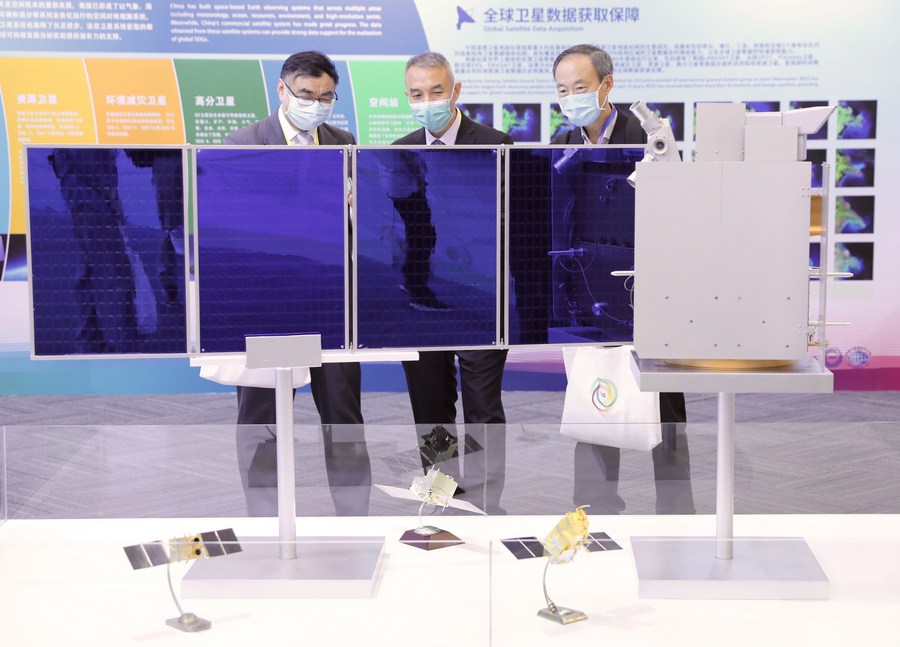 The COP26 outcomes
To end fossil fuel subsidies, phase out coal, put a price on carbon, build up resilience among vulnerable communities against the impacts of climate change, and make good on the $100 billion climate finance commitment to support developing countries, none of these most anticipated goals have been fully achieved at COP26. Nevertheless, the world has at least assembled some blocks for further development.
Pending items that prevented the full implementation of the Paris Agreement on carbon markets and transparency have been approved. Consensus on key actions, namely adaptation, mitigation and finance to address climate change has been reached. The final text of COP26 constituted a compromise reflecting the interests, the contradictions and the state of political will in the world today.
On adaptation, parties established a work program to define the global goal, identifying collective needs and solutions to the climate crisis. The Santiago Network, established at COP25 in 2019, was further strengthened by elaborating its functions in support of countries to address and manage loss and damage.
On finance, there was agreement on the need to continue increasing support to developing countries. The call to at least double financing for adaptation was welcomed by all parties. The duty to fulfill the pledge of providing $100 billion annually from developed to developing countries was reaffirmed. Also, a process to define the new global goal on finance was launched.
On mitigation, the persistent gap in emissions has been clearly identified and countries collectively agreed to work to reduce the gap so that the rise in the average temperature is limited to 1.5 degrees Celsius. Countries are encouraged to strengthen their emission reduction and to align their national climate action pledges with the Paris Agreement.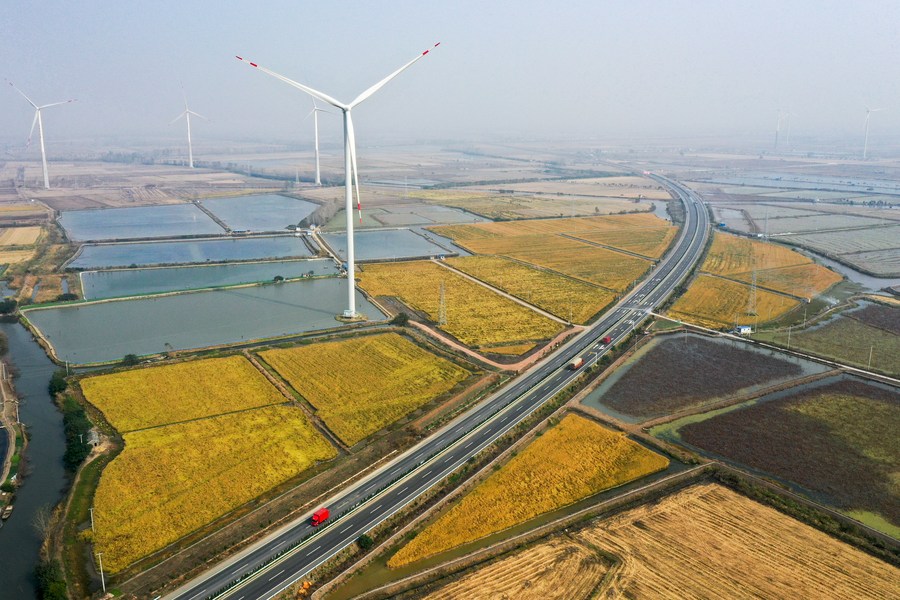 Another key outcome is the conclusion of the Paris rulebook. The accord, marking the fundamental norms related to Article 6 on carbon markets, will make the Paris Agreement fully operational. Negotiations on the Enhanced Transparency Framework, too, were concluded, providing for agreed tables and formats to account and report for targets and emissions.
Moreover, commitments to end deforestation, drastically reduce methane emissions, and mobilize private finance around net zero targets are all welcome steps made during COP26. Leaders from more than 100 countries, representing about 85 percent of the world's forests, promised to stop deforestation by 2030. A scheme to cut 30 percent of current methane emissions by 2030 has been agreed to by more than 100 countries. Some 450 financial organizations agreed to back clean technology and direct finance away from fossil fuel-burning industries.
On November 10, China and the U.S. reached and issued their Joint Glasgow Declaration on Enhancing Climate Action in the 2020s on the sidelines of COP26.
Building on the China-U.S. Joint Statement Addressing the Climate Crisis released in Shanghai in April and the Tianjin talks in September, this joint declaration sets forth specific measures for China and the U.S. to carry out respective domestic actions, promote bilateral cooperation and advance multilateral processes. The two sides appreciate the work undertaken thus far and pledge to continue the combined efforts and cooperate with all parties to strengthen the implementation of the Paris Agreement. They will take enhanced climate actions to effectively address the crisis in accordance with common but differentiated responsibilities and respective capabilities, and in the light of different national circumstances. Both sides agreed to establish a Working Group on Enhancing Climate Action in the 2020s to advance bilateral climate cooperation and related multilateral processes.
This joint declaration is the product of candid exchanges, mutual understanding and respect to increase consensus between the two nations. It shows once again that China and the U.S. can work together on major international issues, accomplish great things that benefit the world through cooperation and inject positive energy into the multilateral processes.
China's concrete actions
President Xi Jinping delivered a written statement to the COP26 summit, offering China's solution for addressing climate change and revitalizing the world economy. He put forward three propositions, namely, upholding multilateral consensus, focusing on concrete actions, and accelerating the green transition. He stressed that China, guided by the vision of a community of life for man and nature, is committed to a green and low-carbon development path that gives priority to ecological conservation. The "1+N" policy framework has identified the timetable, roadmap and blueprint for China's carbon peak and neutrality.
China is serious about reducing its carbon emissions and pursuing green development and has matched its words with deeds.
Firstly, the nation attaches great importance to climate response.
Ecological conservation is one of the "five prongs" of the overall plan for the country's development, the other four being economic, political, social and cultural development. This means that ecological conservation is a priority in China's development.
China has proposed the goals of peaking carbon emissions before 2030 and realizing carbon neutrality before 2060. Recently, China released the Working Guidance for Carbon Dioxide Peaking and Carbon Neutrality in Full and Faithful Implementation of the New Development Philosophy, the Action Plan for Carbon Dioxide Peaking Before 2030 and a white paper titled Responding to Climate Change: China's Policies and Actions. It also submitted to the UNFCCC Secretariat China's Achievements, New Goals and New Measures for Nationally Determined Contributions and China's Mid-Century Long-Term Low Greenhouse Gas Emission Development Strategy.
Across its sandy lands, Gobi desert and uninhabited wasteland, China is planning and building wind power and photovoltaic bases. The first phase of such projects started recently with an installed capacity of approximately 100 GW. It has launched an emission trading system and is building a nuclear power generating system, both the largest of their kind in the world.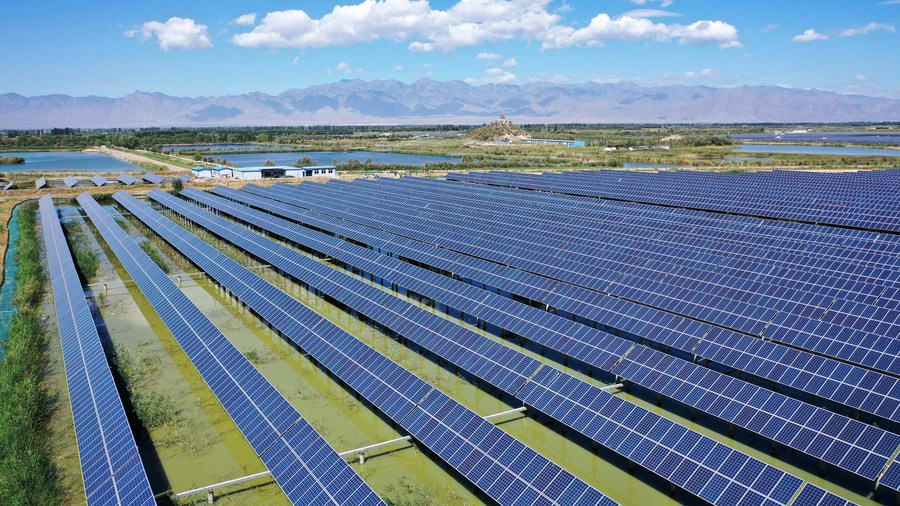 On November 7, a circular on further promoting the nationwide battle to prevent and control pollution was issued. According to the document, by 2025, carbon dioxide emissions per unit of the country's GDP will be reduced by 18 percent from the level in 2020. In cities at or above the prefectural level, the intensity of PM2.5, particles less than 2.5 micrometers in diameter, will be decreased by 10 percent, and the proportion of days with good air quality will reach 87.5 percent. By 2035, carbon dioxide emissions will stabilize and decline after reaching a peak, and the country's ecological environment will see fundamental improvements. The objective of building a beautiful China will be basically achieved. The circular also makes specific arrangements for accelerating green, low-carbon development, winning the battles to defend blue skies, clear waters and clean land and improve the modernization of the ecological environment governance.
Secondly, China's efforts in emission reduction and environmental protection have produced encouraging outcomes.
China has made remarkable achievements in biodiversity preservation. Ninety percent of the types of natural terrestrial ecosystems and 71 percent of the species on the national key list of protected wild plants and animals are under effective protection.
In terms of climate action, China met its target for 2020 ahead of schedule. By the end of 2020, carbon dioxide emission intensity had come down by 48 percent compared with 2005, and non-fossil fuels accounted for 16 percent of primary energy consumption. The drop in carbon intensity translates to a total reduction of about 5.8 billion tons of carbon dioxide emissions. The total installed capacity of photovoltaic (PV) power generation increased by a factor of more than 3,000 compared with 2005, and wind power by a factor of more than 200. China has led the world in PV capacity additions for eight consecutive years. In the manufacturing of wind power and PV power generation equipment, China is the global leader with regards to technology and output.
What requires further emphasis is that China will cut carbon intensity more than any other country and move from carbon peak to neutrality in the shortest time span in human history. It will take 71 years for the EU, 43 years for the U.S. and 37 years for Japan, all of which are developed economies, to do the same. Yet China has set itself a time limit of only 30 years. As the largest developing country, China's carbon neutrality targets are fully consistent with the Paris Agreement goals.
Thirdly, China stands ready to build a community for all life on Earth.
At the UN Biodiversity Conference in Kunming in October, President Xi called for joint efforts in building a community for all life on Earth and proposed four major policies for the preservation of biological diversity, namely harmony between man and nature, green transition and global sustainable development, social equity and justice, and a fair and equitable international governance system based on international law. Thanks to China's leadership, the Kunming Declaration was adopted and the Kunming biodiversity fund set up, with China committing to an initial capital contribution of 1.5 billion yuan ($235 million).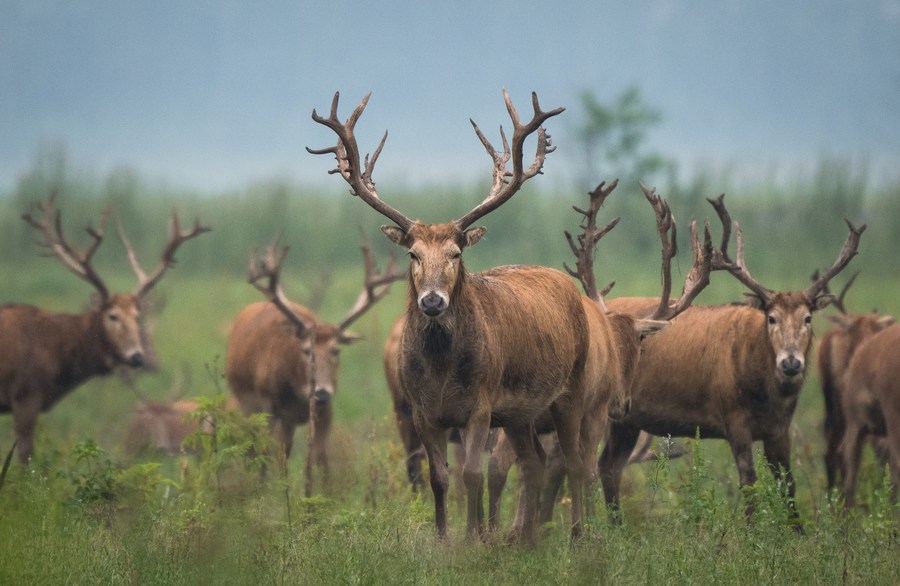 China adheres to the practice of true multilateralism in addressing climate change. In particular, the principles of common but differentiated responsibilities, equity and respective capabilities should be observed. Developed countries with a couple of hundred years of industrialization behind them and historical environmental debts should take the lead in reducing emissions substantially and make bigger contributions to tackling pollution and protecting the environment, instead of pinning the responsibilities on developing countries.
China has been vigorously supporting other developing countries in addressing climate change. In Africa, it assists the local climate monitoring system via satellite technology. In Southeast Asia, it helps establish low carbon pilot zones. Across small island nations, it introduces energy-saving bulbs and pure electric vehicles. These are a few examples of the tangible results of China's cooperation with the less developed regions of the world.
Under the framework of the Belt and Road Initiative, China has launched several green action initiatives. In 2020, 57 percent of China's investment in partner countries went to renewable energy projects, up from 38 percent in 2019. China has also announced it will stop building new coal-fired plants overseas and continue to provide support for the development of green and low carbon energy in developing countries.
COP26 conveys to the world a heightened commitment in the face of climate change, and the need to live up to historic responsibilities. Then again, to get there, a final push is needed to dispel the climate of mistrust on the globe and to ensure that a sense of global solidarity is in place.
Looking ahead, China will continue to honor its commitments and, hand in hand with the rest of the world, plant the seeds of effort and trust for the bountiful harvest of humanity's future.
The author is an op-ed contributor to Beijing Review and an expert on international studies.