A Staggering Transformation Along 20 Years of Foreign Trade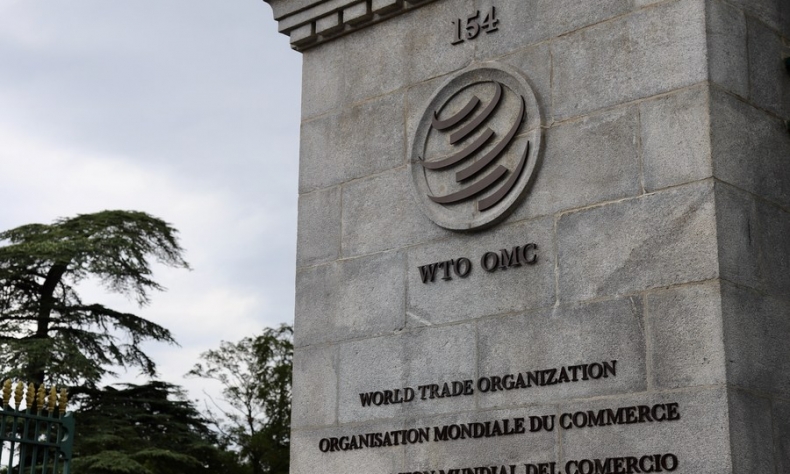 Looking into the future, China is poised to carry on with its efforts to promote economic globalization by further opening itself up to the world.
The closing ceremony of the Fourth China International Import Expo (CIIE) took place in Shanghai on November 10. As the world's first dedicated import exhibition at the national level, the CIIE serves as an important platform for international purchasing, investment promotion, cultural exchanges and cooperation. The Fourth CIIE coincided with the 20th anniversary of China's accession to the World Trade Organization (WTO). The past two decades have seen China's economic aggregate jump from about 10 trillion yuan ($1.54 trillion) in 2001, to more than 100 trillion yuan ($15.4 trillion) in 2020, while its total foreign trade leapt to $4.6 trillion from $500 billion during the same period.
A review of the past
Since its WTO accession, China has displayed confidence and determination in opening up and safeguarding the multilateral trading system by promoting mutually-beneficial international cooperation.
The last two decades since its WTO accession can be divided into three stages.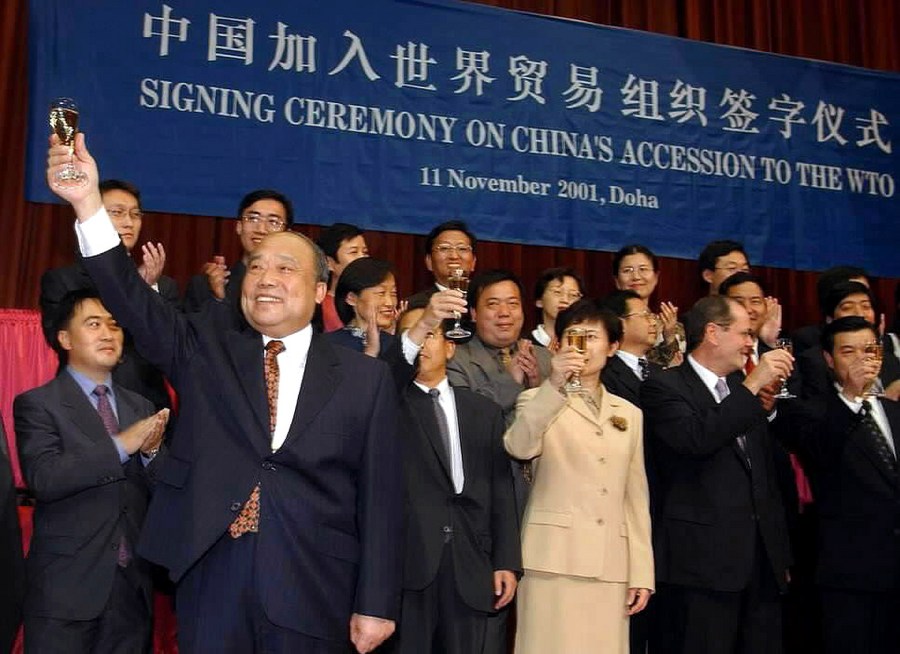 First, the period between 2001 and the 2008 global financial crisis marks China's rapid integration with labor divisions of the global value chain. In line with its WTO accession commitments, China deepened its institutional reforms which greatly propelled its foreign trade. At the same time, the assembling and processing of imported intermediate goods sped up China's integration with the labor division system of the global value chain.
Second, the years between 2008 and the 18th National Congress of the Communist Party of China (CPC) in 2012 saw China fully adjust itself to the changing global value chain, which tended to be shorter and more regionalized. As the pace of global labor division began to slow down, China managed to upgrade its industries by expanding domestic demand and reducing its reliance on exports, thus securing economic and trade growth against a dire global economic background.
Third, since the 18th CPC National Congress, China is becoming accustomed to playing a leading role in reconstructing the global value chain. Guided by the Belt and Road Initiative, China is pushing forward a new round of high-standard opening up through multilateral activities like CIIE, the signing of the Regional Comprehensive Economic Partnership (RCEP), and the conclusion of negotiations on the China-EU Comprehensive Agreement on Investment.
Lessons learned
In the past two decades, China has honored its tariff concession commitments, staunchly supported the multilateral trading system and worked hard to promote reforms of global economic governance institutions. At the same time, China is further opening up its own market to the outside world. It filed its formal application to join the Comprehensive and Progressive Agreement for Trans-Pacific Partnership (CPTPP) and Digital Economy Partnership Agreement (DEPA) in September and November 2021, respectively. These moves display China's determination to open up to a greater extent.
In order to keep in pace with international standards, China had its three laws on foreign investment (the Law on Chinese-Foreign Equity Joint Ventures, the Law on Wholly Foreign-Owned Enterprises and the Law on Chinese-Foreign Contractual Joint Ventures) modified and has carried out revisions on relevant laws and regulations to increase transparency. In 2020, China shortened its negative lists for foreign investment and further improved its business environment.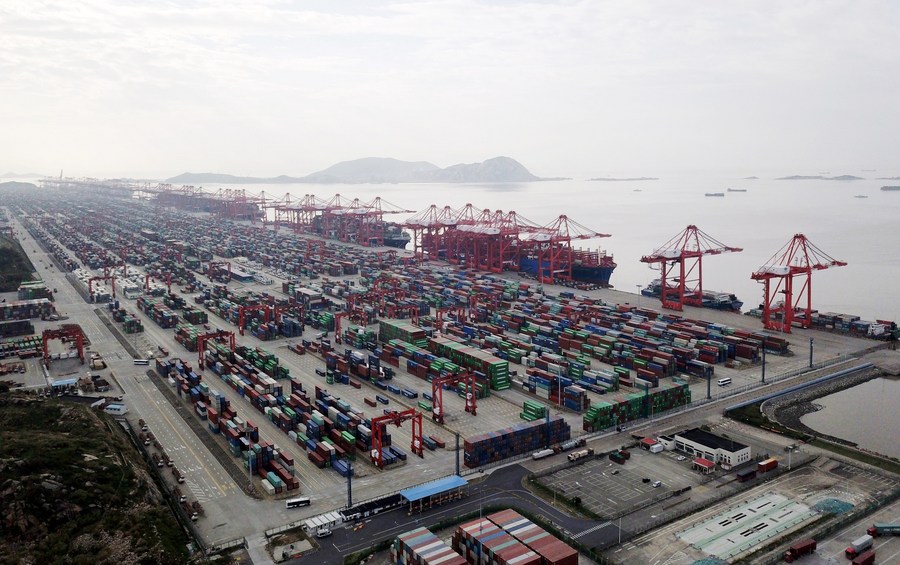 China established its first free trade zone, the Shanghai Pilot Free Trade Zone, in 2013 and, by September 2020, had established a total of 21 free trade zones across the country. The Overall Plan for the Construction of Hainan Free Trade Port was released in June 2020. By building up new platforms for opening up, China is getting in line with international trading rules and expediting the free flow of commodities, services, human resources, capital and information.
New foreign trade fairs and exhibitions continue to emerge, including the China Import and Export Fair (Canton Fair), the China International Fair for Trade in Services, and the China (Shanghai) International Technology Fair. It is through these exchanges and dialogues that China is able to identify new trends of consumer needs and adapt to their changing consumption habits swiftly by cooperating with foreign companies.
Since its WTO accession, in addition to increasing its participation in international trade, China is also working hard to promote reforms of global economic governance. Within the WTO framework, China has signed 19 free trade agreements with 26 countries and territories. Through multilateral and regional cooperation, China is on track to have more high-standard free trade agreements, contributing to a worldwide network of trade, investment, production and services.
Since President Xi Jinping put forward the Belt and Road Initiative in 2013, 141 countries and 32 international organizations had signed cooperation documents with China by October 2021. China is also actively participating in international cooperation on climate change, announcing its goal to realize carbon neutrality before 2060. China is also actively involved in the management of global health affairs and major international health campaigns, and helps to beef up international cooperation on COVID-19 containment, including by supporting the COVID-19 Global Humanitarian Response Plan released by the United Nations.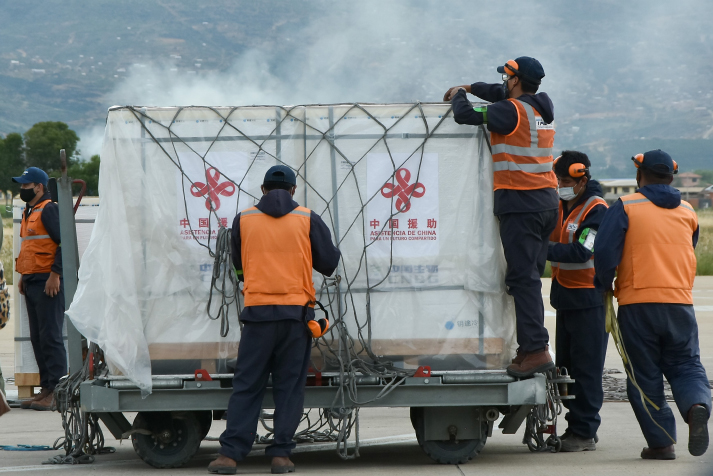 Future directions
China's accession to the WTO was not only a milestone in the country's own reform and opening up process, but also a major event in economic globalization. Twenty years on, China has grown to become a crucial participant in and contributor to WTO restructuring and the rewriting of international trade rules. China also plays a big role in reconstructing the global value chain. The CIIE, which has been held for four consecutive years, is now an important international trade event. Looking into the future, China is poised to carry on with its efforts to promote economic globalization by further opening itself up to the world.
It's important for China to safeguard the rules-based multilateral trading system with the WTO as the core and actively participate in its reforms. At the same time, China will also improve its rules and institutions concerning opening up and upgrade its related platforms. Premium international cooperation platforms are expected to help China transition from a passive actor trying to follow and adapt to international trading rules to one that actively participates in and leads global economic and trade governance.
Currently, the world economy is undergoing a transformation meant to give the digital economy a bigger role in overall economic development. In order to make a meaningful contribution to this process, China must promote the development of emerging digital industries and the transformation of conventional industries into the digital economy, participate in in-depth international cooperation in digital economy and push forward the digital economy through innovation and opening up.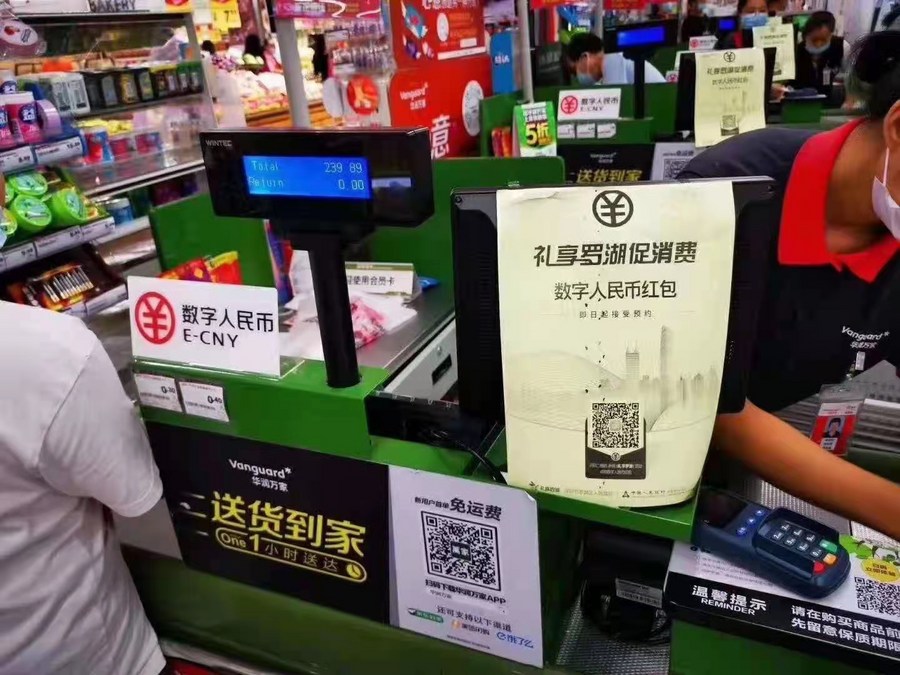 Trade in services is now a critical area for international competition. It is necessary for China to establish a negative list for cross-border trade in services, and upgrade its traditional service trade sectors by employing new technologies, support service companies working in research and development, design, intellectual property rights and information technology, so that the service industry can make new contributions to China's foreign trade.
Battered by the COVID-19 pandemic and China-U.S. trade frictions, the global industrial and supply chains are in need of reshaping. When these chains are either reshored or brought onshore, it is important that China nurtures its domestic industrial chains, increases the speed of core technology research, and works to maintain the stability of global industrial and supply chains.
As the world embraces green and low-carbon development, China needs to push forward its own green revolution. China is committed to a clean upgrading of its industries through continuous efforts to decrease environmental pollution, as well as the development of clean energy and technologies. It is also important for China to get involved in global green governance and relevant international cooperation to better address climate change.
Lu Yue is a professor at the Academy of China Open Economy Studies, the University of International Business and Economics (UIBE); Tian Jilin is a Ph.D. candidate with the UIBE's China Institute for WTO Studies