A Wonderful Flight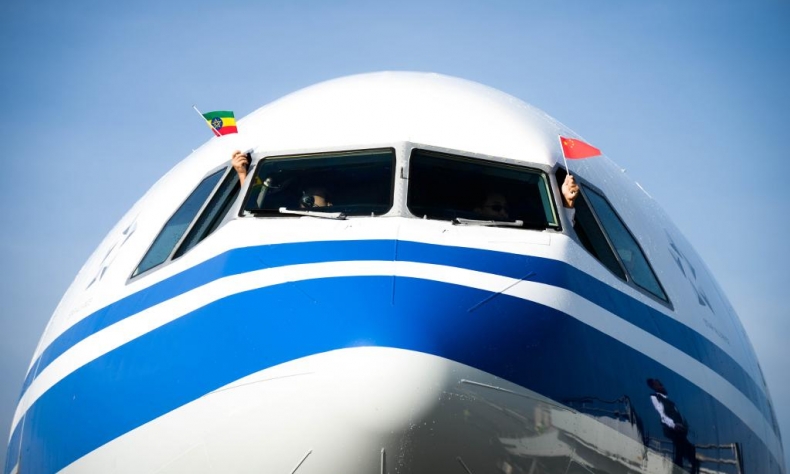 The first African airline to enter the Chinese market half a century ago, Ethiopian Airlines serves as an air bridge between the Asian country and the African continent.
Three years after Ethiopia and China established diplomatic ties in 1970, Ethiopian Airlines made its maiden flight to China on 21 February 1973. The Ethiopian national airline was the first African carrier to reach Asia and has been connecting China with the African continent for half a century.
CEO Mesfin Tasew Bekele hailed the milestone as a significant moment in the history of the airline as well as in China-Africa relations on 31 March during a ceremony commemorating the 50th anniversary of the airline's flights to China. "Ethiopian was among the first to fly to China and has been providing reliable services to the country ever since," he said.
"With nearly 3,000 people travelling daily between China and Africa, Ethiopian Airlines has built an air bridge to facilitate cultural exchanges and promote economic and trade cooperation, thus making a significant contribution to the smooth flow of trade and people-to-people understanding," said Zhou Ping, deputy director general of the Department of African Affairs of China's Ministry of Foreign Affairs.
China and Africa have worked closely together over the last 50 years in a variety of areas, including trade and commerce, science and technology, health care, and tourism. Chinese businesses are becoming more and more engaged in Africa. Ethiopian Airlines is supporting China-Africa relations by linking Beijing, Shanghai, Guangzhou, Chengdu, and Hong Kong with Africa.
First choice
Zhou Mi works at Guangzhou Sunda International Trading Co., one of the first Chinese companies to enter the African market. Ethiopian Airlines is the top choice for Zhou to fly from China to Africa.
"The connections from Addis Ababa, the capital of Ethiopia, which enable travel to major destinations on the continent, are quick and easy, and the service in Chinese language is very convenient for those who do not speak English well," she told ChinAfrica. According to Zhou, the layover in Addis Ababa is typically no more than five hours, "which is much better for travellers compared to the flights offered by other companies."
In fact, the connectivity is a key part of the company's strategy. "In addition to our main hub in Addis Ababa, we are deploying a multi-hub strategy through our branches in Lomé, Togo, in partnership with ASKY Airlines; Lilongwe, Malawi, with Malawi Airlines; and Lusaka, Zambia, with Zambia Airways," Mesfin told ChinAfrica. "Hence, all major destinations in Africa are reachable from Addis Ababa on the same day."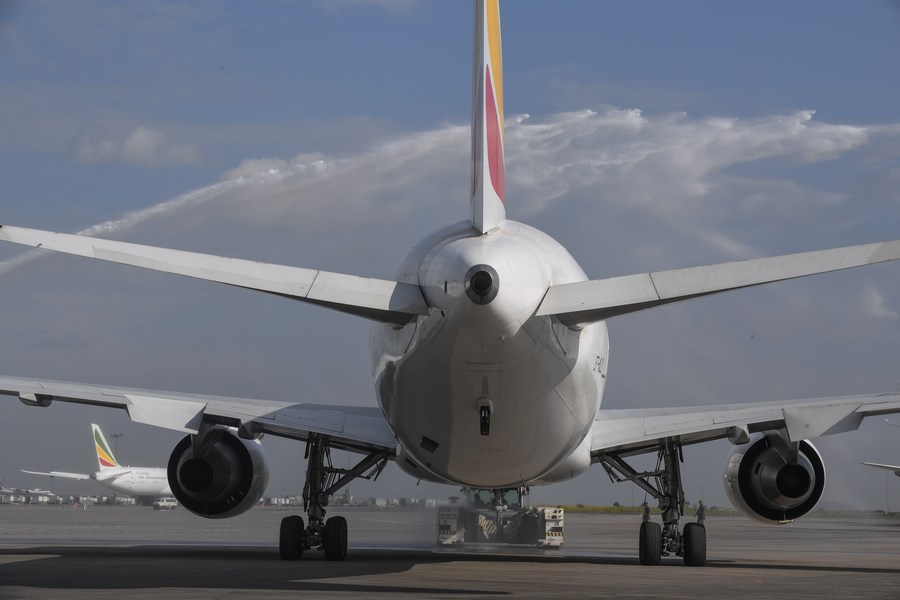 Almost half of all flights between China and Africa were operated by Ethiopian Airlines prior to the COVID-19 pandemic. "We are happy to say that we know the Chinese market better than any other African airline," said Mesfin.
The airline provides services in Chinese to better serve Chinese customers. To make online check-in and ticketing easier, they have developed a website and app in Chinese. On their website, visitors can even apply for an Ethiopian e-visa. At the airport in Addis Ababa, they have signs in Chinese and Chinese-speaking staff to make Chinese travellers feel at home.
It is important to note that despite the COVID-19 pandemic and the reduced frequency of its passenger flights at the time, Ethiopian Airlines never stopped its service to China to make sure that the movement of people was not hampered. It had even established a facility in Addis Ababa to conduct nucleic acid testing for the sake of convenience.
Air Silk Road
The Belt and Road Initiative is marking its 10th anniversary in 2023. Economic and commercial cooperation between China and Africa has grown substantially over the last 10 years. According to China's Ministry of Commerce, in 2022, trade between China and Africa hit a record high of $282 billion. For 14 years in a row, China has been Africa's top trading partner. China is now the fourth-largest source of investment in Africa, and its investment has remained consistent.
"As Africa's leading airline, it is our responsibility and mission to support the Air Silk Road linking the countries participating in the Belt and Road Initiative," said Mesfin. For that purpose, Ethiopian Airlines has recently started weekly cargo flights connecting the Chinese city of Shenzhen with Dubai, the United Arab Emirates and the Belgian city of Liege, as well as connecting the Chinese city of Xiamen with the Brazilian city of Sao Paulo and the Chilean capital of Santiago via Addis Ababa. Moreover, it runs cargo flights to Hong Kong, Guangzhou, Shanghai, Zhengzhou, Changsha, Wuhan, and Chengdu. It is now operating 35 cargo flights per week to China.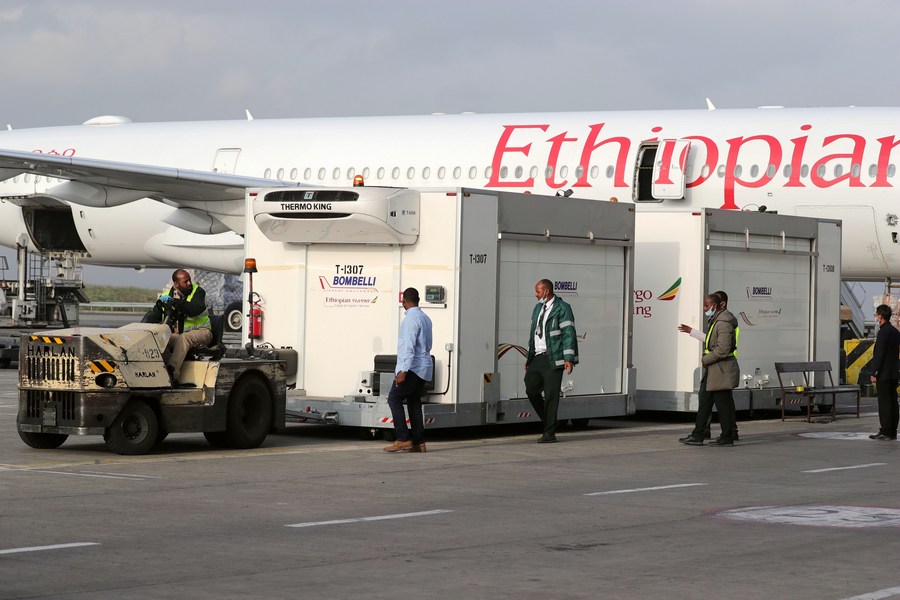 The COVID-19 pandemic has had a significant impact on the world aviation business. During the height of the crisis, Ethiopian Airlines had to cancel 90 percent of its foreign flights. In order to address this significant challenge, the airline made the decision in 2020 to concentrate on its cargo business, converting 25 passenger aircraft into freighters to transport primarily urgent medical supplies and vaccines to more than 80 countries, significantly enhancing the global supply chain.
Aviation partnership 
Ethiopian Airlines has partnered with several Chinese airports over the last 50 years. "Chinese airports and local governments have provided Ethiopian Airlines with crucial material and financial support for passenger and cargo protection on the ground, aircraft overhaul and maintenance, refuelling and meal distribution," said Mesfin. 
After China's optimisation of its response to COVID-19 in December 2022, Ethiopian Airlines was the first to declare the resumption of flight frequency to the 2019 level for the summer and fall seasons. A total of 35 passenger flights per week will be operated to China once the service is completely restored.
Mesfin said that Ethiopian Airlines will expedite pilot training and fleet planning for the adoption of the Chinese ARJ21 and C919 aircraft in order to become the first African airline to fly them. It will also strengthen its partnership with Chinese civil aviation industry, particularly with Air China, which is also a member of the Star Alliance. Moreover, it will expand interactions with academic and research institutes in fields such as cross-border e-commerce, supply chain management, talent development, and new technology application.
Regarding the Chinese civil aviation market, the company is optimistic about its future prospects. "China is the world's largest market with the highest potential. International airport hubs are being built in a number of Chinese cities, which presents numerous opportunities for foreign airlines like Ethiopian," Mesfin said.