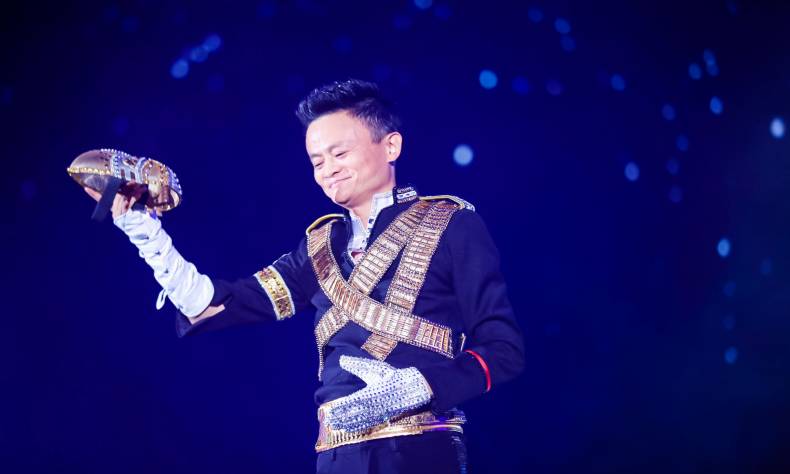 Alibaba's 18th Birthday: Is Jack Ma an Idealist or a Braggart?
On Sept. 8, China's e-commerce giant Alibaba Group celebrated its 18th anniversary in Hangzhou, capital of east China's Zhejiang Province.
Around 40,000 Alibaba employees from dozens of countries and regions attended the party. Employees and executives enjoyed the event together. Jack Ma, Chairman of Alibaba, even performed a classic Michael Jackson dance together with some of the other business partners.
On Sept. 8, China's e-commerce giant Alibaba Group celebrated its 18th anniversary in Hangzhou, capital of east China's Zhejiang Province.
Around 40,000 Alibaba employees from dozens of countries and regions attended the party. Employees and executives enjoyed the event together. Jack Ma, Chairman of Alibaba, even performed a classic Michael Jackson dance together with some of the other business partners.
The celebration was well-merited – after all, Alibaba's market value is now about $ 445 billion.
Who would believe that a company of this size started with only 18 people? But even from the very beginning, Ma's target was to establish a company that would survive for 80 years and serve small and micro enterprises, becoming the biggest e-commerce company around the globe.
In 1998, Alibaba started with B2B (Business to Business). This model allows firms to exchange products, services and information online. As it developed, Taobao began to use C2C (Customer to Customer). Many brands accepted this idea and signed up. There are also many active B2C (Business to Customer) participants online, which gives customers more choice in their shopping.
Alibaba is not the only e-commerce company in China. Ebay and Amazon are two US e-commerce companies which both started in 1995, three years ahead of Alibaba. But Jack Ma determined to create a company adapted to the Chinese market. In 2003 Alibaba created Taobao and Alipay; in 2005 it took over all the assets of Yahoo in China. From that point on Alibaba's growth has been unstoppable.
However, Ma is not about to rest on his laurels. "Never be complacent…There is always room for improvement in every area," he said.
Ma intends to pursue further growth, and realize his target of growing Alibaba market value to the size of the GDP of the world's fifth largest economy within the next two decades. Although this serves only as a reference, as GDP is a totally different indicator, it still shows the broad ambition of Jack Ma. Some may consider this goal to be entirely unrealistic.
But Ma said the trick behind Alibaba's success is to be an idealist.
"What has enabled us to do so well over these 18 years is that we are idealists, and idealism has driven us until today," Ma said. "If we lose our idealism, our ambitions, we become dull…We can lose everything else, but we can't lose our ideals."
Indeed, a number of Alibaba's new business launches add convenience to daily life. While Taobao and Alipay are its strongest ventures, Alibaba has dozens of other services to be explored – such as package delivery like Cainiao, and films like Ali movie – all of which are very convenient to use.
Alipay
A recent survey targeting foreign youth suggested that the four things that they want to take from China – the "four great new inventions of China" – are high-speed rail, shared bikes, Alipay and e-commerce.
Among the four, Alipay is the big brand of Alibaba.
Alipay (Zhifubao) was established in 2004. It acts as a third-party platform through which buyers pay for their goods by inputting payment passwords or scanning a payment code on the Alipay app installed on their mobile devices.
But if you are shopping online, the money you pay will not go directly into the seller's account. As a third-party platform, Alipay operates a credit service between customers and sellers, and only when the purchase has reached the customer will the money flow from the credit platform to the seller. Alipay is a new tool of third party payment.
Alipay also supports cross-border, online, and in-store payments.
In 2013, Alipay exceeded PayPal as the world's largest mobile payment platform.
With his business developing, Ma continued to explore potential overseas markets. Alibaba's first stop-off was India; as a developing country with a large population, this was clearly a good choice. In 2009, shortly after Alibaba had entered the India e-commerce market, Ma announced that the company's registered customers had surpassed one million.
Ma recently traveled to Kenya in Africa. There he shared experience of China's internet entrepreneurship, and invited about 200-500 Africa entrepreneurs to attend training in Hangzhou next year.
When asked when Alipay will enter Africa, Ma said he has this in mind and is looking for suitable partners there.
This trip made the Chinese living in Africa proud, while offering enormous opportunities for a new start in Africa.
E-commerce
Another of Alibaba's strengths is e-commerce, Alibaba is a pioneer and one of the leading player in e-commerce, along with Jingdong and Tencent. These three companies have transformed the average lifestyle – not only in China but all over the world.
Alibaba has two popular online retail platforms: Taobao and Tmall.
Established in May 2003, Taobao facilitates Customer-to-Customer(C2C) retail by providing a platform for small businesses and individual entrepreneurs to open online stores that sell mainly to consumers in Chinese-speaking regions but also serve foreign markets.
Tmall, established in 2008, is a Business-to-Customer (B2C) platform aiming to provide consumers on-line shopping convenience.
Through the presence of Taobao and Tmall, November 11 in China is no longer a festival for singles only, but a shopping carnival for all.
"Double Eleven" was originally launched on November 11 2009. Known as the Chinese version of "Black Friday", it is now held every year on that day.
It has developed into China's biggest annual online shopping spree. In 2016, the daily transaction volume amounted to more than 120 billion Yuan.
In China, every family with access to the internet will have enjoyed the convenience brought by Taobao or Tmall. You can buy anything you want through the platforms, and just wait comfortably at home while the goods you have ordered are delivered by a courier.
Even if you buy something from abroad, it will arrive at your door in less time than you would have imagined possible.
Still, popularity always comes with criticism. Tianmao and Taobao are the targets of a lot of comments accusing them of supplying fake products and enabling fraud chains. Policing has to be strict to ensure that the customer's online shopping experience is safe.
Alibaba's Mission
But Alibaba is a large, mature and respectable enterprise that happily shoulders the burden of its social responsibilities.
"These days we must consider the times and global society," Ma told the crowd at the celebration. "If we do, we will see that our responsibilities are to our own family, our nation, our society and the world. Only then can we be respected by the world. Businesses must drive the progress of society."
In January, shortly after Donald Trump was elected US President, Ma met him in New York to discuss how Alibaba could help create jobs in the US. He promised that he would help create one million jobs over five years by enabling small businesses to sell goods on Alibaba's e-commerce platforms, primarily on its Taobao and Tmall websites.
One million jobs? Some might respond to the news with a sneer, or laugh it off as a joke. But Alibaba is a doer.
From June 20 to 21, Alibaba hosted the "Gateway 17 Summit" in Detroit to teach small and medium-sized enterprises (SMEs) in the US about the Chinese market and consumer demand. The ultimate goal is to help them sell to China.
Approximately 3,000 US SMEs registered for the summit, almost triple the number Alibaba expected. 673 were from Michigan, and 103 of those were from the Detroit metro area.
If an American company starts to sell their products to China, they will be able to take on more employees. The two-day conference was an early step on the road to fulfilling the promise made by Ma to President Trump.
Jennifer Kuperman, head of international corporate communications at Alibaba, said that if anything, the 1 million figure is "conservative".
Alibaba constantly looks for ways to fulfill its mission: to make it easier to do business anywhere. It is not only a giant e-commerce, it focuses also on cloud computing, digital media and entertainment, logistics and others.
According to Bernstein Research Company's executive partner Drew Bernstein, "One of the most interesting parts of Alibaba is its international line, which is how it develops in the European market, especially the Russian market. Both Alibaba and Amazon can win in their home territory. But Europe, not the Russian market, is the most interesting market for Alibaba to compete with Amazon."
Wall Street also speculated that the Alibaba IPO could raise more than $20 billion, but in Silicon Valley, they did not see Alibaba as a competitor, Silicon Valley executives pointed out that the reason Alibaba and its rivals were able to prosper at home was because of their advantage as Chinese Internet companies, and their ability to keep American competitors at bay. Amazon and eBay have encountered difficulties in the development of Chinese, while the Chinese e-commerce giants have not yet really tried to penetrate the United States.
Its future is beyond our imagination. Alibaba may indeed set some targets or make some vows that seem implausible to others. But as long as it continues to find the right path to its goals it is an idealist, making dreams come true.