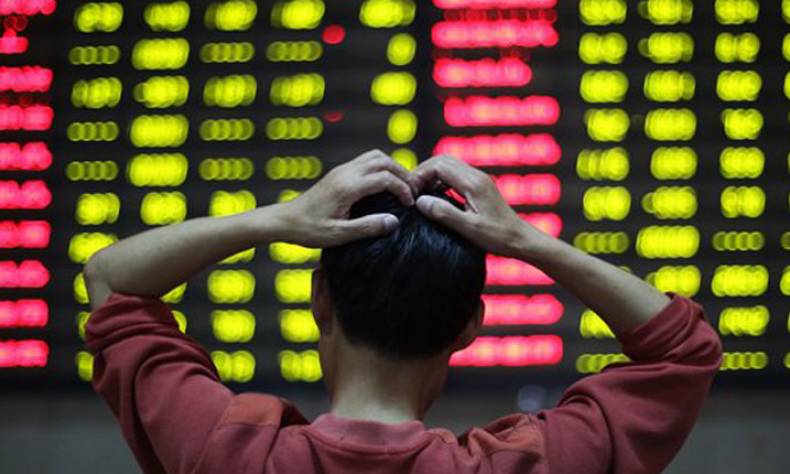 Amateur Investors Burned by Stock Market Decline
"Two months ago, I thought I was stupid for not piling into the equity market. People around me were making money so easily from their investments," says Johnny Chen,
30, my colleague and an amateur investor in the Chinese stock market. "Now I feel I am even more stupid for not cashing out at its peak."
This feeling of regret is spreading like wildfire among amateur investors since the Shanghai Composite Index's dramatic decline on June 26. In recent days, many of my colleagues are debating whether the bull run is over and if Chinese stocks have entered a bear market. As a new media startup, most of the staff where I work were born
in the 1980s or 90s, as I was, graduating from college between 2006 and 2007, a time when China last experienced a bullish market. We would have missed out then as we
were just starting out on our careers and not "wealthy" (and we are still not, media being the mostly low-paying career it is globally).
Many of China's new investors are inexperienced retail investors who are likely following the advice of friends or media, according to a recent report from Forbes. These retail investors are one of the biggest drivers behind the Chinese markets' rally over the past year. The number of investors who have opened new stock accounts so far
this year is more than the total number for all of 2012 and 2013 combined, according to data from China Securities Depository and Clearing.
As a member of the post-80s generation living in Beijing, I can definitely understand their passion for stocks. Housing prices in Beijing have skyrocketed to an unacceptable level (downtown prices on average are $8,000 per square meter), 4-5 times prices in 2007. Sadly, however, wages have not increased at a corollary pace. Most young people who have already bought an apartment in Beijing are stuck paying off their mortgage; for those who haven't, owning their own home feels like a far off dream that moves with the horizon.
"My annual income has not risen, but my annual household expenditure certainly has," says Johnny, whose household spending has been inflated by his welcoming of a baby last January. He bought an apartment with a mortgage, the house located outside of the 6th Ring Road on the outskirts of Beijing, his purchase costing him 3.5 hours each day as he commutes to and from the office. Counting on the profits from his investments to ease his financial pressure, now Johnny calms his nerves by listening to Hong Kong pop star Miriam Yeung's "Courage" on repeat all day."I hate to make a loss, but that is the price an amateur investor has to pay," he says.
"Everyone just wants to make some money, so it becomes like gambling. Why do gamblers continue betting even when they are losing money? It's the same investing in stocks. If you lose money, you want to make up the losses. If you earn money, you want to earn more," Mr. Yang, a 65-year-old Beijing retiree, told The New York Times.
Investing is serious business that requires a great deal of research and professional expertise. As such, amateur investors should not treat it like gambling but instead learn from the experiences and lessons of others. It is with this in mind that I would dissuade young amateur retail investors from the Chinese stock market. It is simply a waste of time. One may argue that it is the easiest way to make money. Surely, if you devote yourself to your work or studies, quick riches will not simply fall from the sky. In the long run, however, little by little, your accumulated experience can make you an outstanding person. The rate of return on personal enrichment is much higher than gambling on the stock market.