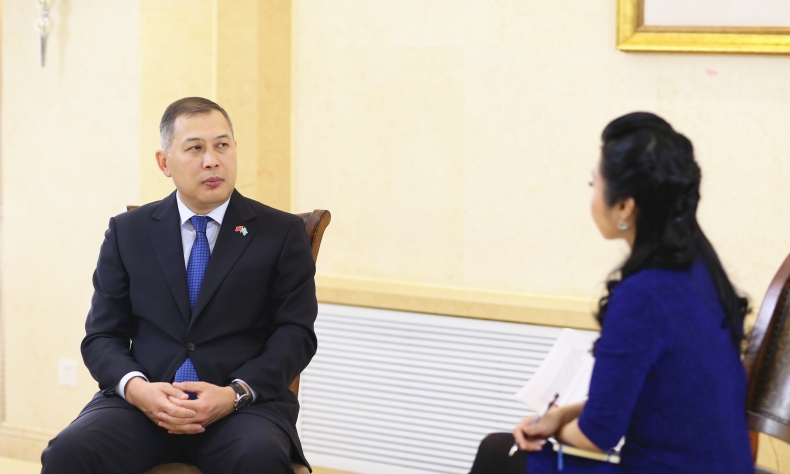 【Ambassador Interview】 Kazakhstan Ambassador to China: China-Kazakhstan Relations Hit Historical Pinnacle
One of the important directions for Kazakhstan's diplomacy is to develop diplomatic relations with China. The President of Kazakhstan attaches great importance to developing good-neighbourly and friendly relations with China.
The Conference on Dialogue of Asian Civilizations, held May 15-22 in Beijing, is one of the most important diplomatic events of the year to be hosted in China. China Focus, together with the Development Research Think Tank of China (DRTT) Group and China Development Observation, has launched a series of in-depth columns under the name of "Ambassador Interview" to show the points of view of the ambassadors to China of various Asian countries on the theme of the harmonious co-existence of a wide range of civilizations. Today, we have an exclusive interview with Shakhrat Nuryshev, the Ambassador of Kazakhstan to China.
"China has made great changes in the past 40 years in economic, political and social aspects," Ambassador Shakhrat Nuryshev explained. "And I have noticed that the Chinese people also have changed, especially in psychological aspects. My impression of the Chinese people has also changed. Chinese people are not only very concerned about domestic affairs, but also international ones."

Relations Between China and Kazakhstan Have Hit Their Historical Pinnacle.
Sun Chao: As ambassador to China, how do you think we can better strengthen the relationship between China and Kazakhstan and how can we promote future development?
Shakhrat Nuryshev: This year marked the 27th anniversary of the establishment of diplomatic relations between Kazakhstan and China. Although 27 years is not a particularly long time, the relationship between the two countries has experienced solid development. Therefore, our 27 years of exchanges and communication is equivalent to that of 100 years with other countries.
In 2011, Kazakhstan and China established a comprehensive strategic partnership. In 2015, when then President of Kazakhstan Nursultan Nazarbayev visited China, the two countries signed the Joint Declaration on the New Stage of Comprehensive Strategic Partnership Between the People's Republic of China and the Republic of Kazakhstan. Comprehensive strategic partnership includes political and economic cooperation on both bilateral and multilateral bases.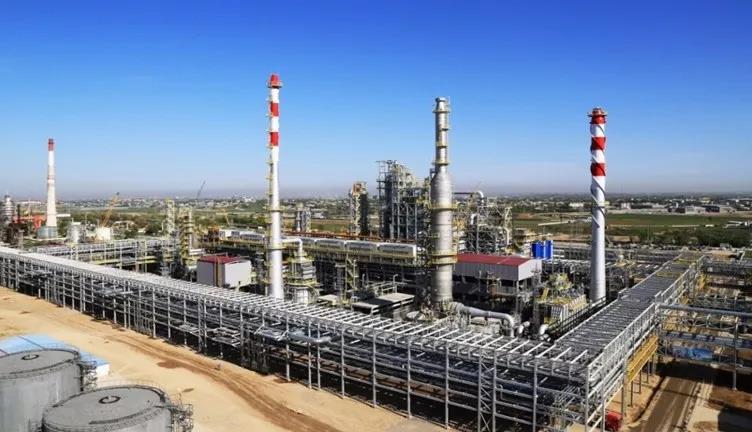 I would like to emphasize that Kazakhstan-China relations are now at their peak stage. The two heads of state have also established a close personal relationship, which contributes greatly to the development of bilateral relations. The two countries have recently established a meeting mechanism. If one is paying close attention, you will find that the two heads of state meet at least once a year, and visit each other countries each year. During the meeting, bilateral cooperation and cooperation under the framework of multilateral institutions including the United Nations, the Conference on Interaction and Confidence-Building Measures in Asia (CICA), the Shanghai Cooperation Organization (SCO) and other frameworks were discussed.
Exchanges between the two countries are very frequent, especially in the field of economic cooperation. However, bilateral trade volume has declined these years. The main reason for this decline is the global economic situation. We hope that trade volume will grow again in the future. China is restructuring its economy. Kazakhstan also has some economic problems. Both of our countries should strive to create favourable conditions for us to promote the sustained development of our two economies.
One of the important directions for Kazakhstan's diplomacy is to develop diplomatic relations with China. The President of Kazakhstan attaches great importance to developing good-neighbourly and friendly relations with China. On January 31, 2017, the President of Kazakhstan delivered a state address to the nation, emphasizing the development of friendly China-Kazakhstan relations. As ambassador to China, my main objective is to strengthen bilateral relations and promote comprehensive cooperation in the fields of politics, economics and trade, culture and so on. My other important goals include strengthening the understanding and exchanges between the people of the two countries and actively promoting cooperation between the two countries.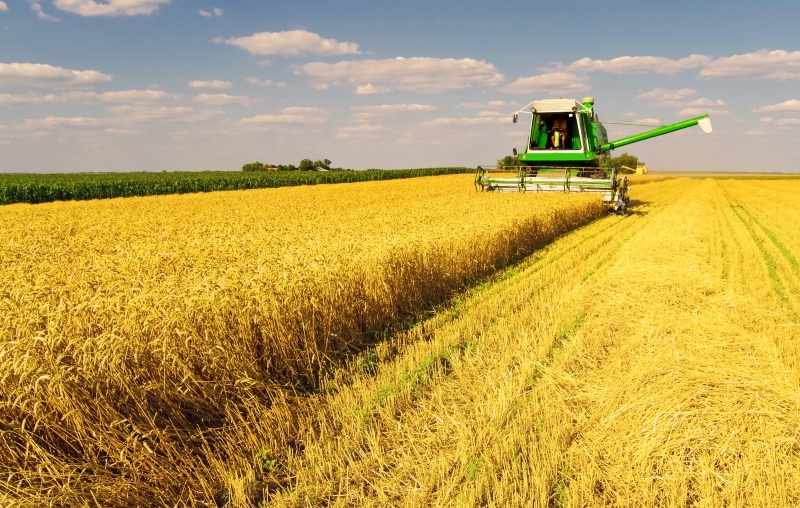 Sun Chao: I would like to ask if you have any specific projects or measures designed to promote the further development of Sino-Kazakh economic and trade relations?
Shakhrat Nuryshev: According to China's relevant agencies, trade volume between Kazakhstan and China was $14 billion in 2015 and $13 billion in 2016. Trade between the two countries has declined in the last three years. However, the governments of the two countries have done a lot of work to try to increase this trade volume. Kazakhstan and China are implementing a capacity cooperation program which includes 51 projects. Investment totals $26 billion. The implementation of these projects will help enhance economic and trade cooperation between Kazakhstan and China. The 51 projects cover many areas, including automobile manufacturing, chemicals, metallurgy, renewable energy, food and technology. We hope that these 51 projects will bring new impetus to Kazakhstan's economy.
Kazakh agricultural products are being exported to China. Our agricultural products are organic and green. Kazakhstan is also actively exporting Kazakh wheat, meat, honey and beans to China.
We are also active in the field of transportation. As we all know, Kazakhstan is a landlocked country. But Kazakhstan's geographical position is very important. A huge number of important railways and roads pass through Kazakhstan. We are speeding up the Western Europe-Western China International Highway program. There are now three vital railway lines passing through Kazakhstan. The first one connects Europe. The second one connects Georgia and Turkey through the Caspian Sea. The third one passes through Kazakhstan, Turkmenistan and Iran, connecting the Persian Gulf. There are also two railroad ports on the border — Dostyk-Alashankou port and Khorgos port.
We are very confident about implementing the Belt and Road Initiative. China will be able to export its products to other countries with Kazakhstan's help. Products from other countries can also be sent to China through Kazakhstan. We have established a joint venture in the port of Lianyungang, through which Kazakh products can be shipped to China and Chinese products can be shipped to Kazakhstan. In early February this year, Kazakh wheat began being exported to the Southeast Asian market through Lianyungang. This also represents a wonderful example of the connection between the Silk Road Economic Belt and the 21st Century Maritime Silk Road, which indicates that our cooperation has broad prospects. I sincerely hope that the signed documents and the desire of both sides will be able to help raise our cooperation to a new level.
Energy cooperation is an important part of economic and trade cooperation. Kazakhstan has exported oil to China for many years. From this year we will begin exporting natural gas, for which we already possess established infrastructure including transportation, oil pipelines and natural gas pipelines.

The Starting Point of the "Silk Road Economic Belt"
Sun Chao: In September 2013, Chinese President Xi Jinping first proposed the Belt and Road Initiative right in Kazakhstan. The Initiative possesses a natural and indeed innate connection with Kazakhstan. From this perspective, what are your thoughts on the Initiative?
Shakhrat Nuryshev: You're quite right. In September 2013, Chinese President Xi Jinping delivered an important speech related to the Silk Road Economic Belt for the first time in Kazakhstan, which carries great symbolic meaning. Therefore, Kazakhstan became the first country along the Silk Road Economic Belt. Kazakhstan was also the first country to support this Initiative. In September 2013, when President Xi Jinping delivered his speech at Nazarbayev University, then Kazakh President Nazarbayev was also present. President Nazarbayev immediately responded: "We support your initiative."
Within the framework of the Silk Road Economic Belt, we have many areas of cooperation. The first is traffic and logistics. There are many railway lines in Kazakhstan, and Kazakhstan has signed a plan to connect the Nurly Zhol program to the Silk Road Economic Belt. In September 2016, at the invitation of Chinese President Xi Jinping, Kazakh President Nursultan Nazarbayev attended the G20 Summit. The two heads of state met with each other and signed a docking plan to cooperate in terms of economics, tourism, logistics, trade and other aspects.
Cooperation between Kazakhstan and China within the framework of the Silk Road Economic Belt should become a model of cooperation between countries. More than 100 countries have expressed support for the Belt and Road Initiative. We hope that this forum will further promote cooperation between China and Kazakhstan, as well as cooperation among other countries along the Belt and Road. This Initiative is mutually beneficial and win-win, through which both sides can solve common problems, such as inadequate infrastructure and manufacturing. China provides financial and technical support to build new businesses.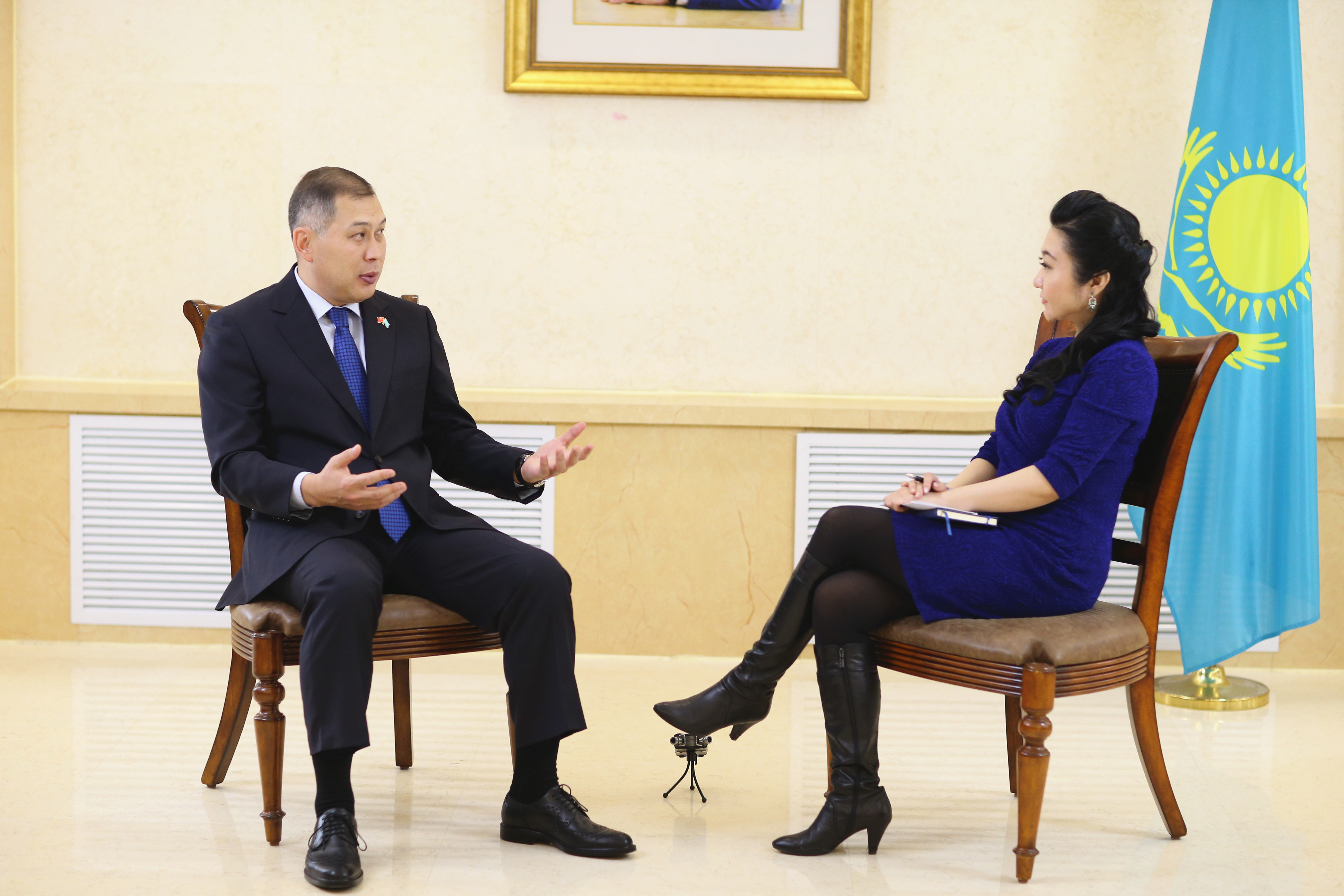 Sun Chao: Considering the crucial strategic position of Kazakhstan, how do you think Kazakhstan could better engage in the Belt and Road and therefore play a more important role?
Shakhrat Nuryshev: Many people ask why Kazakhstan is so active in the Belt and Road framework. In 2012, the Government of Kazakhstan adopted a new concept — the New Silk Road — which includes many of the principles and regulations within the Silk Road Economic Belt. This means China's Silk Road Economic Belt fits with our own initiative very well. The Silk Road Economic Belt mainly includes traffic and logistics connections. Kazakhstan carried out related work prior to the initiative being proposed. On the traffic side, we have established a transportation route linking us to Europe, building railways from Turkmenistan to the Iranian portion of the Persian Gulf and Turkey. We have already started construction on the Western Europe-Western China International Highway. One of our main tasks is to attract Chinese investment and technologies, such as communications technology, biotechnology, cross-border e-commerce and the latest digital technology.
Sun Chao is an editorial board member at China Development Observation, Vice President of DRTT Group, and author of New Order: Ambassadors' Views on the Belt and Road Initiative.