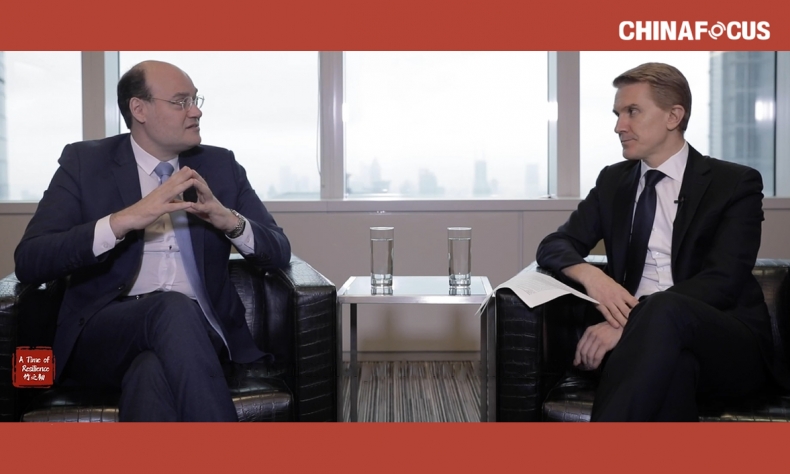 Bertrand Régnier: Key Pillars for Building a Community with Shared Future for Mankind
Cooperation is very important in difficult times, because no one can win on its own.
Editor's Note: The pandemic of Covid-19 has brought impact on the world. In the crisis, it underlines the importance of a community with shared future for mankind. What is the role of the China, France and the EU in building such a community? David Gosset, the founder of Europe-China Forum, discussed with Bertrand Régnier, a business leader and a partner of Ernst & Young in the serial interview of A Time of Resilience.
A Time of Resilience, hosted by Mr. Gosset, is a high-level dialogue with international veteran diplomats, business elites and outstanding scholars. The serial interviews are presented by China Focus in association with DG2CI Limited.
David Gosset: It's really nice to be here, because really many fantastic places in Shanghai. We are going through a very special moment. It is why we call this series actually A Time of Resilience.
Bertrand Régnier: Resilience is clearly with agility. The two points that are coming through these last two months of being in China, I would say that resilience has to go through maybe for us four pillars. The first pillar, and I will develop, is the people. The second pillar was the clients' centricity. The third pillar was basically society. And the fourth pillar was related to being liquid, liquidity, because we are an organization where we have to stay liquid.
David Gosset: How do you see the French companies and the Chinese companies co-creating values?
Bertrand Régnier: That's very important in the context, knowing that everything is moving basically. It depends on where do you stand in terms of the momentum. I think that recent months has been showing that we are maybe in another period and that things have very much evolved.
So, I'm still trying to understand. But I believe that the goal, the ultimate goal, is pretty much the same. How can we win together and how can we continue to build up a being-in-control and a win-win-again situation position? So first, I think between France and China, what's very important is to really remind that we are talking about a very long history and a very long cooperation.
I think cooperation is also a very important term in the context, because we need to cooperate, because in this kind of difficult times, no one can win on its own. I think we need to stand together and you need to develop, to co-develop actions together.
David Gosset: I fully agree with you here. How do you see the significance of the Belt and Road in this post-COVID-19 world?
Bertrand Régnier: Because we were mentioning the cooperation between France and China, and I think that's really related to the Belt and Road when we talk about China's investment in France. Right now, France is positioning as, I would say, a good country, a positive country when comes the time of Chinese investment.
I think maybe now 2020, we are in the COVID or post-COVID-19 situation, maybe that's a good time to sit down and look back. What has happened and how can it be seen as a more positive initiative? Because as you also know, there are a lot of comments on what has been done, what could be done, and so on. I really believe at the end that it could be a co-value project. Wherever a country is good at, coming together and building together something, that's where positiveness, more positiveness potentially could come. You know about all the ties between France and Africa. It's quite obvious that every time that we talk about the Belt and Road and France and China, we say, okay, then let's go to Africa.
David Gosset: On this axis of the Belt and Road, we go in a very natural way toward Africa. There is not enough trust between China and the West. But when we think about the causes of this mistrust, very often we forget the very basic fact that, in fact, so many people in the West, I don't even talk about the US but let us talk about France, so many people simply ignore China, or do not know enough basic things about China.
Bertrand Régnier: I believe that a lot of issues, a lot of problems or a lot of misunderstanding, let's put it this way, they are related to the fact that we don't talk to each other or we don't know each other so much.
So, then how can things change? Things change when we build up a platform, a communication platform where we put together people from different backgrounds, different cultures, different sector industries. Then we get into one room, one forum, one seminar, and then we exchange.
David Gosset: Thank you very much, Bertrand, for your passion for dialogue. This is something that is needed. I was listening to you. We are here to have a conversation in a time of resilience. You explain your views on resilience. But I think time after the immediate, let's say, resilience, what needs to come is a time for collaboration.
This community of shared future for mankind cannot be built in one step. It's a long process. It will require much more dialogue, collaboration. But certainly, if we go into the direction of this community, I think the role of China and Europe, China and France will be absolutely key.