Booking Their Place in History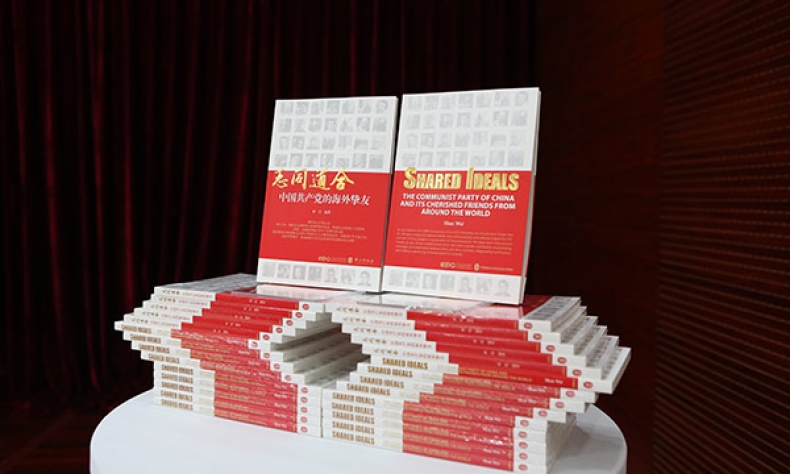 We should never forget that for 100 years, many international friends have enthusiastically and selflessly helped the CPC and the Chinese people through their great spirit of internationalism.
In the essay "In Memory of Norman Bethune", which was published by Chairman Mao Zedong on Dec 21, 1939, he praised Doctor Bethune as a man who "is already noble-minded and pure, a man of moral integrity and above vulgar interest, a man who is of value to the people".
The essay was written to mourn and commemorate Bethune, a great fighter for internationalism, a member of the Communist Party of Canada, and a well-known thoracic surgeon, who passed away at the age of 49 in 1939 after devoting nearly two years to assisting China's war effort at the front line.
Believing that he could be helpful, Bethune set out for China on Jan 8, 1938, when Japanese imperialists were in the midst of a full-fledged invasion of China.
He first arrived at the Eighth Route Army's office in Wuhan, where he was received by the man who would become New China's first premier, Zhou Enlai, and soon left for Yan'an, where he would meet with Mao.
He set out on a rugged trip to the front line-the Communist Party of China's Shanxi-Chahar-Hebei base-where, upon arrival, in a single week, he gave health checkups to 521 wounded soldiers. Over the course of the next four weeks, he performed 147 operations.
To improve efficiency, Bethune invented a folding operation table, which consisted of two connected wooden medicine boxes on horseback that could quickly and easily be set up, saving many lives of the Eighth Route Army.
When Japanese troops launched a large-scale attack in October 1939, Bethune insisted on finishing the last surgery in the tents, which were located just 4.5 kilometers from the battle, during which he cut his middle finger. It was to prove an ultimately fateful decision.
On Nov 1, Bethune received a soldier with erysipelas and cellulitis. In the course of treating the soldier, the cut in Bethune's finger became infected by the deadly bacteria. He soon became seriously ill, passing away 11 days later.
Today, 82 years after Bethune's death, he remains a hero in China, one whose moving deeds have educated generations of Chinese, as well as being a lasting symbol of friendship between the country and the Canadian people.
It was not until the book Shared Ideals: The Communist Party of China and Its Cherished Friends from Around the World was published on July 23 in Beijing that readers from around the world better learned the historical details of these international friends who fought alongside the Chinese.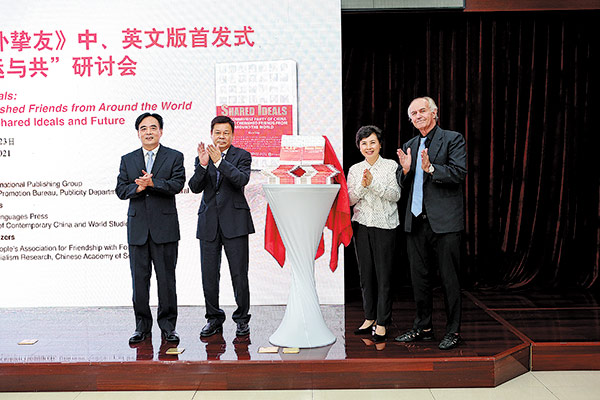 Written by Shan Wei and co-published by China International Publishing Group and Foreign Languages Press, the book, which has both a Chinese and an English version, compiles the stories of 18 representative international friends of the CPC who have made outstanding contributions to China during the past 100 years.
That includes famous American writer and journalist Edgar Snow, who wrote many reports from the front lines of the civil war and introduced the CPC to the world, America-born Arbas George Hatem, who served as a health consultant to the CPC's Central Military Commission and later joined the CPC, as well as Indian doctor Dwarkanath Kotnis, who worked as a surgeon for the Eighth Route Army and then served as president of the Bethune International Peace Hospital.
"As we celebrate the 100th anniversary of the CPC's founding, we should never forget that for 100 years, many international friends have enthusiastically and selflessly helped the CPC and the Chinese people through their great spirit of internationalism," says Shan, who is also the deputy director of the manuscript review department of the seventh research bureau of the Party's History and Literature Research Center of the CPC Central Committee.
"Their touching stories, life experience, and noble spirit have transcended time and space. We will review the CPC's long journey, its great changes, and brilliant achievements over a century from a new perspective through their stories," he adds.
According to Shan, all sources were collected from authoritative documents, including relevant biographies, memoirs, and commemorative articles.
Although the book was finished within half a year, the writing process was tense. Shan explains that being as vivid as possible and conveying emotion to the reader, while telling the stories of great deeds of the Party's international friends was the biggest challenge for him.
Being invited to write for the book, Adriano Madaro, journalist and writer, as well as one of the world's foremost experts on China, says his favorite part of the book was the section dedicated to Snow.
"He went to Yan'an and Bao'an in the 1930s, where he met Mao Zedong, Zhou Enlai, Liu Shaoqi and Deng Xiaoping, among others, for the first time-all the leaders of the Chinese revolution. And it was the first time that the whole world got to know the important person that was Mao Zedong," Madaro says.
"This book is very important, not only for those friends of China, but to let the world, especially the younger generations, learn some of the important parts of China's revolutionary history," he adds.
Warren Bethune, the representative of Norman Bethune's family, addressed a seminar held to launch the book via video.
He encouraged people to follow in Norman Bethune's footsteps and strengthen friendly and cooperative relations between Canada and China to celebrate the 100th anniversary of the founding of the CPC.
"Throughout his 674 days and nights in China, from his journey to Yan'an and his time there, to Tangxian county in Hebei province and along the Shanxi-Chahar-Hebei border region with Mao, military soldiers, medical staff, generals, missionaries, students and the Chinese people, as Mao highlighted with three words, there was 'great warm heartedness'," Warren Bethune notes.
"His (Norman Bethune's) 'think globally, act locally' approach to life in Canada, Great Britain, the United States, Spain and China promoted the need for international communication and cooperation," he adds.
The book is expected to be published in several countries, including Romania, Laos, Turkey, Sri Lanka and India, in their local languages.
"Since its founding in 1921, the Communist Party of China has received the support and help of many overseas people with lofty ideals. They come from various countries, regions, and industries, they are either young or old, and many of them have never left. They all regard China as an ideal place and spiritual home in their minds," says Lu Cairong, deputy director of China International Publishing Group.
"There are many international friends who, due to limited space, did not get a mention in the book, but they have already become important participants in China's revolution, construction, and reform," Lu adds.
"Let's celebrate the centennial of the Party with the publication of this book. We look forward to working with more international friends to make new and greater contributions to promoting foreign exchanges and cooperation between China and the world, safeguarding world peace, and promoting the construction of a community with a shared future for mankind," he concludes.
This article was first published in China Daily.