Booming Cooperation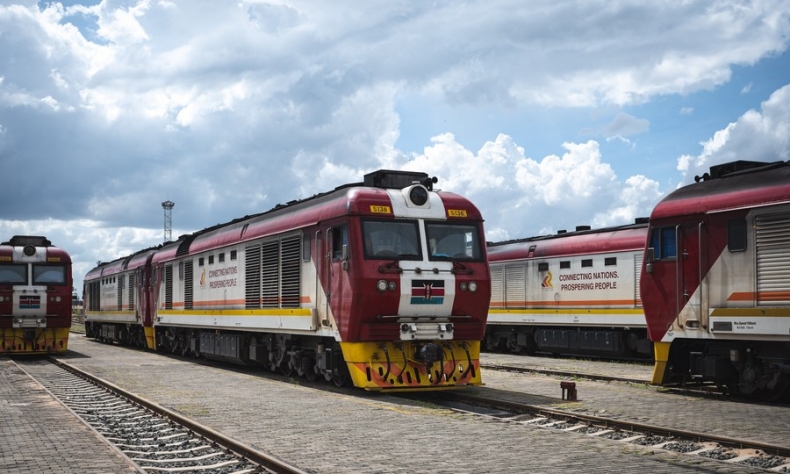 Under the BRICS mechanism, China-South Africa economic cooperation has expanded to cover all sectors.
With the increase of China-South Africa cooperation, Chinese brands have gradually earned acceptance in the South African market. FAW South Africa, a branch of China FAW Group, has achieved a milestone. Sources from the Chinese truck manufacturer said that a total of 794 trucks were sold in South Africa in the first quarter of this year, pushing the brand to the top in terms of market share in the truck segment in the local market.
China FAW Group, one of the Fortune 500 companies based in Changchun of Jilin Province, northeast China, entered the South African market even before the establishment of the China-South Africa diplomatic relations in 1998. In 1994, FAW South Africa was registered in South Africa, mainly involved in imports and sales of trucks and truck parts.
South Africa's joining as a member of the BRICS grouping in 2010 has provided more opportunities for the company to expand operations in the local market. Supported by the China-Africa Development Fund, FAW South Africa started local production of its trucks by establishing a truck KD factory in Coega, Gqeberha in Nelson Mandela Bay, in 2012. With an annual production capacity of 5,000 trucks, the factory, covering an area of 87,000 square metres, consists of assembly workshops, refitting workshops and a training centre to train local workers and technicians.
So far, besides local sales, trucks produced in the factory have been exported to surrounding countries such as Zimbabwe, Zambia, Malawi and Mozambique, as well as countries such as Australia and New Zealand. Since 2014 when the factory came into operation, more than 10,000 trucks have been manufactured, and FAW South Africa has contributed taxes of more than $5.2 million.
"The market competition environment [in South Africa] was similar to that of Europe, and the vehicle emission standard was relatively strict. The quality of Chinese products matched the market demand of South Africa very well," FAW South Africa CEO Li Yongjun told iol.co.za in November 2022.
FAW South Africa has established a nationwide sales and after-sales service network, consisting of three direct 4S dealerships, 20 franchised 3S dealerships and five contracted service providers, covering all the major cities and key transportation arteries. The enterprise has hired more than 240 local employees and only three managers and four technicians are from China.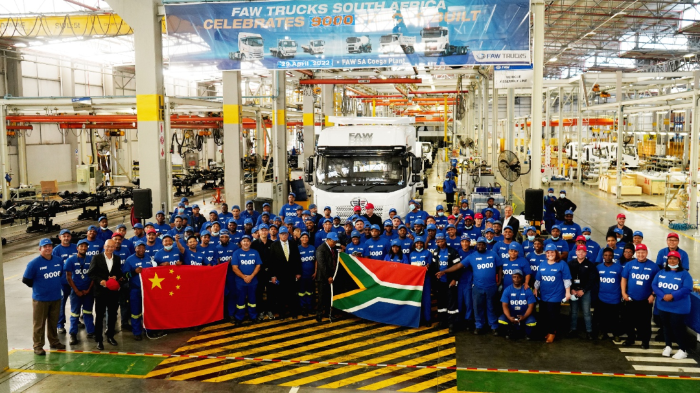 Unlike passenger vehicles, trucks are usually used for business. In 2014, FAW South Africa established a financing department, aiming to financially support local transportation enterprises in their startup and development stages. So far, the company has granted loans to more than 400 small and medium-sized enterprises to help them to start and expand transportation business.
While doing business in South Africa, FAW South Africa pays attention to fulfilling corporate social responsibilities. The company put a proportion of its annual profits into a social responsibility fund to help local communities to improve children's education. So far, FAW South Africa has financially supported six primary schools in Nelson Mandela Bay Metropolitan Municipality. It also actively participates in social welfare activities such as natural disaster relief.
Fruitful cooperation
Besides manufacturing, China-South Africa cooperation has been growing rapidly in all business sectors. Statistics from the Chinese Embassy in South Africa show that economic and trade cooperation has been the stabiliser and accelerator of the bilateral relations. China has been the largest trading partner of South Africa for 14 years in a row, while South Africa has been China's largest trading partner in Africa for 13 successive years. 
In the first five months of this year, the value of China-South Africa trade hit $24.04 billion, up 18.5 percent year on year, with South African exports amounting to $13.43 billion. South Africa is China's biggest investment destination in Africa, with the accumulated investment from China to South Africa exceeding $25 billion by the end of 2022, creating more than 400,000 jobs for local people. More than 60 Chinese companies attended the Fifth South Africa Investment Conference held in April in Johannesburg and announced new intended investment of nearly $15 billion.
"During the past years, the China-South Africa relationship has grown significantly and there has been fruitful practical cooperation across the board. We have together set a fine example for China-Africa relations and South-South cooperation," said Chen Xiaodong, Chinese ambassador to South Africa, at the China-South Africa New Energy Investment and Cooperation Conference in June.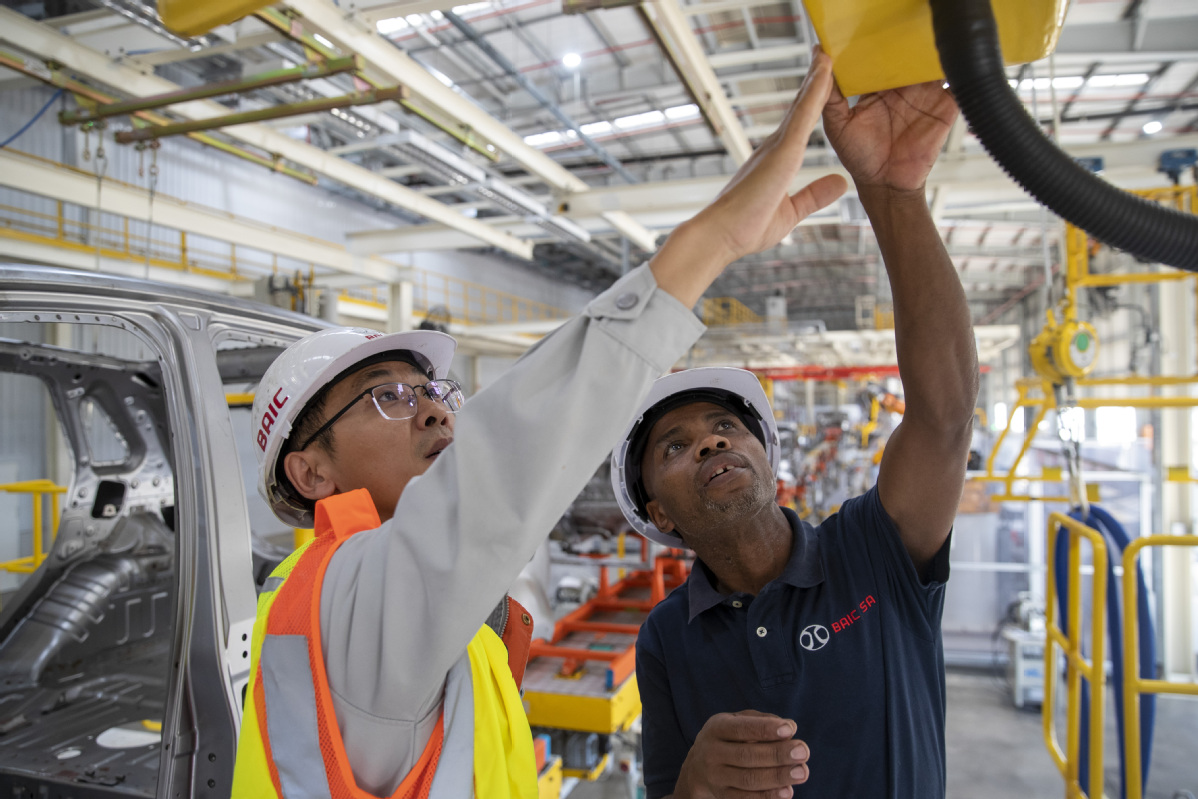 New energy a promising sector
According to Chen, China-South Africa relations enjoy new opportunities and renewable energy cooperation will become a new driver and highlight of bilateral economic and trade cooperation.
South Africa has long been suffering from power crisis. To solve the problem, the country is working on the ambitious Just Energy Transition Investment Plan, which identifies new energy as a means to resolve the power crisis and create a prosperous green economy. 
"Obviously, China is in a world-leading position in power infrastructure construction and management, especially in renewable energy utilisation. There is a broad space for the two countries to cooperate in this area," Darryn Allan, policy officer at the Trade and Economics Section of Delegation of the European Union to South Africa, told ChinAfrica.
China is now the world's leading country in terms of installed capacity of hydro, wind and solar power, producing over half of all wind turbines and over 80 percent of all PV panels in the world.
"China and South Africa have common development aspirations and strong complementarities in new energy," said Chen.
Longyuan South Africa Renewables, a subsidiary of China's Longyuan Power, has invested $268 million in South Africa's renewable energy development sector and is operating wind farms in South Africa with an installed capacity of 244.5 mw. It is providing stable power supply to over 300,000 local households and has created more than 1,000 jobs for local people. In addition, the company has financially supported 112 local university students from impoverished families. It has also set up a special fund which has donated buses to local communities and provided free medical services to more than 9,000 local people every year.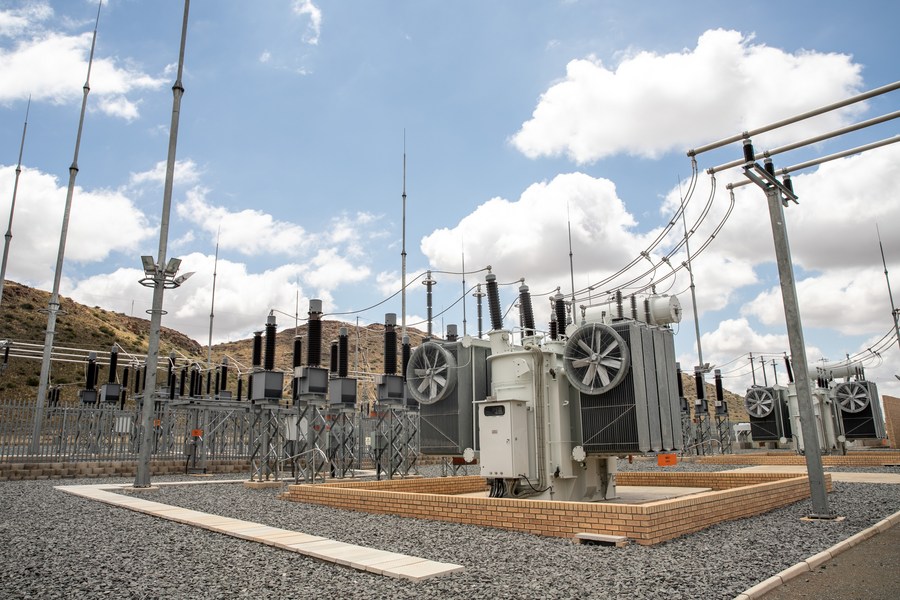 Promoting cultural exchanges
China-South Africa cooperation has also expanded to cover cultural exchanges. In 2013, SarTimes, China's leading broadcasting system integrator, network operator and content provider, established a branch StarSat in South Africa to provide satellite TV service to local people. Covering more than 500,000 households, it is now the second-largest pay TV service provider in South Africa, offering nearly 150 channels to South African viewers.
"Both China and South Africa are part of the BRICS grouping, which means we have a broader platform for mutual communication and cooperation," Yan Qiong, general manager of StarSat, told ChinAfrica. "I believe more cooperation opportunities will emerge after this year's BRICS Summit in South Africa. We hope to further expand our business."