Border Frictions with China Will Hurt India's Development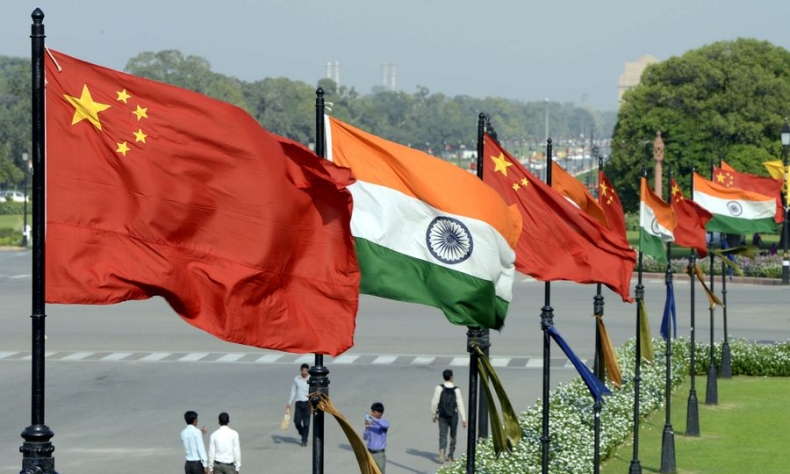 There's no doubt the Sino-India relationship is one of the most important for the region and the world.
Despite multiple border agreements, protocols and confidence building measures between the two Asian giants, China and India, still the glass of relationship seems half empty rather than half full, at least, as far as the boundary dispute is concerned. In the past few years, incidents of face-offs along the Line of Actual Control (LAC) between Indian and Chinese soldiers have become new normal. Almost every year around February when the snow starts melting in the remote mountainous areas on two sides of the LAC, short duration face-offs have erupted between the world's largest armies causing tensions in bilateral ties.
Since the 1962 bloody war, the long-standing dispute over the LAC has not been resolved yet. There are differences of opinion over the borders of more than 3,488 kilometers between the two countries. According to various media reports, around 400 border incidents occur every year at many points of the LAC because many parts of the Sino-Indian border area are non-demarcated. However, one thing that encourages the two peoples residing on either side of the Himalayas is that not a single bullet has been fired across border area in last four decades.
According to Indian and Chinese media reports, since the beginning of May, the two sides are locked in heated stand-offs at multiple points such as the Galwan Valley, Pangong Tso Lake in eastern Ladakh and Naku La Pass in the north-eastern Sikkim state. As per reports, both sides have deployed large-scale troops close to the LAC with military helicopter activity which may lead to another Donglang standoff of 2017 or a limited war between two close Asian neighbors.
India had accused the Chinese People's Liberation Army (PLA) troops of trespassing into its territory. The ongoing border confrontation led to Prime Minister Narendra Modi to hold a high-level meeting on May 26 with Defence Minister Rajnath Singh, Foreign Minister S Jaishankar, National Security Adviser Ajit Doval, Chief of Defence Staff General Bipin Rawat and Army Chief General MM Naravane focusing on "bolstering India's military preparedness to deal with external security challenges".
It's really unfortunate that echoing the Trump administration's China policy, many former Indian diplomats, media analysts and military experts have been writing a series of one-sided articles distorting the facts on Ladakh which are escalating anti-China sentiments in the country right now. Referencing to several other matters such as China's initial handling of the COVID-19 outbreak, its moves in the South China Sea, Indian commentators have ratcheted up attacks on China's troop movements along its border.
The way Indian intellectuals and defence experts have explained Chinese border defense troops' normal patrol activities in the Ladakh sector's Galwan valley and Pangong Tso areas or other locations along the LAC highlighting China's "territorial appetite" is totally inconsistent with facts. Does India have "indisputable" sovereignty over the whole of the Ladakh Region? At this juncture it is pertinent to mention that last August the Narendra Modi-led Bharatiya Janata Party (BJP) government had removed the Muslim-dominant state of Jammu and Kashmir's special status by giving the status of "Union Territory" to Ladakh, which has included parts of Chinese territory at the two nations' western border. And this unilateral action of India seriously soured Sino-India ties as well as India-Pakistan ties.
Since then, India has been exacerbating its military build-up on LAC according to its own terms claiming that the dividing Kashmir is in accordance with the "framework of the Indian Constitution." And in order to halt the construction of the China-Pakistan Economic Corridor (CPEC), one of the six land-based economic corridors of the Belt and Road Initiative (BRI), which passes through Gilgit-Baltistan of Pakistan-controlled Kashmir region that India claims as its own, on August 6, 2019, Home Minister Amit Shah pledged Aksai Chin back claiming that Pakistan occupied Kashmir and Aksai Chin are integral parts of India. But despite the Modi government's alignment with the United States under President Donald Trump, it can be said that India will pay a heavy price for its impossible aim to recover Aksai Chin from China.
The Modi administration should pragmatically acknowledge this fact that Aksai Chin has been long administered by China as part of Hotan County in the Hotan prefecture of the Xinjiang Uygur Autonomous Region. According to a Global Times article published on May 16, 2013: "India's claim to Aksai Chin is mainly based on the Johnson Line proposed in 1865. Aksai Chin was put inside Kashmir in the proposal. However, the line was never presented to the Chinese government and was severely criticized for its gross inaccuracies by the British government, which had dominant colonial power in India at that time."
While Indian media outlets and political analysts have highlighted China's so-called encroachment on Indian soil, "a raging border dispute" as twitted by President Trump, they should also take an unbiased look at India's deliberate trespassing in the Chinese territory. On June 18, 2017 over 270 Indian border troops crossed into Chinese-controlled territory near Doklam, or Donglang in southern Tibet Autonomous Region, over which China has "indisputable sovereignty" according to the historic "Convention between Great Britain and China Relating to Sikkim and Tibet" signed by British viceroy Lord Lansdowne and lieutenant governor Sheng Tai who was the "imperial associate resident in Tibet" in Calcutta (now Kolkata) in 1890. The 72-day military stand-off was eventually resolved through a mutual disengagement on August 28.
Indian current foreign policy makers, media and academia should think why India has now problems with its close neighbours – Bangladesh, Nepal, Sri Lanka, Pakistan and China?
As such, it is hoped that taking lessons from history, India's present leadership should stop its merry dance over Aksai Chin challenging China's territorial integrity. As China's foreign ministry spokesman Zhao Lijian said in regards to India's current aggression at Galwan in Ladakh, "The Chinese border troops are committed to upholding China's territorial and sovereignty security, responding resolutely to India's trespassing and infringing activities and maintaining peace and tranquility in the China-India border areas."
Since the coronavirus-lockdown has led to an increase in the number of unemployment and layoffs in the country, Prime Minister Modi needs another wave of patriotism to divert Indian people's attention by creating a war game with China. But such type of Indian military hypocrisy is against the spirit of two informal summits between PM Modi and President Xi Jinping at Wuhan in April 2018 and Chennai in October 2019.
There's no doubt the Sino-India relationship is one of the most important for the region and the world. For India's national interests, the Modi government should be careful to properly handle differences over border, trade and other issues and avoid a direct confrontation with the world's second-largest economy. It is hoped that both countries should resolve the current flare up through political talk, discussion avoiding differences from becoming conflicts adhering to the path of peace and development for common interest of the two peoples so that the "Dragon-Elephant Tango" will be translated into action on ground.
Rabi Sankar Bosu is an Indian contributor to Chinese media outlets. He writes about Chinese politics, social and cultural issues, and China-India relations with a special interest in the Belt and Road Initiative.
The views expressed here are those of the author and do not necessarily reflect those of China Focus.