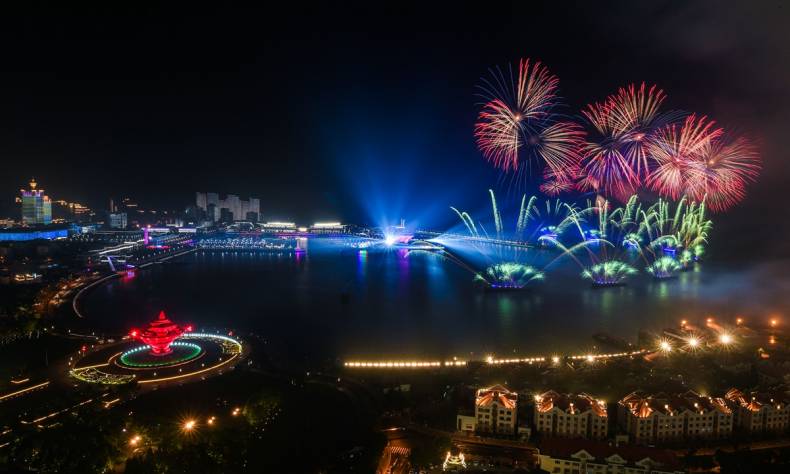 Bright Prospects for Expanding Trade and Economic Cooperation Between Russia and China
The main task facing Russia in the near future is to attract as much Chinese investment as possible, with preferential terms.
BY Boris Guseletov
The presidents of China, Russia and Mongolia pledged to strengthen trilateral cooperation during their meeting on Saturday.
The trilateral meeting, the fourth of its kind, was chaired by Chinese President Xi Jinping and attended by Russian President Vladimir Putin and Mongolian President Khaltmaa Battulga. They reviewed the achievements of trilateral cooperation and discussed priority tasks and directions for the next phase.
Since the heads of state of China, Russia and Mongolia held their first meeting more than three years ago, the three countries have centered on aligning China's Belt and Road Initiative with Russia's development strategies, especially its transcontinental rail plan, and Mongolia's "development path" initiative, deepened cooperation and yielded results, said Xi.
The Chinese president said the three countries should push the construction of the China-Mongolia-Russia economic corridor, actively explore cooperation in areas such as infrastructure interconnectivity, and promote sub-regional cooperation in adjacent areas of the three countries.
The cooperation and coordination within the framework of the SCO should be expanded, said Xi.
Russia agreed to strengthen trilateral cooperation in transport, infrastructure, customs and tourism, and facilitate trade and personnel exchanges, said Putin.

Δ Chinese President Xi Jinping (C), Russian President Vladimir Putin (L) and Mongolian President Khaltmaa Battulga attend a trilateral meeting in Qingdao, east China's Shandong Province, June 9, 2018. The trilateral meeting, the fourth of its kind, was chaired by Xi Jinping.
Two years ago, President Vladimir Putin invited the Eurasian Economic Union to reflect on the creation of a broader Eurasian partnership involving China, India, Pakistan and other countries.
During this time, Russia and China managed to agree on a significant expansion of their trade and economic partnership. Before the summit of the Shanghai Cooperation Organization in Qingdao, in which President Putin will take part, the countries plan to approve a feasibility study for the future framework trade agreement. To some extent, it should become an analogue to the Trans-Pacific Partnership (TPP), to which China is not affiliated. The same mechanism will be used: working groups with business participation have been established, that will prepare concrete proposals for the future of a large agreement. the preparation may take up to 2 years and more.
The main task facing Russia in the near future is to attract as much Chinese investment as possible, with preferential terms. At present, the EU countries account for about 50% of all foreign investment in Russia, and China less than 1%, according to the Central Bank of Russia.
Work will go in two directions: simplifying the conditions for investment and trade in services. For Chinese businesses, the most attractive sectors will be areas such as energy, financial services and insurance, mining, telecommunications, transport, construction, and even alternative medicine, the official lists. And it is more profitable for Russia to attract Chinese investments in manufacturing and in the technological sector.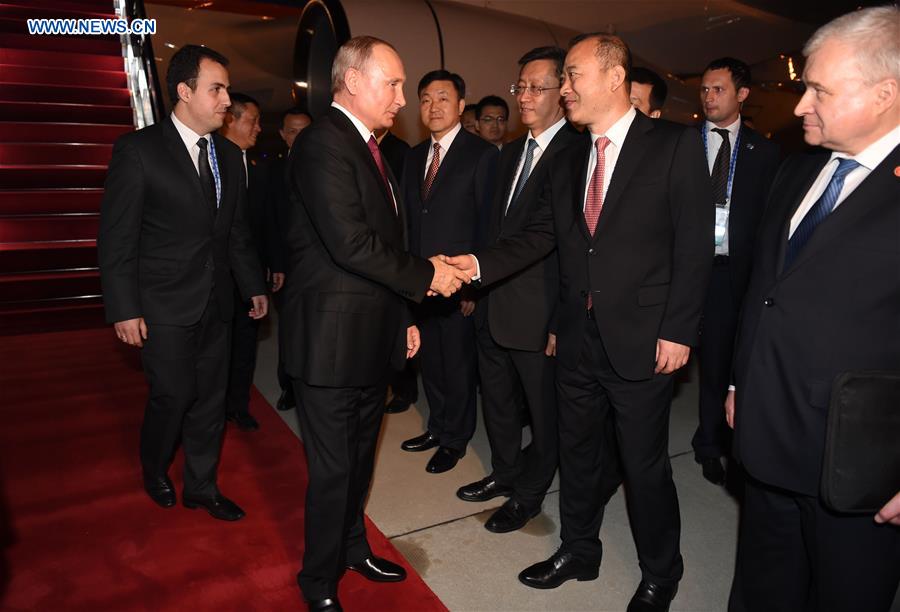 Δ Russian President Vladimir Putin arrives in Qingdao, east China's Shandong Province, June 8, 2018. Putin is on a state visit to China and will attend the 18th Shanghai Cooperation Organization (SCO) summit in Qingdao.
Chinese business also needs investment protection and accessible legislation that reduces the risks of expropriation of property, and simplifies the rules for temporary residence for Chinese so that they can work in Russia.
China proposes to liberalize the trade in goods. Russia still sees great risks around this issue. But there can be exceptions, for example, electronic commerce – it is possible to minimize barriers to business while protecting the rights of consumers.
For China, it is important to reduce tariff barriers, as well as provide support for investments – for example, the provision of free land with communications included, and permission to bring in Chinese staff without a work permit. A lot of preferential considerations are already available (for example, for residents of the territories of advanced development), but for the Chinese side it is important to consolidate these in an international agreement.
In recent years, China has reduced the number of specific restrictions on trade with Russia from 16 in 2014 to 12 in 2017, according to Global Trade Alert. True, there have been fewer measures to simplify trade – from 28 in 2014 to seven in 2017, and Russia has introduced more restrictive measures – the peak came in 2015: a block of 59, but this figure fell sharply to seven in 2017.
Kirill Dmitriev, Director General of the Russian Direct Investment Fund (RFPI), announced the establishment of a joint $1 billion investment fund with a Chinese partner, a Russian-Chinese investment fund (a joint venture of the Russian Direct Investment Fund and the China Investment Corporation)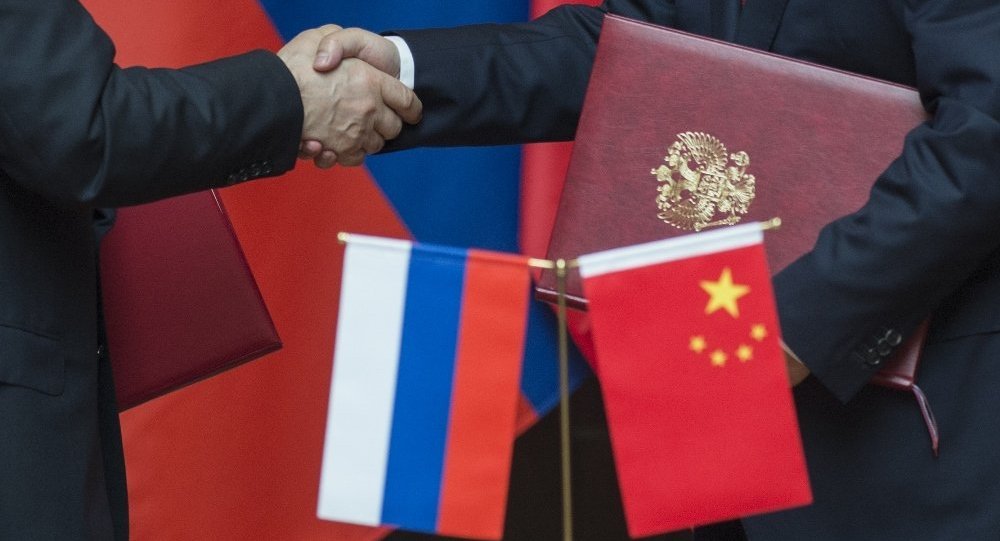 Δ The secretariat of the China-Russia Investment Cooperation Committee held a working meeting on March 21, 2018. The two sides exchanged views and reached consensus on the progress of key projects of China-Russia investment cooperation.
Dmitriev confirmed that on June 8, the parties will announce the conclusion of an agreement. The resulting fund will invest in such sectors as transport, tourism and infrastructure. Dmitriev did not disclose the name of the partner, but noted that this is a major investment fund in China.
He also revealed the imminent announcement of an investment by a Chinese corporation in one of the Russian banks. "As you know, there are a lot of changes in the Russian banking sector. Quality banks need capital, and we will invest in one of them," Dmitriev explained.
In addition, Russia and China on June 8 plan to create a joint yuan fund of 5 billion yuan (about $ 750 million). This will help Russia and China implement pilot projects, and invest in the ruble-yuan currency pairing, enabling settlements in rubles and yuan. "This is an important move for us, because we see an increasing interest in settlements in national currencies," said Dmitriev. He announced plans for Russia to develop active cooperation with China in yuan. Interaction between their national currencies will promote the development of trade and economic relations between the two countries.
Boris Guseletov, Senior Fellow, The Institute of Europe, Russian Academy of Science; Non-resident Senior Fellow, Chongyang Institute for Financial Studies, Renmin University of China (RDCY)