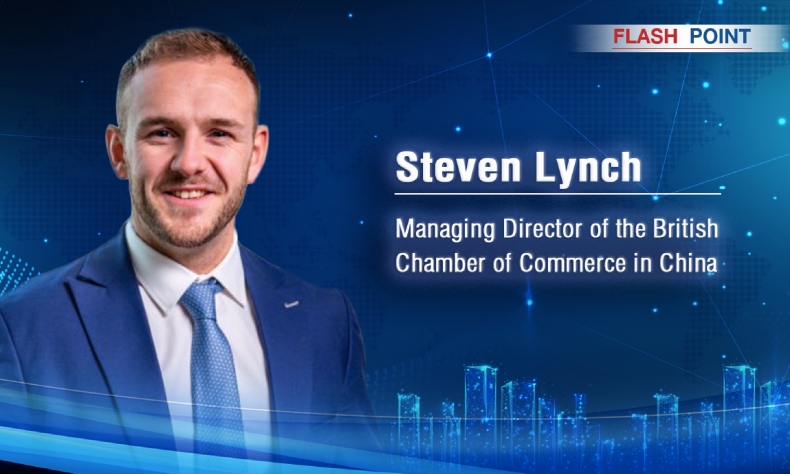 British Chamber of Commerce in China: We Remain Confident that the Market Will Rebound
I will remain here in Beijing and support Chambers members in the best way possible.
Editor's Note: Steven Lynch, the Managing Director of the British Chamber of Commerce in China (BritCham), spoke with China Focus Editor Jamie Leigh Wright, about the outbreak of novel coronavirus (COVID-19) and its impact on British businesses in China.
The BritCham MD discussed his thoughts on the controversial UK travel announcement, the Chinese Government's support for small and medium-sized enterprises (SME's), and how British companies are assisting China in the fight against the deadly virus.
China Focus: How has the novel coronavirus (COVID-19) impacted the British Chamber members' business operations in China?
Steven Lynch: In order to adhere to the guidance of social distancing, we have cancelled all our events until at least the middle of March and created a webinar series to better support current business needs. We have also been focusing our policy efforts towards better understanding the implications of the virus in relation to China's market.
China Focus: What are the main challenges experienced by British businesses in China? And what is being done to overcome these challenges?
Steven Lynch: The British Chamber launched an initial impact report to understand the effect of COVID-19 on British business in China, and 97 percent of businesses surveyed noted a severe disruption to their operations. Many noted a decreased demand for their products and services, compounded by widespread uncertainly and disruption to their supply chains.
Many organisations, however, have sophisticated contingency plans which enables a rapid response to crises such as this. Almost every company has implemented remote working policies to ensure some level of business continuity. It is clear that in the short term this will be damaging for businesses but I remain confident that the market will rebound and long-term prospects will remain in China.
China Focus: On February 4, the UK Foreign and Commonwealth Office (FCO) advised British nationals to leave China. What were your initial thoughts on this?
Steven Lynch: My experience during this period is that the situation changes daily. Companies, governments and authorities are regularly reconsidering their position on COVID-19, and updating contingency plans accordingly. The recent FCO announcement certainly created initial uncertainty for many, but from speaking with the FCO, it is clear that the safety of British Nationals is paramount.
The decision to leave or stay is a personal choice to which everyone must decide based on their own personal circumstance, geographic location and the information currently at hand. Looking at the data available from the Chinese authorities and from the World Health Organization (WHO), it is apparent that the number of cases differs regionally within China. It is important that people pay close attention to local restrictions and travel advice whilst also following all preventative measures specific to where they and their teams are based.
I will remain here in Beijing and support Chambers members in the best way possible.
China Focus: BritCham recently noted that a great many of British businesses would like to remain in China and help in the fight against the coronavirus. Could you tell me more about this?
Steven Lynch: British companies across China are lending support in countless, but equally important ways. Some are providing direct financial donations to medical associations on the ground in Hubei, some are providing free advice to small businesses trying to assess the impact on their operations, and some are supplying staff with medical equipment from their UK offices.
The Chamber is incredibly proud of the way the British business community in China has come together to help where they can during this difficult time.
China Focus: What steps (if any) would you like to see the governments of the UK and China take in order to assist British businesses affected by the coronavirus?
Steven Lynch: Firstly, I think it is essential to look at both the short-term immediate measures needed and long-term recovery efforts. In the short term, businesses need consistent and reliable information on current regulations and policies (in place from both the Chinese and UK Governments) and how this may impact their operations in China.
Many British businesses are really feeling the financial pitch to stay open let alone offer any sort of business continuity, so we hope to see government support in order to ease the pressures. I am delighted to hear HM Trade Commissioner for China Richard Burn is in the UK speaking to UK Export Finance and others on how the UK government can support businesses in these exceptional circumstances.
In the longer term, I believe businesses need support building a framework around resilience and better continuity planning to mitigate any future risks, I especially believe this is true for SME's, many of which are genuinely struggling.
China Focus: The Chinese Government recently announced a host of economic policies to assist SME's during this challenging time. What are your thoughts on these measures?
Steven Lynch: We welcome the Chinese Government's foresight in offering support to SMEs, many of whom are facing significant financial challenges. Policies including deferred tax payments, insurance premium subsidies and reduced rents, among other offerings, are certainly welcome measures. Our members hope that these policies will be explicitly made available across China to foreign-invested SMEs as well as domestically-invested SMEs. We also hope that there will be appropriate support for companies looking to apply for assistance.*
*According to China Daily, the Shanghai Municipal Commission of Commerce said on February 25 it has kicked off a two-week survey on 720 foreign enterprises in the city to help them better resume operations and attend to any unmet needs in the midst of the novel coronavirus outbreak. The commission also intends to widen the reach of the research to over 50,000 foreign companies in the city. Other Chinese provinces and cities are expected to launch similar favorable policies for both domestic and foreign business to help them restore normal operation and offset negative impact of the coronavirus outbreak.