CGTN Anchor Liu Xin's Presence on CNBC Brought China's Perspective to the U.S.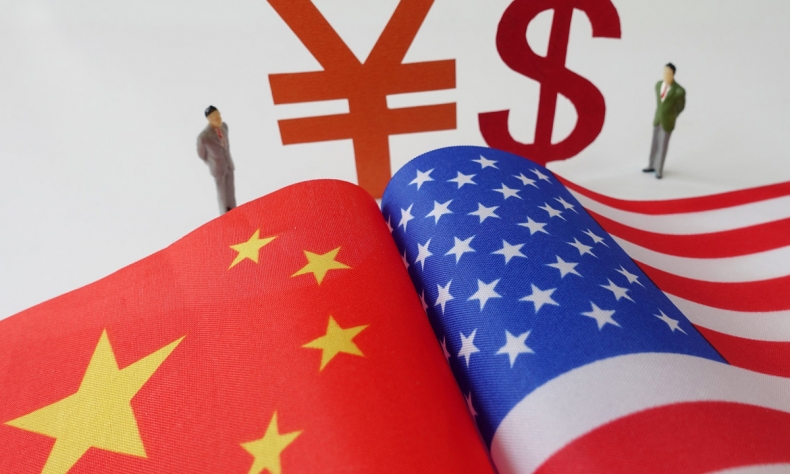 CGTN anchor Liu Xin appeared on U.S. mainstream media again. What did she say?
After taking on Fox Business anchor Trish Regan in May, CGTN anchor Liu Xin appeared on U.S. mainstream media again on Tuesday. Liu appeared as a guest on CNBC's "Squawk on the Street," which aired on the morning of September 3.
Liu addressed the Sino-U.S. trade tensions as well as the ongoing Hong Kong protests from the floor of the New York Stock Exchange. A potential rematch with Regan was canceled this week, with the Fox host citing a "scheduling conflict."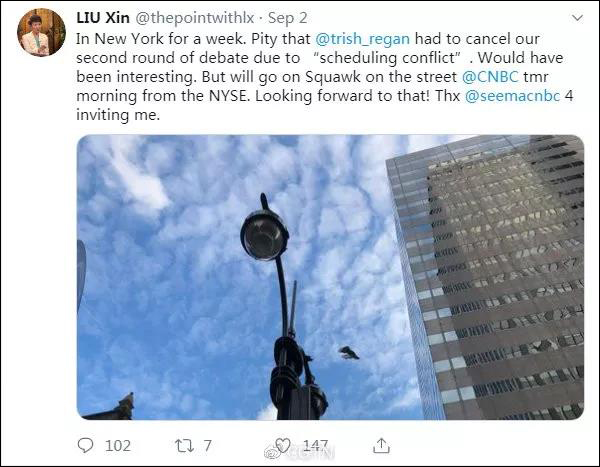 Once again, Liu's presence brought China's perspective to the world. The excerpts of Liu's opinions are as follow:
What's the perception of President Trump in China? 
"After a couple of years of President Trump's term, I think the Chinese people have kind of found a way to understand him. We are not going to follow what he says every day because there's going to be very perplexing and exhausting actually to a certain degree", said Liu.
She also showed that we actually want to see what he does. You know at the end of the day his policies and what really happens on the ground. We understand that he is the elected President, the elected leader of the United States, so we have to give him due respect.
Does the trade war affect ordinary Chinese people?
On China's response to the latest U.S. move to increase tariffs on Chinese imports, Liu mentioned China's countermeasure to increase duties of 5 to 10% on a variety of goods from the U.S.
Liu admitted that the Chinese economy has been hurt, adding that both sides would suffer great losses from the trade war. No one "wants things to get even worse."
China aims to reach a deal, but it is vital that the U.S. side creates the conditions to make the resumption of negotiations possible. However, President Trump's position to impose additional tariffs this September 1 is not in the right direction for talks to resume soon.
Is the Chinese job market affected?
According to Liu, Trump's claim that the trade war is taking effect by relocating jobs and supply chains in China to other countries like Vietnam is totally untenable.
First, it is natural that companies move to places where costs are lower. It is simple economics and we're not going to put tariffs on those countries. It is, in fact, the outcome of China's upgraded supply chain.
Second, the Chinese economy remains strong. Liu cited that the revenue from the private sector actually went up in July. "They're very resilient. They're very resourceful. You know they're small, so they're flexible. If they see there's some uncertainty here, they may immediately find something else to do."
Are U.S. companies forced to share technology and IP?
When CNBC's anchor Seema Mody attributed the root of China-U.S. trade dispute to China's "forcing U.S. companies to share technology and IP" when they operate inside the country, wondering whether China is ready to "make concessions on that front," Liu Xin revealed another side of the story: "Five percent of American companies say they have been asked to transfer technology " according to the latest statistics survey by the U.S. China business council and there is no such thing as "forced technology transfer." "China is also very much investing in innovation and IP protection because we want to be innovative ourselves," Liu said.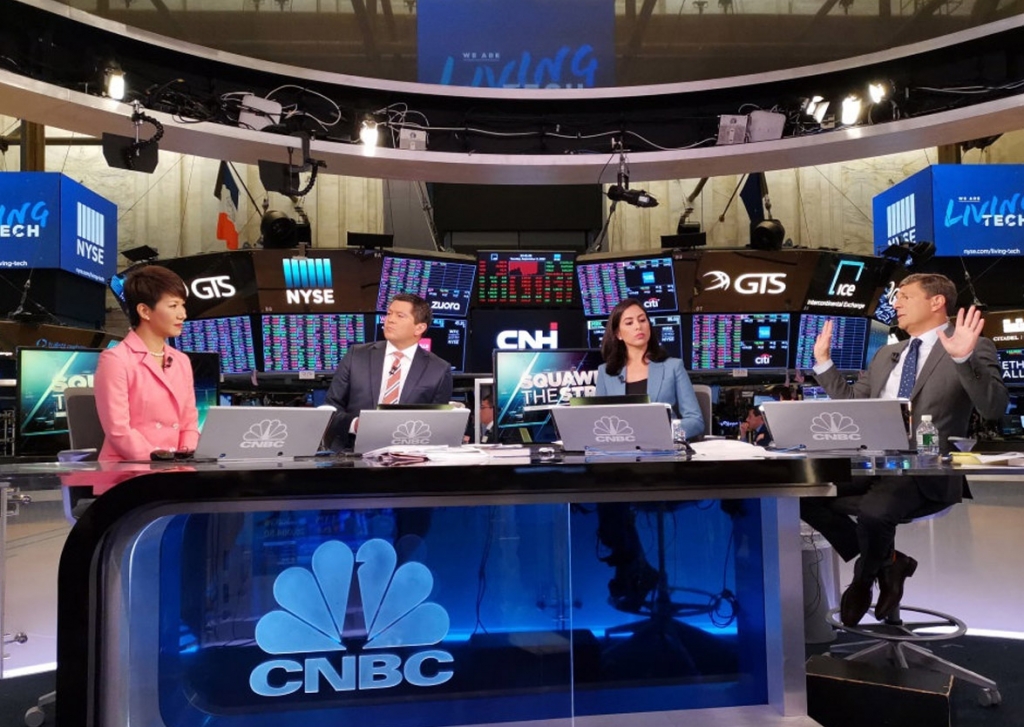 Is the number of Chinese tourists to the U.S. decreasing?
When talking about the decreasing number of Chinese tourists to the U.S., Liu highlighted that it is not the Chinese people who do not want to visit America, it is the U.S. that is sending messages that Chinese tourists are not welcome.
"I was in the American embassy getting the visa for this. I was really surprised at the huge long queue that I had to wait in. I think people have a lot of enthusiasm."
She also mentioned that Chinese students are also suspected of being spies. Liu stressed, "It doesn't really help very much."
Will Hong Kong protests affect the country's National Day celebrations?
When Mody asked whether Beijing is "concerned" about the world's perception of its stance towards the Hong Kong protests, especially the Chinese military on standby in Shenzhen, Liu Xin said the standby "across the border from Hong Kong on the mainland side" conveys a message of more or less of a deterrence, adding that the rioters are "losing the public support of the Hong Kong people" and that they definitely "should not think about ever spreading to the mainland because there they will be met with a very strong reaction."
"Definitely this sentiment will be affected a little bit," said Liu Xin, "but there will be a modest celebration in Hong Kong. On the mainland, things will be very spectacular," as a response to Mody's question on whether October 1 could be "a line in the sand" when it comes to Hong Kong issues and China-U.S. trade talks.
Source: CGTN