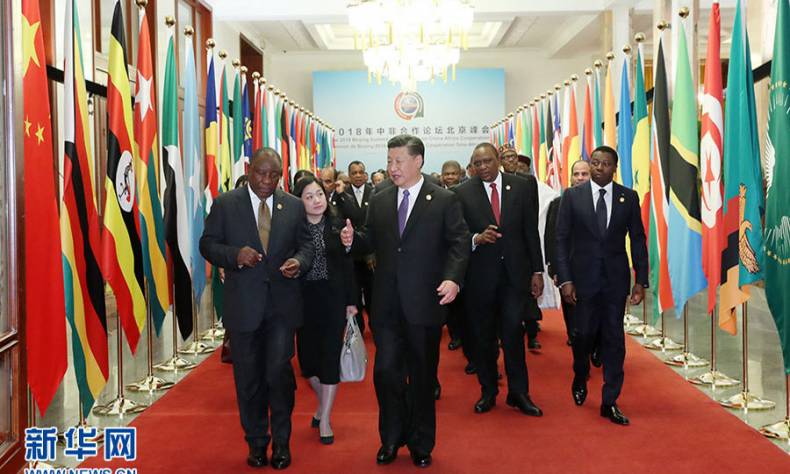 China and Africa: Sharing the Future
The 2018 Forum on China-Africa Cooperation (FOCAC) Beijing Summit opened on Monday afternoon with President Xi Jinping delivering a keynote speech titled, Work Together for Common Development and a Shared Future. The following three points really impressed me.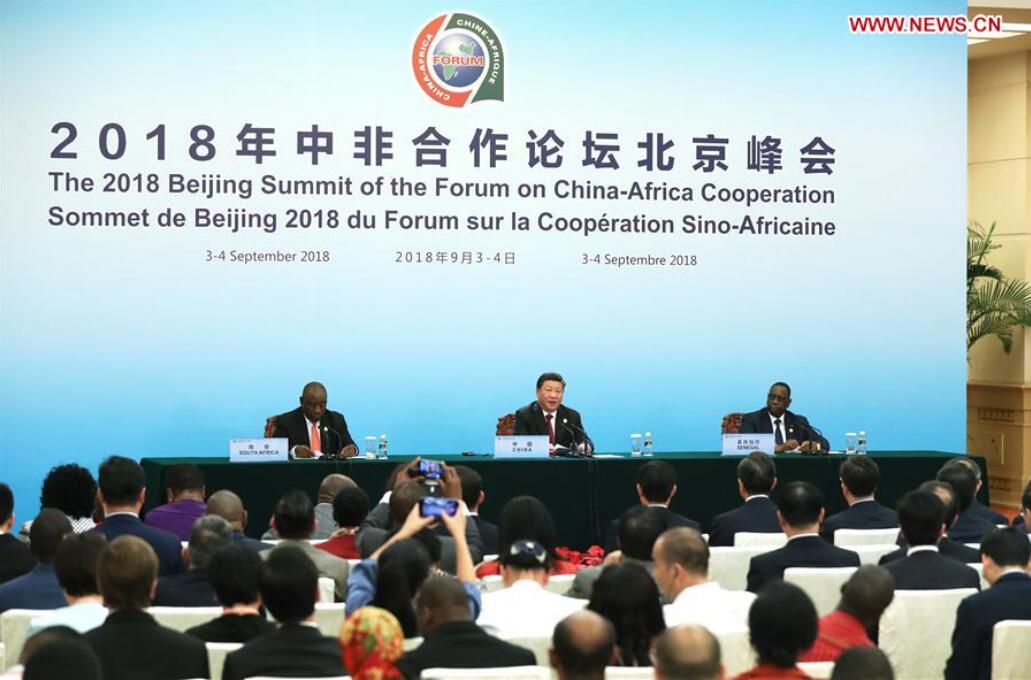 Δ

Chinese President Xi Jinping (C, back) meets the press together with South African President Cyril Ramaphosa (L, back) and Senegalese President Macky Sall, former and new African co-chair of the Forum on China-Africa Cooperation (FOCAC), after the conclusion of the 2018 FOCAC Beijing Summit at the Great Hall of the People in Beijing, capital of China, Sept. 4, 2018. (Xinhua/Liu Weibing)
The relationship between FOCAC and the Belt and Road Initiative (BRI) was clearly expressed. Since the BRI was proposed in 2013, many African governments have been very concerned about the position of FOCAC. Xi's speech made it clear that FOCAC will continue and will not be replaced by the BRI. In fact, the BRI is providing new strategic opportunities for all African countries.
Through the convergence of the BRI with the African Union Agenda 2063, the United Nations Agenda 2030 for Sustainable Development and the development strategies of all African countries, Africa will surely be integrated into the implementation of the BRI and support its development goals. Actually, the aim of FOCAC and the BRI is consistent: common development through infrastructure connectivity, trade facilitation and people-to-people communication, among others, which are all included in the eight major initiatives proposed by Xi at the summit.
The prior ten cooperation plans were upgraded into a comprehensive cooperation namely, the eight major initiatives, which are needs-based and forward looking. Since the 2015 FOCAC Johannesburg Summit, China has fully implemented the ten cooperation plans adopted at the summit. A large number of railway, highway, airport, port and other infrastructure projects, as well as a number of economic and trade cooperation zones, have been built or are under construction. The $60 billion financing pledged by China has been either delivered or arranged, and these ten cooperation plans have brought huge benefits to African and Chinese peoples.
On Monday, Xi announced that China promises to launch eight major initiatives, covering areas of industrial promotion, infrastructure connectivity, trade facilitation, green development, capacity building, healthcare, people-to-people exchanges, and peace and security, in close collaboration with African countries in the next three years and beyond. The implementation of the ten plans proves that China will keep its promises and is trustworthy. It is these characteristics and both tangible and intangible benefits enjoyed by all members that have brought three new members to FOCAC, namely, the Gambia, São Tomé and Príncipe and Burkina Faso. The eight major initiatives are obviously based on the needs of current development and also the sustainable development of Africa.
An urgent need for job creation and the improvement of trade imbalances requires industrialization; that is why industrial promotion was listed as a top priority. Poor infrastructure is one of the bottlenecks for African economic growth, in particular for trade; thus, infrastructure development must be greatly improved. African intra-trade accounts for only 15 percent of overall trade on the continent. In reality, poor infrastructure and infrastructure connectivity is a barrier for African intra-trade, as well as international trade. China is not only good at infrastructure construction but also at creating an economic miracle partly due to the great progress of its own infrastructure. Therefore, infrastructure cooperation will benefit both China and Africa.
What African and Chinese people want is not just growth or development, but sustainable green development. Africa is a continent with more than 1.2 billion people. But the population is not equivalent to the input of labor for economic growth. Labor must be healthy and skilled, which needs the development of healthcare and capacity building. Long-term cooperation will rely mainly on mutual understanding and trust, which will be improved through people-to-people communication. Finally, without peace and security, it will be most difficult to realize all the above. China and Africa must develop cooperation in peace and security. Therefore, the eight major initiatives are mutually linked and supportive to each other.
The hope of China-Africa cooperation lies with the younger generation. Development is both people-oriented and people-dependent. Africa is full of hope and the hope comes from the youth. The median age of many African countries is quite young, indicating enough of a labor supply for economic growth. However, if there are no jobs, social peace and stability will be in danger. Education and training will give the youth skills, jobs and hope for the future. The eight major initiatives also provide many opportunities for the younger generation. China is going to send 500 senior agriculture experts to Africa and train young researchers in agri-science and entrepreneurs in agri-business. Ten Luban workshops will be set up in Africa to provide vocational training for young Africans.
In addition, China will support the opening of a China-Africa innovation cooperation center to promote youth innovation and entrepreneurship. China will provide Africa with 50,000 government scholarships and 50,000 training opportunities for seminars and workshops, and will invite 2,000 young Africans to visit China on exchanges.
FOCAC is a lasting cooperation platform for China and African countries. China-Africa cooperation is a good reflection of learning by doing. Based on 18-years of experience, cooperation is now being upgraded to the eight major initiatives, which will serve as a guide for the next three years and beyond. All these initiatives are expected to be accomplished in the future, with benefits to both the Chinese and African peoples.
By Zhang Cuizhen, deputy director of Africa Research Center, China Foreign Affair University.
Editor: Hairuo