China and ASEAN Commit to Cooperation on the Belt and Road Initiative
China has always placed ASEAN squarely on the first page of its foreign cooperation agenda, regarding ASEAN as a priority in its foreign policy and a key region for the development of the Belt and Road Initiative.
By Jiang Zhida
From July 31 to August 5, Chinese State Councilor and Foreign Minister Wang Yi visited Malaysia and Singapore where he attended a slew of foreign ministers' meetings alongside counterparts from across the region under the Association of South East Asian Nations (ASEAN).
This year also marks the 15th anniversary of the China-ASEAN Strategic Partnership for Peace and Prosperity. China has always placed ASEAN squarely on the first page of its foreign cooperation agenda, regarding ASEAN as a priority in its foreign policy and a key region for the development of the Belt and Road Initiative, with the two sides having made notable achievements thus far through cooperation.
All-round Partnership
In recent years, mutual political trust has been considerably enhanced, with President Xi Jinping proposing the joint development of the 21st Century Maritime Silk Road and the forging of a closer China-ASEAN community with a shared future. The latter is an ambitious endeavor aimed at facilitating regional economic cooperation, strengthening cross-cultural exchanges, promoting world peace and development, and advancing the well-being of people around the world, which has won widespread support from ASEAN countries. Through the collective efforts of all parties, the Belt and Road Initiative is becoming more closely aligned with the blueprint of the ASEAN Community and the development strategies of its individual member states.
Economic and trade cooperation is also deepening. China is at present ASEAN's largest trading partner, while ASEAN is the third largest trading partner, the fourth largest export market and the second largest origin of imports of China. The volume of trade between China and ASEAN reached $514.82 billion in 2017, almost seven times that of 2003, accounting for one eighth of China's total foreign trade volume.
Meanwhile, aggregate two-way investment between China and ASEAN has exceeded $200 billion. Investment by Chinese companies has gradually widened from manufacturing, mining, wholesale and retail to infrastructure such as electric power, water supply and telecommunications as well as broader commercial services. China has set up over 4,000 direct investment companies in ASEAN nations, hired more than 300,000 local people and helped boost local socioeconomic development. Additionally, regional and sub-regional economic cooperation is flourishing, the China-ASEAN Free Trade Area has been successfully upgraded, negotiations for the Regional Comprehensive Economic Partnership (RCEP) are forging ahead, the Pan-Beibu Economic Cooperation Roadmap is complete, and Lancang-Mekong cooperation is prospering.
Lancang-Mekong cooperation is a sub-regional collaboration mechanism involving China and five other countries along the Mekong River that has grown rapidly since its first leaders' meeting in March 2016. Based on pragmatism and efficiency, it has made significant progress in creating institutions, building capacity, implementing projects, formulating visions and shaping recognition, and serves to highlight the potential of China-ASEAN cooperation.
Furthermore, China and ASEAN are involved in mutual coordination and close cooperation on regional and international affairs. Both sides oppose external interference in the South China Sea, actively promote consultation on the Code of Conduct (COC) in the region and advocate the simultaneous running of the "two wheels" of consultation and practical maritime cooperation. China and ASEAN nations are all developing countries which stand against unilateral action, economic nationalism and trade protectionism manifested by the Donald Trump administration of the United States, as well as for upholding the settlement of disputes through multilateral channels. China and ASEAN have grown to become important figures in safeguarding regional peace and stability, as well as crucial forces promoting regional development and prosperity.
Since the Belt and Road Initiative was put forward by China in 2013, ASEAN has always been a priority area and its nations important partners in international cooperation along the Belt and Road routes. Both sides abide by the principles of extensive consultation, joint contribution and shared benefits, and have a lot to gain from Belt and Road cooperation. China has signed memorandums of understanding (MoU) with ASEAN countries including Singapore, Myanmar and Malaysia; agreed on inter-governmental bilateral cooperation plans with Laos and Cambodia; and conducted mutually beneficial economic cooperation in infrastructure and other fields.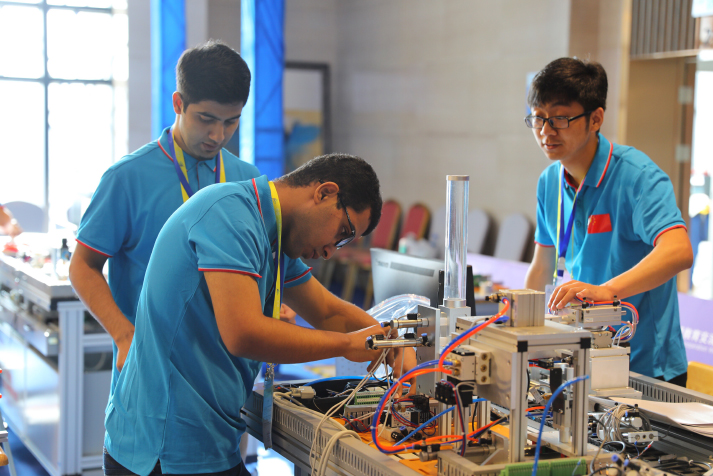 Δ Students from China and ASEAN nations participate in a competition for vocational skills on July 26 in Guiyang, capital city of southwest China's Guizhou Province (XINHUA)
Marked by the signing of the China-ASEAN MoU on Cultural Cooperation, people-to-people exchanges have also become a priority for cooperation between China and ASEAN and a new pillar of their bilateral relationship. Since the concept of a China-ASEAN community with a shared future was proposed, and particularly since the 25th anniversary of China-ASEAN Dialogue Relations in 2016, expanding people-to-people exchanges has become another key channel for China and ASEAN collaboration. A bilateral people-to-people exchange mechanism featuring cultural industry cooperation, educational exchanges and cooperation, youth exchanges and international tourism has yielded rich and innovative results, and the scope of these interactions continues to broaden. The number of two-way visits between China and the region hit a new high in 2017, rising to almost 50 million from close to 30 million in 2016.
Progress made
Foreign Minister Wang's recent visit to ASEAN saw an intense schedule packed with both bilateral and multilateral activities. Wang was the first high-level Chinese official to visit Malaysia since the election of the country's new government, and he received a warm welcome. Productive outcomes were attained as both sides reached consensus on jointly promoting the Belt and Road Initiative and paved the way for Prime Minister Mahathir Mohamad's visit to China.
At the Foreign Ministers' Meeting on East Asia Cooperation held in Singapore, Wang, together with the foreign ministers of ASEAN countries, vowed to stand against unilateralism and trade protectionism, and continue to promote free trade and regional economic integration so as to build a fairer and more reasonable international economic order. All sides took the opportunity of the 15th anniversary of the establishment of the strategic partnership between China and ASEAN to jointly map out a blueprint for future cooperation.
The China-ASEAN 10+1 Foreign Ministers' Meeting on August 2 resulted in the completion of a single draft text in negotiations over the COC in the South China Sea, marking major progress in COC consultation. Both China and ASEAN agreed to hold joint maritime drills in October and to upgrade the quality of security cooperation in the region. With accelerated progress in COC consultation, China and ASEAN states have shown the wisdom and capacity to establish rules for mutual compliance and jointly contribute to peace and stability in the South China Sea.
The China-ASEAN strategic partnership has undergone 15 years of successful development and envisions a broader space with greater possibilities in the future. This year is also the China-ASEAN Year of Innovation, and both sides will mark this occasion by deepening cooperation in new industries and fields such as smart cities, the digital economy and artificial intelligence. China and ASEAN will further work toward the China-ASEAN Strategic Partnership Vision 2030—a blueprint to further upgrade and enrich their cooperation, and explore new areas and space for collaboration. Looking back at the past 15 years, China-ASEAN relations are at a higher point now than ever before. The two sides are joining hands and setting out to make greater progress in the their strategic partnership and build a closer-knit China-ASEAN community with a shared future.
The author is an associate research fellow at the China Institute of International Studies
Source: Beijing Review