China and Japan Promote Third-Party Market Cooperation With Optimistic Outlook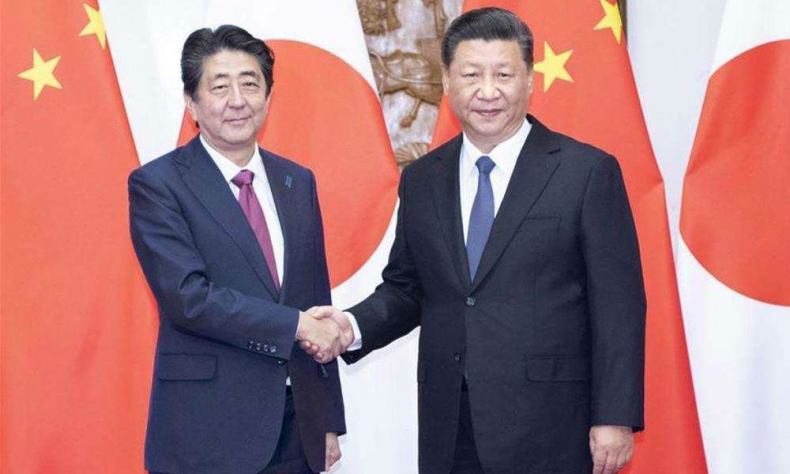 Japanese Prime Minister Shinzo Abe made an official visit to China from October 25-27,as China and Japan jointly announced on October 12.
China and Japan have expressed their joint intention to vigorously promote cooperation in third-party markets. Why? What is the meaning and role of this cooperation?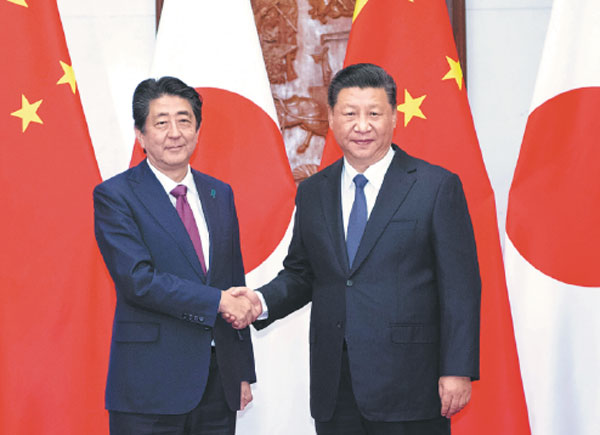 Δ President Xi Jinping meets with Japanese Prime Minister Shinzo Abe in Beijing on Oct. 26th. Li Tao / Xinhua
Firstly, both China and Japan are countries with relative excess in endowment of production factors such as capital and production capacity. After the domestic economy develops to a certain stage, it is no longer able to rely on continuous large-scale domestic investment to obtain endogenous development, as is seen in periods of rapid economic growth. Motivation must rely on improving management and technology, especially through the core technologies of major industrial sectors to gain new development momentum, relying on technological innovation as a new impetus for economic development.
Secondly, most of the countries involved in the Belt and Road Initiative are developing countries, and some are emerging industrial countries in the process of catching up. They are emerging from poverty, with their economies just preparing to take off or just beginning to take off. In this stage, there is an urgent need for capital and technology. In particular, it is more necessary to build and improve backward infrastructure, and make full scale investment for industrialization. This kind of cooperation with China and Japan is just conducive to filling the gaps in the infrastructure of Belt and Road countries, eliminating a shortage of funds and solving issues relating to a lack of technology. It is estimated that annual investment to meet the needs of infrastructure construction in Asia totals about US$800 billion, while actual annual investment is only about US$100 billion, a long way off from what countries actually need.
On February 28, 2017, the Asian Development Bank released a report saying that in order to maintain economic growth, eradicate poverty and cope with the effects of climate change, from now until 2030, emerging economies in Asia must invest in areas ranging from transportation networks to the construction of various infrastructure such as clean water resource projects, with up to US$26 trillion in funding required. Excluding spending on combating climate change, the infrastructure investment required during this period is about $22.6 trillion.
This indicates a huge funding gap between potential needs and actual resources in infrastructure construction among countries along the Belt and Road. Sino-Japanese cooperation is certain to be conducive to meeting the funding gap of countries along the Belt and Road, as well as the needs of infrastructure construction.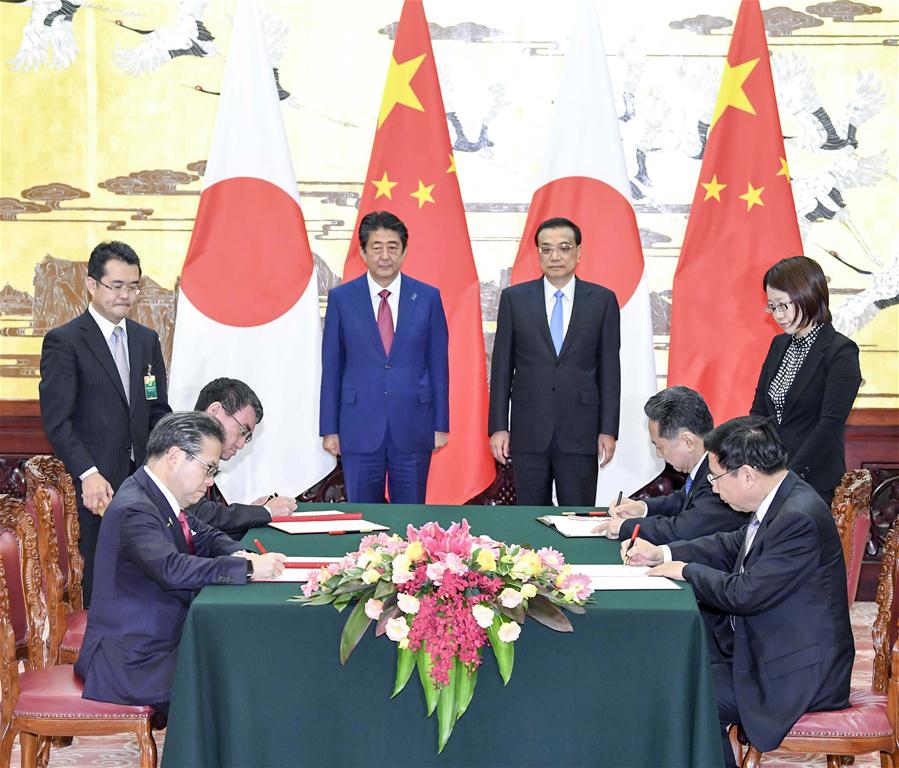 Δ Chinese Premier Li Keqiang and Shinzo Abe witness the signing of more than 10 intergovernmental cooperation agreements on politics, innovation, finance, customs and sports after their talks at the Great Hall of the People in Beijing, Oct 26. [Xinhua]
Thirdly, the potential for cooperation between Chinese and Japanese companies is huge, and it is easy to form complementary advantages. Japan has a highly sophisticated enterprise management system, including the investment feasibility studies and risk control mechanism. While Chinese companies often have a strategic pattern, are brave enough to follow current trends and are good at seizing opportunities, they remain weak in terms of management. If the enterprises of China and Japan can carry out comprehensive investment and business cooperation, it will help the enterprises of the two countries achieve complementary advantages and win-win cooperation, which will surely bring long-term economic benefits to investors from China and Japan.
Fourth, Sino-Japanese relations have enjoyed good economic cooperation over the years, but there has been friction in the fields of politics, security, history, military, territory and the ocean. Third-party economic cooperation between China and Japan can serve as a new growth point for promoting the improvement of Sino-Japanese relations and further development. If China and Japan can make good use of this new growth point, even though it cannot become the leading process and direction for the improvement of Sino-Japanese relations, it will indeed help China and Japan deepen their understanding of one another, increase trust and dispel doubts, as well as expand the external growth space of bilateral relations.
China and Japan have strong economic complementarity. Carrying out cooperation in third-party markets is not only beneficial to obtaining a broad space in regional development, as well as further boosting each respective development levels and quality, but also to making contributions to economic stability and the development of the region and the world.
By Zhou Yongsheng, Professor, Deputy Director, Japan Research Center, Institute of International Relations, China Foreign Affair University
Source: China Today