China & EU Face Bumpy Road ahead for Forging Ties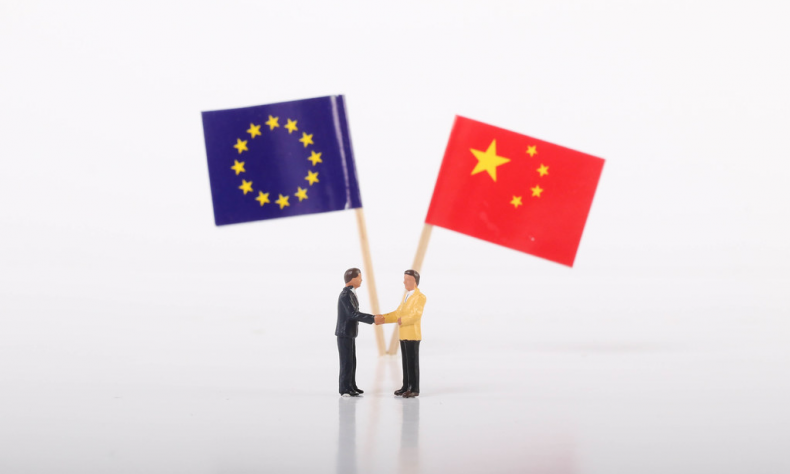 Washington hit the panic mode and has forced their hand on the Europeans in efforts to sabotage CAI. In response, the EU appears to have begun to retreat from their prior support with Beijing.
The European Union and China are crossing paths at a critical juncture and there's no turning back. Brussels can either demonstrate courage by accepting the China-EU CAI (Comprehensive Agreement on Investments) or they could allow Washington to keep bullying them as they surrender to the will of American hegemony yet again. CAI is a free trade agreement between Brussels and Beijing.
Last December, the EU Commission stood alongside Beijing to endorse CAI and submit the deal for a vote on the floor of EU Parliament and if ratified all EU members states are expected to support the agreement. Hence, the last major obstacle appears to be the EU Parliamentary vote, but the outlook seems murky. US Secretary of State Anthony Blinken voiced opposition to CAI and advised Brussels to reject it.
Apparently, Washington hit the panic mode and has forced their hand on the Europeans in efforts to sabotage CAI. In response, the EU appears to have begun to retreat from their prior support with Beijing. It's a sorry state of affairs for the Chinese side to witness, as if Brussels wishes to snatch defeat from the jaws of victory.
Nonetheless, the EU has to take a number of important factors into consideration before they consider bowing down to the US demands imposed on them. Last year, China had emerged as the EU's largest trade partner. The EU exported goods totaling 202.5 billion euros in value, while Chinese exports stood at 383.5bn euros. Total trade figures came close to 600bn. euros.
That's a remarkable feat since the Covid pandemic had severely disrupted global supply chains and the EU economy. China was the only large country to witness an increase of annual GDP (gross domestic products) growth rates last year. European countries were hard hit by lock downs, strict international travel restrictions and social distancing measures.
The pandemic has changed the world as we know it forevermore, but Chinese businesses found a way to overcome the challenges and adapt. Europeans and EU-based firms, which stayed connected to China in 2020, were able to capture grand opportunities in the Chinese market.
Beijing's support for 'Dual Circulation' has also helped the EU enjoy stronger cross-border trade and investments. Dual Circulation proposes for China to strengthen cooperation with the foreign and domestic markets to spur growth for the nation's economy.
The Chinese government has welcomed plans to open up to level the playing fields for foreign-owned enterprises with intentions of expanding operations and sales in the country. Shanghai, China's financial hub for banking and financial services, has bold plans to reform the financial and insurance sectors, which would result in more competition coming from foreign companies.
The EU is home to major banks, investment banks, financial advisory firms, and insurance giants. The CAI, if approved and implemented, would grant EU firms a head start to enter the Chinese market, while Beijing has offered to enforce stronger protections on IPR (intellectual property rights), technology transfer, corporate proprietary secrets and not to compel EU companies to sign on to joint partnerships with Chinese firms in certain industries.
The CAI is a game changer and Beijing has not offered similar sweeping benefits to other nations and regions as of March 2021. The US and China have already signed a 'Phase One' trade agreement in January 2020, but it was nowhere near as generous as CAI. The EU and China can serve as a model for how major bilateral and multi-party trade and investment agreements can succeed in long-term economic growth for all participants involved.
The geography of Europe is important to take note as well. The continent stands next to Asia, the Middle East and Africa. The concept of a prosperous Eurasia markets should not sound far-fetched. China is the world's second-largest economy and the Belt & Road Initiative (BRI) can be the great connector for Brussels and Beijing.
The BRI was introduced by Chinese President Xi Jinping when delivering a speech in Astana, Kazakhstan in 2013. Beijing pledged to embark on joint projects to construct major infrastructure with signatory nations in Asia, Oceania, the Middle East, Africa and Europe. A number of countries in Europe including, Hungary, Poland, Serbia among others, were eager to sign up.
The CRRC, (China Railway Rolling-stock Corporation), has spearheaded global rail networks connecting Chinese rail cargo routes with destinations in European cities. Rail cargo is more affordable than air freight and faster in delivery times than shipping freight between EU and Chinese cities.
Cities, such as Yiwu in eastern China and Chengdu in southwestern China, have international rail hubs that receive and send out products to and from the EU markets.
Meanwhile, China's ruling party, the Communist Party of China (CPC), has proposed the country's 14th Five-Year Plan (2021-2025) which was approved at this year's annual Two Sessions of the National People's Congress and the China's People's Political Consultative Conference in Beijing in early March.
The five-year plan highlighted China's objectives to embrace innovations in the science and hi-tech industries. The country hopes to become a global leader for hi-tech developments, while currently leading the way with its 5G telecom networks to increase Wifi speeds and memory storage.
5G and later 6G will set the stage for rapid acceleration in AI (artificial intelligence), smart technologies, automated manufacturing, Big Data reporting, digital payments, IoT (internet of things), robotics, self-autonomous vehicles and so much more.
The EU can play a crucial role to boost collaboration, hi-tech integration, as well as fin-tech investments to jumpstart sci.-tech industries both in Europe and China. For the moment, Europe stands tall as the world leader in automated manufacturing, in which its factories and warehouses have employed robots, self-driving fork lifts and many other devices to boost production levels at greater efficiency.
Yet, Chinese manufacturers are playing catch up and may soon surpass the US, UK and EU when going fully-automated. European companies can tap into the market to open up more factories in China and they have already established a firm presence here.
German automobile manufacturers have enjoyed strong sales revenues by expanding its supply chain networks and dealerships in China. If you reside in major Chinese cities such as Beijing, Shanghai, Shenzhen, Chongqing, Xi'an, Wuhan and many others, it's not uncommon to see many Chinese driving German vehicles.
German cars remain popular in China serving as a status symbol to connote success, luxury and high quality. European products are often recognized for their excellence and superior standards. More and more Chinese are joining the ranks of the Middle and Higher classes. They have higher disposable income and will pay for European imports, based on reasons including brand loyalty and better quality.
Nevertheless, Brussels could choose to back away from CAI and the Chinese may not find European imports as attractive as before. Don't be surprised if Chinese citizens respond by launching boycotts against EU companies if Brussels spurns CAI. But the EU will only have itself to blame for the tragic set of circumstances. The better path for Brussels to embark on would be for them to sign CAI and deepen relations with Beijing.
Thomas W. Pauken II is author of US vs. China: From Trade Wars to Reciprocal Deal, geo-political analyst on Asia-Pacific affairs, based in Beijing.