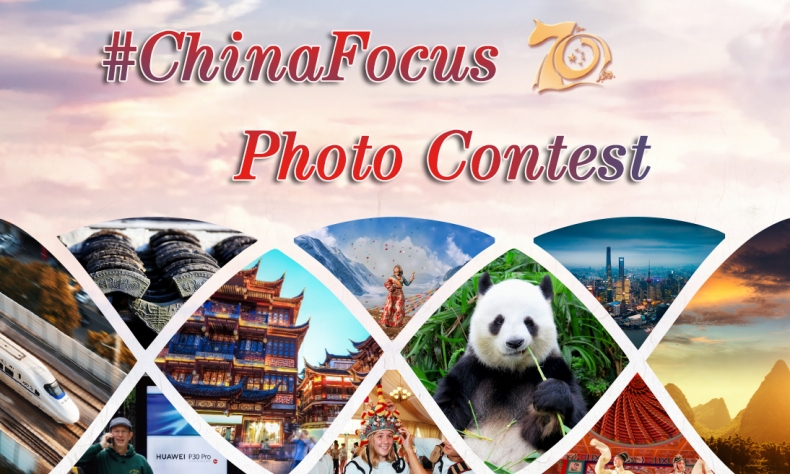 #ChinaFocus70 Photo Contest Now Open For Admissions
See it, Snap it, Share it! Bag up to US$1500 with the #ChinaFocus70 Photo Contest
1. Introduction:
The People's Republic of China is turning 70 on October 1st! To celebrate this great historic moment, China Focus is giving our fantastic loyal readers the chance to win loads of amazing prizes including US$1000s through our #ChinaFocus70 Photo Contest!
Winning one of our great prizes is super easy: simply go outside and snap a picture with your phone or camera of anything Chinese you see around you—architecture, technology, culture, even food—it's all fine. Then, share it on Instagram, Facebook or Twitter tagged with #ChinaFocus70 and wait to see if you've won. What could be simpler? See it, Snap it, Share it!
2. Prizes:
*Grand Prize*- One Winner— US$1500
1st Prize- Five Winners—US$300
2nd Prize- Ten Winners—US$150
3rd Prize- 20 Winners—US$80
Weekly Perfect-Pic Prize—Every week we'll give lucky winners gifts on-top-of the chance to win one of our great cash prizes.
3. Where:
Once you have entered, your photos will be available on all our social media platforms and the China Focus website. Make sure you subscribe to our channels and check out the website every week to see if you've won our Weekly Perfect-Pic Prize or one of our great cash prizes.
4. Who:
We want all our China Focus readers to enter so we can discover just what Chinese things are in your home-towns.
5. When:
The competition opens midnight August 1st to midnight September 15st, giving you a month to send us your photos. We'll be in touch in September to contact our lucky finalists, before our grand unveiling on October 1st when all our winning photos will be revealed.
6. Rules:
Theme: All photos should reflect China as seen in your country—this could include architecture, technology, culture and of course food—it's that simple!
Details: Entries can be uploaded as single or group photos, using any colour composition. Filters and cropping are allowed but heavily edited photos that overly distorts the photos essence will be looked upon unfavourably by our judging panel.
7. Photographic Equipment:
Mobile phone or camera
8. How to submit?
Simply upload your photo(s) onto Instagram, Facebook or Twitter tagged with #ChinaFocus70. Make sure that your posts must be made public.
Or you can send them to us via Email: chinafocus@cnfocus.com
9. Selection Criteria
i. Originality: The entries must be original, creative and your own work
ii. Uniqueness: The photo should incorporate the photographer's observation of life and imagination, conveying their distinctive personality.
iii. Fit: The photos must fit the theme of the competition and show a strong expression of China as seen in their country.
10. Statement
Entries should not involve any pornography, violence, reactionary elements or commercial advertisements.
The author owns the copyright and enjoys the right of authorship of the entries. Once posted, China Focus has the right to use their works in other activities, such as screenings, publications, posters and exhibitions.
All participants should guarantee ownership of copyright for the entries, or that they have the right to authorize the use of entries in competitions, promotions and screenings. The author(s) shall bear all legal responsibilities and economic losses, including but not limited to those resulting from the products' infringement of intellectual property, portrait rights and reputation rights, as well as defamation and other violations of laws and regulations.