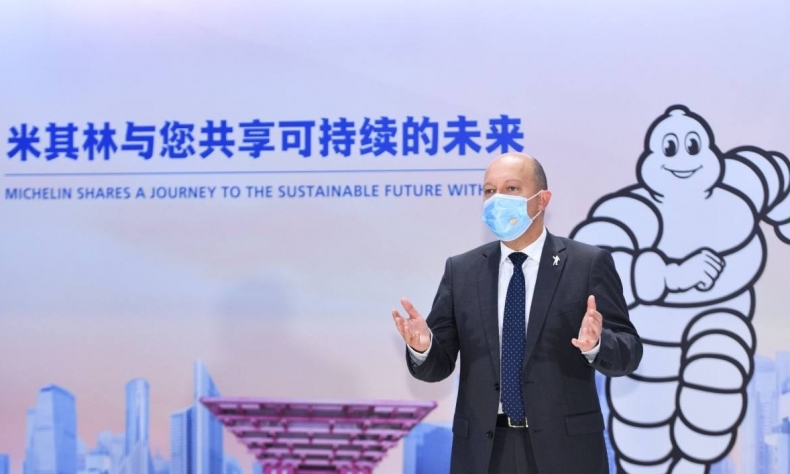 China Has the World's Best Ecosystem and the Greatest Implementation of Innovation
As China continues to grow, consumers want quality growth, which means a greener future.
Editor's Note: The 3rd China International Import Expo (CIIE) is currently underway in Shanghai, where thousands of international enterprises are showcasing products at the world's largest import exhibition.
One company making its debut at the event is French-tyre manufacturer Michelin. Since opening its first office in Beijing in 1989, Michelin has become one of the most recognisable international companies in China.
Kamran Vossoughi, president and CEO of Michelin Greater China spoke to China Focus about Michelins time in China, how it has managed through the coronavirus pandemic and what opportunities Chinese consumers quest for higher-quality goods offers the company.
China Focus: Having made your debut at CIIE this year, what has been your impression of the expo?
Kamran Vossoughi: This is the first time we have appeared at CIIE, as Michelin Group in China. We have two messages, the first is initially everything tomorrow will be sustainable. Secondly, Michelin is a famous tyre manufacturer but we want to show Chinese consumers that Michelin is also beyond tyres. We want to show Chinese consumers we are also about safer mobility, smart mobility and joyful mobility.
So, this is how we are using CIIE, to further expand our brand. We want to bring the best of our company to the Chinese market and this is already the case.
China Focus: The global COVID-19 pandemic and current geopolitical issues have caused logistical problems for many companies, and in some cases has sped up deglobalization. What is your view of this trend, and how do you think it will impact Michelin?
Kamran Vossoughi: For our company, we haven't changed our strategy. I understand there is a global pandemic worldwide but I believe that the need to stay connected around the world is important. Businesses need this connection for mutual trade around the world.
But what is important for our company? From the beginning in China, our strategy has always been to produce in China for Chinese market. So, this will not change our global strategy because we have our factories based in China.
In Shanghai we have factories, including a new connected mobility department, and all the main services and products that we produce for Chinese people are produced in China. So, this will not heavily affect our business here.
China Focus: What help have Chinese institutions and local governments offered Michelin during its time in China and especially during the current pandemic?
Kamran Vossoughi: Michelin arrived in China 30 years ago and from the first day we arrived we have always had the support of the Chinese government and local governments. They have helped us to build and implement our factories, our Research and Development Centre in China and to build our connective mobility division in China.
During the pandemic, we have been grateful to the local government in Shanghai and Shenyang helped us a lot during this period to protect people and restore our factories.
In terms of institutions, Michelin is a big corporation and we have connections with the best universities in China, including Shanghai Jiao Tong University, [University World Ranking 47th], and we are represented in the Connected Mobility Committee of China, so we are very well connected to the R&D environment here.
And we want to develop these relationships further. Recently we attended a hydrogen fuel cell conference in Shanghai and made connections with a number of universities. Current and future growth in China, as was said by Chinese President Xi Jinping during the opening ceremony, is high quality growth.
High quality growth means innovation, it means innovative technology and collaboration. Michelin, as a successful company today in China, would like to continue being successful by embracing and working with all partners in China's ecosystem.
China Focus: How important is the Chinese market to Michelin?
Kamran Vossoughi: The Chinese market is very important to us. First of all because it is a high-quality market. As a premium brand and an innovative company, we can bring our products to a market that consumers love because of the quality and technology we put inside them.
The Chinese market is also important for us because China is becoming a greener and greener country. We have products that offer solutions for a greener way of moving forward. We can help reduce Chinese consumers carbon footprint.
The scale of the market in China also makes it valuable because China is a very big country with a big big population. The quality of life has grown in China over the years, and the need for greater, high-quality products is here.
So, when you put all these elements one after another, you can see the Chinese market is very important for Michelin.
China Focus: How has China's markets and consumers changed in recent years, and what impact has this had on Michelin?
Kamran Vossoughi: We built an RD centre [in China] 20 years ago, so we are not a new comer or new designer because from the beginning we believe China has great potential for innovation, and while some countries have discovered that late, Michelin, as an old friend of China, has known that for years.
But we no longer just come to China to operate factories with cheap costs. We come because it has the best ecosystem in the world, the greatest implementation of innovation and a place where quality technology is recognised.
As China continues to grow, consumers want quality growth, which means a greener future. Chinese consumers are very demanding and well informed. They demand high performance and greener products. It means we can bring products that reduce their emissions of CO2, which is what we want to do in China.
Interview by Liu Wensi
Edited by Thomas Scott-Bell