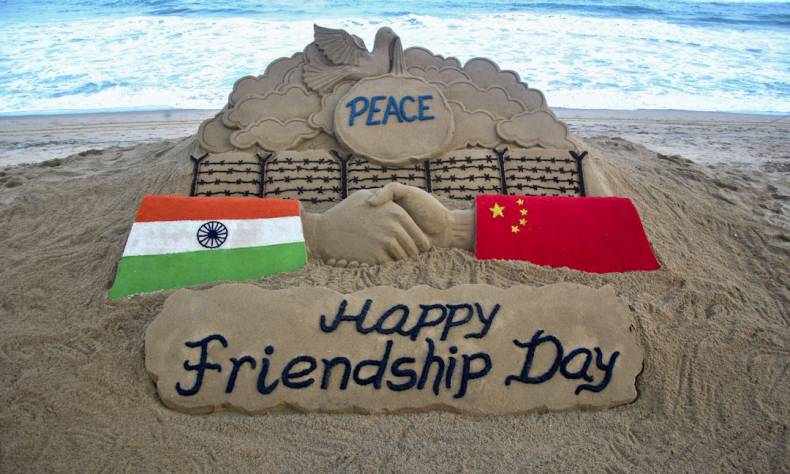 China-India Relations should Refocus on Common Interests
The Indian government has been attacking and questioning China on both old and new issues – the China-India boundary, Tibet, Taiwan, the South China Sea, the China-Pakistan Economic Corridor, the Nuclear Suppliers Group, and UN Sanction Committee Resolution 1267 concerning Afghanistan and terrorism.
By Lan Jianxue
India's strategies and policies towards China have undergone some substantive changes in recent years, through which power politics and nationalism have become increasingly prominent.
Anti-China hawks are gradually becoming dominant in the Indian government's decision-makers, with the "attacking China" tendency becoming more apparent among its strategy academics .
The Indian government has been attacking and questioning China on both old and new issues – the China-India boundary, Tibet, Taiwan, the South China Sea, the China-Pakistan Economic Corridor, the Nuclear Suppliers Group, and UN Sanction Committee Resolution 1267 concerning Afghanistan and terrorism.
The Indian side requires that diplomacy towards China must be based on strict equivalence, and should adhere to its "red line" on sensitive issues. It has been negotiating its position by linking different issues together.
Pressure imposed by India on China's core interests concerning Chinese sovereignty, security, and development is increasing. It seems that China-India relations are entering a new phase of regular disturbances and conflict. The relationship between the two countries is at a crossroads.
Anxiety behind India
Over the two decades and more since the end of the Cold War, China and India have maintained an overall partnership that is competitive yet cooperative. Fruitful results have been achieved in fields including trade, economy, investment and people-to-people exchanges. Both sides have been engaged in making the pie of common and shared interests bigger, and striving hard to maintain the essentials of cooperation and coordination. However, the relationship now seems stuck in a "strategic drift", and is running the risk of becoming "one step forward and two steps back". It has been diverted from the importance it once placed on cooperation, and is now tangled up in minor issues. The resulting disaccord has posed poses a fundamental threat to the relationship between the two countries.
Why the Sudden Shift?
One of the reasons is that as China grows stronger, the power imbalance between the two countries starts to provoke strategic anxiety in India. Its discomfort is rising to a peak, and creating an intrinsic resistance towards almost all of China's strategies, both international and domestic.
A second reason comes down to the great changes currently under way in the global geopolitical situation. Several countries including the US and Japan, each for their own reasons, are scrambling to draw India to their side. They are using India to counter and restrain China's development with increasing frequency, and this in turn has led India to overconfidence and a misplaced belief in its own importance in the international community.
A third reason is that India is now turning away from the diplomatic principle of non-alignment. There has been a significant change in its attitude to the diplomatic principle of "strategic autonomy", which has led to the collapse of pillars on Indian side that formerly served as buttresses to the China-India relationship. India is now turning to a confrontational strategy of India First, forming alliances with other countries and flexible in trade. Whether this strategy is merely a makeshift for short-term gain or a road of no return for Indian diplomacy merits deliberation and consideration by all interested parties, including China. If India's foreign affairs strategy has undergone a fundamental shift, then parties like China will have to make the necessary adjustments in their strategies towards India, which will in turn make it harder for India to sustain its preferential position in the international environment.
Refocus on Common Interests and Consensus
Has the China-India relationship really come to a point of no return? Are the two countries still confident about finding a way forward in their relationship? These questions are constantly in the minds of academics and decision makers in both countries.
In my view, it is still possible for both parties to avoid hostility. A basic consensus on the relationship of the two countries still exists; all we need to do is to refocus on it.
For instance, both countries understand that if they do nothing to repair the bilateral relationship, it will ultimately imperil the rejuvenation of both. Managing the relationship is like rowing a boat against the current – if you don't strive to move forward, you will naturally drift backwards. Cooperation benefits both parties, while confrontation will only hurt both.
After years of progress, the relationship between China and India has developed a fairly stable resistance to shocks, and has moved away from the binary opposition paradigm of "black or white", "friend or enemy".
China and India are the most important neighbors to each  other. They are also two of the world's largest developing countries and emerging markets. Hence a healthy and stable relationship complies with the fundamental interests of the two countries.
The greatest challenges to both countries are poverty and economic stagnation, and the most effective way for the two countries to impose their influence on the world is by transforming themselves.
Even though there have been problems in terms of trade and investment between China and India, the great potential there has not been abandoned.
China and India are both late developers. They both emerged from long periods of oppression, overcoming the obstacles placed in their way by the dominant powers in international system. There is plenty of scope for China-India cooperation in the international arena.
The Need to Seek Effective Means of Coexistence
Consensus represents the common ground for future China-India cooperation.
To achieve this, the governments and people of both countries should revisit and reaffirm the common interests and prospects of the two countries, so as to constantly inject positive power into post-Donglang relations, and make sure that the relationship is not diverted from the right track, and does not deteriorate into conflict or spiral out of control.
In the long run, the two countries should strive to find positive ways to coexist as major countries and neighbors, which could be styled "the China-India relationship model". Even against the backdrop of reserving great divergences over territorial sovereignty issues and strategic issues, which cannot be settled in the short term, the two countries are still capable of managing disputes, focusing on common interests, expanding practical cooperation, maintaining a high-level relationship, and enlarging the space for maneuver between confrontation and cooperation. The Thucydides trap can be avoided.
Whether their differences can be settled to the satisfaction of both parties is the key to the national rejuvenation of both China and India. Not so long before, the Indian movie "Dangal" swept the Chinese market, which demonstrates that China and India are not so far apart in spirit, whether in culture, civilization, values, or social ethics. As Indian Prime Minister Narendra Modi has said, China and India are two bodies sharing one spirit. As long as the two sides are willing to reinforce strategic communications, eradicate doubts over time, and impose strong control over difficult issues such as territorial boundaries, then the strategic value of China-India cooperation will become apparent, and people will be confident about China-India relations. Ultimately, the two countries will have the opportunity to realize the common goal of the leaders of the two countries — the harmonious coexistence of "the dragon" and "the elephant", and the prospect of "1+1=11".
By Lan Jianxue, associate researcher of China Institute of International Studies