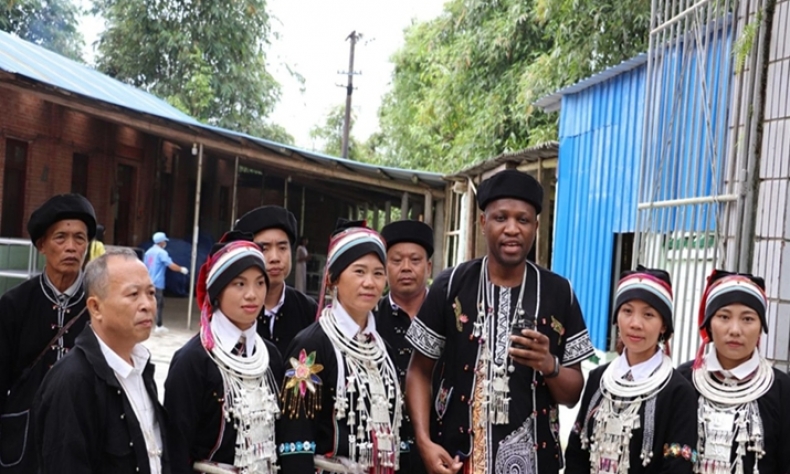 China's Achievement in Poverty Alleviation Drive
The province is well established in terms of sustainable infrastructures (electricity, water, good roads) which are crucial for the development of any society. All in all, Yunnan is a beautiful province where nature will amaze you.
What you need to know:
1.China has used innovative approaches with communities in alleviating poverty through corporative initiatives, benefiting 222,000 and 371,700 minority groups in Malipo and Jinping Counties respectively in Yunnan Province.
2.Ministry of Foreign Affairs solicit funds from Chinese citizens overseas and other related enterprises to a tune of 452 million yuan (approx. 66.2 million USD) to support poverty alleviation projects including food, clothing, education, health, overall village improvement, industries and training.
"The place south of the colorful clouds" as proudly known, Yunnan province is ethnically diverse, richly endowed with natural resources located in southwest China. The region is famous for its large number of ethnic minorities. The provincial capital is Kunming, in the northeast-central part of Yunnan. Currently, Yunnan is among the exemplary provinces for its achievement in eradicating poverty in China.
Influenced by the war against Vietnam in the 1980s, Yunnan found itself in a rock and a hard place in the provision of food and other social amenities to counties such as Malipo and Jinping located in the southeastern part of Yunnan province. With 25 ethnic minorities living in compact communities which include the Ni, Bai, Hani, Dai, Lisu, Naxi, Yao, Jingbo, Buyi, Shui and Dulong, Yunnan is about 390,000 square kilometers with a population of about 48 million with over sixteen languages.
Yunnan is 3-4 hours flight away from Beijing, the capital city of the Peoples' Republic of China. The people in Yunnan are very welcoming and friendly. This can be observed through their hospitality. Yunnan cuisine is delicious; the provincial local wine is lively; traditional dances and music also display the warmth of its people. Driving from Yunnan airport, it is like in a bliss where you see the most magical view. From impressive farm fields; mountain tops to villages. It is certainly worthwhile to spend time exploring nature to discover all its beauty. The province is well established in terms of sustainable infrastructures (electricity, water, good roads) which are crucial for the development of any society. All in all, Yunnan is a beautiful province where nature will amaze you.
How Yunnan eradicates poverty?
The marked roads led us to YAO minority ethnic group. This group is fascinating. It has now managed to eradicate poverty through the implementation of different community projects. Through interviews with different stakeholders, it was noted that local authorities, community members and officials from the Ministry of Foreign Affairs (MOFA) champion the projects among others by soliciting funds from overseas goodwill Chinese citizens and companies.
Most locals in Yunnan live an everyday life like that of my compatriots in Kenya. They practice cash crop farming and take their farm produce to a community corporative society. Yes, they also have their manageable factories that process their farm produce like tea.
In the factory, tea leaves, for example, are dried and packaged locally in different flavors. After that, with the support from the MOFA, the product is marketed online. With the available broader market and love for tea by the Chinese people and the rest of the world, the corporative generates revenue to pay both the farmers and the factory workers.
One of the beneficiaries of the initiative Ms. Xu Yuyan pointed out that the project helps the communities to be self-reliant. She further said that the project has helped her community to be productive.
"The tea we produce in this small factory comes from the local farmers. Through support from the Ministry of foreign affairs, we generate about 6 million yuan (approx. 879,000 USD) per year. We produce ancient Puer tea, white, black, and green tea of an average of 13.75 tons with an output value of more than 10 million yuan (approx. 1.5 million USD) per year," said Xu.
Besides, some parts of the hilly mountain habited the Dendrobium plant. According to the people in Yunnan, this plant is a herb that reduces the risks of high blood pressure, blood sugar, and other related diseases when processed. Consequently, the herb attracts huge revenue when it's finally processed.
One kilogram of dendrobium flowers draws up to 20,000 yuan (approx. 2930 USD) while the same quantity of leaves fetches 5000 yuan (approx. 732.50 USD), according to Mr. Long Guangjian, the leader of TCM planting corporative society. The community receives 15% of the total revenue collected for the labor they provide during picking seasons. The taste of the herb leaves is just like the usual Chinese green tea, which many foreigners enjoy in China.
How do people learn about farming methods in Yunnan?
A small community resource center built at the center of the community acts as a key to unlocking farming knowledge to many locals. The resource center which can be referred to as the library consists of a variety of resource materials for both adults and youth. Taking a closer look at the well-arranged shelves, there are dozens of books on practices on dairy farming, subsistence farming and poultry farming, among others. They act as a reference point for food production and general development in this community to many farmers.
Daniel Oloo is a Kenyan, a PhD research fellow in Communication for Development at the Institute of Communication Studies, Communication University of China, Beijing.