China's Epidemic Battle Highlights Its System's Merits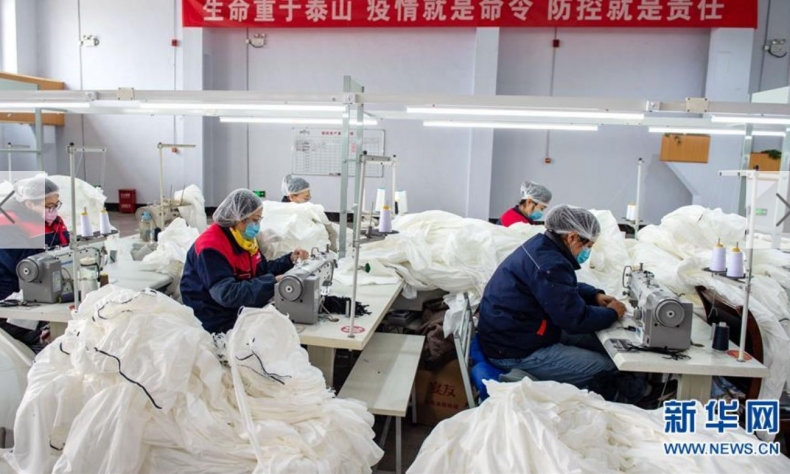 With all these measures in place, we Chinese people are confident in our final victory in the war against novel coronavirus as we stay strong and united.
A protective clothing manufacturer in Handan, Hebei Province gears up its productions on February 6 to meet the rising demands for medical protective suits during the period of this raging epidemic.
Wechat, the most popular messaging and social media platform in China, have been brimming with various touching pictures and videos in recent days: a young boy giving a parcel of masks to a policeman on duty; farmers hundreds of miles away voluntarily sending vegetables to the city of Wuhan in Hubei Province, the epicenter of novel coronavirus pneumonia (NCP) outbreak; hotels in Wuhan offering free accommodation to medical workers, to mention a few here. Wechat has become the main channel for people to access updated news about the epidemic and keep in touch with each other during the virus outbreak.
As Chinese people unite to fight against the virus domestically, the international community has shown great support to the country. At the same time, nevertheless, the global Internet is also churning out some discordant voices. They first expressed doubts on China's official data of confirmed cases of NCP. Then came the rhetoric dampening the prospect of China's economy, further followed by biased reports of the country's inhumane treatment of infected people. Things finally peaked with the U.S. Secretary of State Mike Pompeo declaring the Communist Party of China (CPC) "the central threat of our times" while visiting the U.K.
In the grim situation, the whole country is being organized well to combat the virus. Infrared thermometers are seen at all entrances of supermarkets, gas and train stations, and communities to monitor people's temperature so as to detect NCP symptoms timely. With online assistance platforms set up for virus-infected people and those who have close contact with them, everyone has easy access to medical help. Hotlines have even been set up for expats across the country, providing them with timely consultation and assistance on epidemic prevention and control. The Chinese government has vowed to leave no patient unattended. Even under the shadow of the epidemic, the whole country shows no sign of chaos, but an unflagging spirit of fighting and irrepressible vitality. Having witnessed all this, we believe, our foreign peers will share the same sense of marvel as we do.
Where Our Confidence Comes from
Days ago when novel coronavirus first showed its strong contagious nature, many of my foreign friends sent their messages of concern and support, which moved and encouraged me so much. An American friend asked my opinion about some foreign media's speculation of the number of infections which was believed to be 80,000 when the official data was still around 10,000. I said I believed in our government. Although in first days, it was hard to get the accurate number of infected people as some had not shown any symptoms and some didn't visit the hospital. But now as the whole country is mobilized, volunteers joined the community workers to monitor every community and village of the country, allowing for fewer NCP patients left uncounted and unattended. This is really marvelous considering how big the country is. With one confirmed case identified, his or her track of activities in the past days will be quickly re-constructed and released to caution those who may once have had contact with the person during the incubation period of the virus. Then quarantine measures will be put into action. Every day, some major official accounts in Wechat release posts looking for people who were on the same flights, train carriages and coaches with the confirmed infected patients. Behind all these effective measures and quick response mechanisms is the strong leadership of the CPC and the advantageous system of socialism with Chinese characteristics.
On the battle against novel coronavirus, Chinese President Xi Jinping stressed that the people's safety and health always come first. As he indicated in the talk with U.S. President Donald Trump over the phone on the novel coronavirus outbreak on February 7, China has carried out national mobilization, across-the-board deployment and swift responses, adopted the most comprehensive and rigorous prevention and control measures, and launched a people's war against the epidemic.
One of the most impressive feats accomplished by China in the fight against the novel coronavirus is the completion of two hospitals' construction (Huoshenshan and Leishenshan) in Wuhan within two weeks. According to Zhang Songmin, deputy chief architect of Central South Architectural Design Institute Co., Ltd (CSADI) which designed the Leishenshan Hospital after receiving the task on the Chinese New Year Eve, it only took them one day to finish the design, and the construction speed was 100 times that of the normal one for a hospital for infectious diseases. In addition, many public facilities in Wuhan have been converted into temporary hospitals to receive patients with mild symptoms. As of now, dozens of medical teams from across the country of more than 10,000 members have headed to Wuhan to provide medical assistance.
With Wuhan as the epicenter of the epidemic outbreak, other cities of Hubei have also become the hardest-hit regions. Therefore, an innovative assistance model has been devised to effectively contain NCP: 16 provinces couple with Hubei's 16 cities except for Wuhan, which has received the most of national assistance. One province is responsible for medical assistance to one Hubei city.
Only in a country with an effective governance system and people-supported leadership could these things be achieved in such a timely manner.
All for the People
The epidemic has also spawned countless warm and moving moments, which have inspired Chinese people to combat the virus fearlessly.
When Wuhan decided to lock down the city, many local people had left for travel or visits to family elsewhere. As the epidemic became rampant, regions across the country started to take prevention and control measures. Those people from Wuhan or even Hubei Province became worried. Instead of being confined in cramped locations and left unattended as some rumors go, they have been looked after well. Some cities have set aside hotels and venues for Hubei people, well equipped with all necessary facilities. These quarantine centers have made many considerate arrangements, including diet catering to their taste and offering counseling services. Meanwhile, China has also dispatched chartered flights abroad for travelers from Hubei. Their reassured faces and smiles with tears of gratitude were the most heartwarming moments of the Spring Festival period.
On the frontline of the battle against novel coronavirus, CPC members are playing an exemplary role. Many Party members in the medical sector volunteered to come to Wuhan to contribute their efforts in the epidemic's containment and treatment. Those medical workers' faces etched with deep marks due to wearing masks for excessive periods and fatigued with long working hours have won the most applause and salutes on Wechat Moments, and their white protective jumpsuits have become the most respected attire in this season. Meanwhile, in some regions , volunteers organized by local authorities have taken on the responsibility to look after the families of the medical workers active on the frontline.
While some people joked staying at home over the prolonged Spring Festival holiday to lower the risk of getting infected was also a contribution in the fight against the epidemic, many sectors of the country have geared up to meet the demands for transportation, commodity supply, and production of medical items like masks and protective clothing in the special period. The fight against novel coronavirus has made the whole nation even more united.
The epidemic outbreak is a true test of China's social system and capacity for governance. In the national campaign against the virus, as of February 7, governments at all levels in China had allocated RMB 66.74 billion in containing the epidemic, including RMB 17.09 billion from the central government. The central bank has provided funds of RMB 300 billion to national banks and local banks in the worst-hit regions, which will then grant credit support at favorable interest rates to key manufacturers of medical supplies and daily necessities. For firms in the transportation, catering, accommodation, and tourism sectors, their losses logged in 2020 can be carried over to an extended maximum period of eight years.
With all these measures in place, we Chinese people are confident in our final victory in the war against novel coronavirus as we stay strong and united.
Source: China Today