China's Triumph over Poverty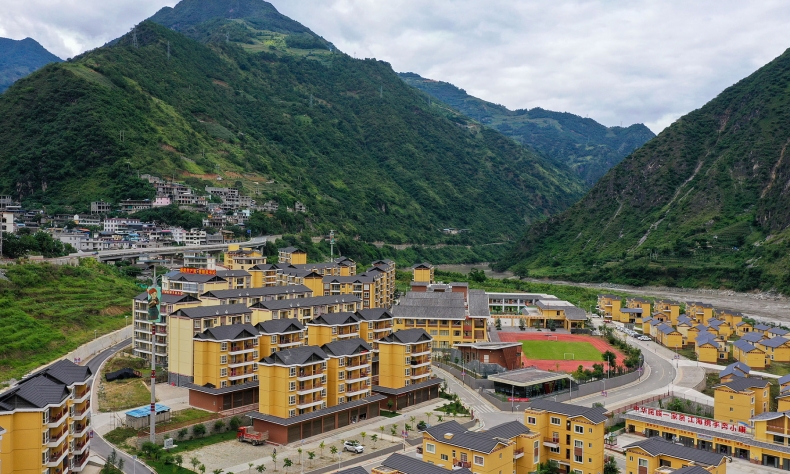 This is not only to study and know more but will go down in world history as how a nation transformed itself to set an example that other will continue to follow and learn.
China has announced a complete victory over the extreme poverty that the country was facing and fighting for the past many decades. Chinese President Xi Jinping in his address declared this much awaited victory to an important gathering at the Great Hall of the People in Beijing to mark the country's triumph. The gathering was arranged to honor the hardworking and courageous people who had joined in the fight against poverty in the country.
During the ceremony President Xi presented certificates, medals, awards and commemorations to these outstanding heroes. There were government officials, party workers, villagers, civil society leaders, academicians and economists in the ceremony. This was a unique event meant to celebrate the country's resilience and commitment to help people of the country enjoy the fruits of prosperity. President Xi himself has presided over seven symposiums to address the poverty alleviation drive over the past eight years since his inception as President of the People's Republic of China. During this period, he has also made more than 50 research tours across China in the 14 hard and impoverished areas in the country to support the great cause of poverty alleviation.
The miraculous journey of fight against poverty has not only been recognized at the national level but the world is mesmerized by the resilience and hard work by the Chinese leadership, officials, people of the country and how well they came out stronger and powerful against the odds. Under the guidance and leadership of President Xi, China's fight against poverty is yet to be seen anywhere in the world as nearly 99 million people living under rural circumstances and below the poverty line have been lifted out of those challenging living conditions. China has also met that goal in the UN 2030 Agenda for Sustainable Development ahead of time which is another remarkable achievement no one has ever achieved so far. UN Secretary General Antonio Guterres has also acknowledged the fact that China's anti-poverty drive has helped reduce 70 per cent global poverty over the years.
China's fight against poverty is a story of making impossible possible. It's a story of remarkable achievement that will go down in the history of mankind as an outstanding contribution to building a world full of equality, justice and prosperity. Chinese leadership while realizing the essence of poverty, developed its theoretical and practical understanding to implement an action plan with Chinese characteristics and resolve the economic deprivation of the people.
Party leadership, governments at different levels and every individual in the Chinese society and government played its constructive role in poverty alleviation efforts. With consistent, honest and hard efforts this could not have been possible. The relief work was led by a visionary, unified, focused and honest leadership of Communist Party of China with 90 million members across the country. At all levels, from villages to the cities and then to the top level, party leadership reflected their utmost commitment to reach targets. Funds were allocated, duties were assigned to help people by providing them with assistance in job allocation, encouragement to use business models, investment plans, effective and optimum use of the new technologies were deployed to help eradicate poverty and rebuild lives in remote villages. Access to health care, education and basic needs were met through wide range of reforms and support system that was managed and channeled through the large network of leadership of CPC.
To stop corruption, CPC always remained on its toes to build the justice system and strengthen it at all levels. Poverty reduction and empowering people for economic prosperity has remained the top priority of Communist Party of China since the party took power in 1949. The objective has been achieved but this is not something that will make the Chinese people rest rather there is a strong resolve amongst the leadership and people to continue the efforts in the right direction.
This is a beginning of the new life and to keep this sustained for a longer period of time, there is no rest till the consolidation of all efforts towards one goal. The leadership has made resolve to initiate a drive of "rural vitalization" an important step towards modernization of economy. This plan was revealed in the two sessions for the year 2021-2025. Discussions have been made on the prevention from relapsing of poverty, focusing on agriculture, rural areas development, engaging farmer and prioritizing the focus on not to leave anyone behind in this common prosperity drive.
Another important document that was released recently was the report by New China Research think tank under Xinhua News Agency entitled "Chinese Poverty Alleviation Studies: A Political Economic Perspective". This report has in-depth discussions and views from foreign experts on Chinese poverty alleviation drive. The report suggests that the miraculous methods and techniques that China has used to fight poverty should be considered as a separate field of studies for the world to not only get inspired but also use them to help humanity to fight the menace. The report highlighting and summarizing the last eight years' achievements and lessons focused on the rationale behind this study has been discussed at length the global implications of such efforts.
This important document is worth studying and understanding as it not only contributes to overall intellectual and theoretical understanding for academicians and researchers alike but also helps in taking important actions in the right direction. One important lesson apart from others is that the main principle was to focus on building pro-poor market, policies wherein government and society worked together to emancipate the poor and help them contribute to the society. China is not only a learner but a leader and innovator too in the fight against poverty. Code of China's poverty alleviation drive can be deciphered as mainly five Ds, which were the keys to this entire process: determined leadership, development oriented, decentralized delivery, data-based governance and detailed blueprint.These principles helped to achieve the miracle that we are witnessing today.
As a result of the pandemic globally, poverty increased to manifold across the world and China was no exception. However, this huge challenge could not stop the Chinese resolve to solve this issue. Due to commitment of the leadership and people's resolve, China delivered the promise and set as an example for the developing countries, including Pakistan, on how to fight back the odds and come out stronger and positive.
With grace and kindness full of compassion, society and Chinese leadership embraced the challenge and helped their people to live with dignity and prosperity that is shared, equal and inclusive. The example that was set forth by this greatest nation's men and women is remarkable. This is not only to study and engage to know more but this will go down in the history of the world as how a nation transformed itself to set an example that others will continue to follow and learn.