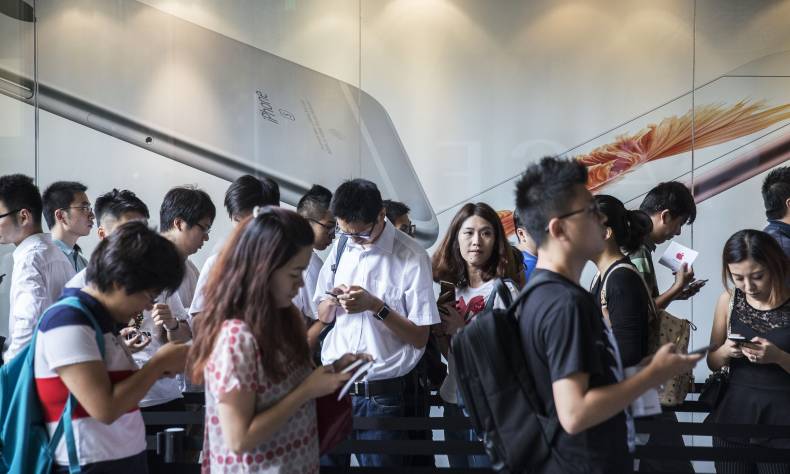 Chinese Consumption Slows as Confidence Wanes
For months those who keep an eye on China (and the world economy, such is its reliance on China) have been told how domestic consumption is to act as a panacea of sorts as the country transitions from its previous model driven by exports and domestic consumption, yet it might be time to pump the brakes on that idea.
At the end of September, the Westpac MNI China Consumer Sentiment Indicator was the highest it had been since May 2014, with MNI Indicators Chief Economist Philip Uglow saying "Our cross-section of urban Chinese consumers seems oblivious to the tirade of negativity that surrounds China at the moment."
Yet the very next month, Chinese consumer sentiment dropped to the lowest recording since the indicator came into effect in 2007, and just like that Huw McKay, senior international economist at Westpac, was saying, "This result openly questions the resilience of the Chinese consumer to the discouraging state of the real economy." That is quite the swing.
Source: Westpac, Deutsche Borse Group
Earlier this week, Reuters published an article detailing how China's economic slowdown was hurting the global wine industry, just one of the many industries that was once looking to China for the explosive growth that was going to carry the sector to the promised land. With the article describing how demand is falling and resulting is massive stockpiles for many of the businesses that are not folding, worry is setting in that China's much-ballyhooed plan for consumption-driven growth to carry the load in the face of dwindling exports and investment will be much slower than initially believed (although it should get a decent shot in the arm with Single's Day just around the corner).
With the wine industry transitioning from a China market composed of luxury wines to one now more about market-entry prices, hurt both by the anti-corruption campaigns and the economic slowdown, it is perhaps time to look around the Chinese retail sector to see what other products are suffering.
Few automobile companies have had the recent success in China that BMW has, the company managing to blend luxury with mass market appeal, but the company is now looking away from emerging markets for growth as sales in China have started to decline. Speaking to Bloomberg at the 2015 Frankfurt Auto Show in September, BMW Head of Sales Ian Robertson said that he expects growth to fall from 17 percent in 2014 and "probably will end up flat, slightly negative, slightly positive." According to the China Passenger Car Association, Chinese automobile imports are down 26 percent for the first half of 2015 while domestic production is down as factories operate at under 70 percent production capacity or lower.
But wine and BMWs are luxury products (as opposed to baijiu and Geelys), but what of smart phones, those all-purpose extensions of our very lives? Research from the IDC Worldwide Quarterly Mobile Phone Tracker predicted back in August that Chinese smartphone sales growth would grow by only 1.2 percent, down from 19.7 percent the year prior. Anshul Gupta, research director at Gartner said at the time that "China has reached saturation. Its phone market is essentially driven by replacement, with fewer first-time buyers," while IDC China Managing Director Kitty Fok told Bloomberg in October that while smart phone growth in China is near flat, there is a strong replacement market, with turnover of phones higher than in much of the world.
The decline in sales of luxury goods was always going to happen alongside an anti-corruption campaign that is making even businessmen of legitimate means slow their spending and rein in all thoughts of ostentatiousness, but it appears that affordable pricing is going to play an even bigger role than ever before, perhaps suggesting why non-Apple smartphone companies such as Samsung and….Samsung are being squeezed out by lower-priced options of increasing repute from competitors Xiaomi and newest powerhouse Huawei.
Many have posited that the rise of e-commerce and online shopping will continue to drive retail in China, and there is sure to be a proliferation of articles touting the upcoming Single's Day madness as evidence, but are these e-commerce platforms really fostering consumption or simply transplanting market share away from bricks-and-mortar stores to online vendors? Time will tell.
The size of the China market will always attract companies, and by no means has Chinese consumption fallen off the face of the planet, but caution and patience should be exercised in the face of all those citing domestic consumption as the cure-all for the Chinese (and global) economy.