Common Interests Prevail
Meeting between Chinese President Xi Jinping and U.S. President Donald Trump highlights shared wishes for better relations
It is normal for China, the world's largest developing country, and the U.S., the largest developed one, to have differences, but the common interests far outweigh the differences, said a senior Chinese diplomat while commenting on the latest meeting between Chinese President Xi Jinping and U.S. President Donald Trump.
"China and the United States both hope the world can achieve stable growth," Wang Xiaolong, Special Envoy of G20 Affairs of the Foreign Ministry and Director General of the Department of International Economic Affairs, told reporters at a press conference held in Osaka, Japan, after the meeting.
"As President Xi said, China is sincere about continuing negotiations with the United States… but negotiations should be equal and show mutual respect," Wang said.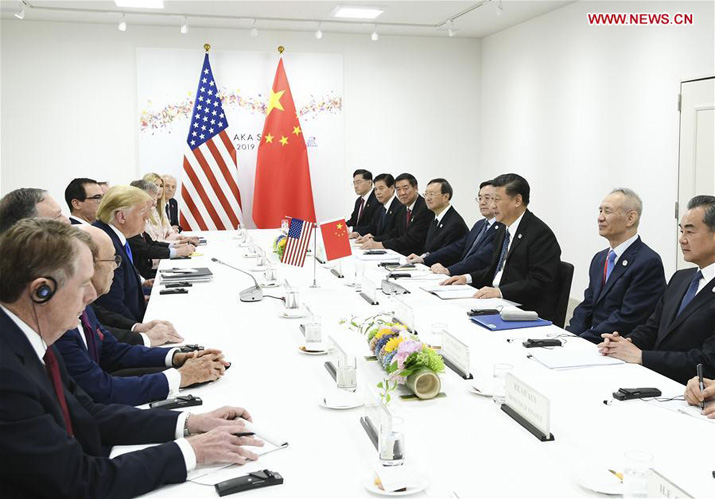 The widely watched meeting of leaders from the world's two largest economies took place on June 29 on the sidelines of the G20 Summit in Osaka. After a handshaking hello at the opening of the summit on the previous day, the two leaders sat down and talked for 80 minutes.
The two presidents agreed to restart economic and trade consultations between China and the U.S. on the basis of equality and mutual respect. The U.S. will not add new tariffs on imports from China. The two countries' economic and trade negotiating teams will work on specific issues.
After the meeting, Trump claimed his talk with Xi is "excellent." "We discussed a lot of things and we're right back on track," Trump said at a press conference.
It is the first face-to-face meeting between Xi and Trump after their last one in December 2018 in the Argentine capital of Buenos Aires, also on the sidelines of a G20 summit. At that meeting, the two leaders agreed on a 90-day ceasefire in the U.S.-provoked trade war.
Negotiators have since conducted rounds of high-level trade talks. In May, however, the U.S. increased tariffs on $200 billion worth of Chinese goods from 10 percent to 25 percent, causing a severe setback to the negotiations.
In a white paper released on June 2, the Chinese Government denounced U.S. unilateral and protectionist measures, criticized its backtracking on Sino-U.S. trade talks, and demonstrated China's stance on trade consultations and the pursuit of reasonable solutions.
One day prior to his meeting with Trump, Xi restated China's stand of further opening up in a speech delivered at the G20 Osaka Summit. "More will be done to open up the Chinese market wider," Xi said. "Greater initiative will be demonstrated in expanding exports. More steps will be taken to improve the business environment."