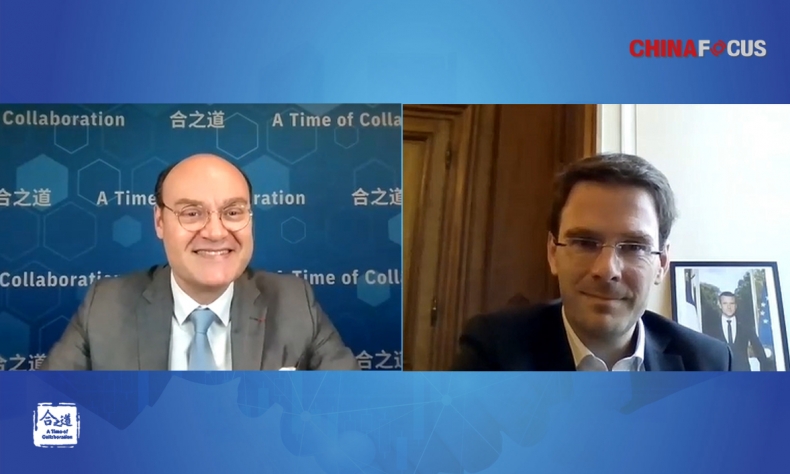 Cooperation Fosters Collective Intelligence
Cooperation, in a sense, is based on a very simple idea: we are stronger together.
Editor's Note: Many cities around the world today are talking about how to make them smarter. Building smart city becomes a potential opportunity for China and European Union to deepen their cooperation in the future. On this topic, David Gosset, the founder of Europe-China Forum, discussed with Nicolas Mayer-Rossignol, who is a French politician, biologist, and the current Mayor of Rouen in France. He initiated "Rouen, Capital of Tomorrow's World" after he was elected Mayor of Rouen in 2020. 
A Time of Collaboration, hosted by Mr. Gosset, is a high-level dialogue with international veteran diplomats, business elites and outstanding scholars. The serial interviews are presented by China Focus in association with DG2CI Limited.
David Gosset: Mr. Mayor, it's a great pleasure to have this conversation with you. You're leading a very important city, but you have also the vision of a very important forum, Rouen, Capital of Tomorrow's World. And I wanted to ask you, Mr. Mayor, how do you see cooperation, the articulation between cooperation and your vision?
Nicolas Mayer-Rossignol: Well, cooperation, in a sense, is based on a very simple idea: we are stronger together. And needless to say, in the current situation, with this virus, with all the economic struggle, it is absolutely clear that we need far more cooperation. I lead a relatively small city in France, compared to Chinese cities. Actually, any city in France is small, compared to any Chinese city. But at the same time, we are embedded with very deep history of international collaboration. First, because Rouen is a harbor, and therefore, by definition, linked to many parts of the world. And secondly also, because we have in the past, and especially for tomorrow, have a very strong interest in getting more knowledge of what other cities do, especially in China, I have to say, about transition, about facing economic but also environmental challenges, and trying to lead the world actually in the way cities like Rouen, like Chinese cities can define a new model for the development of the cities.
David Gosset: Talking about cities, of course, be it in Europe or in China, everyone is talking about smart cities. How do you see the role of collaboration in order for us to build smarter cities?
Nicolas Mayer-Rossignol: You know I'm a biologist by training, and in biology we study neurons, and the way the brain actually makes the neurons cooperate together. So, you cannot be smart without cooperation. The idea, which has been a typically French idea, I have to say, in French history, that you could be the smartest person alone is simply wrong. So actually, in our globalized world, what we seek as elected leaders of our cities is to develop cooperation where you can benefit from the knowledge from the others.
David Gosset: I know that you're going to participate in an online forum whose name is Smart Xiamen International Conference very soon actually, because we know that you care a lot about international cooperation, the way cities cooperate internationally. And I wanted to ask you, how do you see from your perspectives as the leader of the city of Rouen, the future of international cooperation among cities?
Nicolas Mayer-Rossignol: Instead of arguing about the institutions and the administration and the political frames of cooperation, I'd rather start from the people. If you start from the people, what do the new generations tell you? They tell you that they are happy and able to work for once in France, and then in the UK, and then in China, and then come back to France maybe, and then come back to China, maybe. That is the key. The key is to be able to manage both our history, our roots and this globalization in the way the people interact with each other.
We have the technology, that's clear, and the technology is still improving. We have the smart cities, as you said, so the ability to use these technologies within an urban framework in the globalized world. What we need now, the next step, is actually the way cities are going to cooperate together to define concrete projects. I give you one example again about energy, hydrogen. How can we use hydrogen to move tomorrow, to move people, to move goods in a more sustainable way? My message is very simple. Rouen is open for that. Because Rouen has that strategic location in France, in Europe, to develop that kind of concrete projects with Chinese allies and friends.
David Gosset: Thank you very much, Mr. Mayor. I think, as you said, Rouen is very open, and you know very well that also the Chinese cities are very open to more cooperation. So, that's very exciting. And I will remember something very important that you said, there is no smartness, intelligence without collaboration.