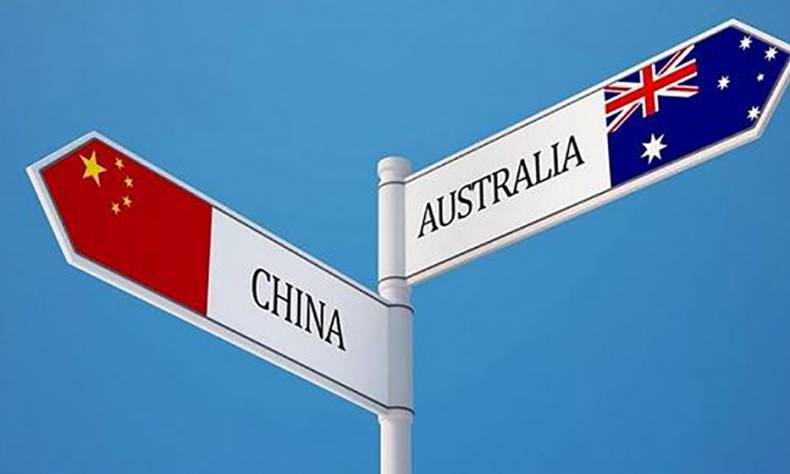 Could Australia be the Collateral Victim of the Trade Friction between America and China?
There has been heated debate over whether the China-Australia relationship is becoming strained. Australian PM tried to play down this concern by insisting that the relationship is robust, but received criticism from business leaders and universities.
By Shen Yujia
There has been heated debate over whether the China-Australia relationship is becoming strained.
Cheng Jingye, China's ambassador to Australia, has expressed concern that the lack of mutual trust between the two countries could have an adverse effect on the trade relationship.
Australian Prime Minister, Malcolm Turnbull tried to play down this concern by insisting that the relationship is robust, but received criticism from business leaders and universities.
 "Riding on Asia's Back"
"Riding on the sheep's back" may be an excerpt from a documentary from Australia but it has become a symbol of the way in which many Chinese understand Australia.
Australia has prospered from its wool industry over the 20th century, but the new engine for its economy boost is definitely trade liberalization.
The image of Australia in China is evolving– Australia is now seen as a country that has benefited from the liberalization of trade, the embrace of international students, and the influx of skilled immigrants.
According to figures from Australia DFAT, one fifth of Australia's workforce is employed in trade-dependent jobs. Trade liberalization has led to an increase in Australia's household incomes of $4600 per annum. An odd fact is that the rates of robbery, burglary, and other forms of theft have plummeted from 2000 onwards.
One plausible explanation is that the growing trade relationship with Asia, and especially with China, has filled Australia with inexpensive appliances and household products, thereby crashing the market for many stolen goods.
In an article published recently in The Australian, the credit for 26 years of continuous growth was given to the reforms implemented by the Hawke-Keating government and the rise of China. It is fair to argue that Australia's prosperity relies heavily on free trade and a robust trade relationship with China.
The Undeniable Dilemma
Australia has benefited greatly from trading with China. Trade liberalization is key to Australia's prosperity and growth. It would not be an overstatement to say it is where its national interests lie.
However, with trade liberalization and the process of globalization, Australia now faces some difficult options.
The country no longer lives in an era when their most important strategic partner is also their largest trading partner, as once was the case with the United Kingdom and the United States.
For the past few decades, the Pan-America is what Australia's strategic policy's setting. Australia's foreign policy derived from this. Therefore, Australia's foreign policy followed a tradition of embedding with strong allies such as the UK and the US and avoiding isolationism.
The Asia Pacific region can be expected to experience significant change as China rises and America threatens the trade liberalization process. It is a hard time for Australian politician to make choices between their most important strategic partners and largest trading partners.
The Juggling Game is Getting Harder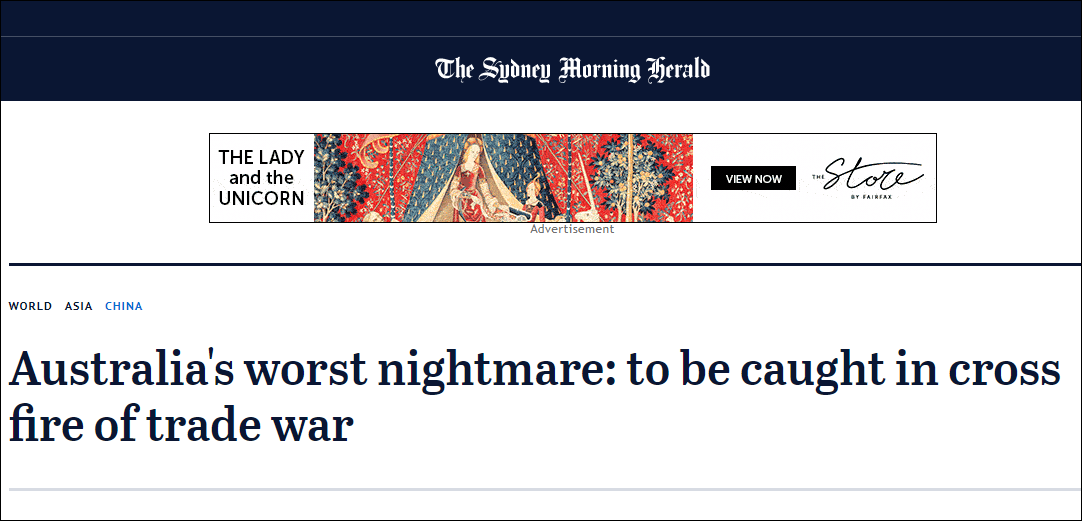 ▲The Sydney Morning Herald has suggested that Australia's biggest nightmare would be to get caught in the crossfire between China and the USA.
It is also argued by some analysts that some Australian industries could benefit from the trade friction between China and the USA. With the China Australia Free Trade Agreement, the Australian wine industry exports wine to China at 0% on tariff, while US wine will be taxed at 25% with the new tariff rate imposed on good importing from the US by China on the 2nd April. Thus, Australian wine could take up the China wine market at greater prices.
However, some economists from Australia believe that the long term impact of trade friction between the two giants could be detrimental to Australia's economy.  The looming trade war could potentially cost Australian losses in billions.
KPMG modelling shows a global trade war shrinking Australia's economy by $35 billion for the loss of 285,000 jobs."Our analysis shows that a hostile global trade environment would see Australia's hard-fought gains from trade liberalization being eroded," says Brendan Rynne, KPMG Australian Chief Economist.
There is speculation that the China-Australia relationship is under strain. China's ambassador to Australia has warned that the relationship between Australia and China has been marred by "systematic, irresponsible and negative remarks" about China, and trading ties could be damaged if the damage is not repaired. In an interview with The Australian, the ambassador said Australia needed to do more to "increase mutual trust" in its ties with China.
From the Australia side, Mr. Turnbull had clearly played down observations, claiming that there is a strong relationship that is getting better.
However, the absence of ministerial level representatives from Australia at the Boao Forum suggest that strain in the relationship may result in some negative impact on the trading relationship.
Andrew Forrest, the Australian billionaire, criticized the lack of representatives from the Turnbull government, alleging that it would put Australian business in a disadvantageous position, with a less robust trading relation with China.
It is hard to see how Turnbull is doing well in his dealings with Beijing, or to believe that the relationship is improving.
The investigation on steel issued by an Australian company on the 18th April 2018 is being interpreted by Chinese media and academics as a sign of Australia following America's lead in the trade war.
It is hard to understand why a country that has flourished and prospered through trade liberalization would want to be seen joining a trade war with the U.S against its largest trading partner.
Dr. Shen Yujia, research fellow at National Centre for Oceania Studies, School of International Relations, Sun Yat-Sen University
Editor: Cai Hairuo
Opinion articles reflect the views of their authors, not necessarily those of China Focus