Digital Dividend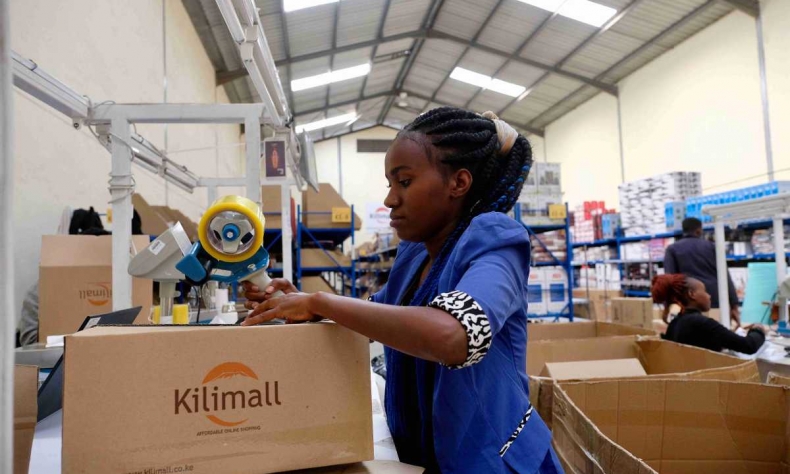 China and Africa join hands to build a community of shared future in cyberspace.
In Kenya, electronic mobile payment platform M-Pesa is an indispensable part of local life. According to statistics from the World Bank, each of 96 percent of households outside the Kenyan capital of Nairobi has at least one M-Pesa account. 
Launched in 2007, the platform has become hugely popular because of a special function that allows users to transfer money and make payments using a feature phone service even when they do not have a smartphone, or their phone cannot connect to the Internet.
But a rapidly growing user base also brought technical challenges to the service. In 2012, due to a large number of users and weak platform capacity, the withdrawal service often crashed on Fridays. 
To solve the problem, the operator turned to Chinese technology to help to build a more stable and powerful second-generation M-Pesa mobile payment service. Chinese telecom company Huawei Technologies Co. worked with M-Pesa to build up the platform which can support the use of the mobile pocket by tens of millions of users. Its business performance has greatly improved, and the downtime has been dramatically reduced.
This is also a prime example of mutually beneficial digital cooperation between China and Africa. Driven by the trend of economic globalisation and digital globalisation, Africa's digital economy has expanded rapidly since the start of the 21st century. At the same time, as the world's leading country in the field of digital economy, China has extensively cooperated with African countries to support the construction of "digital Africa" encompassing e-commerce, digital infrastructure, mobile payment and so on, helping Africa to enter the fast development track of digital economy.  
Unlocking digital potential
In Africa, digitalisation is widely recognised as one of the most powerful tools for implementing the 2030 Agenda for Sustainable Development and African Union's Agenda 2063. 
In recent years, improved telecommunications infrastructure and the rising mobile device adoption have boosted Internet access in Africa. In turn, higher Internet accessibility has promoted digital activities and services, such as social media, online shopping, and mobile payments.
In July 2022, a report from Endeavour Nigeria, a global community for high-impact entrepreneurs, estimated the size of the African digital economy to be around $115 billion, and the figure is expected to reach $712 billion by 2050.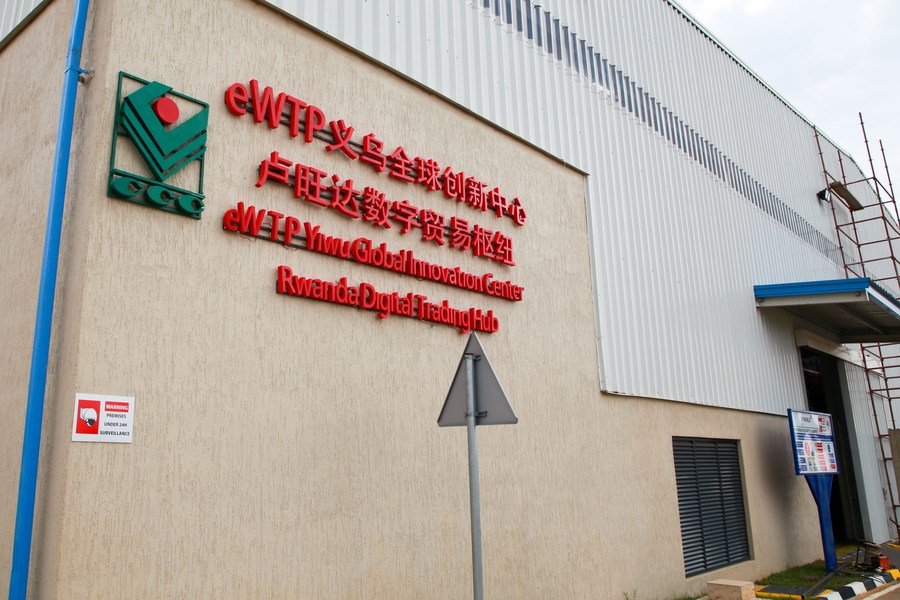 And information from Statista, a global business data platform, shows that the use of the Internet has evolved rapidly in Africa. The continent had around 570 million Internet users in 2022, more than double compared to 2015. 
Nevertheless, the continent has not yet achieved its full digital potential. Despite the rising number of users, the Internet penetration rate is much lower than the global average of 66 percent, according to Statista. Problems including inadequate network coverage, gaps between rural and urban areas, a lack of regulations to govern the Internet as well as frequent cyber terrorism activities remain to be solved. 
China's contribution
In China, digital economy, ranking second worldwide for many years, has become a major growth engine for the country. According to a white paper released by China's State Council Information Office, by 2021, the value of China's digital economy had reached 45.5 trillion yuan (about $6.3 trillion), accounting for 39.8 percent of its GDP.
According to the white paper, by June 2022, there were 1.05 billion Internet users in China, and the Internet penetration rate had reached 74.4 percent. The country hosts the world's largest 5G network, with 1.85 million 5G cell towers and 455 million 5G cellphone subscribers.
China-Africa digital cooperation has been growing along with the growth of China's digital economy. According to a white paper titled China and Africa in the New Era: A Partnership of Equals released by China's State Council Information Office in November 2021, Chinese companies have cooperated with major African operators in achieving full basic coverage of telecommunications services in Africa. They have built more than half of the continent's wireless sites and high-speed mobile broadband networks. In total, more than 200,000 km of optical fibre has been laid. 
More than 1,500 companies in 17 cities in 15 African countries have selected Chinese corporate partners for their digital transformation. Twenty-nine countries have selected smart government service solutions provided by Chinese companies. China and Africa have jointly established a public cloud service in South Africa that covers the entire African region. The two sides also released the first 5G independent commercial network in the region. 
The scale of China-Africa e-commerce cooperation continues to grow. The Silk Road E-Commerce Capacity Building Cloud Lectures have effectively improved the digital literacy of micro, small and medium-sized enterprises in partner countries.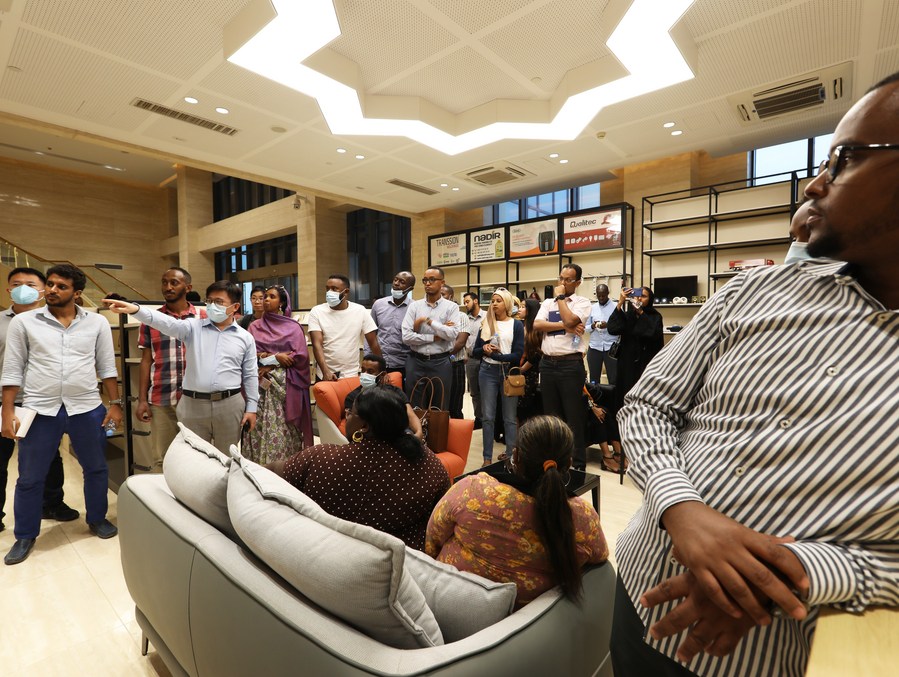 In 2021, Chinese logistics firm Cainiao announced the launch of its first air cargo service between China and Africa with more than six flights per week from China's Hong Kong Special Administrative Region to Nigeria's economic centre of Lagos, where Cainiao's local partners receive the cargo and make local delivery. The company aims to reduce the time required for normal delivery service between China and Nigeria to about 20 days, instead of the usual 60 days, by eliminating transit through the Middle East.
OPay, a key financial technology company founded by a Chinese entrepreneur in Nigeria, has seen quick growth through filling gaps in financial services in the country. Now with more than 300,000 offline agents and partner merchants and more than 7 million users of its mobile app, OPay has seen monthly transaction volumes exceed $3 billion and become one of the top fintech companies in the country.  
Talent cultivation
To overcome the "talent bottleneck" that constrains digital innovation, China has taken steps to promote digital education in Africa. Chinese companies are encouraged to offer vocational training for local people and provide Internet services.
Huawei, for instance, launched its Seeds for the Future programme in African countries, which seeks to develop local information and communications technology (ICT) talent, enhance knowledge transfer and promote a greater understanding of the telecommunications sector among the youth in the countries where it operates.
Since the launch of the programme in 2008, students from South Africa, Kenya, Ethiopia, Namibia, Botswana, Nigeria, Zimbabwe and Ghana have attended the virtual training course to upgrade their ICT knowledge and skills. 
In September 2022, the first training camp of the Centre of Innovation and Maritime Excellence, supported by Chinese companies, was opened in Djibouti City, the capital of Djibouti, with the theme of Digital Innovation and Cross-Border E-Commerce. Nearly 30 trainees from Djibouti, Ethiopia, Kenya and Uganda were selected to participate in the eight-day training programme, which was of great help for African youths in adapting to more diversified needs of digital trade, said Djibouti's President Ismail Omar Guelleh.