Digital Economy Is Reshaping China's Economic Structure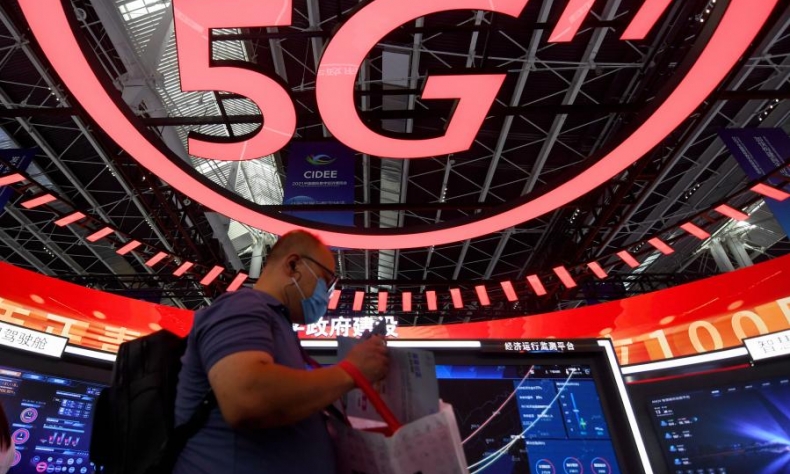 As a new bridgehead for global economic development, digital economy is quietly changing the international economic structure, and China is leading the field.
According to the Complete List of Unicorn Companies released by CB Insights, by the end of March 2022, a total of 1,066 companies worldwide were valued at over US $1 billion. It covers fintech (20.8 percent), Internet software and services (18.9 percent), e-commerce (10.4 percent), and AI (7.8 percent). Among these unicorns, Chinese companies, which are mostly digital economy enterprises, ranked second, accounting for 16.3 percent of the total number.
In recent years, digital economy has become a new bridgehead of global economic development, quietly changing the international economic structure. The rapid development of China's digital economy has also reshaped the country's economic structure in a forceful way. It promotes high-quality economic development, and has created new advantages in international cooperation and competition.
China's booming digital economy
Digital economy can be divided into "digital industrialization" and "industrial digitalization" according to the internal structure. In the latest Statistical Classification of the Digital Economy and Its Core Industries (2021) released by the National Bureau of Statistics, the digital economy in China is divided into five categories including digital product manufacturing, digital product services and digital technology application.
At present, China's digital economy is showing vigorous development. New technologies such as big data, AI, and cloud computing are constantly innovated and increasingly integrated into various fields, making China a large digital economy with obvious advantages in scale. And its scale continues to grow. From 2011 to 2021, the total size of China's digital economy grew 4.12-fold, with a compound annual growth rate of 18 percent, becoming a key driver of its economic growth. The size exceeded RMB 45 trillion in 2021, contributing more than 40 percent to the GDP.
There are more detailed figures. By 2021, China had 989 million Internet users with an Internet penetration rate of 70.4 percent, and 782 million online shopping users who accounted for 79.1 percent of the total Internet users. China has been the world's largest online retail market for nine consecutive years. With a penetration rate of online payment now approaching 90 percent, China is also leading the world in exploring a potential digital currency. Besides, the number of online education users was 342 million, online medical service users 215 million, online video apps users 927 million, and short video apps users 873 million. China has built the world's largest 5G network, with more than 718,000 5G base stations in operation.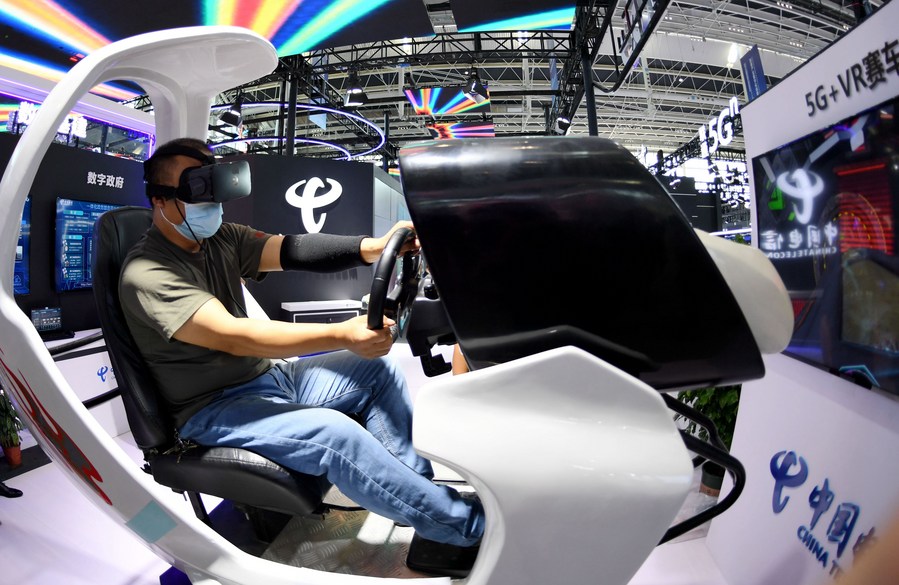 Governments at all levels attach great importance to this digital growth. In 2017, the term "digital economy" was formally put forward in the government work report. At the national level, China has implemented the digital economy development strategy, strengthened digital infrastructure construction, and promoted innovation. A series of policy measures have been introduced in related fields, fostering a large number of international digital enterprises such as Tencent, Baidu, Alibaba, JD.com, and Pinduoduo.
In 2021, the State Council issued the Development Plan for Digital Economy During the 14th Five-Year Plan Period, making overall plans for all regions and departments to promote the development of digital economy. Each province and city has also taken active measures to develop the local digital economy. In 2021, the size of the digital economy in 13 provinces and cities, including Guangdong, Jiangsu, and Shandong, exceeded RMB 1 trillion. In Beijing and Shanghai, digital economy accounts for more than 50 percent of the local GDP. Guizhou, Chongqing and Fujian also saw their digital economies grow by more than 15 percent.
New forms of business have a strong momentum of development. Digital technologies have penetrated into production, logistics, retail, entertainment, and other economic and social fields. In terms of daily life, digital technology has been deeply integrated with medical care, education, transportation, retail and other industries. Online classes, "cloud medical consultation," "cloud tourism," unmanned supermarkets, unmanned KTV, social commerce, livestreaming e-commerce, and other new forms and models have grown rapidly. Among them, livestreaming e-commerce is reshaping multiple industrial chains of e-commerce and logistics.
Digital technologies have also been integrated with many aspects of production, and new business forms and models such as unmanned factories, intelligent warehouses, drone patrol, unmanned delivery, "cloud exhibitions," and online collaborative offices have continued to develop.
Digital economy deeply integrated into real economy
Professional technological services have become an important support for the digital transformation of traditional industries. Cloud computing service providers provide elastic computing, storage, and other services for traditional industries to reduce the costs of their digital transformation. Big data analytics provide traditional industries with services such as precise push and trend analysis, effectively reducing the risks of digital transformation of traditional industries.
Outstanding achievements have been made in the application of big data in finance, medical and health care, government affairs, transportation, and other traditional industrial fields.
According to estimates by the China Academy of Information and Communications Technology (CAICT), the penetration rates of the digital economy in China's agriculture, industry and service sectors are 8.9 percent, 21.0 percent, and 40.7 percent respectively. Among the traditional service industries, wholesale and retail, finance and real estate in total accounted for 72.7 percent of the total value added of the service industry, and these three sectors are the frontier for the deep integration with digital technology.
Online and offline integration has become an important path for the digital transformation of traditional industries. At present, traditional industries are undergoing all-round and whole-chain transformation with the help of digital technology, and due to COVID-19, the pace is accelerating.
For example, during the epidemic, in the agricultural materials industry, production, transportation, and the operation of grassroots stores were interrupted. Many companies have worked through online and offline cooperation, to provide services of great need to farmers in an orderly fashion, such as the diagnosis of diseases and the trade of agricultural materials.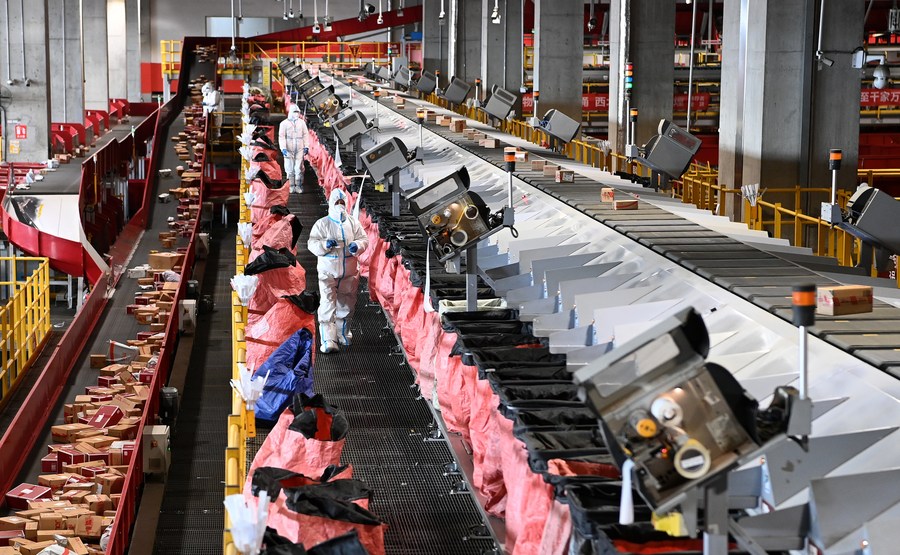 In addition, online and offline integration continues to expand in traditional industries such as exhibition, retail, wholesale, education, medical care, tourism, finance, sports, clothing, textiles, real estate, catering, furniture, etc.
Flexible manufacturing system (FMS) has become an important way of digital transformation for traditional industries. Textile and garment is a highly digital industry at the retail end, with 30 out of every 100 garments sold through the Internet. Meanwhile, garment manufacturers use digital technologies to coordinate the industrial and supply chains, shorten the production cycle, change the production mode and equipment, and accelerate flexible manufacturing.
For example, through digital-driven reconstruction, a garment enterprise has realized intelligent, flexible, and customized production. Now it can produce over 3,000 items of customized clothes every day, and deliver an order within seven working days on average.
Another example is the steel industry. Now there are more and more orders requiring steel products of multiple varieties which are asked to be delivered by week, instead of by month. Therefore, steel enterprises now adopt a flexible production mode, and implement detailed production schedules.
Digital economy provides great conveniences
Digital economy improves government effectiveness. Digital platforms for dealing with government affairs have become important for improving government efficiency and services.
The one-stop review and approval model is efficient. Provincial and municipal platforms are deeply integrated with those of national departments, breaking the information barriers between local and central governments and departments.
The cross-regional collaborative management of data enables many residents to withdraw their share of the housing provident funds from different places, or make direct settlements of outpatient fees in different places, and also enables college and technical school students to transfer their registered permanent residence after graduation, without going home.
Relevant data show that 82.13 percent of provincial-level administrative license applications have been accepted online, and things requiring presence in person can get done in one place and without the need for a second trip. The promised average time limit for handling more than half of the administrative licensing issues nationwide has been shortened by more than 40 percent.
The digital economy enhances people's sense of gain. It has also provided more equal employment opportunities and boosted job growth and people's income. Eighty percent of e-commerce delivery workers come from rural areas, and female entrepreneurs account for more than 50 percent on the Alibaba platform.
Inclusive financial services, such as Internet banking and mobile payments, have expanded financing channels for small and micro businesses, and individuals. Relevant data show that in 2021, about RMB 9 trillion (7.8 percent of China's GDP) were created by the core industries of the digital economy, such as 4G, 5G, and optical fiber.
With the popularity of mobile Internet and smart phones, mobile payments have become the basic connection between digital economy and people's livelihood. By the end of 2021, there had been more than 8.0851 million digital RMB pilot scenarios, 261 million personal wallets had been opened, and the total transaction value reached RMB 87.565 billion.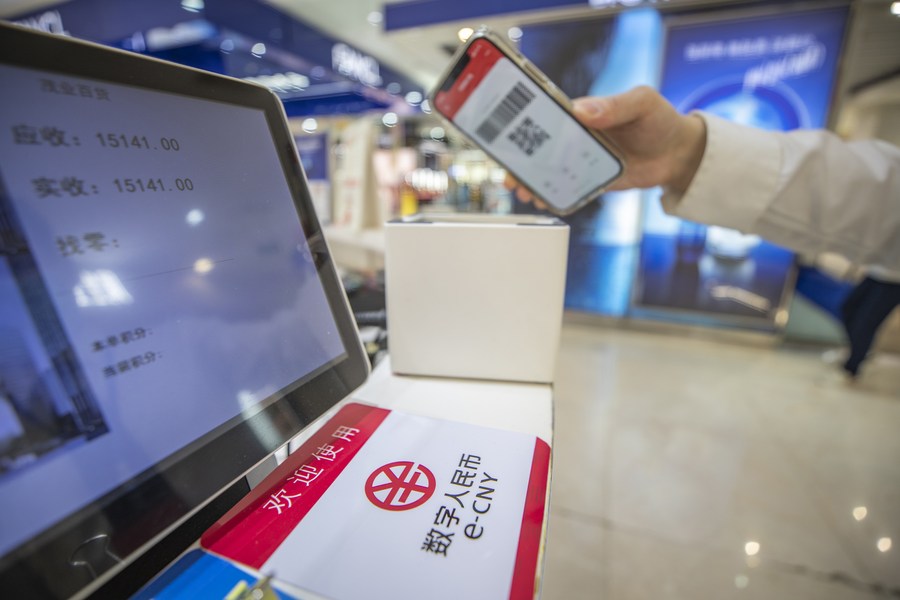 In addition, digital medical care promotes the sharing of high-quality medical resources in different places, especially in remote areas. Online education provides more educational channels, and video websites provide rich cultural resources. In 2021, on the Douyin app, more than 18.29 million accounts posted entertainment-related videos every month. The digital economy has provided people with great convenience, improving the standard and quality of their lives.
International cooperation in digital economy is deepening. International cooperation, represented by e-commerce and mobile payment, has been expanding. Cross-border e-commerce logistics has brought more Chinese products to overseas consumers, bringing concrete benefits to the world. In addition, the Digital Silk Road has made remarkable progress. China's cooperation with e-commerce traders from 22 Silk Road countries continues to deepen. Besides, China and its partners have jointly launched a Silk Road E-commerce forum during the pandemic.
In terms of cross-border shopping, the special China-Europe e-commerce train service under the China Railway Express provides more offline channels for China-EU digital economy cooperation. In a survey of 25 European countries conducted by Belgium's Bpost company, consumers in 24 countries ranked Chinese sellers as the most popular cross-border online sellers. Another survey showed that nearly 30 percent of consumers in European countries preferred Chinese sellers when shopping across borders.
By the end of 2021, there were more than 2,000 overseas warehouses for China's cross-border e-commerce, covering a total area of more than 12 million square meters. They are distributed in many countries and regions including Russia, Japan, South Korea, the United States, Europe, Southeast Asia, and the Middle East, becoming a new type of infrastructure to promote the development of global cross-border e-commerce.
According to the outline of the 14th Five-Year Plan (2020-2025), the added value of the core industries of China's digital economy will account for 10 percent of its GDP by 2025. With a new round of technological and industrial revolution, the role of digital technology in industrial development will be further enhanced. New forms and models of digital economy will also be constantly emerging.
China will continue to develop its digital economy, improve its digital infrastructure, enhance the governance capacity, and promote full integration of the digital economy with the real economy, in a bid to promote high-quality economic development and build a new economic pattern which is innovative, full of vitality, and beneficial to all.
Zhang Li is director of the E-Commerce Research Institute of the Chinese Academy of International Trade and Economic Cooperation, Ministry of Commerce.