Enhancing the Openness of the World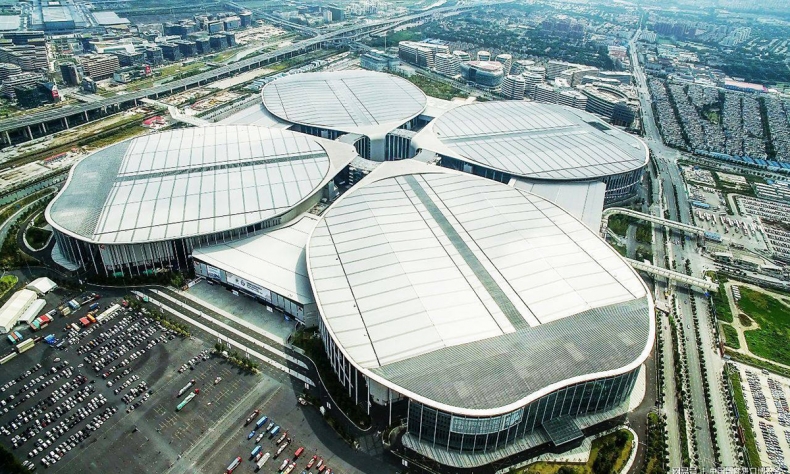 An import expo is extremely important because it helps exporters from all over the world to get to know better China.
WHILE the Trump administration, holding high the banner of "America First," stubbornly stuck to its trade protectionism policy, escalating its trade frictions with many countries across the globe, Chinese President Xi Jinping declared at the Boao Forum for Asia Annual Conference 2018 in April that "China's door of opening-up will not be closed and will only open even wider." He also indicated major measures to be taken by China to pursue further opening-up, including those to expand imports. "This November, we will hold the first China International Import Expo (CIIE) in Shanghai. It is not just another expo in an ordinary sense, but a major policy initiative and commitment taken of our own accord to open up the Chinese market. Friends from around the world are welcome to participate in the expo," Xi said at the conference, and promised that the CIIE would become an annual event.
Over 2,800 businesses from 130-odd countries and regions will attend the first CIIE to showcase their services and products in such fields as automobiles, high-end smart equipment, consumer goods, health care, and agriculture. The participating companies are expected to present the most representative products and products with the most advanced, cutting-edge technologies in their fields and of the latest trends.
For a More Open World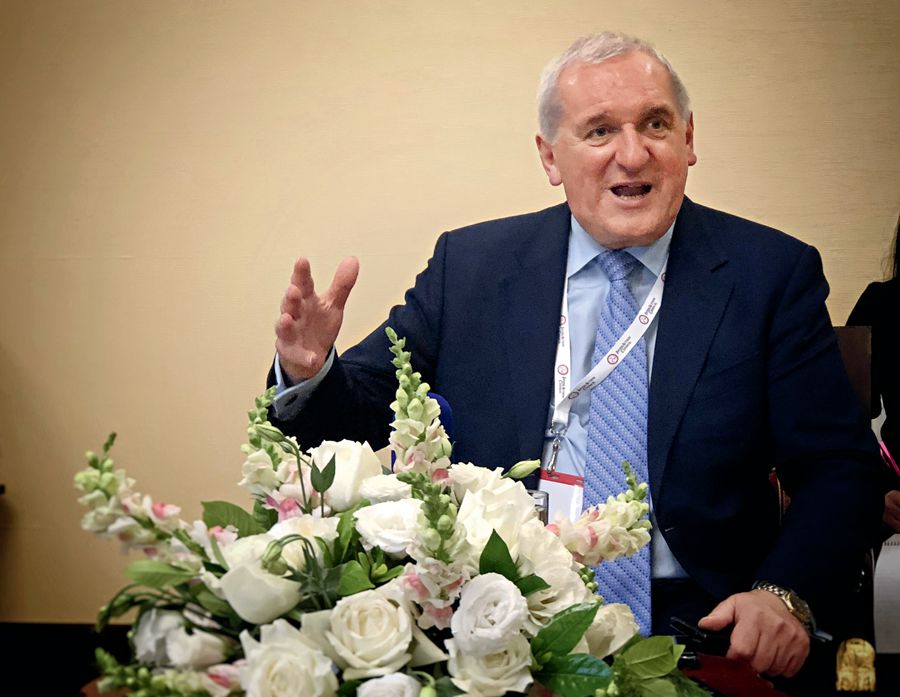 Δ Bertie Ahern, former Irish prime minister.
"It is enormous, and vitally important to global trade. I think [it's] bringing together what the expo does. I've watched expos for decades now, but bringing together countries, companies, corporations, and society from all over the world is wonderful. And I think the huge effort that the Chinese leadership and the administration have put into this is terrific. So I wish it well. I think the preparation and the work that's gone into it is fantastic, and I think it would be a big success for China and generally for the openness of the world," Bertie Ahern, former Irish taoiseach and co-chair of the InterAction Council said.
Ahern spoke highly of China's multilateralist stand and its new efforts to further open up, "I think the more opening up there is, the more we can get away from restrictive barriers, the better." He thought those punitive measures like tariff hikes could only disrupt the existing international order.
"I think when there's a level playing field for business, no restrictions, tariff penalties, hidden subsidies, it's best for everybody. Because business generates more activities, and activities generate more jobs. You know if more activities develop more taxes, taxes generate more services. So it's a cyclical thing," said Ahern. In his view, trade protectionism will not sustain. "It doesn't work. And who suffers? Those people looking for jobs. You know, young and old, who are looking for jobs," he further explained.
"So I believe in multilateralism. I believe in globalization. The world is more peaceful and best when it's open and free. That's great," the former taoiseach of Ireland said. Ahern also manifested his belief in the international bodies, as it was hard to set up all those international organizations that were intended for the world good, he said.
China's Contribution to the World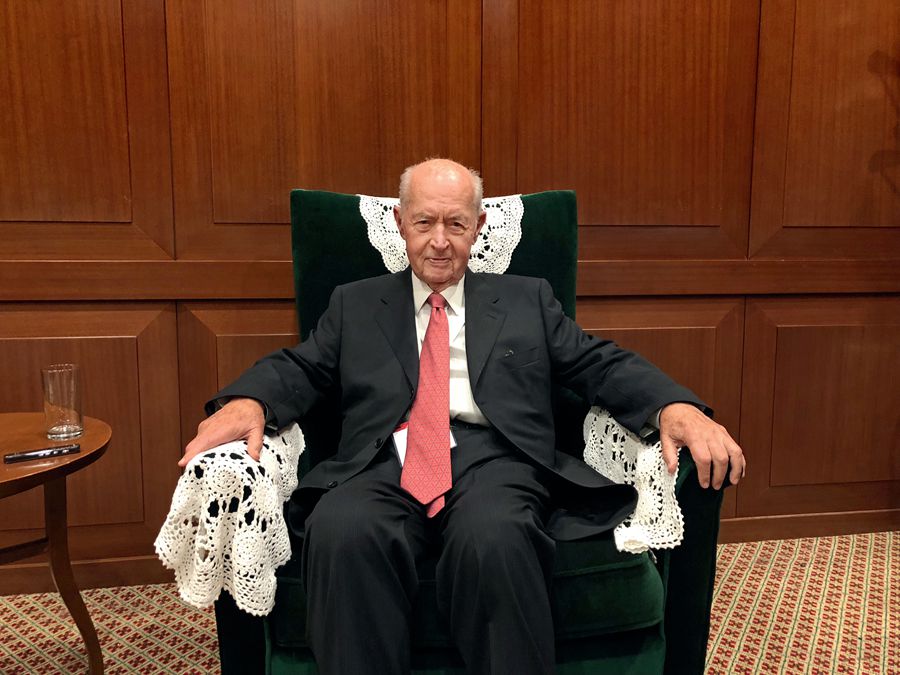 Δ George V. Vassiliou, former president of Cyprus.
In an exclusive interview with China Today, former President of Cyprus George V. Vassiliou lauded China's 40 years of reform and opening-up, "I believe that the Chinese reform is the best thing that could have happened, not only for China, but also for the world. Because the growth of China is a stabilizing factor not only for China or Asia, but for the whole world; because as a result of this reform, we have seen the country's per capita income increase substantially, and about 700 million people have come out of poverty. This is a huge contribution to the world." He believed all these could be accredited to the country's wise policies.
The former president of Cyprus holds the view that now China is able to influence world development because of its increasing power. He indicated that the first CIIE promises to be a win-win event for both China and the other participating countries. "China has passed from one stage to another. At the beginning, it was an effort to export in order to be able to build its economy. Now domestic consumption becomes even more important. And the main objective now is to meet the increasing and more diversified demands of its growing middle-class group. For this reason, an import expo is extremely important because it helps exporters from all over the world to get to know better China. It gives the rest of the world more chances to tap into Chinese market, which is enormously significant for the world," Vassiliou said.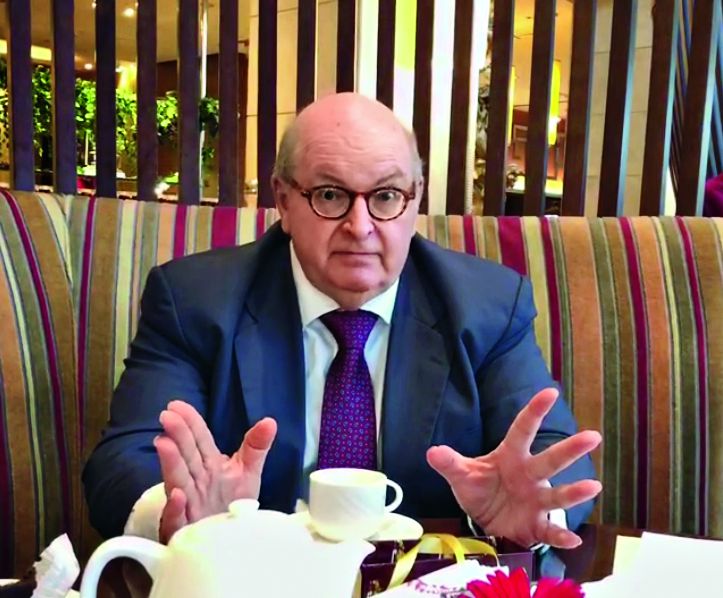 Δ Thomas S. Axworthy, secretary general of the InterAction Council.
Secretary General of the InterAction Council Thomas S. Axworthy in an interview with China Today said, as the Trump administration retreats from the world, China needs to take on more international responsibilities and play a bigger role in global governance. He pointed out that the first CIIE provides a good platform to build a more open world. "China, with trade and with its own economy, needs the rest of the world. But the rest of the world needs China too, and it generally is a two-way street. Now, President Trump doesn't realize that, but he's quite alone. Virtually every other leader in the world recognizes that. So things like the expo are where you invite the world to come to China. It's exactly the right strategy for China. As the United States retreats, China should fill that vacuum," Axworthy said.
Trade Protectionism Unpopular
The Trump administration escalated its trade friction with China on September 17 by slapping 10 percent tariffs on about US $200 billion worth of Chinese imports. A week later, China published a white paper to clarify facts about China-U.S. economic and trade relations, demonstrate its stance on trade friction with the United States, and seek reasonable solutions.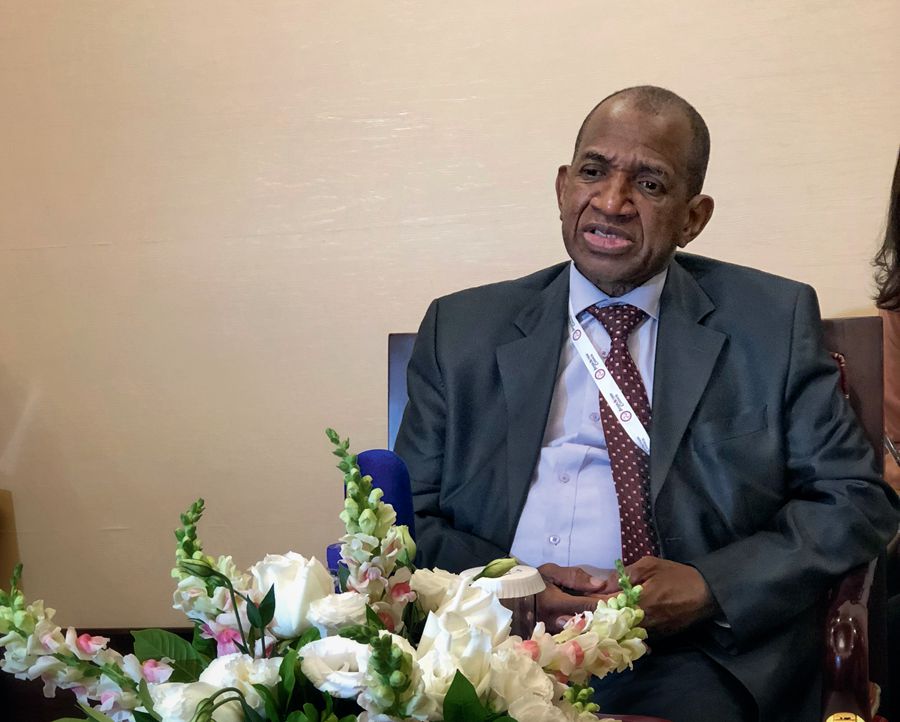 Δ Kabine Komara, former prime minister of Guinea.
While safeguarding its national dignity and core interests, China is firmly committed to the sound development of China-U.S. economic and trade relations, to the reform and improvement of the multilateral trading system, and to furthering its reform and opening-up. In contrast, U.S. President Donald Trump publicly emphasized his rejection of globalism and global governance mechanisms again at the United Nations General Assembly on September 26.
Barely over a month later, more than 2,800 companies hailing from 130-plus countries and regions attend the first CIIE, 80 countries hold exhibitions in Shanghai to showcase their development achievements, and three international organizations participate in the event. At the opening ceremony, multiple heads of state and government appear. All these are tantamount to declaring the bankruptcy of trade protectionism in the world.
"Trade protectionism has a very negative impact on the current world trade system," former prime minister of Guinea Kabine Komara said in an interview while attending the 35th annual conference of the InterAction Council in Beijing on September 28.
"The WTO was established to address those disputes. Failing to recognize the role of that institution, trade protectionists imposed sanctions. That's going to defeat the system," Komara said. He believes the majority of the world is against protectionism.
He applauded China's call to go back to the WTO mechanisms and China's multilateralism and free trade stance. He said, "Sooner or later, good sense will prevail." He believes that the first CIIE provides a fantastic platform for countries to promote their trade.
Komara emphasized, "We need to cooperate. Trade is essential to economic development. Without trade, you cannot improve a country's conditions, and you cannot have peace. So trade is a key for peace and cooperation, and isolation is an impossible reality."
Former Prime Minister of Hungary Péter Medgyessy indicated that the first CIIE fully demonstrated China's endorsement of globalization and its position of multilateralism. "I'm a supporter of globalization. A trade war does nobody good. I think the position of China is clear. I support multilateralism," Medgyessy said.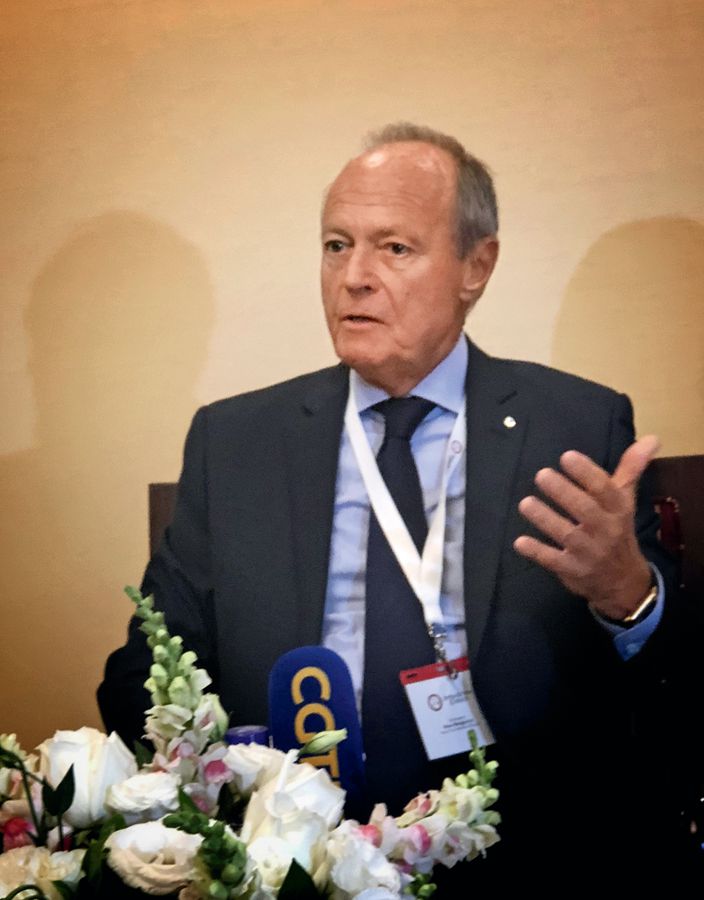 Δ Péter Medgyessy, former prime minister of Hungary
"We produce cars and components of cars. And the biggest buyer is China," Medgyessy said. He hopes via the CIIE, the bilateral trade between China and Hungary can achieve new breakthroughs.
"You know, everybody is fearful because of the trade war. All the countries are touched. The weakest countries will suffer more, and the strongest can survive easier," the former Hungarian prime minister pointed out. He went on to say, "Hungary is a quite developed country, but not really on the level of the most developed countries. So Hungary can be touched by that [trade war]." Medgyessy called on the parties concerned to find ways as soon as possible to settle trade disputes, lessening global impact.
By Zhang Hui, a staff reporter for China Today
Source: China Today