For the Next Milestone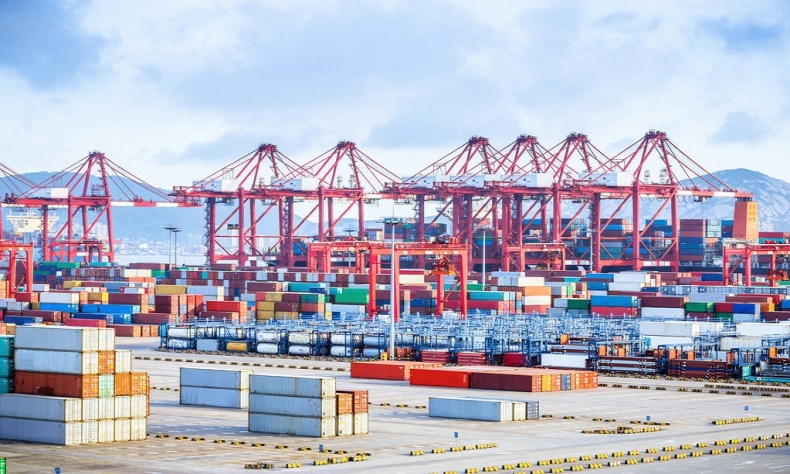 With the per-capita landmark reached, there are other goals ahead for quality development.
China's per-capita GDP has surpassed the $10,000 landmark, according to a statement by the National Bureau of Statistics on January 17. In 2019, the GDP totaled $14.38 trillion, showing the long distance it has traveled since reform and opening up in 1978. In 1978, the GDP was $149.5 billion, accounting for just 1.8 percent of the global economy. The per-capita GDP stood at $156, much lower than the average even in the least developed countries south of the Sahara Desert at $490. From the perspective of per-capita GDP, China was the poorest country in the world at that time.
In the past four decades, the average annual growth rate of China's GDP reached 9.5 percent. In 2018, its GDP stood at $13.6 trillion, taking up 16 percent of the global economy while per-capita GDP reached $9,770. The rapid growth is a miracle in the global economic history and a significant driver of global economic growth.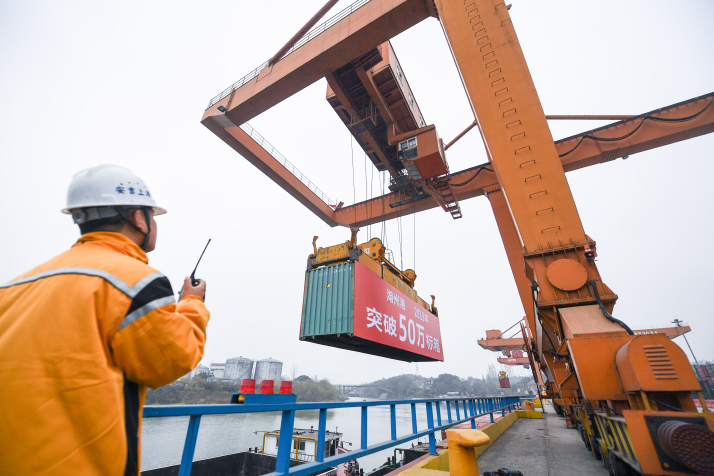 Such dramatic development is the result of four dividends: institutional and demographic dividends, industrialization and globalization.
Since the reform and opening-up policy was adopted in 1978, the once relatively isolated nation stepped into a new and open era, with its closed and planned economy replaced by an open market economy with Chinese characteristics. In four decades, hundreds of millions were brought out of poverty, a journey that took developed countries several centuries. The institutional dividend of reform and opening up is the core engine of China's development.
Prior to that, though a basic industrial system was established, China's industrialization was not in full steam. Its modern manufacturing industry grew slowly as most rural surplus labor force hadn't migrated to the industry yet. Also, since China was economically isolated, it failed to take part in the international division of labor.
The reform and opening-up policies spurred dramatic change of the industrial structure. Resources and markets both at home and abroad were given full play. China has since deeply engaged in the global production chain and shared the dividend of globalization. Today, it has become a world factory with the most sophisticated industrial system. Also, it's the world's leading trading nation, offering quality and competitively priced manufacturing products to global consumers and creating enormous wealth for its citizens.
The large population is key to economic development. At the early stage of reform and opening up, the inflow of migrant workers into cities led to vigorous development of labor-intensive industries. They processed orders from other countries and regions, making China a world factory. The demographic dividend was crucial in that it helps bring the institutional dividend into full play, and achieve industrialization and globalization.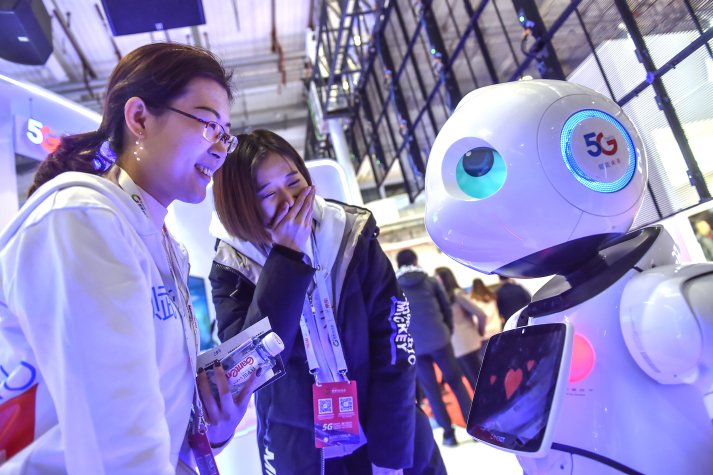 Remaining hurdles
However, the fact that China's per-capita GDP still lingers around the middle area in the world should not be obliterated by the joyful celebrations of the $10,000 landmark.
The growth rate is now slowing down due to transition to quality development and the future will see uncertainties because of complicated changes both at home and abroad.
More importantly, in the past China pursued speed and scale in its growth, neglecting quality and effectiveness. Consequently, there are obvious gaps in sectors like resources and environment safety, social harmony and public services.
Despite crossing the milestone and ranking 81st among the 199 economies, China's per-capita GDP is still lower than the world average of $11,300. Some comparisons will make that clearer. For instance, the per-capita GDP of Russia, regarded by many as a declining economy, equaled the world's average reading in 2018 and stood at the 73rd place. The per-capita GDP of Argentina, a developing country which went through a severe economic crisis in recent years, reached $11,700, ranking the 70th. Malaysia, once suffering from economic recession and receiving assistance from China, ranked 72nd with a per-capita GDP of $11,400. The per-capita GDP readings of some other developing countries such as Chile, Poland, Kazakhstan and Equatorial Guinea were higher than China's. From this reading, there is a long way to go before China catches up with other economies.
The Chinese economy has entered a new normal. In 2015, the GDP growth rate entered the 6-percent era with a reading of 6.9 percent. Three years later, it decreased to 6.6 percent. In 2019, the figure was 6.1 percent and in the future, the number may fluctuate around 6 percent. So China's economic growth, from the spectrum of the growth rate, is no longer on the fast track, meaning the speed of its rise in the world's per-capita GDP ranking will slow down.
But the nation has realized that the quality of development is much more important than the growth rate and rankings. While rapid economic growth has greatly improved people's livelihoods, nevertheless, there are some serious problems. Many provinces gained rapid GDP growth by overexploiting resources, consequently causing severe damage to the environment. Monopolies sprang up in some sectors and the dividends of reform and opening up didn't percolate sufficiently to some disadvantaged groups.
This led to an unfair distribution of income and a widening gap between the rich and the poor, which impeded social harmony. Also, China has yet to offer high-quality public services, including medical care, education and elderly care, to all citizens so as to avoid the so-called middle-income trap.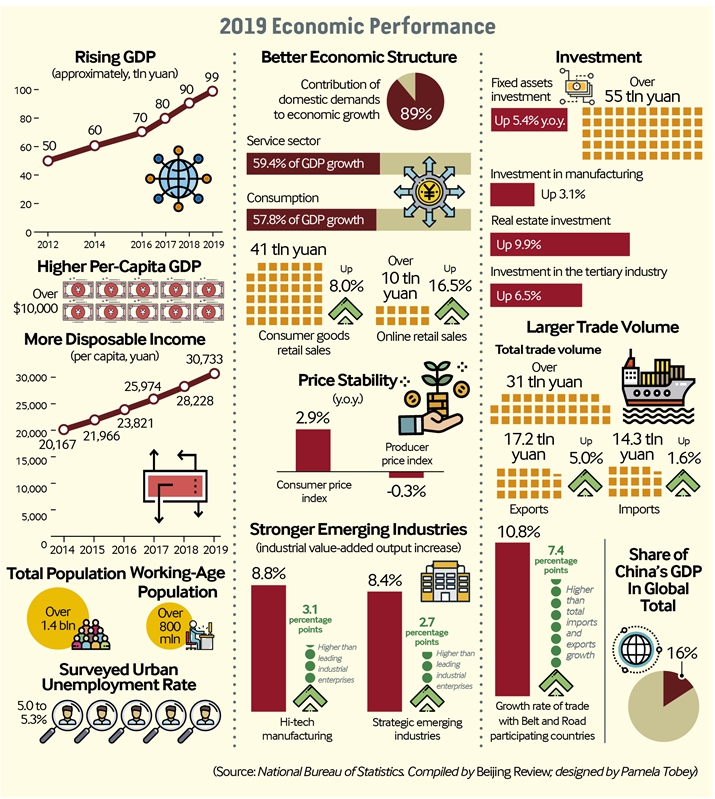 Way to better development
While China's economic aggregate, measured by purchasing power parity, surpassed the United States' in 2014 and ranked first in the world, an economic reading reflects only one facet of a country's development. The goal of China's economic growth is to improve people's lives and make them happy.
Disposable incomes need to be increased. This should be a key development goal while maintaining a certain growth pace. People's disposable income is a true gauge of improvement in their wellbeing. Legal incomes should be protected, off-the-books incomes regulated, and illegal incomes eradicated. The income reallocation mechanism, which uses taxation, social security and payment transfers as its main tools, should be optimized to increase people's income.
The rich-poor gap has to be narrowed. Severe wealth polarization exists in different regions, between urban and rural areas, and among various industries. The taxation mechanism should be improved and more should be done to achieve coordinated development between urban and rural areas and among different regions. To eradicate poverty and meet the basic needs of the low-income groups, a variety of skill training should be offered to them.
Public services should be improved. The focus should be not just on sectors that can directly prop up the economy, but also on those related to people's livelihood and public services. This includes raising pensions, subsistence allowances and unemployment insurance. More money should be earmarked for education and medical care services.
The effects and outcome of the investment should be monitored. Monopoly in education and medical care should be further broken and more qualified players be allowed to provide tailored and better services. In this way, the supply and service capability will improve in these key fields in an all-round manner.
The author is a research fellow with the National Academy of Development and Strategy of Renmin University of China
Source: Beijing Review