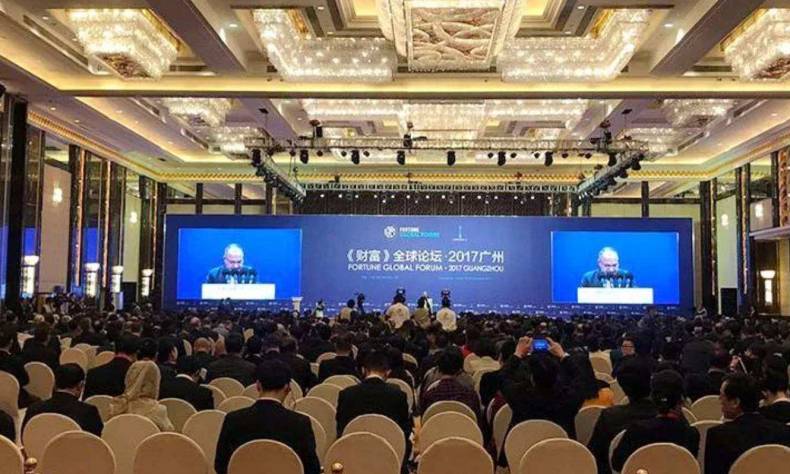 Fortune's Guangzhou Forum Sheds Light on China's New Role in Globalization
The three-day Fortune Global Forum 2017 in Guangzhou is now drawing to a close, yet the heated discussion on "Openness and Innovation: Shaping the Global Economy" continues.
The three-day Fortune Global Forum 2017 in Guangzhou is now drawing to a close, yet the heated discussion on "Openness and Innovation: Shaping the Global Economy" continues.
In a congratulatory letter to the forum on Dec. 6, Chinese President Xi Jinping said China would develop the open economy to a higher level, promote the Belt and Road Initiative, and push for a new pattern of all-round opening up.
Guangzhou, a millennia-old commercial city which has always been open and innovative, is now taking the opportunity of holding the forum here to build a new platform for international exchanges between China and the rest of the world. The city, with its openness and innovation, contributes with Chinese wisdom and Guangzhou's experience to the globalization trends of innovative revolution, inclusive cooperation and sustainable development.
"Innovation is the soul of enterprise development," said Li Wenmei, president of Wondfo Biotech Co., Ltd. in a recent interview.
Wondfo invests 10 percent of its annual sales in R&D innovation, and brings in vigorously top talents from both home and abroad. With its globalization planning, the company has developed from a local private company into a fast-developing international company, who is now selling to more than 120 countries and regions, with sales in the United States dating back to 2008. Wondfo, which has been undergoing transformation and upgrading in line with the city's strategy of industrial upgrading, is now developing in the innovation-driven track with intelligent manufacturing. Wandfo, is just an example of innovation and openness of many enterprises in Guangdong Province.
Innovation coincides with openness. Numerous cases in Guangzhou demonstrate that openness and innovation are the primary source of progress and the driving force of economic development. Guangzhou, a window of Guangdong and the frontier of China's opening-up and reform, has been now at the foreland of developing an open economy of higher standards.
Innovation revolution: global trends from rising of 'intelligent manufacturing in China'
As Xi pointed out in his report delivered at the 19th National Congress of the Communist Party of China, "Innovation is the primary force behind development; it is the strategic underpinning for building a modernized economy."
All major economies in the world are strengthening innovation as technology innovation becomes the new engine of economic development and represents the core competitiveness of a nation. Based on scientific and technological advances in the digital age, an innovation revolution is taking place at an unprecedented pace. Technologies such as artificial intelligence and the internet of things have a revolutionary impact on all industries concerned.
In this course, Chinese enterprises have blazed a trail of their own and gradually grown beyond being a mere "tech copycat," becoming instead a provider of new technologies.
China's economic and technological strength will be enhanced remarkably by 2035, becoming an innovation-driven country. Some areas are taking the lead in the world, with impressive achievements made in high-speed railway, Beidou navigation satellite system, quantum communications and supercomputers. China is transforming from model of "Made in China" to that of "intelligent manufacturing in China," becoming a global frontrunner in innovation.
Local governments across China are making sustained efforts in implementing the innovation-driven development strategy. Take Guangzhou as an example, according to its Thirteenth Five-Year Plan (2016-2020) of Technological Innovation, it will explore resources in completing 14 science and technology parks by 2020 to make the city a hub of innovation.
Guangzhou is now developing a high-tech modern industrial system. A host of innovation-oriented projects, either setting up headquarters or serving as a hub, have settled in Guangzhou, such as Foxconn 10.5-Generation Display Plant, Cisco (Guangzhou) Smart City, GE Bio-tech Park.
According to an article carried by Nature, Guangzhou is transforming itself from a trade hub to an innovation hotbed and is becoming a center for scientists and researchers to work together to develop new high-tech products.
Guangzhou is China's southern gateway in terms of reform and opening-up. The case of Guangzhou shows that China is now undergoing an "innovation revolution" and is rapidly emerging as a center full of innovation opportunities.
China's economy has shifted from high-speed growth to high-quality development, and innovation is indeed "the primary force" to enable such a transformation.
As Alan Murray, president of Fortune magazine, said that "the Fortune Global 500 list this year had 115 Chinese companies on it…a number that is growing steadily, and is stunningly close to the 132 American companies on the list. Moreover, there are increasing areas – like mobile payments, drone development and others – where China has become not a follower, but the global technological leader."
Harvey Cary Dzodin, honorary vice-president of the American Broadcasting Company (ABC) who attended the forum, said in an interview that, thanks to the creativity of the Chinese people and the leadership of the Chinese government, China is rapidly growing into a world leader in the field of innovation.
Inclusive cooperation: new trend of economic globalization
China will continue to forge global partnerships, expand the common interests with other countries, further liberalize and facilitate trade and investment, and push for an economic globalization that is more open and inclusive, more balanced, more equitable and beneficial to all, Xi said in a congratulatory letter to the forum.
Openness is a must for high-quality development. Analysts have pointed out that a key reason for China's sustained development is that inclusiveness is increasing, which provided experience for the world. It is easy to achieve inclusive growth in a new wave of industrial revolution characterized by networking, digitalization and intelligentization. New technology brings about supplies and demands, tapping huge potentials for development.
The China-proposed Belt and Road Initiative is beneficial to others in the fields of the economy and society. It has become a top-level international initiative for global economic interconnection.
Against the background of uncertainties in globalization, China is now playing a leading role, championing the building of a more open world economy and propelling the process of globalization.
Martin Jacques, senior fellow at the Department of Politics and International Studies at Cambridge University, said that the Belt and Road Initiative will be a driving force for global transformation in the years to come. He is also a member of Governing Board, Global China Institute (UK).
Guangzhou has become an important link between China and other countries within the framework of the Initiative. With world-class seaports, airports, railway stations and infoports, the city is building itself into a global resource allocation hub. Guangzhou is becoming an engine for the development of Guangdong Province and China.
"As one of the starting points of the Maritime Silk Road, Guangzhou will certainly be one of the biggest driving forces within the framework of the Belt and Road Initiative," said Saito Norio, consul general of Japan in Guangzhou. "Many countries in Asia and especially in southeast Asia, are looking forward to cooperating with companies in Guangzhou."
The city is striving for higher level of open economy and pushing forward the Belt and Road Initiative. In 2016, a total of 1,757 overseas companies invested in Guangzhou, 23 percent year-on-year rise; the foreign investment reached US$5.7 billion, increasing 5.3 percent year on year.
Active participation: China's new concepts of global economy governance
Concerning global governance, Xi told the 19th National Congress of the CPC that China follows the principle of achieving shared growth through discussion and collaboration.
In the wake of the UN Assembly's approval of the initiative in November of 2016, the 71st UN Assembly passed a resolution on the United Nations and global economic governance, demonstrating that such a principle was adopted by a UN resolution.
Although the global economy has seen an increase in terms of world trade volumes, foreign direct investment and number of transnational companies over the past decades, it has suffered from development imbalance, big gap of allocation and governance inefficiency.
Where economic globalization would go, such a question needs to be answered. China, as a powerhouse of the world economy, has put forward the idea of building a community of shared future for mankind, in a bid to push ahead with a world order of higher level of rationality, equity and inclusiveness on the basis of multi-polarization.
Therefore, economic globalization featuring shared growth and inclusiveness could be in sight.
The Chinese proposals, including the idea of building a community of shared future for mankind and the Belt and Road Initiative, have set the right direction for shared prosperity of the human society.
A new pattern of international relations on the basis of collaboration and shared development, pushed forward by China, is conducive to establishing a new international economic order of higher level of equity and rationality.
The drive is also helpful for changing the system of global economic governance, thus promoting efficiency of global governance.
Guangzhou, a commercial city of a long history, is marching toward a center of international business and trade. A host of enterprises at home and from abroad are exploring opportunities in the southern Chinese city.
Statistics show that nearly 300 enterprises of the Fortune 500 have invested or set up offices in Guangzhou. In addition, more than 100 enterprises have established headquarters or regional headquarters in the city.
Meanwhile, Chinese enterprises based in Guangzhou have gone overseas to set in motion their globalized strategies.
Zeng Qinghong, chairman of Guangzhou Automobile Group, said that the group has set up a research center in the Silicon Valley, "We need ten or more people, in fact, more than 200 job seekers come."
Sustainable development: China's'green contribution'
In May, President Xi delivered a keynote speech at the opening ceremony of the Belt and Road Forum for International Cooperation (BRF), stressing that "we should pursue the new vision of green development and a way of life and work that is green, low-carbon, circular and sustainable. Efforts should be made to strengthen cooperation in ecological and environmental protection and build a sound ecosystem so as to realize the goals set by the 2030 Agenda for Sustainable Development."
As the renowned "Flower City" in China, Guangzhou boasts an urban green coverage rate of 41.5 percent. " Guangzhou blue" has become a new name card of the city.
In recent years, Guangzhou has worked vigorously to meet requirements of low carbon development and ecological civilization construction and to push for a way of life and work that is green.
In the global arena, China has taken an active part in international governance, making "green contribution" along the way. At the United Nations (UN) Climate Change Conference held in Paris in December 2015, the historic Paris Agreement was adopted by consensus by 196 parties to the United Nations Framework Convention on Climate Change, making arrangements for dealing with global climate change starting in the year of 2020. China is not only an important driving force in reaching the agreement, but also one of the countries that honor it steadfastly. China has become a key member in global green development.
Openness and innovation serve as a driving force for Chinese and global economic development. This is China's voice that can be heard at the forum.
In a globalized world, the future of China has never been so interconnected with that of the world.
As President Xi Jinping said in the keynote speech at the UN Office at Geneva, "China's development has been possible because of the world, and China has contributed to the world's development." In the course of globalization, the development and prosperity of China and other countries will become increasingly tightly-intertwined. We will usher in a better future for the building of a community of shared future for mankind.
(The article is from China.org)