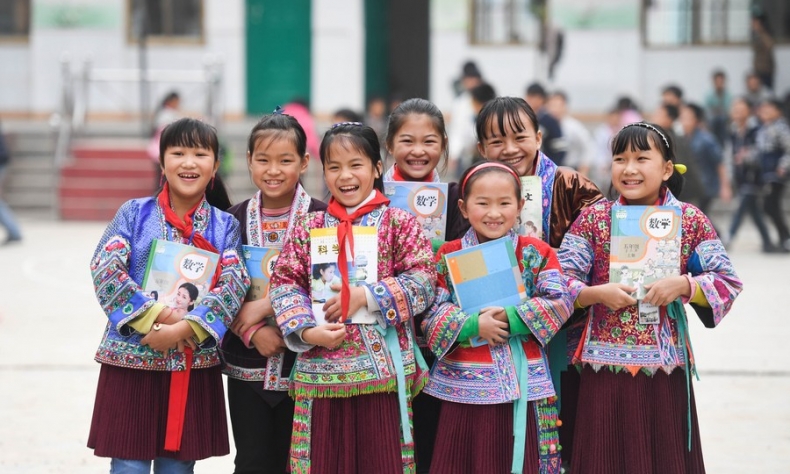 Forum on Poverty Governance, Modernization Held in Nujiang, Yunnan
The International Forum on Poverty Governance and Development Towards Modernization is held in Nujiang, southwest China's Yunnan province on May 18, 2021.
The International Forum on Poverty Governance and Development Towards Modernization was held in Nujiang, southwest China's Yunnan province on Tuesday.
The event, which hosted around 150 diplomats, officials, and scholars from 18 countries and four international organizations including the U.N., aims to draw lessons from China's poverty alleviation efforts, promote international cooperation on poverty reduction and development, and advance sustainable development towards modernization.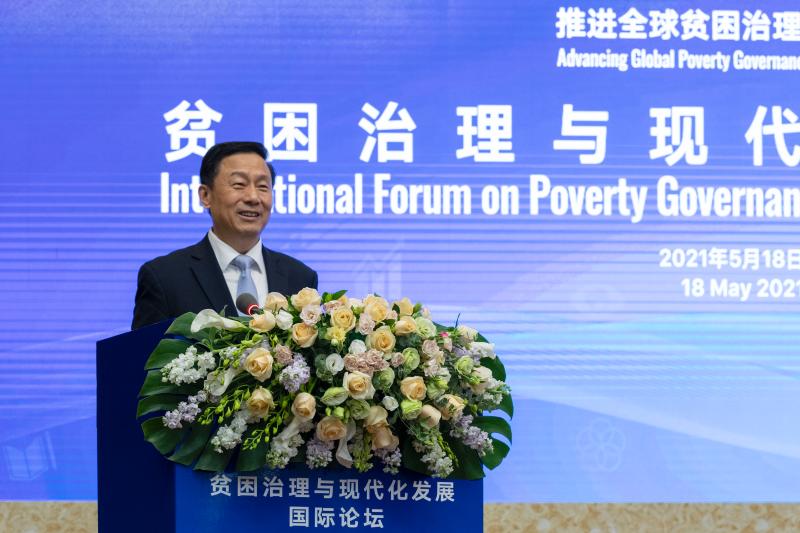 Speaking at the forum, Guo Weimin, president of the China Public Relations Association and former vice minister of the State Council Information Office, said that Nujiang's transformation is a typical example in the history of China's poverty reduction campaign. He said China and the rest of the world should work together to draw lessons and experience learned from the anti-poverty efforts to better contribute to the global fight against poverty.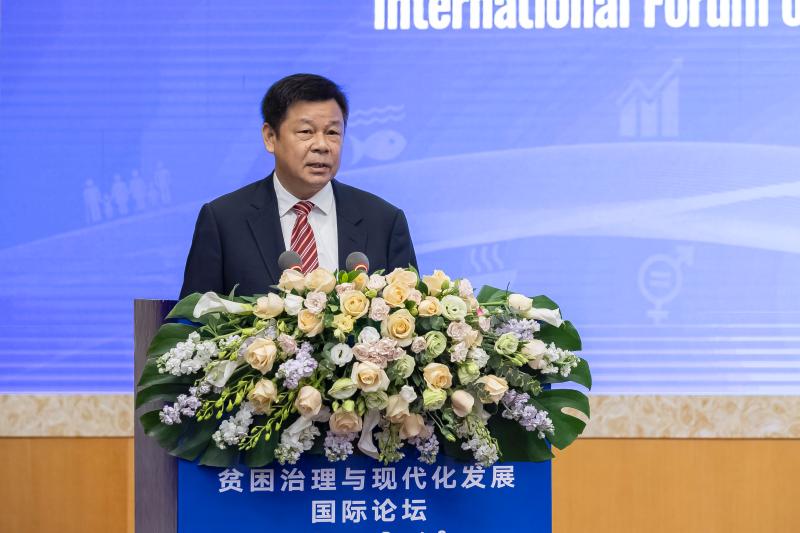 Du Zhanyuan, president of China International Publishing Group (CIPG), said that China's historic success in poverty alleviation has demonstrated the country's institutional advantages in promoting people's well-being and advancing common prosperity. He said that, amidst the COVID-19 pandemic, the international community should pool wisdom, and foster a bridge of exchange and cooperation in order to build synergy in sustainable development and create a better world for all.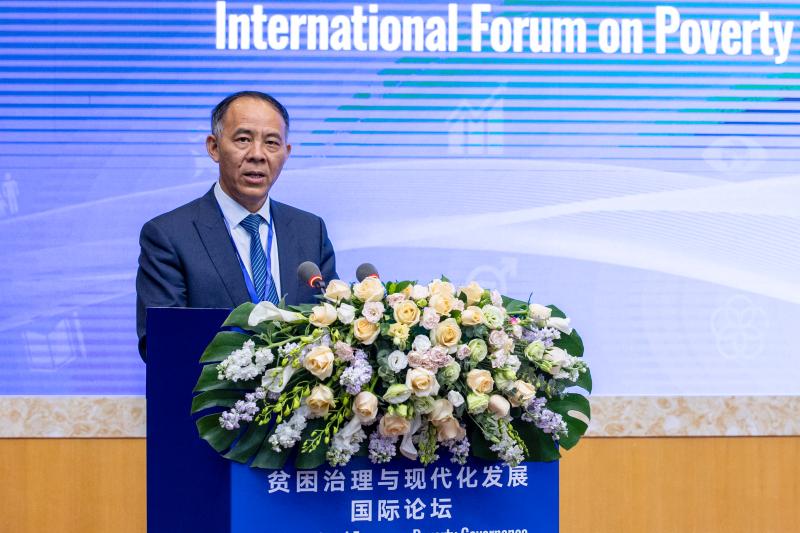 As a major battleground for China's poverty alleviation campaign, Yunnan has eliminated absolute poverty on schedule with the concerted efforts of the people of all ethnic groups in the region, said Wang Xiangang, vice governor of Yunnan province. He vowed that the province will promote rural vitalization and the drive towards socialist modernization, while cementing the progress in poverty alleviation.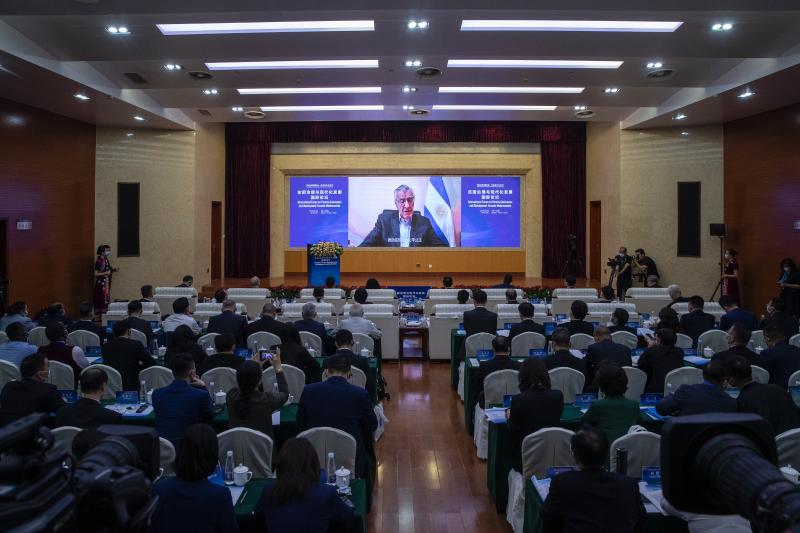 "It is of great significance to hold this forum at this moment, which brings together representatives of governments, private sectors, universities, and research institutions worldwide to share the experience of China and other countries in poverty reduction," said José Luis Gioja, deputy speaker of the House of Representatives of Argentina, via video. He said he hopes that the forum will provide more insights into China's valuable experience in its poverty alleviation practices, so countries can learn from each other and allow new ideas on global poverty governance and modernization to emerge.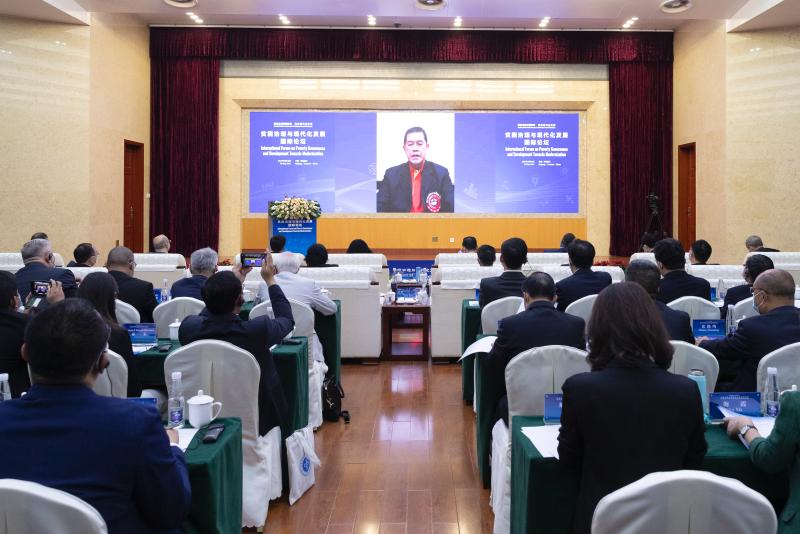 Poverty eradication is an uphill battle for the whole world where different countries face different forms of poverty, said Korn Dabbaransi, president of the Thai-Chinese Friendship Association and former deputy prime minister of Thailand. He added that Thailand should learn from China's experience of targeted poverty alleviation, as well as the good practices in e-commerce, infrastructure development, and R&D in agricultural technologies, and further promote cooperation and exchange with China under the Lancang-Mekong Cooperation Mechanism.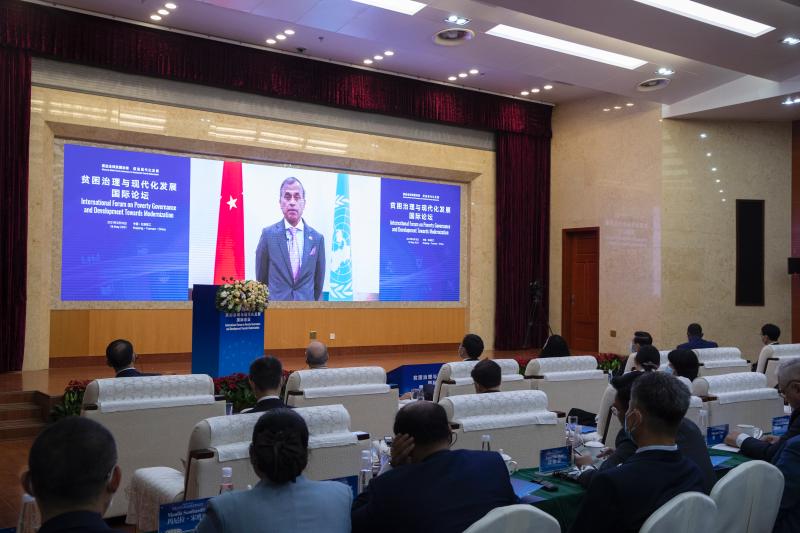 "In the continued investment in the South-South cooperation and in the green and sustainable Belt and Road Initiative, we see China moving towards an ecosystem that provides a network for prosperity, well-being, education on a global scale," said U.N. Resident Coordinator Siddharth Chatterjee via video. He said that efforts such as these, if implemented in full, will pull millions of people out of poverty as a potential game-changer for countries around the world.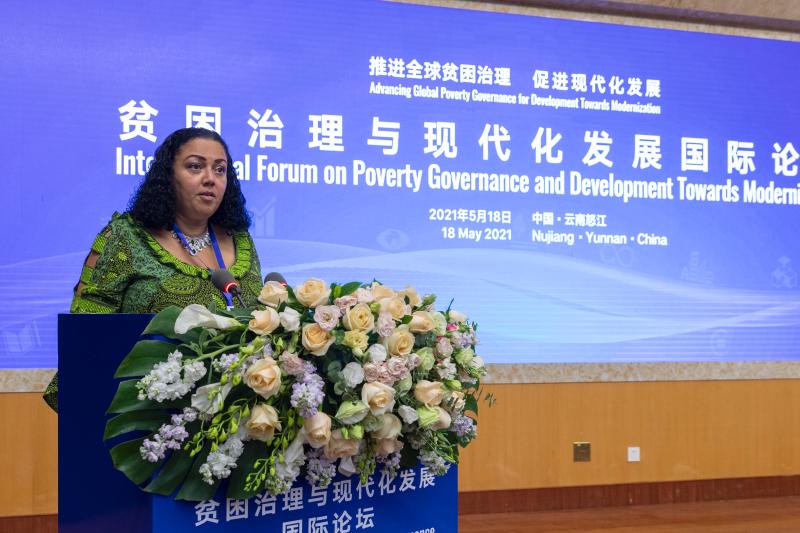 "China's poverty alleviation experience shows us how well-designed solutions enhance the overall productive capacity and facilitate trade and investment by introducing innovative and modern technologies that make sustainable development a reality," said Tania S. Y. Romualdo, ambassador of Cape Verde to China. "After seeing how they are impacting the population's well-being, we are looking forward to learning more from the Chinese experience and adapting it to our own realities."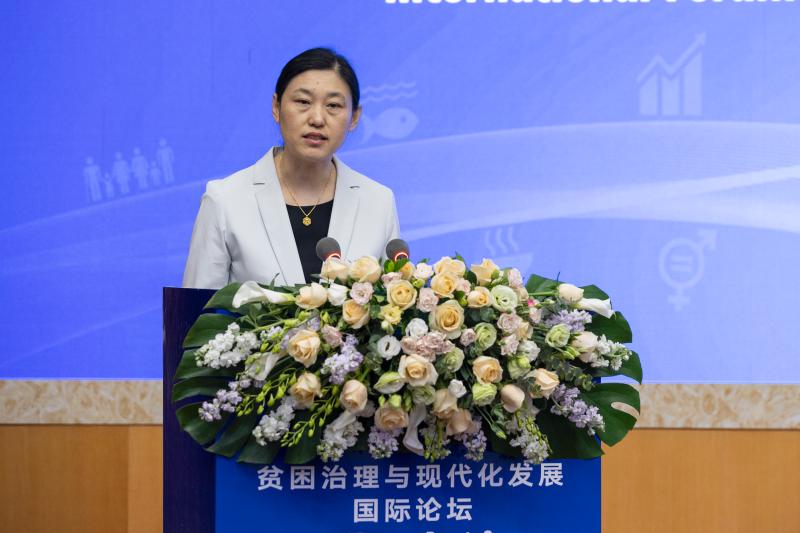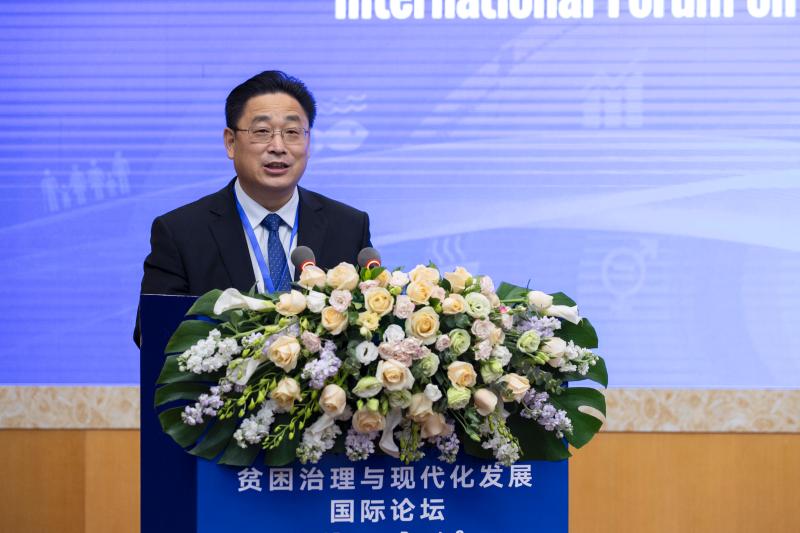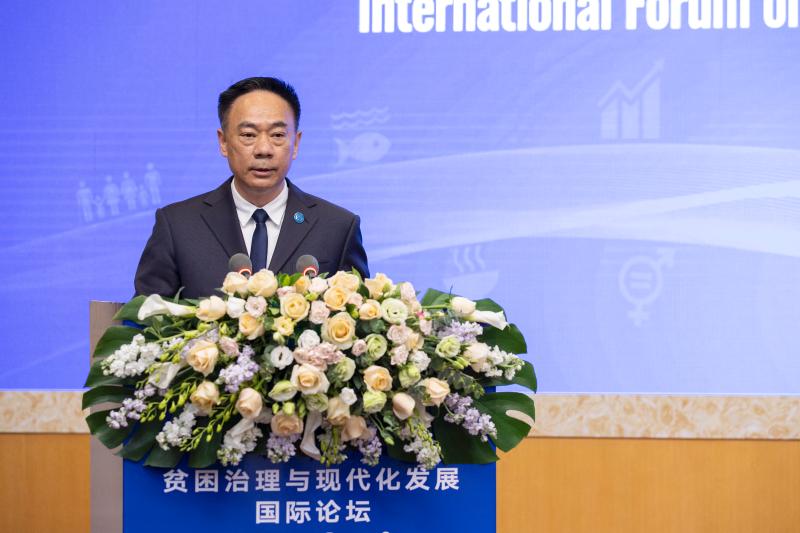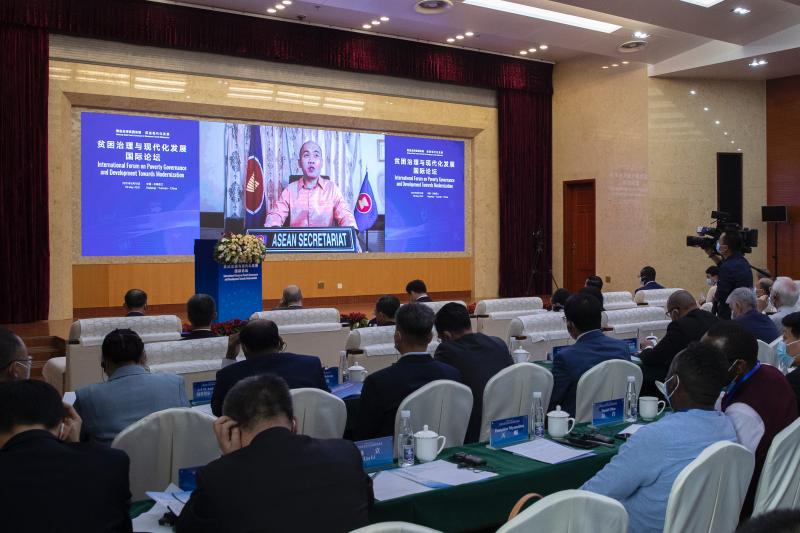 Liu Chunxiang, deputy director-general of the International Liaison Bureau of the State Council Information Office, Zhu Xinkai, vice president of Renmin University of China, Qu Sixi, representative of the World Food Programme China Office, and Kung Phoak, deputy secretary-general of ASEAN, also addressed the plenary meeting and shared their insights on the theme of the forum.
In addition, several speakers were invited to the event to share their successful poverty reduction practices that may inspire future anti-poverty efforts. The report, "China's Poverty Reduction: Concepts, Perceptions and Inspirations," was released profiling the country's experience of and lessons learned from its anti-poverty campaign.
At the three themed panel discussions held in the afternoon, speakers shared their wisdom and insights on the topics of exchanging poverty reduction experience for common development, consolidating poverty reduction achievements for rural vitalization, and promoting green poverty reduction for ecological progress.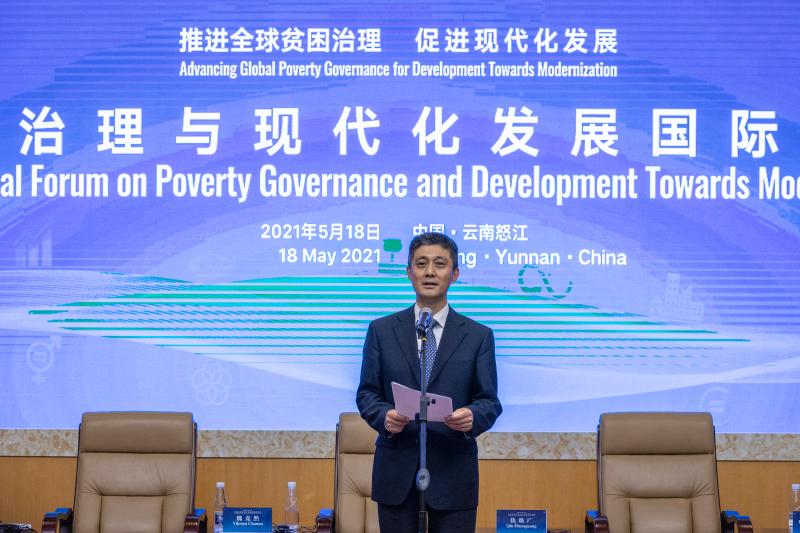 The wide participation of the guests as well as their lively and informative discussions on poverty governance and the development towards modernization have demonstrated that the ideas of a community with a shared future for mankind, global cooperation, and mutual respect and mutual learning are gaining popularity and have been ingrained into people's mind, said Gao Anming, vice president and editor-in-chief of the CIPG, at the conclusion of the forum.
After the forum, participants will visit the Poverty Reduction Exchange Center as well as other sites in Nujiang to see the achievements and draw experience of China's poverty reduction, rural vitalization, and integrated urban-rural development.
The forum was sponsored by the CIPG, the Yunnan Provincial Government, the China Public Relations Association, and Renmin University of China, and organized by the Academy of Contemporary China and World Studies, the Information Office of the Yunnan Provincial Government, and the People's Government of Nujiang Lisu Autonomous Prefecture.