Growing Pains
Just when everyone thought China's e-commerce market was being dominated by Alibaba and JD.com, a dark horse emerged from the shadows and blazed a trail into the trading spotlight amid a wave of criticism.
By Deng Yaqing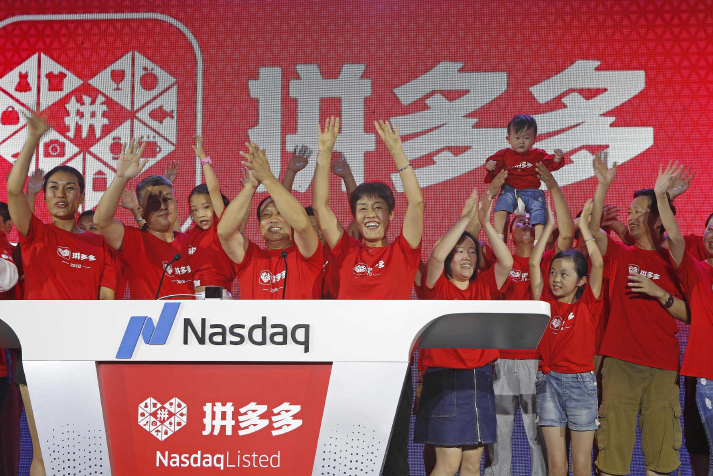 Pinduoduo employees celebrate the firm's Nasdaq listing on July 26 in Shanghai (VCG)
Just when everyone thought China's e-commerce market was being dominated by Alibaba and JD.com, a dark horse emerged from the shadows and blazed a trail into the trading spotlight amid a wave of criticism.
On July 26, Pinduoduo, an online discount shopping platform, was listed on the Nasdaq at $19 per American depositary share (ADS) and closed at $26.7 per ADS, soaring more than 40 percent on its first trading day. The stellar performance has elevated Pinduoduo into the ranks of top Chinese Internet tech firms like Alibaba, Tencent, Baidu, Xiaomi, JD.com and NetEase.
Founded only three years ago, the Shanghai-based online group discounter has accumulated 343.6 million active buyers within the 12-month period ending on June 30, with 262.1 billion yuan ($38.38 billion) in gross merchandise volume (GMV). In the second quarter, its monthly active users hit 195 million, up 17 percent from the previous quarter.
With the Pinduoduo app, people can now buy goods at cheaper prices if they recruit friends to buy the same item. There are also flash sales, free gifts and coupons for getting friends to follow companies on social media.
The initial success of Pinduoduo's Nasdaq debut suggested investor confidence in its social e-commerce business model.
Despite this, a series of allegations that products sold on its platform are counterfeit or substandard have thrown Pinduoduo into the center of an online maelstrom. More urgently than ever, the company needs to intensify efforts to eliminate counterfeit goods, analysts warned.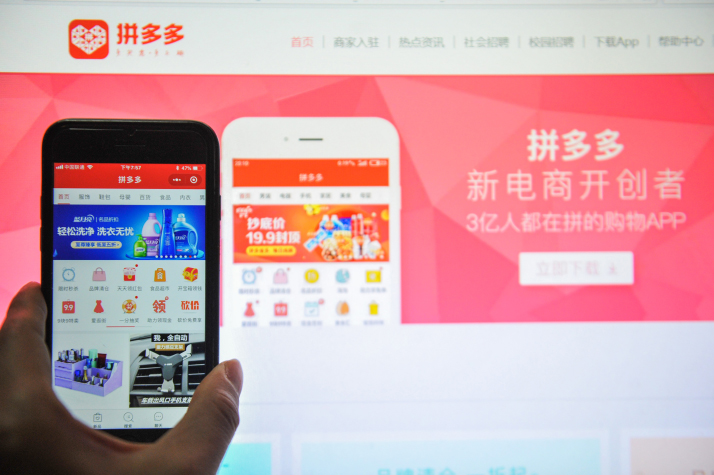 Pinduoduo app on a smartphone and the Pinduoduo website (WEI YAO)
A new model
As a matter of fact, Pinduoduo saw its annual GMV surpass 100 billion yuan ($14.65 billion) in 2017. It took JD.com 10 years and Taobao five years to reach the same level.
"Pinduoduo has grown so quickly because they did three things really well. They spent time studying how Chinese consumers engage in digital commerce, especially how to get access to millions of first-time digital shoppers. They innovated an entirely new business model and technology that no one else had attempted," said Michael Zakkour, Vice President of China/Asia Pacific strategy and global digital practices at consulting firm Tompkins International.
"Thirdly, Pinduoduo leveraged the investment by Tencent to ensure that the company is available and driven by WeChat, which provides an audience of 1 billion people," Zakkour told Beijing Review.
When Pinduoduo came into being in 2015, the traditional Internet and mobile Internet e-commerce market had been completely occupied and major players like Alibaba and JD.com had begun investing heavily offline in an effort to win more customers via brick-and-mortar stores.
However, Pinduoduo pioneered a new path: social e-commerce, a form of online retail which relies on social networks to assist in the buying and selling of products. The company focuses on group deals, which incentivizes customers with discounts if they invite friends to buy along with them.
The way Pinduoduo achieved its business success is quite unique. "The model is new, different and fresh. It's a great example of an idea and technology made in China for China. It adds to the diversity of technologies, tools and ecosystems for digital commerce in China and beyond," said Zakkour.
Storm of criticism
Despite this success, the allegations of counterfeit products persist. On July 28, Skyworth, a Chinese television manufacturer, released a statement on Sina Weibo—a Chinese premier micro-blogging portal—demanding Pinduoduo stop selling counterfeit versions of its products on its e-commerce platform. The company said it reserves the right to sue the social e-commerce discounter for selling fake products.
Following that, Zheng Yuanjie, a renowned Chinese fairy tale author, claimed on Sina Weibo that there were pirated copies of his books on sale on the platform. He demanded Pinduoduo stop selling them and wanted the sellers punished.
On August 1, the State Administration for Market Regulation announced that close attention had been paid to media reports about counterfeit goods sold by Pinduoduo and asked relevant authorities to investigate the claim.
It said it will step up efforts to crack down on the illegal practices of producing and selling counterfeit goods. The regulator will fight the manufacture and sale of fake or inferior-quality commodities, the infringement on trademarks and illegal advertising.
It also urged the operators of online trading platforms to fulfill their legal obligations, protect the legitimate rights and interests of trademark owners and consumers, and actively cooperate with market regulatory authorities to carry out rectification. The online trading platforms that fail to fulfill their legal obligations will face strict punishment, the regulator warned.
In the face of the fallout, Pinduoduo held a press conference in Shanghai on July 31, making it clear that they would intensify efforts to eliminate counterfeit goods.
"Since its founding, Pinduoduo has been striving to fight counterfeiting," said Huang.
According to a report on protecting the rights and interests of consumers released by Pinduoduo, in 2017, the company took 10.7 million questionable products off its e-commerce platform, intercepted roughly 4,000 links that infringed on consumers' rights and interests, deleted 125 products after complaints from consumers, and joined hands with more than 400 brands to obtain evidence of and combat counterfeiting.
"In the past, one of the reasons Pinduoduo was able to grow so quickly was that the requirements, assurances and certifications needed to sell on the application are not as rigorous as they are on Tmall or JD.com," Zakkour noted.
"This has presented a challenge in terms of policing intellectual property rights," he said, adding that Pinduoduo must control this issue as soon as possible.
He also pointed out that the company should keep its focus on innovation to realize sustainable development.
"It needs to add new tools, new models and new partners. Otherwise, there is a risk of the model being a temporary fad that could fall out of favor when the next new model comes along," Zakkour warned.
Copyedited by Francisco Little
The article is from Beijing Review