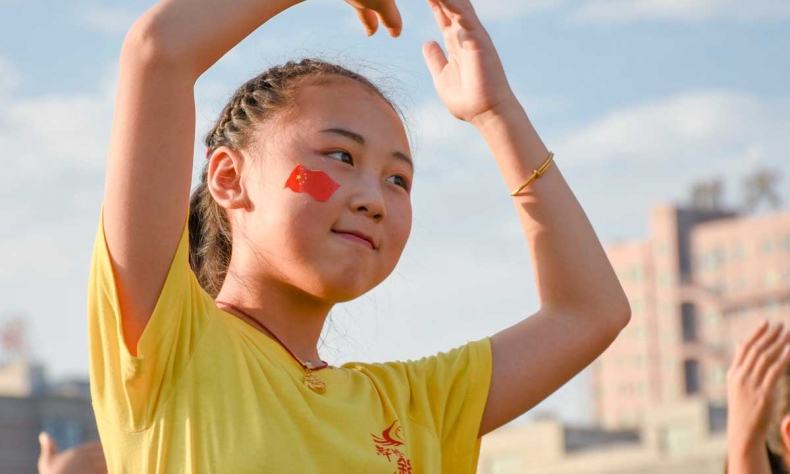 Growth for Everyone
The achievements over the past seven decades are a testament to China's commitment to improving lives
The life of Zhou Huanrong, a nonagenarian from east China's Zhejiang Province, reflects a mosaic of the People's Republic of China's (PRC) development over the past 70 years. He was a soldier and a farmer, and now runs his own business in his hometown.
Zhou, 93, with a gray goatee, lives in Zhoucunyuan Village, nestled in a valley among high hills in Lishui City. In 1944, he voluntarily joined the army to fight against the Japanese invaders and after the founding of the PRC in 1949, he returned to his hometown to farm the land.
Residents in the village worked as farmers for generations, something that began to change only after 1978, when the reform and opening-up program was launched. After that year, a growing number of residents in the village migrated to big cities for higher incomes. Ultimately, fewer than 40 people remained in the village.
However, things changed two years ago, when a young man from the village quit his job in Hangzhou, capital city of Zhejiang, and set out to develop the village into a popular tourist destination. Zhou saw a business opportunity in the growing number of tourists and renovated his house into a hostel.
"I am happy to see more people coming to this village," Zhou said. "This has brought vitality to the land."
Overall progress
Numerous people like Zhou have witnessed and benefited from the rapid progress China has made since the founding of the PRC. Exhibitions of old objects have been held in various parts of the country, bringing back to life the memories of those days.
Old sewing machines, bicycles and black and white televisions are evocative of the days between the 1950s and the 1980s. "My daughter still has the clothes I sewed for her," Li Xiumei, 60, said at an exhibition in Nanning, capital city of south China's Guangxi Zhuang Autonomous Region. "A sewing machine was a necessity in the 1980s, since we could not afford store clothes. Women usually made clothes for the entire family. I could make a shirt in a day."
He Haiqing, 68, donated five bicycles from those days to the exhibition. A bicycle was a luxury back then as people had to obtain a special coupon since the supply of bikes was limited.
"But the bicycles in those days were of super good quality," He said. "I met my wife on one of these bicycles and our dates were normally biking to the suburbs together."
After He bought his first car in early 2000, the bicycles were moved to the garage. "Now bicycles have become popular again as a way of green transportation," he said.
In Beijing, there is a large exhibition displaying China's achievements over the past 70 years, divided into five chapters in chronological order, like a time tunnel showcasing how Chinese people established and developed socialism and worked to build a modern socialist country.
The achievements of each Five-Year Plan undertaken by the PRC are on display at the exhibition. For the First Five-Year Plan that began in 1953, the 156 key projects were all aided by the Soviet Union, with a focus on heavy industries. In contrast, for the ongoing 13th Five-Year Plan (2016-20), the 165 key projects, including quantum transmission, 5G technology and express trains, emphasize hi-tech industries.
The exhibition opened on September 24, the day after the Chinese Farmers' Harvest Festival. The Ministry of Agriculture and Rural Affairs announced in Beijing on September 21 that China has already reaped a harvest of summer grains and early season rice, and a bumper harvest is expected if no disasters like typhoons or chilly winds occur.
Yuan Yongbao, a 73-year-old farmer from southwest China's Chongqing Municipality, can list all the tangible benefits farmers have received from government policies over the years, including the abolition of the agricultural tax, which had been around for about 2,600 years, in 2006. "Its abolition brought us a great wave of relief," Yuan said.
This was followed by a series of beneficial policies by the Central Government, such as a subsidy program to promote agricultural insurance that protects farmers from natural calamities, as well as a pilot program to subsidize rural home appliance purchases.
Figures from the Ministry of Agriculture and Rural Affairs showed that China's grain output last year was 657.9 million tons, almost six times that of 1949. In the past 70 years, China's grain production went from a shortage of grain supply in general to a basic balance of supply and demand. The country also boasts a high level of agricultural mechanization. In 1949, China had only 13 combine harvesters, while in 2018, there were 22.38 million tractors, including more than 2 million combine harvesters.
The rise in overall grain production has outstripped the population growth. In recent years, the nation's self-sufficiency ratio of the three major grains of rice, wheat and corn has registered a robust 95 percent.
The structure of the agriculture industry has also been optimized, with a modern pattern promoting all-round development of farming, forestry, animal husbandry and fishery replacing the traditional farming pattern. In recent years, farmers in many places have developed large-scale farms by transferring their land use rights, thereby enhancing productivity.
According to Guang Defu, a spokesperson of the ministry, supplies of a wide range of agricultural goods, ranging from fruits and vegetables to meat and dairy products, have increased markedly. "China has not only solved the basic demand for food for nearly 1.4 billion people, but is also close to moving from supplying sufficient food products to providing rich and nutritious food for its people," he said.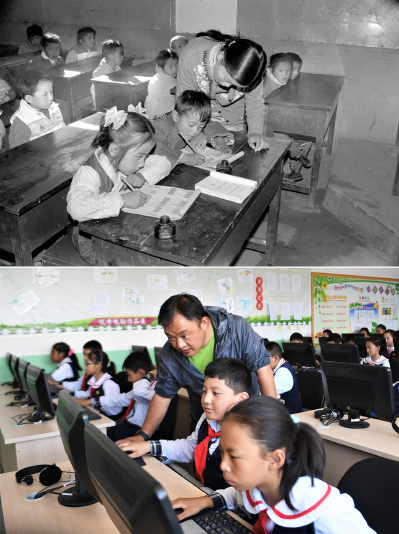 Improving livelihood
Housing, education and healthcare achievements are being highlighted in several ways to mark the PRC's 70th anniversary.
A 24-episode documentary titled On the Great Road premiered on China Central Television on September 16, rolling out a panoramic view of the country's progress and development since 1949.
In the early days of the PRC, China's education system was poor and the general level of education was low. The net primary education enrollment rate was 20 percent and there were only 117,000 college students. Some 80 percent of the population was illiterate. The newly founded PRC paid close attention to the development of education. The enrollment rate of school-age children reached 95.5 percent in 1978.
Since the launch of reform and opening up, China has invested an enormous effort in implementing the education-first strategy to modernize education and guarantee equal access to education for all. In 2018, the net primary education enrollment rate was 99.95 percent. Senior secondary education in China is now basically universal. Higher education is becoming universal too. In 2018, there were 7.91 million newly enrolled students in colleges and universities, representing a gross college enrollment rate of 48.1 percent.
In terms of healthcare, the country has set up a service system covering both urban and rural residents since 1949.
At the end of 2018, the average life expectancy in China was 77 years, the infant mortality rate dropped to 6.1 per 1,000 live births, and the main health indicators for Chinese residents were better than the average levels in some middle and high income countries.
China has also established the world's largest social security network, with 941 million people covered by pension insurance and 1.3 billion covered by basic medical insurance by March 2019.
At a press conference on September 24, Ning Jizhe, deputy head of the National Development and Reform Commission, unveiled a series of statistics demonstrating China's economic growth over the past several decades.
From 1952, when the earliest official national GDP data after the founding of the PRC were available, to 2018, China's GDP soared 452.6 times in U.S. dollar terms.
"China has grown into the second largest economy, the largest trader of goods, the largest foreign exchange reserves holder, the second largest trader in services, the second largest user of foreign capital and the second largest outbound investor," Ning said.
"The blistering pace of the expansion of China's economy in the past decades has impressed the world and has come to be known as 'China speed.' Now the term is taking on new meaning as the country enters a new development phase," said a commentary from Xinhua News Agency.
It is now less about the breakneck pace of GDP growth, or the sheer velocity of building roads, bridges and skyscrapers. Instead, it's more about how swiftly an economy of China's size embraces a new, more sustainable development model driven by innovation, technology and a more open market, the commentary said.