Hainan's Wider Opening-up Push Delivers Visible Outcomes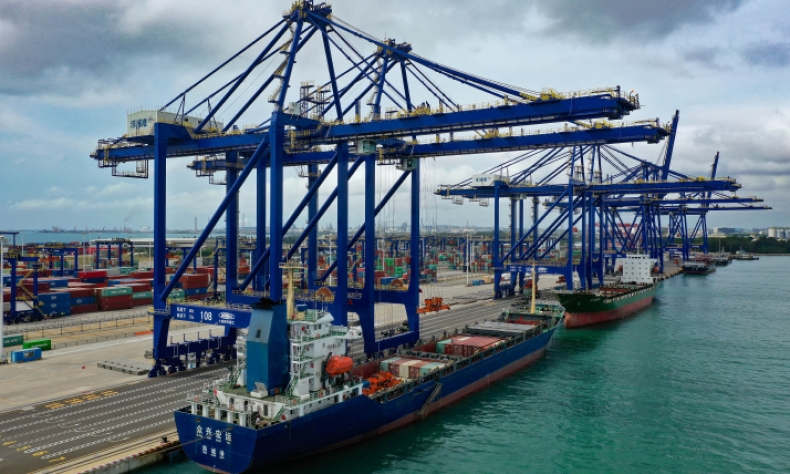 With FTP development advancing, Hainan has achieved remarkable progress in its economic transformation.
Hainan, an island province of 10 million people in south China, is advancing its goal of becoming a free trade port (FTP) with global influence.
Opening up
Since April 2018, when the planned establishment of the Hainan FTP was first announced, more than 180 policies and measures have taken effect to facilitate trade and investment, Shen Xiaoming, Secretary of the Hainan Provincial Committee of the Communist Party of China, said at a press conference on July 11.
According to Shen, the number of new market entities increased at an average annual rate of 40 percent, while the average annual growth rates of paid-in overseas capital and the number of newly established foreign-invested enterprises reached 80 and 120 percent, respectively. The authorities are more capable of overseeing the flows of goods and capital, and a system to prevent major systemic risks in the process of building the FTP is now in place, Shen said at the conference.
Feng Fei, Governor of Hainan, said at the same conference that the Hainan FTP is set to launch an island-wide customs clearance mechanism by 2025. By that time, the FTP will adopt an import and export administration mechanism that features the free flow of goods between Hainan and other regions outside China's customs territory and the appropriate control of flows of goods between Hainan and other parts of China. Right now, Hainan is steadily advancing the trial of this mechanism.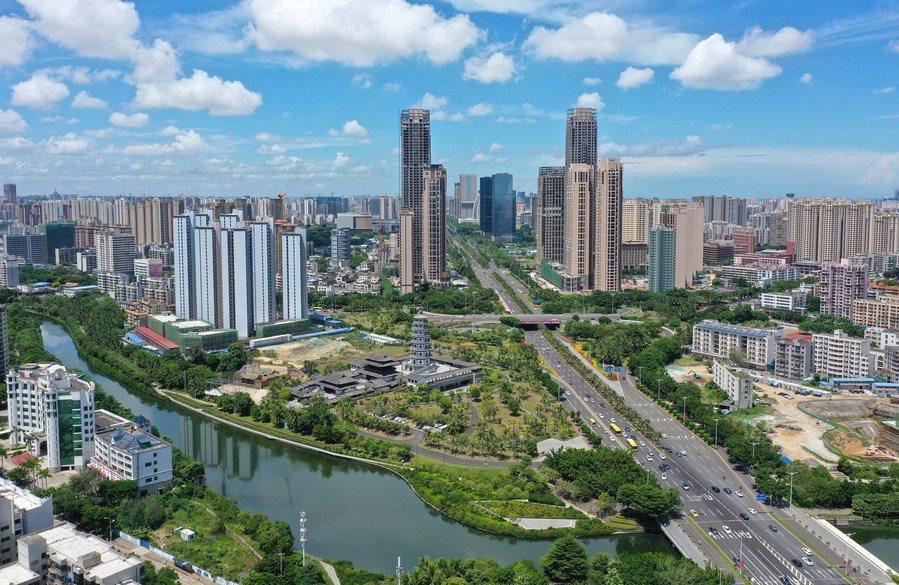 In recent years, the province has been redoubling its efforts to open up and better its business environment. According to the figures released at the press conference, the number of registered market entities in Hainan increased from 420,000 at the end of 2012 to more than 1.98 million in June 2022. In the 2018-20 period, paid-in overseas capital to the province totaled $5.27 billion; in the first five months of this year, the figure stood at $1.44 billion, a year-on-year increase of more than 80 percent.
The ever-deepening reform and opening up have produced a favorable development environment, which has in turn been attracting more people to work or start up their own business in Hainan. Since 2018, the province has attracted more than 400,000 high-caliber professionals, Shen said.
Industry
With FTP development advancing, Hainan has achieved remarkable progress in its economic transformation. Shen added that in recent years, the province has been determined to reduce its reliance on the real estate sector, with the proportion of real estate investment among the total fixed assets investment lowered from 50 to 30 percent, and the contribution of the real estate sector to total tax revenue lowered from 40 percent at its peak to 30 percent today. The province has upgraded its industrial structure from real estate-based to one supported by tourism, the modern service industry, the hi-tech industry and tropical agriculture, all of which combined currently contribute nearly 80 percent to the province's GDP growth.
According to Shen, giving full play to its geographic and climate advantages, Hainan is also developing deep-sea and aerospace industries. For example, China's first space launch site for commercial missions has started construction in Wenchang, a coastal city in Hainan.
Consumption has been driving economic growth, with shopping, education and healthcare services being three major approaches to attract Chinese consumers to spend their downtime in Hainan instead of overseas. In the past two years, sales volume of offshore duty-free shopping, a policy that allows tourists to make duty-free purchases without traveling abroad, has quadrupled. The Lingshui Li'an International Education Innovation Pilot Zone has opened up a new chapter in Chinese-foreign cooperation by running international universities. The Boao Lecheng International Medical Tourism Pilot Zone has become the most important channel for internationally advanced medical devices to enter the Chinese market. Also, infrastructure such as high-speed railways, expressways, tourism highways, natural gas pipelines and international submarine optical cables have been improved, Shen said.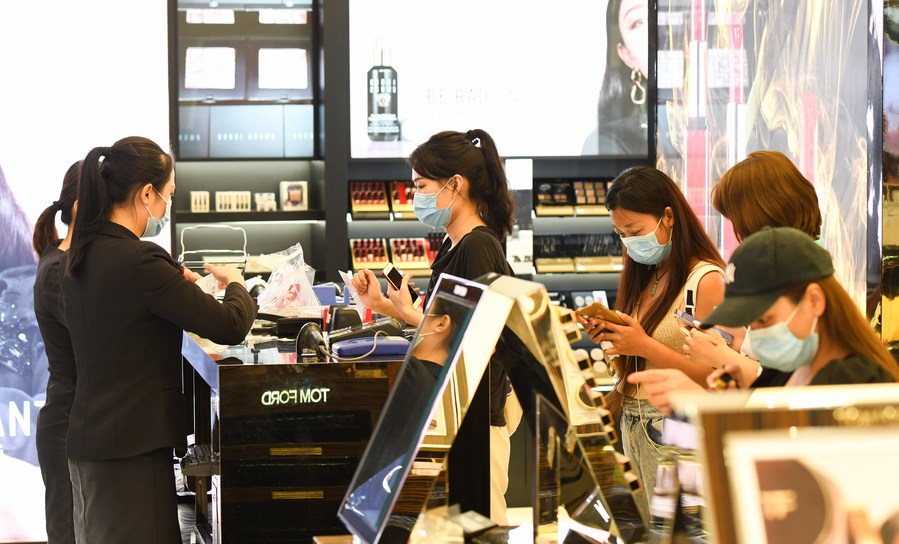 "Hainan always considers science and technology innovation the core in the FTP's construction and strives to make science and technology an inexhaustible driving force for Hainan's high-quality development," Shen Danyang, Executive Vice Governor, said at the press conference.
According to him, in the past five years, the number of hi- and new-tech enterprises in the province has increased nearly five times, or an average annual growth of more than 40 percent.
Coordinated regional development is an important engine, and Hainan is accelerating the integrated development of Danzhou and its neighboring Yangpu Economic Development Zone. Figures from the July 11 press conference showed that in the first half of this year, this circle managed to realize rapid growth, and fixed assets investment, local budget revenue, trade in goods and paid-in foreign capital were estimated to surge by 35, 40, 65 and 240 percent, respectively, year on year.
Wellbeing
A good natural environment is Hainan's biggest advantage. In the past decade, the island's eco-environment has continued to change for the better, boasting some of the best eco-quality areas in the country, Feng said.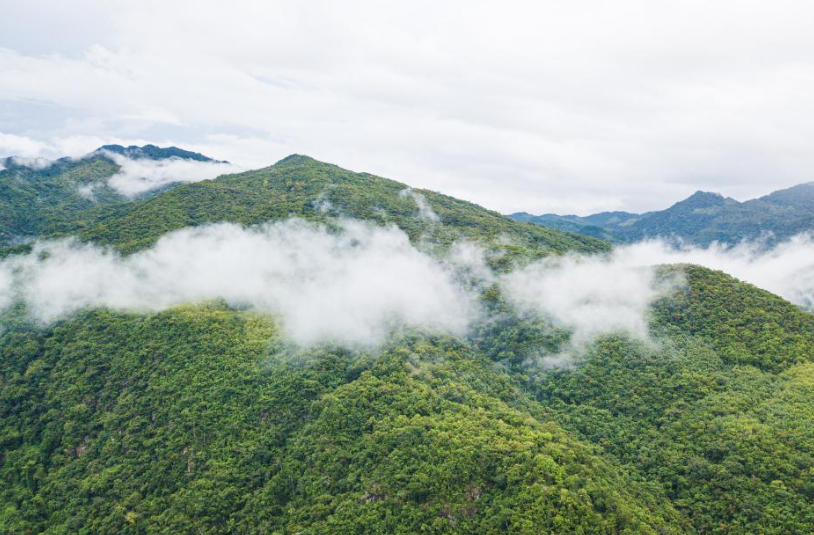 According to him, the province has seen its density of PM2.5, or particulate matter in the air smaller than 2.5 micrometers in diameter, drop to 13 micrograms per cubic meter from around 25 micrograms per cubic meter a decade ago. Every year, the province enjoys good air quality on more than 99 percent of days and the quality of its water and soil continues to be excellent.
Feng added that the wellbeing of Hainan's people has been on the up. In the past decade, 649,700 underprivileged people in the island's rural areas have made their way out of poverty, and per-capita disposable income of urban and rural residents today is 1.2 times that of 2012, growing faster than the national average rate.
These people today also have better access to inclusive public services. The province took the national lead in introducing a 5G-powered remote diagnosis and treatment system at community-level health centers to make quality healthcare more accessible. To promote rural revitalization, Hainan has developed 304,333 hectares of high-standard farmland; all villages have Internet access; and 95.13 percent of rural families have access to gas, a clean energy source.
"The living environment in Hainan Province's rural areas has been significantly improved," Feng said at the press conference.