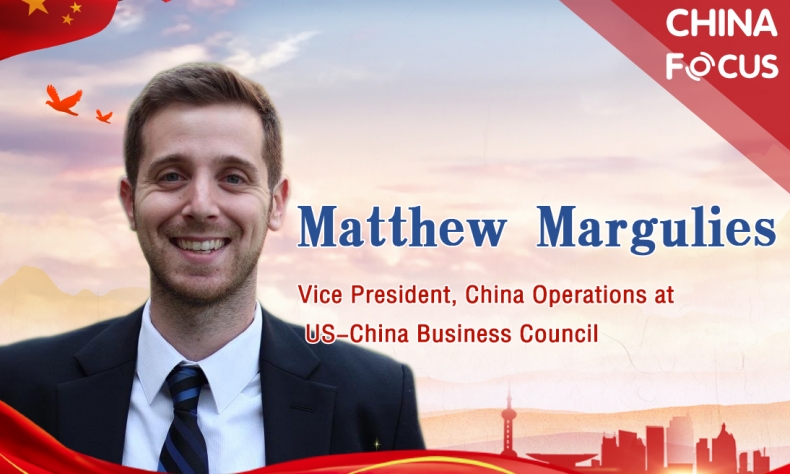 【70 Years Anniversary of PRC】Matthew Margulies: China is One of the Top Global Priorities for American Businesses
The current US administration has adopted a tougher approach for reaching a resolution to some of those long-standing issues.
Editor's Note: This year marks the 70th anniversary of the founding of the People's Republic of China (PRC). It amazes people that China, which could barely feed its people 70 years ago, has turned into one that is building a well-off society in an all-round way.
To celebrate the 70th anniversary of the founding of the PRC, China Focus launches a series of in-depth interviews with renowned academics, diplomats and high-level officials from abroad, sharing their views on China's development and how the relationship between China and the world has been changing over the past 70 years, as well as their vision for the future.
Matthew Margulies is the Vice President of US-China Business Council (USCBC). USCBC is a nonprofit organization of more than 200 American companies doing business in China. With years of experience in business management, Mr. Margulies is well versed in Chinese business and he pays much attention to observing China's development year-by-year. He is going to live in China for next several years as recently he has been in charge of USCBC offices in Beijing and Shanghai.
In this exclusive interview with China Focus, Mr. Margulies shares his view about the current China-US trade relations and expects a hopeful future of the bilateral trade. He also comments on how China has changed in terms of trade and opening up.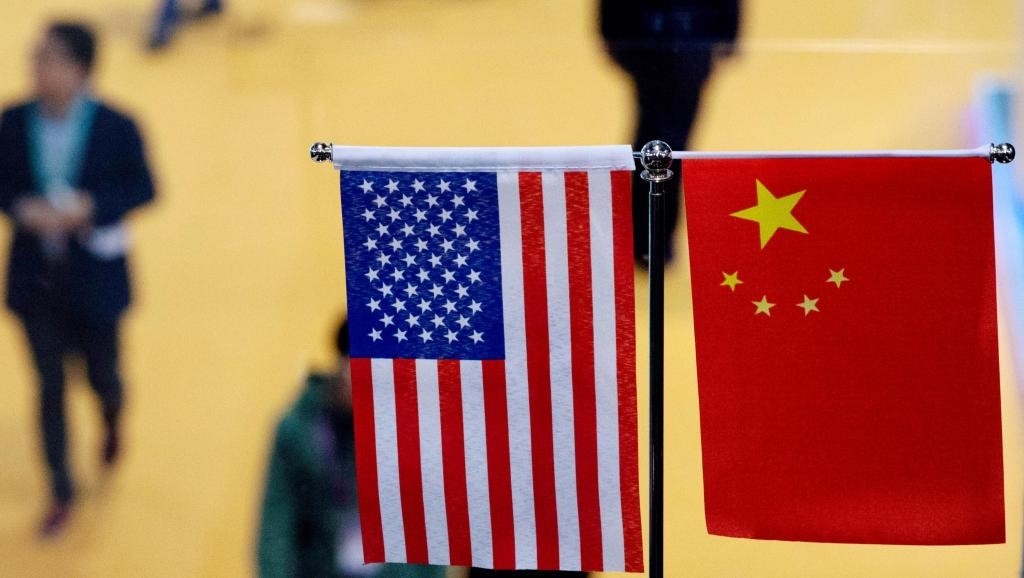 China Focus: You have been observing and working on China-US trade for years. Given that trade has been a pillar in the bilateral relations, how would you describe the current relationship between China and the United States? What are the main issues in the on-going China-US trade dispute? How can the two countries develop a healthy trade relationship? And what is your expectation for the future of China-US trade?
Matthew Margulies: The US-China relationship is increasingly complex and multifaceted. Given rising tensions, we are now in a new period of uncertainty that could potentially last for some time into the future.
The American business community seeks a healthy balanced commercial relationship with China. Trade and investment has long been the ballast of the bilateral relationship, but long-standing challenges went unaddressed for too long. The current US administration has adopted a tougher approach for reaching a resolution to some of those long-standing issues. We don't support the administration's use of tariffs to address those challenges.
The core challenge for both governments in the current trade dispute is addressing imbalances in the commercial relationship created by our different economic models. The US business community would like to see China's economy become more market-oriented, with less state intervention in the allocation of resources and less state support and guidance for industries and companies. American companies embrace competition with China, but we hope that competition can be based on a level playing field.
At the same time, we want to ensure that the US market stays open to Chinese investors and entrepreneurs. We share concerns that certain US actions may restrict legitimate investment and competition from Chinese companies in the United States.
In order to avoid further escalation, we urge both governments to address these challenges through negotiations that realistically evaluates what is possible today, builds momentum, and shifts the challenging structural issues into a longer-term negotiating framework with clear enforcement mechanisms and metrics. Key to negotiations will also be to put an end to the use of tariffs, which hurt consumers and businesses from both countries.
China Focus: A report released last month by your organization stated almost 97 percent of US businesses in China are "profitable" and that they all agree that China remains their biggest market. So, has the trade dispute and increasing tariffs affected these businesses? What damage has it done?
Matthew Margulies: China is indeed one of the top global priorities for American businesses. Greater than 80 percent of our members indicate that China is a top-five priority market for them. In 2018, 97 percent of respondents to our survey indicated that their China operations were profitable, and 46 percent of respondents indicated that their profit margins in China were better than that of their other global markets.
The trade dispute has definitely had a negative impact on our members. Tensions in the US-China relationship were identified as the number one concern of our companies in China. First, the tangible effects of the trade dispute and tariffs mean that our companies are less price competitive in the China market, and 49 percent of companies' report losing sales in China due to tariffs.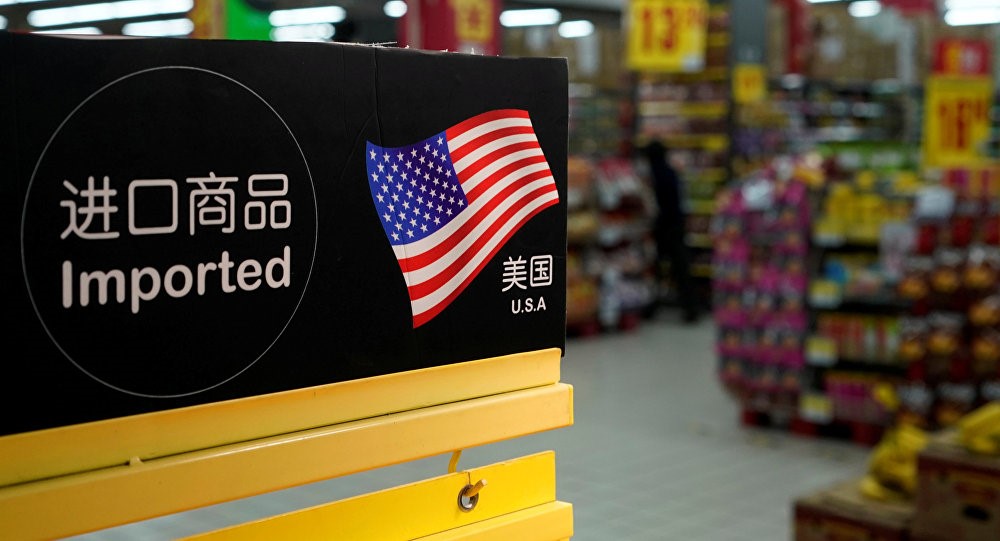 Second, customers in China now increasingly view US suppliers as unreliable, with 43 percent of companies being impacted by the uncertainty that tariffs have created.
Third, nearly 40 percent of our members indicate they have lost sales in China simply due to the fact that they are an American company. This is likely most prevalent with procurement and tenders with state-owned enterprises.
Lastly, tensions and tariffs are leading to uncertainty and hurting investor confidence. As many as 83 percent of companies stopped certain planned investments in China this year.
The longer US-China tensions persist and the more both countries apply unilateral tariffs against the other, the greater the damage to consumers and businesses in the US and China.
China Focus: US President Donald Trump has called for American firms based in China to move their factories back to US, what's your take on this?
Matthew Margulies: We did observe the president's remarks on American firms moving out of China. We certainly were and still are worried about statements of this nature. Thankfully, the president did follow those statements with positive remarks about progress in negotiations and we noted other goodwill gestures from both sides in an attempt to put the negotiating framework on a positive trajectory.
US-China trade is beneficial for both countries. Trade with China supports 2.6 million jobs in the United States. China remains one of the key markets for global growth today, so it is important that American companies can compete in China in order to stay globally competitive. American companies reinvest capital earned in China into R&D efforts in the United States. And 95 percent of our members are in China to serve the China market, not for exporting back to the United States.
I believe that President Trump and President Xi both want to reach an agreement that benefits both of our economies, and I remain hopeful that they'll be able to do so.
China Focus: As an American businessman who has witnessed China's change over the last few years, how do you view China's development in terms of trade and opening up?
Matthew Margulies: We applaud the Chinese government for the progress it has made in reforming certain parts of its economy, most notably opening its financial sector further to foreign investment, reducing restrictions on foreign companies in the automotive sector, and introducing new intellectual property rights protections through certain legislative and judicial reforms.
At the same time, we recognize that there is much left to be done in creating a level playing field for foreign companies in China. The economic reforms that the American business community hopes to see in China are those that China's leadership has also expressed are in its own interests, and are in-line with announcements made by Chinese leaders.
China Focus: In your opinion, what is the greatest achievement that China has made over the past 70 years? How would you describe China's changing role in global governance? And what do you view as China's role in the future?
Matthew Margulies: China has increasingly sought a leadership role in global governance over the last 70 years, including on important issues like climate change through its work on the Paris Climate Agreement, economic development through its establishment of the Asian Infrastructure Investment Bank (AIIB), and on world health issues like the Ebola outbreak in 2014.
As the world's second largest economy and the world's largest trading nation, it is only natural for China to seek to play a larger role on global issues. China today is impacted by global issues to a much greater degree than it was 70 years ago, so increased efforts that seek to shape global outcomes and frameworks is to be expected. The American business community supports China's efforts and its desire to lead in the global arena.
China Focus: In your view, what is the greatest challenge currently facing the international community? What is the key to overcoming this challenge and what do you think of China's efforts to help solve it?
Matthew Margulies: One challenge for the international community is a slowdown in global economic growth, with multiple countries pursuing agendas that threaten to undermine the global trading system from which we have all benefitted greatly.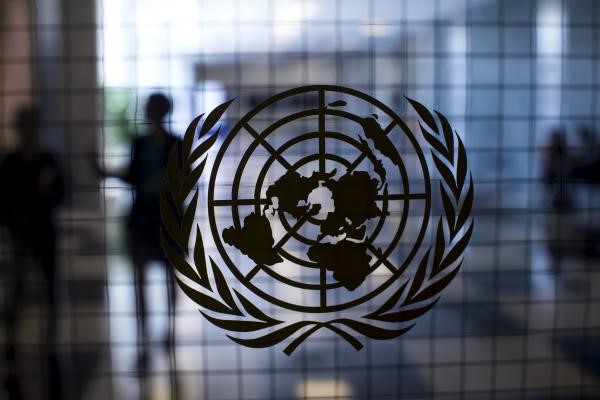 We encourage leaders from all world economies to embrace the benefits of globalization and work together to update our global institutions to reflect the realities of the world today.
As the world's two largest economies, our leaders should work together to strengthen the global community and solve some of the world's toughest challenges.
China Focus: Is there anything you would like to say to China and the Chinese people as the 70th birthday of the PRC approaches?
Matthew Margulies: I would like to wish the Chinese people a wonderful 70th anniversary of the founding of the PRC.
China will soon be my home for the next several years, and I am excited about the opportunities living there will present. I look forward to enjoying your rich culture and finding opportunities for our business communities to continue to grow together.
Editors: Dong Lingyi, Jamie Leigh Wright