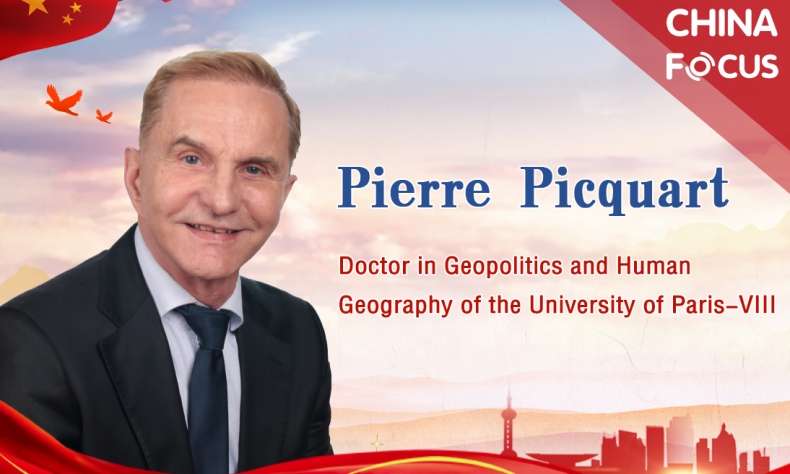 【70 Years Anniversary of PRC】Pierre Picquart: China is a Model of Favoring Its People's Well-Being
China and France will continue to work together to improve international institutions, promote investment, and build more inclusive international environment as well as the Belt and Road Initiative.
Editor's Note: This year marks the 70th anniversary of the founding of the People's Republic of China (PRC). It amazes people that China, which could barely feed its people 70 years ago, has turned into one that is building a well-off society in an all-round way.
To celebrate the 70th anniversary of the founding of the PRC, China Focus launches a series of in-depth interviews with renowned academics, diplomats and high-level officials from abroad, sharing their views on China's development and how the relationship between China and the world has been changing over the past 70 years, as well as their vision for the future.
Pierre Picquart is doctor in geopolitics and human geography of the University of Paris-VIII. He is an international expert and a specialist of China. Picquart is author of many books on China covering several fields. He is also lecturer and consultant for international organizations. In this exclusive interview with China Focus, Picquart talks about France-China relations and China's development.
China Focus: How would you describe the current relationship between China and France? What do you expect for China-France relations in future?
Pierre Picquart: Although far from each other, France and China, two world powers, have been keeping persistent and sound bilateral relationship which features mutual attracting, mutual understanding and friendship. With the unanimous decision by Chairman Mao Zedong and General Charles de Gaulle, China and France established diplomatic relations in 1964. France became the first Western power that made such historic step to get along with the People's Republic of China.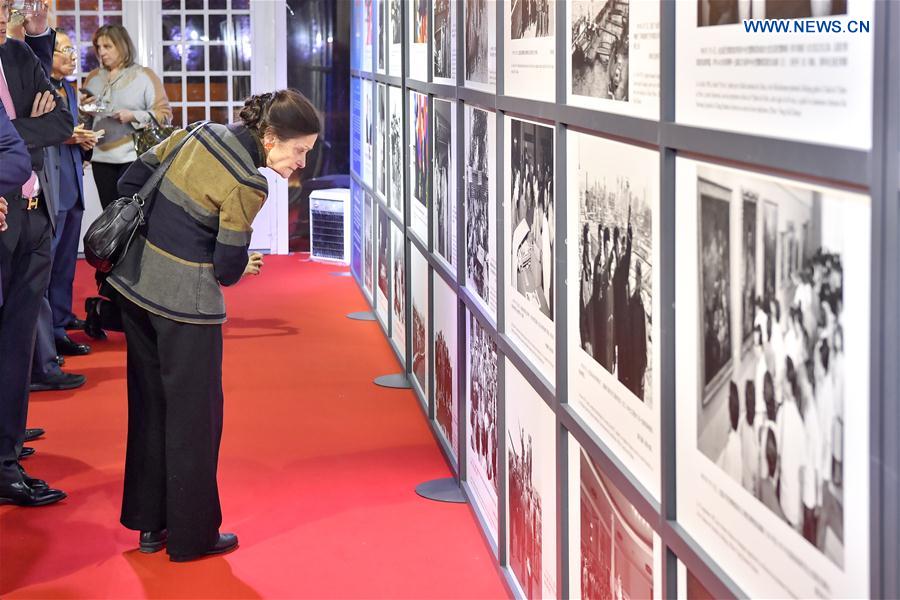 This year marks the 55th anniversary of establishment of France-China diplomatic relations. Over the past 55 years, led by Chinese and French leaders, the two countries have reached close and enduring strategic partnership. In recent years, China and France embrace stable and quality development in bilateral relations. In addition to cooperation and exchange in industry, business, culture, science and technology, state visits paid by Chinese and French leaders to each other are increasing, and both sides have reached more consensus on globalization, security, improving financial system, multilateralism and environmental issues.
The two countries have agreed to lift their relations to the strategic level in the spirit of stable, mutual respect and mutual benefit. In the future, China and France will continue to work together to improve international institutions, promote investment, and build more inclusive international environment as well as the Belt and Road Initiative.
China Focus: What is the greatest achievement that China has made over the past 70 years in your opinion?
Pierre Picquart: If we take into account the impressively large population and the huge challenges of the time when the People's Republic of China was established on October 1, 1949, we can see that never in global history has a country evolved as favorably as China at the domestic and international levels, in 70 years and in all areas. It is thanks to the unwavering determination that the Chinese Communist Party, its leaders, the Chinese people have made every effort, with methodology, pragmatism, and humanity to free the country from misery, as well as to build China as a great power with modernity, prosperity, innovativeness and peaceful strength.
More than ever, we must salute China's unprecedented efforts which turned out to be very fruitful, its multiple innovations, its continuous reforms, its openness to the world, and all its magnificent success. In almost every aspects of development, including poverty relief, education, sport, health care, infrastructure construction, transport, better social equity, heritage protection, environment, economic and financial reforms, and opening-up, an active diplomacy progressing, respect for people and peace in the world, China offers for itself and the world a new perspective of a shared humanity, and the happiness of people.
China Focus: How do you describe China's changing role in the global governance? And how do you see China's role in the future?
Pierre Picquart: Certainly, We can give "hundreds of thousands of other examples of this success ", this favorable perspective and this collective courage of China, for example, in the field of space exploration, or the construction along the Belt and Road, or the UN peacekeeping operations, or the foreign investments, the sea rescue, or the aid to small poor countries, its participation in rebuilding and consolidating a new international order desired to be more just, more responsible, more peaceful, more prosperous, more innovative, and more equitable, for all countries and all people. It would take several volumes of books or a year of forums and conferences to detail with specific examples "all the dizzying progress and all the concrete achievements of China over the past 70 years," that realized both in China, and out of China.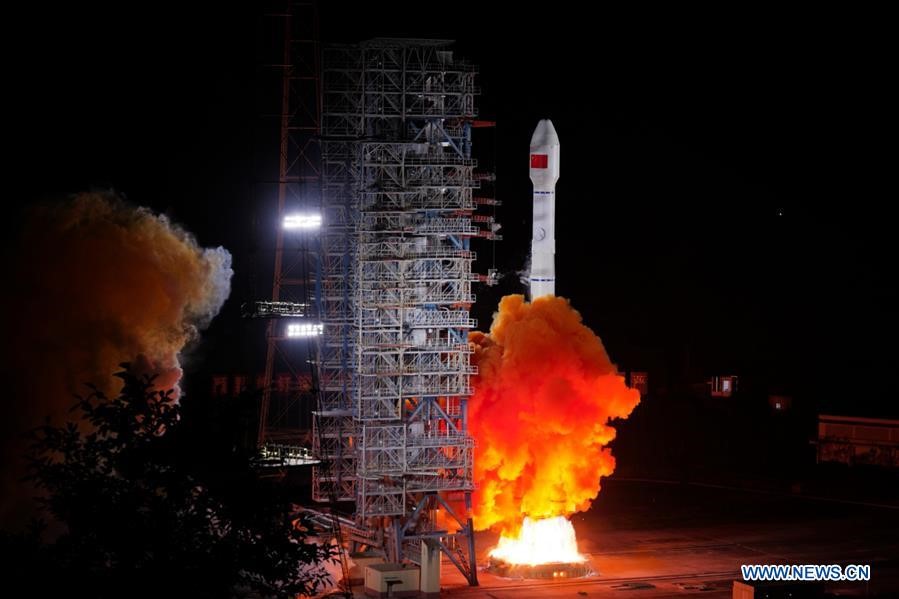 China, with its magnificent landscapes, its various cultural aspects and its rich history of thousands of years, has transformed from a very poor and impoverished country in 1949 to a great and beautiful nation which is now, in 2019, a great economic, financial and commercial power with sustained economic growth, and also, a major diplomatic actor on the international level. Unswervingly carrying on its efforts, a flexible planning, and the policies of reform and opening up, China is becoming a model in favor of the well-being of its people and a model of sustainable economic and ecological development for other countries. Encouraging its people to build a beautiful nation and "the Chinese Dream", by reforming the country and its institutions, promoting a sustainable, innovative and responsible economy, China intends to share with other people of the world, the financial stability, life and property security, shared peace, as well as the economic, technological and ecological progress. China hopes that the dreams of well-being of other countries' people will also be realized in a humanistic, responsible and shared perspective of humanity.
China Focus: What do you think about "building a community with a shared future for mankind" proposed by Chinese President Xi Jinping?
Pierre Picquart: With phenomenal changes unprecedented in world history, China has made a real leap forward over the past 70 years, by lifting hundreds of millions of people out of poverty. But not only that! This has had a positive effect worldwide, in terms of economy and the improvement of living standards (in China and all around the world), contributing to a better geopolitical, political and economic stability. With the largest population in the world, China has stimulated its economic development in line with the improvement of people's well-being. It has become an objective and a priority in China's strategy formulation. More than 700 million Chinese were lifted out of poverty between 1978 and 2017, and the rate of people living below the poverty line declined from 97.5 percent to 3.1 percent of all the rural population. China has achieved the Millennium Development Goals (MDGs) and meanwhile, helped the international community halve its poor population. Although there are still regional disparities, the Chinese model is impressive and it is an example followed by more and more developing countries.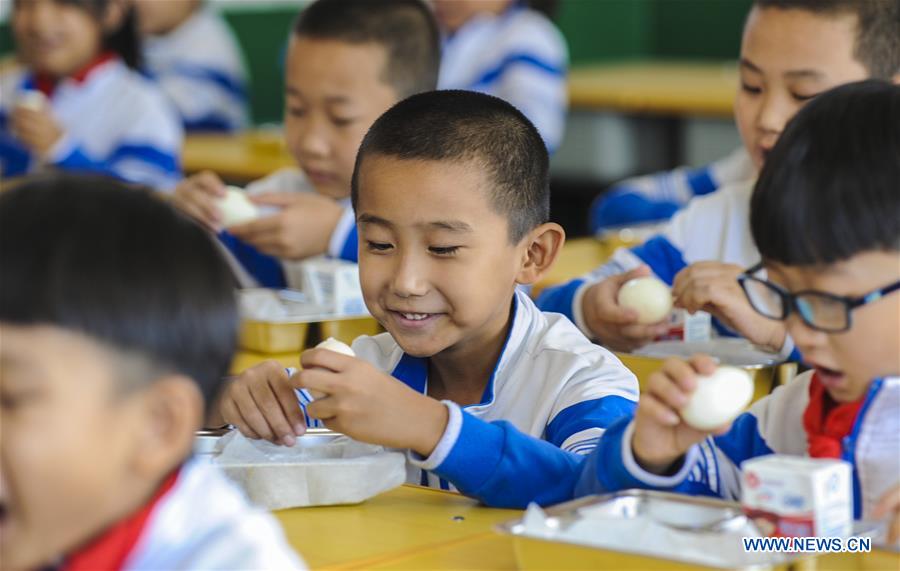 China Focus: What is your impression of China ? In your opinion, what is the significance of China's devleopment to the world?
Pierre Picquart: I went to China in 2000 for the first time. China has always been for me a loving and splendid country. I was always very confident in China's governance, its development in economy, finance, education and society, as well as its humanistic perception, and convinced of the magnificent changes I have witnessed in this era! In the field of education, new technologies, innovative architecture, urbanization, promotion of the arts, sciences, infrastructures 2.0, the artificial intelligence, research …, China is becoming the world leader. A new China opens its arms and doors to the entire world.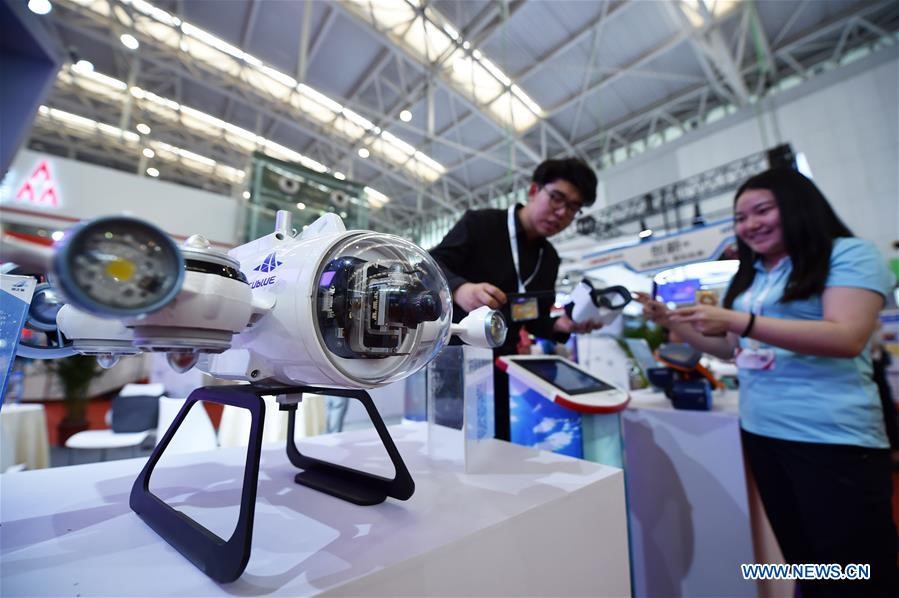 China stimulates global growth and promotes international relations on the basis of respect for nations, non-interference in the affairs of other countries and friendship of people. China has transformed itself to provide the world a new model of peace and sustainable prosperity. But the Chinese people, in their heart, in their social harmony, in their desire for peace, in their wish for sharing, in their spirit, has not changed. They are always open, curious, hospitable and friendly, offering always the best part of themselves. Like China, we must seek a path consistent with our own history, our culture, and our geography.
China Focus: Is there anything you would like to say to China and Chinese people as the 70th birthday of the PRC is approaching?
Pierre Picquart: On the occasion of the 70th anniversary of the founding of the People's Republic of China, as a writer, an expert, and a permanent witness to all these changes, I express my wishes of happiness and success for the birthday of a great and beautiful country and for its people.