How Did a British Chemistry "Magician" Win Popularity in China?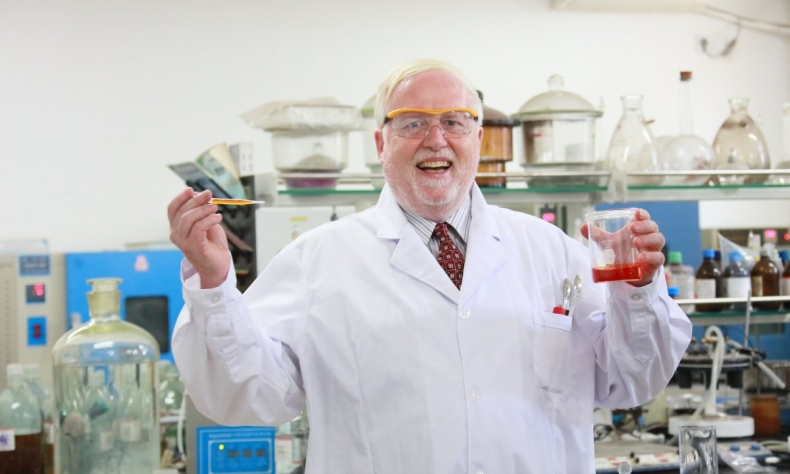 I thought, this is a once in a lifetime opportunity. I'll move and see what I can do here.
Editor's Note: A British professor of chemistry becomes very popular with Chinese students both in campus and online in recent years. David G. Evans, a British doctor from Oxford University and a distinguished professor at Beijing University of Chemical Technology, has been teaching in China for 26 years. In 2018, he started teaching chemistry with the name of "Dr. Dai's Laboratory" on social media, soon gaining millions of followers and video views. In this interview with China Focus, let's find why Prof. Evans came to China and how did he become a star of chemistry teacher in the country.
What drove you to live and work in China? 
David G. Evans: From 1987 to 1996, I came to China once or twice a year to visit some universities, give some lectures and then travel around. So I saw how China was beginning to change both in the universities but also outside in society.
In 1994, I started to collaborate with professor Duan Xue in Beijing University of Chemical Technology, and in 1996 we talked about me moving here. At that time most scientists in the UK were not really looking at China. So my friends, some of them were quite polite. They said you were very brave. And others said: "Are you crazy? What science will you do in China?" I said: "Maybe not so much now. But you come and see me in a few years' time. You'll know why I want to be in China."
Because I'd seen the changes from 1987 to 1996, although the pace of change was slower than now. But I could see that it was beginning to change and I could anticipate it was going to get faster and faster, and China was going to become more and more advanced. So I thought, this is a once in a lifetime opportunity. I'll move and see what I can do here.
What changes have occurred in China's science education in your opinion?  
David G. Evans: I think it's one of the advantages of the Chinese system that there are these long-term plans. Not just the five-year plans, but also plans for 2030, 2035, 2050. So these long-term plans are very, very important, especially for science. The conditions for doing research in the university have changed out of all recognitions.
When I first came, Professor Duan's lab just had a few pieces of simple Chinese made equipment. Now we have some of the best, most advanced equipment. We have a lot of staff who've spent time abroad or elsewhere and have come back to build their careers here. So, the research has improved tremendously in terms of science education. There were also been big changes there. So, there's more and more emphasis on science education.
Now I think that the most talented young Chinese scientists working abroad see that if they come back, then they will be strongly supported. They will have good infrastructure, good students, good funding. They will be able to start their career at a much faster pace than if they stayed abroad. So that has encouraged a lot of the most able people to come back to our lab and to other top labs in China. And the government is supporting outreach of the sort that we do very, very strongly.
To many Chinese students, you are a very popular professor for teaching chemistry, in particular with showing interesting chemical experiments via social media.  Why and how do you use social media like video platforms to do science outreach?
David G. Evans: Now, of course, with the Internet and all the other tools, then students who are interested can look up information. So sometimes I'm really amazed. When I visit some schools in small cities or in the countryside, I find that young children also are being exposed to science in science classes. I've actually been to every one of the provincial level places in China. We've done some summer schools in places like Bazhong in Sichuan. We've also organized summer schools in Beijing. We spent hours each day watching Kuaishou and other short video sites. That made us think, maybe we should think about using this as well. So we did some. We found that people enjoyed them and wanted more. Now, four years later, we're still doing it.
I think the point about doing outreach is you shouldn't stay somewhere and wait for people to come and find you. You have to be proactive to go out and look for them. So wherever they are, if they're on the short video site, then you go and look for them. I'm sure in the future there will be other tools, other platforms. So if that's where people are, then we'll go there and look for them there.
What are your expectations for the future?
David G. Evans: A few years ago, I was very honored to be invited to join the Chinese Academy of Sciences senior scientists' group. This is a group of mostly retired scientists who worked at various Chinese Academy of Science Institutes. And then after they retired, they now go traveling around the country doing outreach. I hope that when I'm in my late 70s, I'll be doing the same, going with them to encourage more and more students to enjoy science, to get interested in science, to become scientists.