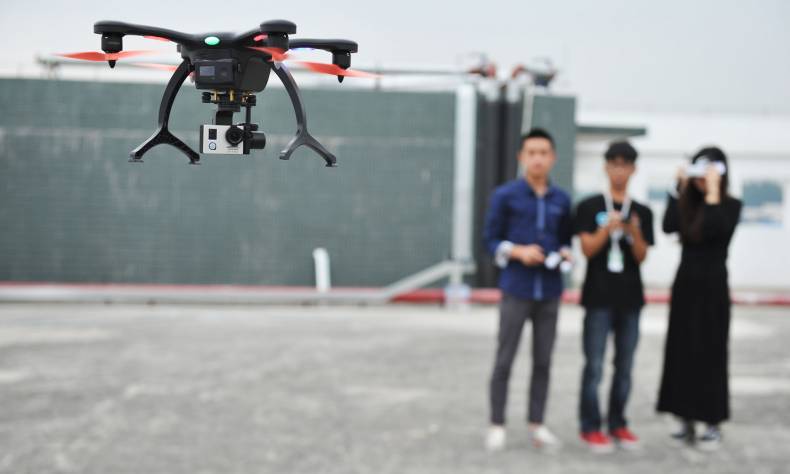 Is China Ready for Drones?
Once upon a time, any conversation had about drones was generally confined to the use of unmanned combat aerial vehicles (UCAV) by the US military for air strikes in Afghanistan, yet today the discussion is more inclined to mention another aspect: are drones a boon for the future or a looming menace?
There is an abundance of evidence to support both sides of the debate. The most common non-military use of unmanned aerial vehicles (UAV) today involves scenes shot by drones with a camera attached that feature a bird's-eye view of the landscape below, the cheap and easy-to-use UAVs popular with TV producers and photography enthusiasts alike. If drone usage was to be the sole domain of videographers and the ilk, then the problem would not be so urgent, but UVAs have been earmarked for a number of burgeoning industries, none more so than logistics and delivery services.
Drone delivery is a major new opportunity that many retailers and governmental agencies are exploring. Walmart and Amazon are both experimenting with using drones for delivery services but are struggling to receive exemptions from the air-traffic rules. According to the Federal Aviation Administration, the currently proposed rules would limit flights to daylight hours at low altitudes and within an operator's visual line of site. And the restrictions for private use are about to get a lot tougher, with the US government announcing in October that it plans to require any privately-owned-and-operated drone to be registered with the Department of Transportation before the end of the year.
Governments are also getting on board the drone bandwagon for delivery. The first US government-approved drone delivery successfully transported on July 17 a 4.5kg-load of medical supplies from Lonesome Pine Airport, Virginia, to the clinic at the Wise County Fairgrounds.
In China, JD.com, a major Chinese e-commerce company, revealed its plans for drone delivery earlier this year through a public demonstration but has not as yet outlined its a timetable for implementation. And Alibaba, JD.com's primary competitor in the e-commerce industry, was warned in February by air force authorities against using drones for delivery through its logistics partner YTO Express without prior clearance.
One of the primary advantages of drones is how they can undertake dangerous and arduous tasks in place of humans. After the Tianjin chemical plant explosion in August, drones were utilized to for overhead examination of the aftermath, testing to see if the site was safe for rescuers to enter. Thanks to the real time surveillance transmitted by the drones, the response teams were able to better coordinate their rescue efforts.
At the same time, China is at the beginning of its era of automation, with drones a big part of that future. According to CCTV, around 400,000 drones will have been sold globally by the end of 2015, with 90 percent of those drones sold manufactured in China. Guangdong Province alone contributed to more than 90 percent of China's drone exports in 2014.
"Guangdong has access to bountiful manufacturing resources for producing drones and favorable policies towards start-ups," said Derrick Xiong, a Guangzhou-based entrepreneur, whose company provided the drones used in the Tianjin aftermath examination. "And Guangdong does not have such strict rules regarding drones as Beijing does."
In August and September, Beijing police and the municipal government respectively announced that citizens were prohibited from flying any devices within the city's seven district, the ban extending to drones. According to Beijing News, a man was arrested by the police station after flying a drone within the West Second Ring Road (3.5 km from the Palace Museum) on August 22.
Further concerns surround drone use among the general populace, with invasion of privacy and improper operation two of the main issues. In July this year, 47-year-old Kentucky man William Merideth was charged with wanton endangerment and discharging his gun within city limits after he shot down a drone that was flying over his backyard. In his defense, Merideth said that he thought the drone, which belonged to his neighbor, was spying on his family. In October, all charges were dropped against Mr. Merideth.
Furthermore, there is a clear and present danger that exists if drones are improperly operated. On July 22, a video of a drone crashing into the Taipei 101 building was posted to Facebook and attracted wide attention. More of a concern is what might happen if a drone was to collide with another flying vehicle, one perhaps with passengers.
Even though a huge demand for UAVs exist in the Chinese market, how prepared is the market to address all these problems?
It is no easy question to answer. Xiong believes the issue of privacy is one not only for drones, but also for controversial devices such as city surveillance cameras. He agrees that it is a difficult subject to deal with. Only when drone companies take all the possible considerations into account, and the government offers appropriate flying spaces for drones, and users begin to pay more attention to safety can the Chinese market become truly favorable for drones.