Jointly Mapping Afghanistan's Future Offers New Hope
A trilateral platform constituting Afghanistan, China and Pakistan has been holding frequent high-level meetings to outline a roadmap for the future of Afghanistan, offering new ideas on how to end seemingly intractable challenges.
As America races towards the endgame in Afghanistan, regional players are putting their heads together to make sure a conflict that has transcended generations is finally done with.
A trilateral platform constituting Afghanistan, China and Pakistan has been holding frequent high-level meetings to outline a roadmap for the future of Afghanistan, offering new ideas on how to end seemingly intractable challenges.
The latest meeting between foreign ministers of the three countries was held in Islamabad last Saturday, focusing on how to stably hand over security responsibility to the Afghan government.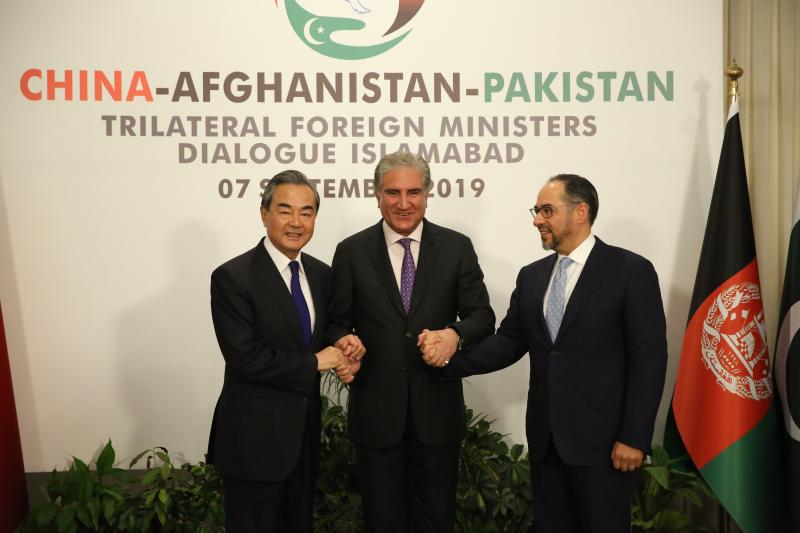 After decades of war, the country is still in the process of developing a reconstruction program. This is why Pakistan and China have come forward to assist, lest an American withdrawal once again plunges the region into chaos.
Although President Donald Trump has canceled talks with the Taliban opposition, it seems more of a pressurizing tactic if one believes there is a method in his madness. Moreover, the U.S. does not want to look like it is being bullied by an insurgent force into negotiation and an abrupt departure. One can comfortably bet on the resumption of the dialogue eventually.
Before the U.S.-Taliban talks entered a conclusive phase, China engaged with the group to bring it to the negotiating table and encourage it to give peace a chance. Taliban leaders even visited China this year to present their own views and gain an understanding of the Chinese stand.
There has been significant progress since then and an end to the fighting is in sight. Some hindrances still remain, however. The Taliban still have not agreed to international calls to hold direct talks with the Afghan government and their strategy of continued attacks has not contributed towards achieving peace.
In such a predicament, it is important that the peace deal between the U.S. and the Taliban is one acceptable to all parties in Afghanistan. After all, the Taliban are not the only stakeholders. There is an elected government with a mandate of the people and failing to address its concerns or provoke a hasty American withdrawal risks devastating consequences.
Chinese Foreign Minister Wang Yi proposed three principles for an effective transition. First, any arrangement should be inclusive of all factions; second, the counter-terrorism campaign should be firmly kept up; and, lastly, a diplomatic approach should be adopted that cultivates a positive external environment for Afghanistan.
Another point that remained under discussion was the edgy relationship between Pakistan and Afghanistan. Despite being immediate neighbors sharing a long border, there have been many highs and lows. Afghanistan, being landlocked, depends on Pakistani ports for a large part of its trade. This dependence, in turn, brings foreign exchange to Pakistan and requires a healthy win-win partnership to be developed between the two countries.
However, the recent frequency of high-level exchanges between Pakistan and Afghanistan have, to some extent, helped ameliorate the situation. Politicians on both sides of the border these days try to avoid statements that can possibly disrupt the ongoing talks. Even Foreign Minister Wang Yi is offering support in improving the situation.
The current favorable environment in Afghanistan is providing numerous avenues of trilateral cooperation with China and Pakistan. Foremost among them is the extension of the Belt and Road Initiative (BRI). During the latest meeting of foreign ministers, it was agreed that the mega project offered a viable way of connecting Afghanistan with global supply chains through the China-Pakistan Economic Corridor (CPEC).
Consensus was also achieved on constructing a highway linking Kabul with Peshawar and subsequently with the extended network laid out by the BRI.
Pakistan and China are already engaged in several independent socio-economic projects in Afghanistan, including ones that will lift the war-torn nation's capacity for commercial activities. Starting from infrastructure, the three can transform a region with rich human and natural resources into an interconnected hub of trade.
In parallel with economic uplift, counter-terrorism cooperation and intelligence sharing are extremely necessary to stem any resurgence of unrest. The security scenario in Afghanistan has been evolving quite rapidly in the recent past. The emergence of ISIS has added a new dimension to the fight against terror as it operates with far advanced tactics as compared to the local militias.
Pakistan, after having successfully defeated a religious insurgency, has extensive experience in fighting terrorism and can offer lessons on countering the threat.
The next round of the trilateral consultations is planned for next year. With the swiftly improving situation in Afghanistan, it is expected that the gravest challenges will be taken care of by that time. With multinational mechanisms now in place, it is time to prioritize the reconstruction process and integrate Afghanistan into Asia's economic growth.
Daniel Hyatt is a Pakistan-based freelance journalist and commentator on modern China.
Opinion articles reflect the views of their authors only, not necessarily those of China Focus.