Jointly Promoting World Peace and Development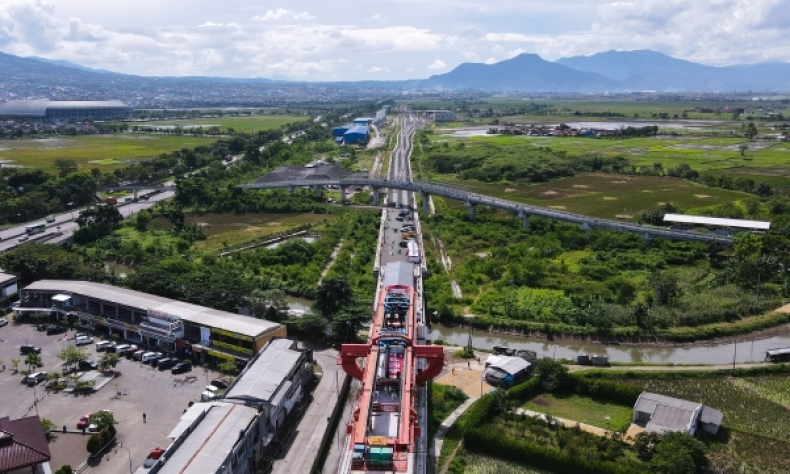 China proposed the BRICS Plus mechanism during the 2017 BRICS Summit. As the BRICS chair for this year, it actively supports the group in starting up the membership expansion process and expanding BRICS Plus cooperation.
The week starting on June 20 was great for BRICS, the main platform for cooperation between five major emerging economies, namely, Brazil, Russia, India, China and South Africa. During that week, China hosted a series of BRICS events including the 2022 BRICS Business Forum, the 14th BRICS Summit and the High-Level Dialogue on Global Development.
BRICS countries represent more than 40 percent of world's population and over 20 percent of global economic output. Over the past 16 years since the group's inception, their cooperation has demonstrated resilience and vitality by embracing a spirit of openness, inclusiveness and mutual benefit, thereby cementing a new international alternative representing the correct path forward.
Expansive consensus and elevated cooperation
South African President Cyril Ramaphosa, Brazilian President Jair Bolsonaro, Russian President Vladimir Putin and Indian Prime Minister Narendra Modi attended and addressed the 2022 BRICS Business Forum and the 14th BRICS Summit under the theme of Fostering High-Quality BRICS Partnership and Ushering in a New Era for Global Development. The presidents of Algeria, Argentina, Egypt, Indonesia, Iran, Kazakhstan, Russia, Senegal, South Africa and Uzbekistan, the vice president of Brazil, and the prime ministers of Cambodia, Ethiopia, Fiji, India, Malaysia and Thailand attended the High-Level Dialogue on Global Development focusing on the theme of Fostering a Global Development Partnership for the New Era to Jointly Implement the 2030 Agenda for Sustainable Development.
Leaders reached multiple important common understandings on deepening BRICS cooperation in economic integration, promoting world economic recovery, jointly responding to COVID-19, and doing utmost to reduce the impact of poverty and food and energy crisis.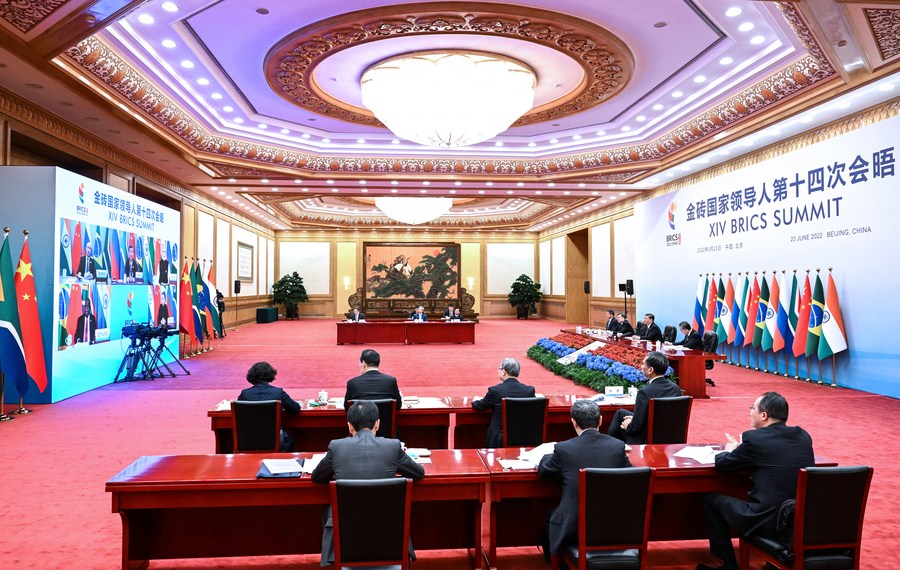 This year, BRICS activities will deliver over 30 major outcomes, which will reach new heights in terms of quantity and quality. It can be preliminarily summarized as "10 highlights":
—Releasing the 14th BRICS Summit Beijing Declaration, expressing a common position on supporting multilateralism and improving the global governance system. Putting forward BRICS proposals for promoting world peace, and sending a strong message about safeguarding international fairness and justice.
—Launching the BRICS Vaccine Research and Development Center and building a comprehensive platform for joint research, development and production that reaches out to other developing countries to help build a community of health for all, and consolidating the BRICS line of defense against the pandemic.
—Releasing the Joint Statement on Supporting Multilateral Trading System and World Trade Organization Reform of BRICS countries. Putting forward the BRICS Initiative on Enhancing Cooperation on Supply Chains. Building BRICS consensus on upholding the multilateral trading system and improving the formulation of international trade rules, and committing to playing BRICS' part in keeping the global economy open.
—Adopting the BRICS Initiative on Denial of Safe Haven to Corruption. Deepening practical cooperation among BRICS countries on cross-border corruption governance and pursuit of economic and corrupting offenders to build a new global anti-corruption governance system, and highlighting BRICS actions to win the fight against corruption.
—Signing the Agreement Between the Governments of BRICS Countries on Cooperation and Mutual Administrative Assistance in Customs Matters. Releasing the BRICS Initiative on Trade and Investment for Sustainable Development. Providing new growth drivers for promoting trade facilitation and achieving economic recovery, and laying a solid foundation for building a big market for BRICS integration.
—Creating the first Strategy on Food Security Cooperation of BRICS Countries. Establishing the Forum on Agricultural and Rural Development to showcase the five BRICS countries' practical actions to stabilize global food production and their positive contributions to global food security governance, and injecting BRICS impetus into global food security.
—Establishing the BRICS network of technology transfer centers. Hosting the Forum on Big Data for Sustainable Development. Contributing to economic transformation, upgrading and high-quality development in the five BRICS countries, and tapping the potential of BRICS for innovation-driven development.
—Establishing the BRICS aerospace cooperation mechanism. Promoting exchanges and innovation in space science and technology to create a BRICS model for the peaceful use of outer space and aerospace technology for sustainable development, and expanding BRICS cooperation in new domains of frontier science and technology.
—Endorsing the BRICS Digital Economy Partnership Framework. Releasing the BRICS Initiative for Cooperation on Digitalization of Manufacturing to jointly achieve leapfrog development, and seize the opportunity of the times for the development of the digital economy.
—Establishing the BRICS Technical and Vocational Education and Training Cooperation Alliance. Holding the Skills Competition, SDG (Sustainable Development Goals) Solutions Competition, and Women's Innovation Contest, to promote connectivity between talents, industrial and innovation chains of the five BRICS countries, and building a future-oriented pool of high-quality technical talents.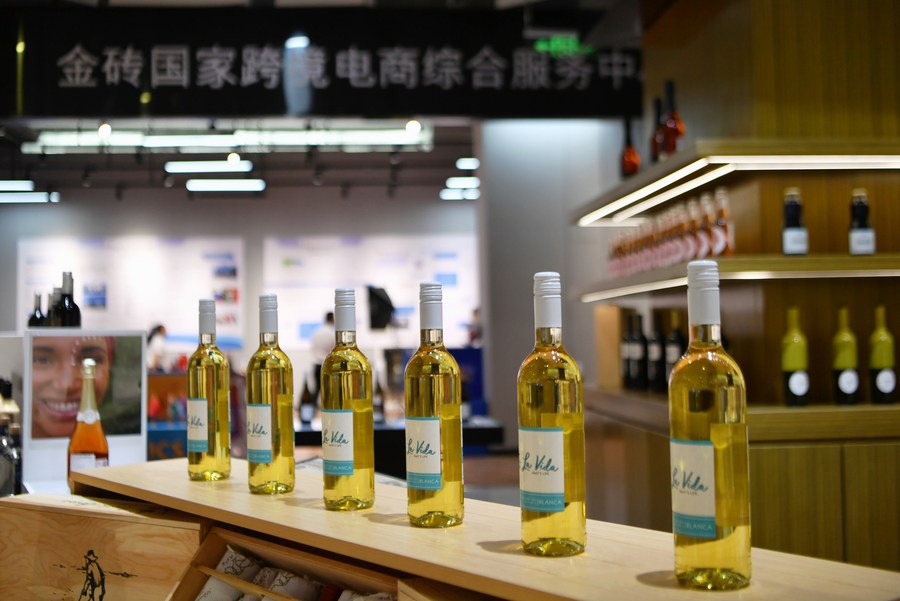 China's contribution
Following the summits in Sanya in 2011 and Xiamen in 2017, China hosted the BRICS summit for the third time. Since China took over the BRICS chairmanship for 2022, thanks to the active support of all sides, it has so far successfully held over 90 meetings and events at various levels, and will host a total of more than 170 events throughout the year, covering politics, security, economics, trade, finance, people-to-people and cultural exchanges, sustainable development and public health. In the first half of this year alone, more than 20 ministerial meetings took place, and each of BRICS Plus events attracted the participation of more than 50 non-BRICS countries, expanding the mechanism's influence.
President Xi Jinping, bearing in mind the wellbeing of all humanity, has led BRICS events to produce a series of pioneering, outstanding and institutional outcomes, demonstrating the historical responsibility and global vision of a major country's leader and making China's contribution to world peace and development.
President Xi attended the opening ceremony of the 2022 BRICS Business Forum and delivered a keynote speech, and chaired the 14th BRICS Summit in Beijing where he delivered another speech highlighting the significance of fostering a more comprehensive, close, practical and inclusive high-quality partnership and jointly embarking on a new journey of BRICS cooperation. He chaired the High-Level Dialogue on Global Development in Beijing and delivered remarks titled Forging High-Quality Partnership for a New Era of Global Development.
President Xi's speeches chart the course for deepening practical BRICS cooperation, point the way forward for upholding world security and stability, and paint the blueprint for promoting global openness and development. They have also enhanced the world's confidence in China's economic prospects and set the right direction for businesses to participate in and support BRICS cooperation.
Brighter future
China proposed the BRICS Plus mechanism during the 2017 BRICS Summit. As the BRICS chair for this year, it actively supports the group in starting up the membership expansion process and expanding BRICS Plus cooperation.
At the summit, all BRICS leaders agreed to move ahead on BRICS Plus cooperation, enhance the representation of the group, advance the membership expansion process, and promote discussions to clarify the guiding principles, standards, criteria and procedures for the expansion process. Relevant consensus is reflected in the Beijing Declaration. This demonstrates that BRICS cooperation is open and inclusive.
China is ready to work with other BRICS members, emerging markets and developing countries to deepen the BRICS strategic partnership, and discuss ways to conduct BRICS Plus cooperation at higher levels, in wider areas and in larger scope, as to inject more BRICS strength into global development and more positive energy into a world facing turbulence and challenges.