Kuche: Alleviating Poverty and Injecting New Vigor to Local Development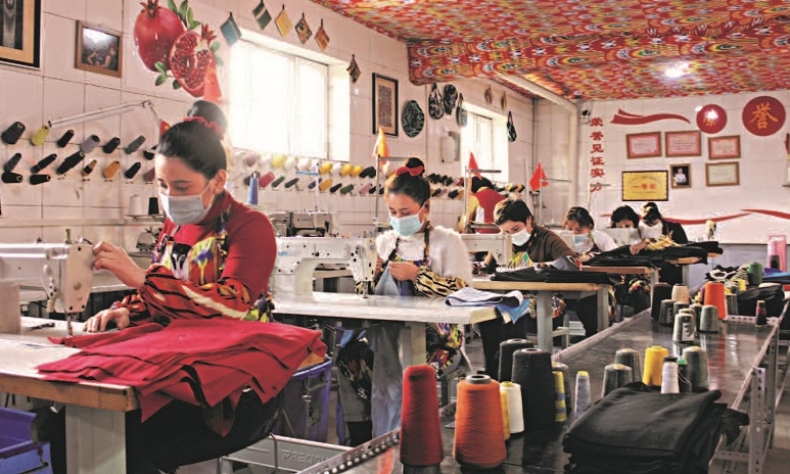 There is still a long way to go, especially in narrowing the gap between urban and rural areas, but the current achievements are solid proof of the Chinese government's irrevocable commitment to the happiness and well-being of people.
Hidden in the hinterland of Xinjiang, the little known county-level city of Kuche, is an example of what can be achieved by combining effort, work, and vision to eliminate poverty and bring vitality and prosperity to the life of local people.
Aksu Prefecture, a rugged and remote location, home to 2.5 million people, is located in the mid-western frontier of China's Xinjiang Uygur Autonomous Region, where the imposing Tian Shan Mountains rise next to the Tarim Basin and part of the Taklamakan Desert. In terms of land area, Aksu is similar in size to Nicaragua or Greece. Located within Aksu is the city of Kuche, which in recent years, has been a model example of the national endeavor to fight against poverty.
Around five years ago, China clarified its goal to eradicate absolute poverty by 2020. Despite the difficulties resulting from the health and economic crisis unleashed by the COVID-19 pandemic, the government has remained true to its promise: the last 832 impoverished counties and 128,000 poor villages had managed to overcome the poverty threshold over the past eight years. On November 22, 2020, during Session II of the 15th G20 Leaders' Summit, Xi renewed the country's commitment and his intention to continue improving people's well-being. "Over the past 40-plus years of reform and opening-up, more than 700 million people in China have been lifted out of poverty, contributing more than 70 percent of the global poverty reduction," he pointed out. "China is ready to work with other countries to build a better world that is free of poverty and seek common development," he added.
China has introduced a slew of innovative, tailored, and targeted measures to achieve these objectives, such as partnering its provinces and cities in the east with those in the west, innovating in technology, developing local industries and agriculture, and resettling communities located in inhospitable areas, among many others. Along these lines, the efforts taken by Kuche are a quintessential example of the national practices in this regard, echoing the solemn commitment made by the country's central and local authorities.
Local Enterprises as a Source of Livelihood
At the end of a small street is Adelai Abulaiti's workshop and store. She told China Today how her business was born against her parents' wishes. Abulaiti, a Uygur girl, decided to enroll in Beijing Institute of Fashion Technology years ago, where she learned how to design and make clothes. In 2018, she opened a workshop in her hometown, trying to earn herself a living and contribute to local economic development. She currently employs 40 women, who make a total of 2,000 to 3,000 items of clothing each month, from hats and small pouches, to dresses and accessories. With most weddings and celebrations taking place in summer, Abulaiti's workshop can receive orders of up to 5,000 items during this period.
Abulaiti said that without the local authorities' help, setting up her business wouldn't have been a reality. Local government provided her with the space for her workshop and the sewing machines for free. In addition, in June 2020, she received an interest-free loan of RMB 100,000, which helped her overcome the difficulties caused by the pandemic, as well as a one-week training course. "Xinjiang has paid great attention to the development of young entrepreneurs like me," she said. Not content to rest on her laurels, she hopes to expand her business even further by hiring another 100 people in 2021.
Opposite Abulaiti's business is another workshop selling handmade copper and bronze ware artworks, run by a Uygur man. The shop owner told us that some of his works can take hours and even days to finish because of the intricate designs. This craft, which has been passed down from one generation to another for several centuries, is typical of Kuche and some other ancient places in Xinjiang, and listed as an intangible cultural heritage.
Quality Education to Cultivate the Leaders of Tomorrow
In the 2030 Agenda for Sustainable Development, adopted by the UN General Assembly in September 2015, education was defined as one of the main focuses in the eradication of poverty. Empirical evidence shows that literacy, better education, and more years of schooling can bring significant monetary benefits to people's lives, and therefore allow the access to better health, housing, and other material goods. Not wanting to be left behind, Kuche has also jumped on board this initiative and allocated a great amount of resources to educating children — builders and leaders of tomorrow.
Kuche's Yangming Primary School is an example of academic excellence and of cooperation between cities. A total of 800 students in 24 classes attend this school, which is equipped with comfortable classrooms and state-of-the-art teaching equipment. The school's principal Wang Huajun said the school was established in honor of the ancient Chinese philosopher and scholar Wang Yangming, to whom it owes its name. Wang explained that the school was built with funds provided by Ningbo, a city in east China's Zhejiang Province, which is partnered with Kuche in the national poverty alleviation drive, as well as some non-profit organizations and the local government.
Thanks to the partnership, numerous academic exchanges to foster cooperation and understanding between students from Kuche and Ningbo have taken place. There are currently 12 teachers from Ningbo working at Yangming Primary School. A special hall costing RMB 500,000 was recently built at the school, in honor of Wang Yangming. In addition, students of the school can also select lessons about chess, calligraphy, painting or guzheng (a traditional Chinese plucked string instrument) as part of an extracurricular course.
Social Cohesion Through Interethnic Integration
Tuanjie Village was founded in 1959, when more than 100 railway workers settled in the area. Since then, the village has grown considerably, and has become an example of social cohesion where people of Uygur, Han, Kazak, Hui and Zhuang ethnic groups live peacefully side-by-side. Sun Zhibao, the village's Party secretary, has witnessed this in person. When he was still a child, his family adopted Ahmed Geli, who had been orphaned since three. Sun has taken Ahmed as his "Uygur brother," since his parents treated him as a member of the family. Sitting in the living room of Wang Fuqiang, his adoptive mother's house, Ahmed was still overwhelmed by the emotion of gratitude while recalling episodes from his childhood and the unconditional love he has received from his Han family. Ahmed Geli now works as a truck driver, earning approximately RMB 4,000 per month, enough for him to enjoy a comfortable life with his wife and child.
Sun Zhibao is proud of the progress the village has made. The village's annual per capita income stands at RMB 16,000 per year, which is almost seven times as much as the RMB 2,300 extreme poverty line set by China in 2011.
"Our goal is to build Tuanjie into a demonstration village of interethnic integration," said Sun. "Over the past 60 years since its establishment, different ethnic groups have coexisted harmoniously and supported one another," he added.
These are just a few examples of many thousands about how the country has done its utmost to honor its commitment of eliminating poverty, and China did it. Of course, there is still a long way to go, especially in narrowing the gap between urban and rural areas, but the current achievements are solid proof of the Chinese government's irrevocable commitment to the happiness and well-being of people.