Laureates of Orchid Awards Committed to Promoting Global Cultural Exchanges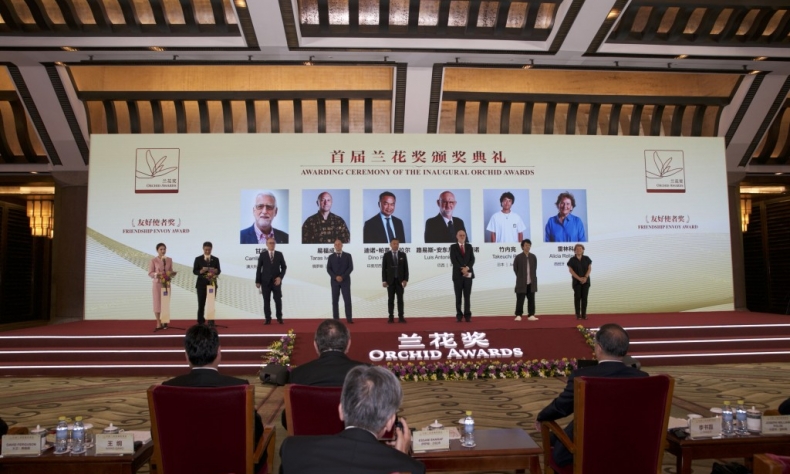 The Orchid Awards provide a platform to promote the common values of humanity and engage in international cultural exchanges.
"Now is the time to seize the moment and allow cultural exchanges to forge new avenues of human understanding," Joseph William Polisi, a music educator and fellow of the American Academy of Arts and Sciences, said in an address to the inaugural Orchid Awards ceremony, held in Beijing on September 8.
Initiated by China International Communications Group (CICG), the Orchid Awards aim to facilitate cultural exchanges and mutual learning between China and other nations. During the ceremony, 10 foreign nationals were honored with the prestigious award. Dr. Polisi won the Lifetime Honorary Award for his outstanding achievements in art education and his notable commitment to advancing China-U.S. relations and enhancing the cultural development of both countries and the world.
As a music educator, Dr. Polisi takes art as a way to promote cultural exchanges and enhance mutual understanding. Noting that while geopolitical strategies will not be influenced by art, he said that given the time and the appropriate platforms, "artists can help us incrementally understand each other better and begin to create a sense of mutual respect that transcends political realities."
"Whether American, Chinese or any other nationality, we, as inhabitants of this flawed but beautiful planet, share common values that bind us together in a way that is both concrete and abstract," he said.
Many other Orchid Awards winners also underscored the importance of deepening cultural exchanges and people-to-people communications to build a community with a shared future.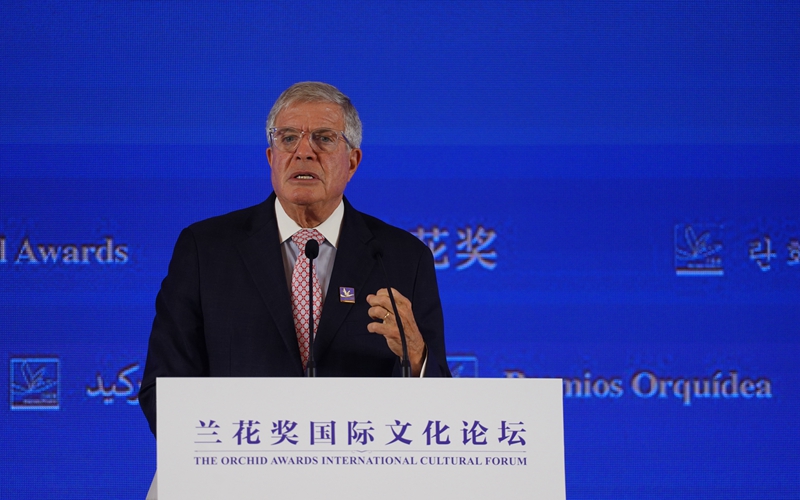 "People-to-people relations must become a pillar in every relationship between any countries," said Dino Patti Djalal, founder and chairman of the Foreign Policy Community of Indonesia, who received the Friendship Envoy Award.
Djalal argued that there could be no strategic and political trust between nations unless it is based on solid people-to-people relations. "We're making an effort to make people understand one another through exchanges, through dialogue," he said in an interview with China.org.cn.
Essam Sharaf, former Egyptian Prime Minister and laureate of the Outstanding Achievement Award, said the world is at a crossroads and that we must decide whether to maintain the status quo of potential self-destruction or to chart a new course toward global unity by making significant changes to save our civilization.
"Connectivity, trust, peace, and development" are the four values that constitute the main building blocks of a community with a shared future, Sharaf said in his speech. "Development is essential to prosperity. Peace is essential to development. Trust is essential to peace. And connectivity, especially soft connectivity, is essential to trust," he added.
Four Chinese global initiatives are infused with the four values, according to Sharaf. He explained that the Belt and Road Initiative (BRI) aims to improve global connectivity through physical infrastructure projects and people-to-people bond activities. The Global Civilization Initiative (GCI) aims to foster trust and respect among individuals across cultures and civilizations globally.
The Global Security Initiative (GSI) aims to resolve the conflict through dialogue and consultation for peaceful resolution and to prevent returning to the Cold War era. Meanwhile, the Global Development Initiative (GDI) presents an articulated roadmap for development through a unique set of core concepts and priorities.
When these initiatives are embraced by those who advocate for peace and development, they create a path toward a world where everyone shares a common prosperous future and enjoys a new world order characterized by dialogue-based international relations, rule-based global governance, and true multilateralism, Sharaf said.
The Orchid Awards provide a platform to promote the common values of humanity and engage in international cultural exchanges. The awards recognize the contributions of individuals and organizations across a broad spectrum of culture, literature, art, film, and people-to-people exchanges.
The Orchid Awards span three categories: Lifetime Honorary Prize, Outstanding Achievement Prize, and Friendship Envoy Prize. The inaugural Orchid Awards drew wide global attention, receiving submissions from over 300 individuals and organizations from various countries, including the United States, Japan, Germany, the United Kingdom, France, Italy, Russia, Australia, and South Africa.